In Pursuit of Vanadium and Zinc: PUR Expands its Metals Portfolio
PUBLISHED: 09-05-2018 10:00 a.m.
ASX junior explorer, Pursuit Minerals (ASX:PUR), has taken a strategic step in expanding the scope of its portfolio of metals exploration projects. Adding to its zinc assets, PUR has thrown vanadium into the mix.
Vanadium is the metal that has been generating significant interest in recent months ­and it's hard to ignore it as 2018's best performing energy metal to date.
The metal is used primarily in the production of steel, as it increases its hardness, with this use accounting for 90% of global vanadium consumption.
Much of that demand comes from China and is expected to grow further still. China, as well as other emerging market economies are increasing their steel consumption — many of which will have to increase their vanadium consumption in order to meet global best practices for steel production. China has also recently mandated that the quality of steel used for construction must be increased and this will lead to more vanadium being required for steel production in China.
While demand for vanadium in steel production is forecast to rise, major growth could also come from its role in Vanadium Redox Flow Batteries (VRFB). In fact, vanadium is rapidly gaining attention as the next booming new energy metal.
The assets that PUR have added to its portfolio are located in the mining friendly and politically stable Scandinavian countries of Sweden and Finland. This is a benefit over a number of other ASX-listed vanadium opportunities, which operate in higher risk jurisdictions, meaning PUR is well placed to capitalise on market sentiment.
However, PUR remains a speculative stock and investors should seek professional financial advice if considering this stock for their portfolio.
The move into vanadium is a strategic play by PUR to diversify beyond its already noteworthy zinc aspirations in Australia.
The company's existing portfolio contains two zinc projects in Queensland — in the heart of the Mt Isa Province. These projects — Bluebush and Paperbark — are high quality, advanced zinc exploration projects, which along with zinc are also prospective for lead and copper.
The Paperbark project hosts an established zinc JORC-compliant Mineral Resource at the JB Zone prospect of 10Mt at 3% zinc and lead. It also has confirmed copper oxide and copper sulphide mineralisation.
Follow up drilling at Paperbark is now underway in order to determine the full potential of the project's zinc system and with a view to build on the encouraging results achieved at the project in 2017. First assay results should begin arriving in early June.
Expectations are high considering the project is located just 20 kilometres south-east of the Century zinc mine, the owner of which is $520 million-capped New Century Mines (ASX:NCZ), one of the world's leading zinc producers.
With the zinc price above US$3000/t this provides plenty of reason for PUR to continue advancing its Queensland zinc project.
All the latest from,

Pursuit Minerals
ASX:PUR
In April, Pursuit Minerals (ASX:PUR) expanded its commodity portfolio when it secured Mineral Reservations covering the Koitelainen and Karhujupukka Vanadium Projects in northern Finland.
The company also submitted Mineral Exploration Licence applications over the Sumåssjön, Kramsta, Simesvallen-Svedåsen and Kullberget-Storåsen Vanadium Projects in central Sweden, and the Airijoki Vanadium Project in northern Sweden.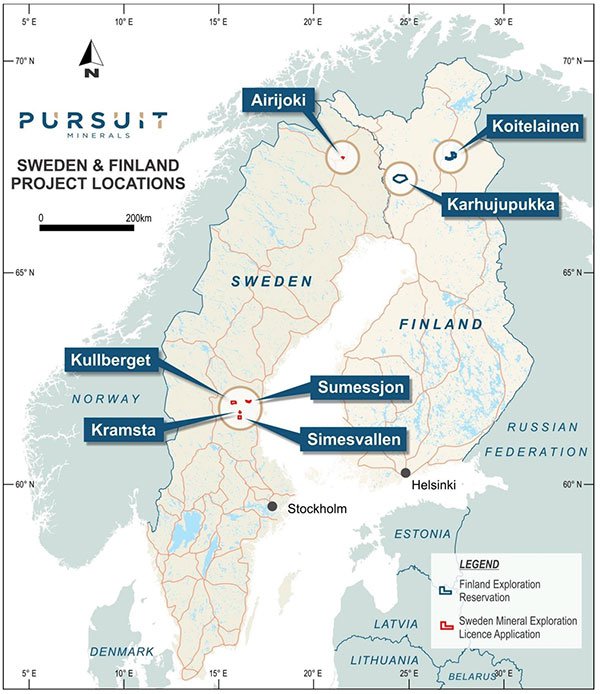 Collectively, these projects comprise a high-quality portfolio of vanadium projects, all at different stages of advancement.
The Koitelainen and Karhujupukka projects in Finland contain major sites of historical vanadium and platinum group element (PGE) mineralisation, while the Kramsta Project contains a defined Exploration Target based upon historical drilling. Importantly, PUR was able to submit its mineral tenement applications over open ground, meaning that the projects were secured in a cost-effective manner.
Here's the full suite of projects acquired: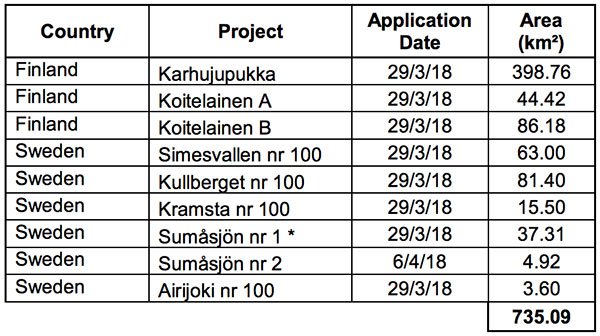 The acquisition was reported across a number of news outlets...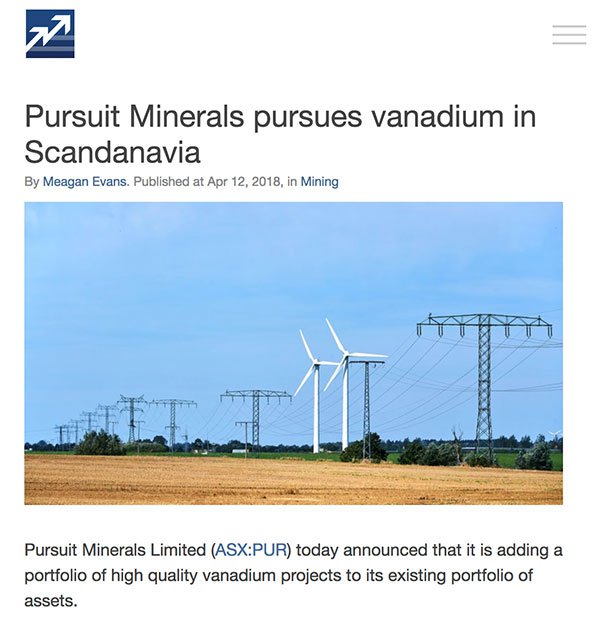 Now let's take a look at the projects in more detail.
Koitelainen Project (Finland)
PUR secured two Mineral Reservations of 130 square kilometres covering the Koitelainen large igneous intrusion in northern Finland. Koitelainen is the largest of the 2.45 Ga mafic to ultramafic layered intrusions that occur near the Archaean-Proterozoic boundary in the northern Fennoscandian shield in northern Finland.
Although known to be of significant extent, the vanadium mineralisation within the Koitelainen intrusion is not well understood due to fairly limited drilling of the mineralisation.
As far as can be ascertained, the Koitelainen UC vanadium mineralisation is only defined by 21 drill holes and is open along strike and at depth. A total of 122 diamond drill holes for 15,475m have been previously drilled across the entire Koitelainen intrusion.
The project has a historical mineral estimate of 70Mt at 0.4% V (0.7% V2O5), 14.4% chromium and 1.1g/t Platinum Group Elements, for the Koitelainen UC reef and 15Mt at 0.2% vanadium (0.4% V2O5) for Koitelainen V.
PUR plans to complete its compilation of all historical exploration work undertaken on the Koitelainen intrusion. The focus of follow up work will be to locate areas where vanadium mineralisation within the Koitelainen UC reef and Koitelainen V area, increases in thickness to widths suitable to open pit extraction.
Drilling will then be completed during the next winter field season from November 2018 to April 2019, to test areas of thickened vanadium mineralisation.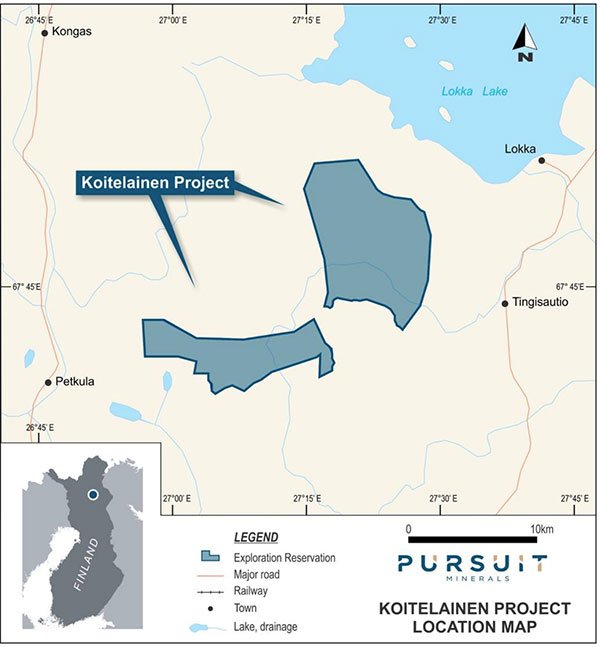 Karhujupukka Project (Finland)
The Karhujupukka Project is in north-western Finland, approximately 20 kilometres south-east of the city of Kolari and close to the Swedish border. A railroad runs along the Finland-Sweden border, 10 kilometres west of the project, with connection to the port and industrial centre at Kemi on the Gulf of Bothnia.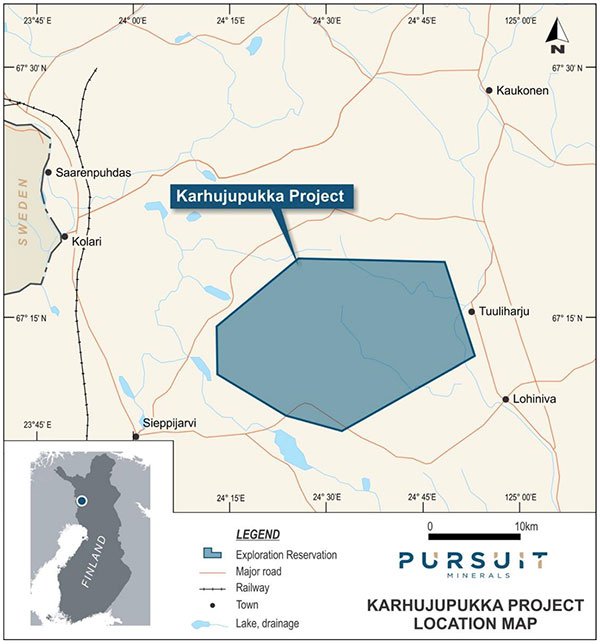 Magnetite-ilmenite-vanadium mineralisation was discovered at Karhujupukka by the Geological Survey of Finland (GTK) in 1988, while drill testing several high amplitude magnetic anomalies in only areas of glacial till overburden.
In three drilling campaigns from 1988 to 1996, the GTK outlined three bodies of magnetite-ilmenite-vanadium mineralisation, by drilling 36 holes. The current known strike length of the mineralisation is over five kilometres and the mineralisation is not closed off.
The three areas of mineralisation coincide with a magnetically anomalous zone which is clearly evident in high resolution aeromagnetic data. The mineralisation dips at 50m-600m to the south, with a thickness of 50m in the centre, 10m in the west and thinning to 3m in the east. The main minerals are magnetite and ilmenite.
The Geological Survey of Finland reported an historical mineral estimate of 5.2Mt at 0.24% vanadium (0.43% V2O5), 32% iron, 6.2% titanium and 0.02% cobalt, over a strike length of 550m and average width 30m. A total of 30 drill holes for 3453m form the basis for the historical mineral estimate.
PUR's initial focus at the Karhujupukka Project will be to undertake work such that the historical mineral estimate can be reported as a Mineral Resource in accordance with JORC (2012) and to ascertain the size potential of the mineralisation.
A previous exploration company flew the Karhujupukka area with a deep penetrating airborne electromagnetic system (VTEM), to map extensions to the known magnetite-ilmenite-vanadium mineralisation. However, the results of this survey were never followed up, so in hopes of expediting its assessment of the Karhujupukka Project, PUR will attempt to obtain this VTEM data.
Sumåssjön, Kramsta, Simesvallen-Svedåsen and Kullberget-Storåsen Projects (Central Sweden)
Located in the Ljusdal area, approximately 300 kilometres north-west of Stockholm, is the 120km x 100km Ljusdal granitoid batholith, into which are emplaced mafic intrusions which are mineralised with iron-titanium-vanadium.
PUR has submitted Mineral Exploration Licence applications covering the four largest mineralized intrusions at Sumåssjön, Kramsta, Simesvallen-Svedåsen and Kullberget-Storåsen.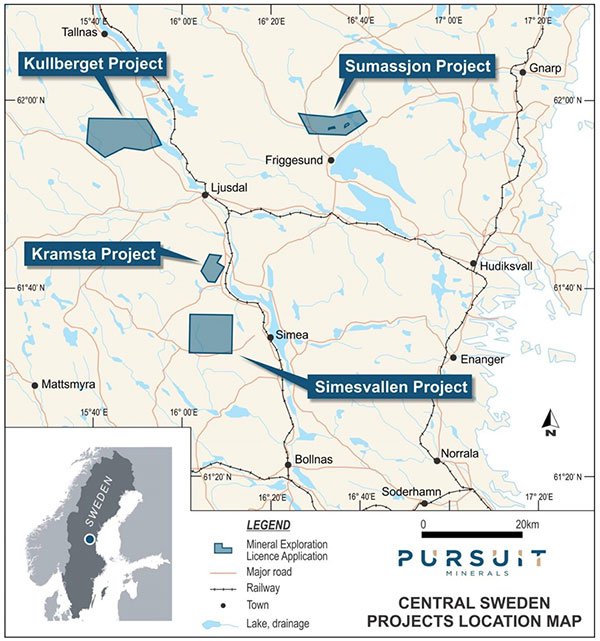 Once granted, the Mineral Exploration Licence in Sweden will allow PUR to undertake exploration activities including geophysical surveys, mapping, sampling and drilling. It is expected that the Sweden Mineral Exploration Licences will take two to three months to be granted.
It should be well worth the wait as PUR has entered the vanadium exploration space for a reason.
Vanadium: the next new energy metal
While demand for vanadium in steel production is forecast to rise, major growth could come from its role in Vanadium Redox Flow Batteries (VRFBs). Last year vanadium held just 2% of the energy storage market, but that share is expected to increase to 20% by 2030.
We could be on the edge of a structural change in the vanadium market due to its use in energy storage, and more precisely in VRFBs, which many believe could be a superior way of storing grid energy than lithium-ion. Vanadium is used in both the cathodes and the anodes of utility grid scale flow batteries that supercharge wind and solar farms.
VRFB's have extremely large capacities that make them well suited to use in large power storage applications. They are particularly useful in helping to average out the production of highly variable generation sources such as wind or solar power, helping generators cope with large surges in demand, or levelling out supply/demand in regions in transmission constrained region.
Another benefit of VRFBs is their long life and excellent performance. These batteries have a nearly unlimited number of charging cycles and come with a 20-plus year lifetime. They offer the best storage solution on a life cycle basis, and have 100% depth of discharge.
The batteries are safe and sustainable, being non-toxic, having non-flammable electrolyte chemistry, and 100% of the vanadium can be re-used once the battery is removed.
Other benefits of the technology are having a quick recharge, being easily scalable as power rating (MW) and energy capacity (MWh) are independent, and are proven to operate in high ambient temperatures.
The benefits are so attractive that some analysts are predicting that VRFBs could account for 15-25% of the global energy storage market, with demand growing by 33% each year. That would be a rise in the current US$230 million market to US$946 million by 2023.
Demand is also likely to get a boost from a forecast lift in vanadium in the manufacture of steel alloys. Along with rising overall steel demand, heightened demand will come from new rebar standards covering the tensile strength of rebar products introduced by China. The new standards increase the amount of vanadium required in rebar products. The move looks set to significantly boost vanadium demand in the country.
The China Iron & Steel Research Institute said earlier this month that the revised requirements for the standard tensile strength of rebar products in China could increase vanadium consumption by 30%, or 10,000 tonnes per year.
This (ongoing) surge in demand has already seen vanadium prices reach eight year highs. The chart below tracks the vanadium peroxide price, in US$/lb, from 2006. As you can see, over the last year prices have surged.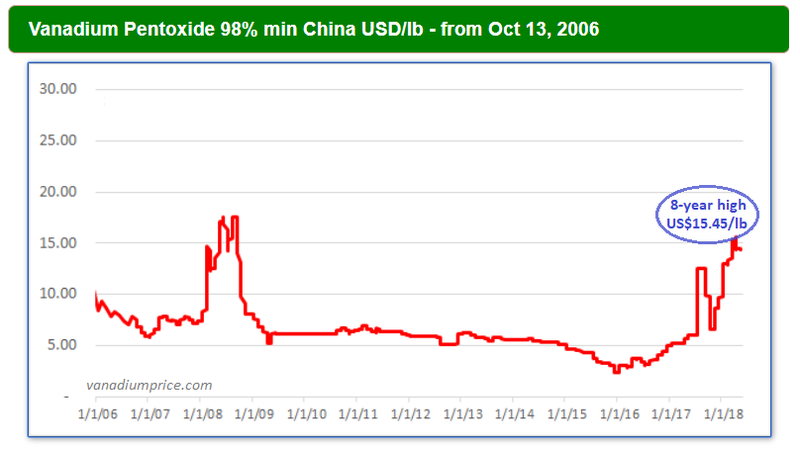 Yet commodity prices do fluctuate and caution should be applied to any investment decision here and not be based on spot prices alone. Seek professional financial advice before choosing to invest.
One encouraging point to note is that the surge in vanadium price is based on shifting fundamentals — rising demand as a new energy metals in combination with increased demand for higher strength steel. This is notable, as some commodity price rises are due to short term factors, such as short term supply issues due to plant shutdowns, or weather issues.
Global vanadium inventories will be limited in coming years, and in combination with growing demand for the metal's use in steel alloys and VRFBs we should see vanadium prices rise further, extending what is now an eight-year high.
With a revised focus and its ability to identify the opportunities in future vanadium production, PUR adds its name to a nimble few ASX juniors.
One of these is Tando Resources (ASX:TNO). TNO's stock has risen from a low of 21 cents per share in December to a high of $0.99 in recent weeks after the company switched its focus to vanadium exploration.
We wrote about TNO on the Next Mining Boom on March 22 with the article, Tando Resources (ASX:TNO) Acquires High Grade South African Vanadium Project. That day the stock closed up an impressive 42% and was up as much as 86% during the day.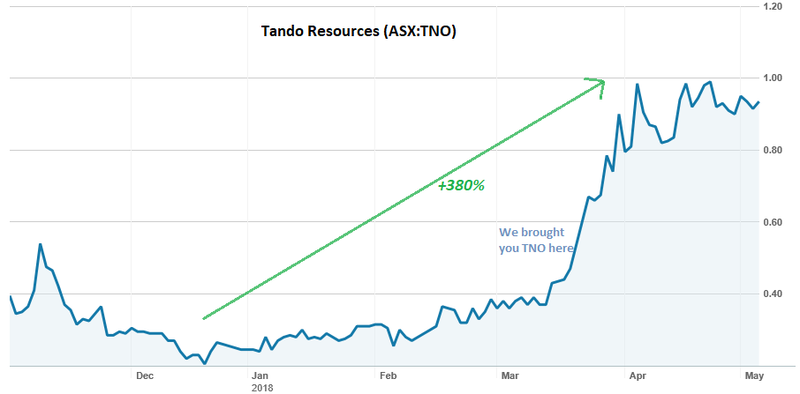 The past performance of this product is not and should not be taken as an indication of future performance. Caution should be exercised in assessing past performance. This product, like all other financial products, is subject to market forces and unpredictable events that may adversely affect future performance.
So as you can see, there good reason for PUR to enter the market and this entry sits nicely as a complement to its zinc operations.
Queensland Zinc Projects
Vanadium may be one the hottest commodities at the moment, but that's not all PUR has in its inventory. The company's existing Queensland projects are highly prospective for zinc, as well as lead and copper.
Zinc in particular has had a stellar few years. The metal has seen its price rise from a low of US$1500 per tonne in 2015 to more than US$3000/t today.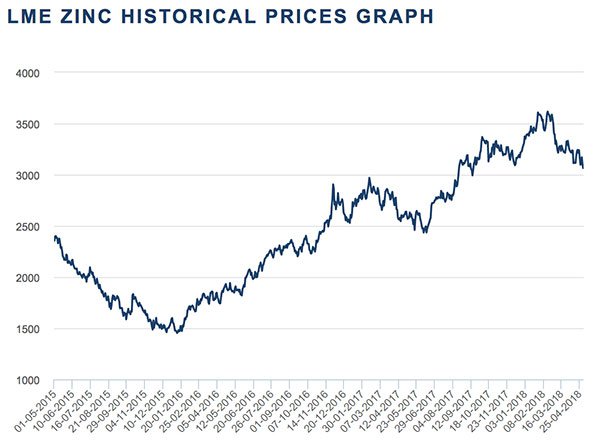 Since we last updated you on PUR back in February with the article, Rising Zinc Prices Support PUR's Queensland Project Exploration, PUR has continued to advance its Mt Isa region zinc projects.
These high quality, advanced zinc exploration projects, Bluebush and Paperbark which the company acquired from Teck Australia Pty Ltd in 2017, are prospective for not only zinc, but lead and copper too.
The Paperbark Project (EP 14309) is located approximately 215 kilometres north‐northwest of Mount Isa and 25 kilometres south-east of the famed Century Zinc-Lead-Silver Mine in north-west Queensland. It occurs within the Lawn Hill Platform of the Western Succession of the Mt Isa Province.
The project contains the JB Zone, which hosts a JORC (2012) Inferred Mineral Resource of 10.4Mt at 2.7% zinc, 0.2% lead, 1g/t silver at 1.5% zinc cut-off grade.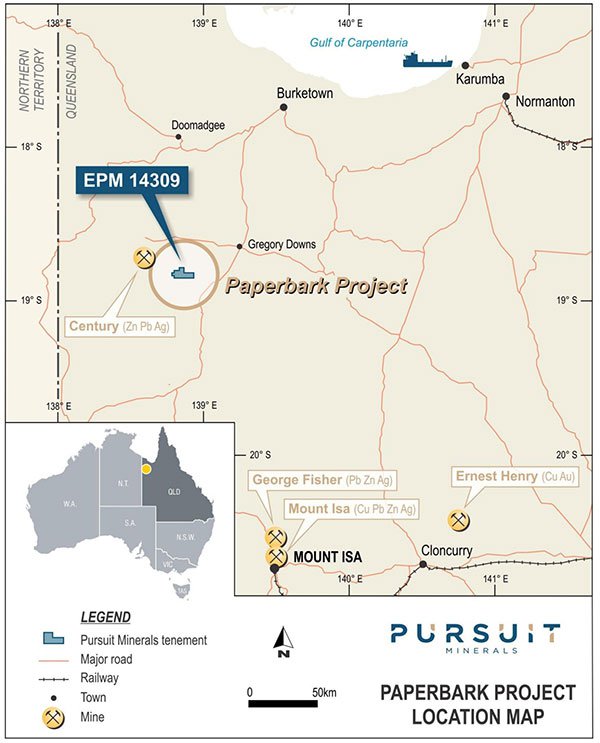 Follow up drilling commenced on the Paperbark Project in April, with a view to build on the encouraging results achieved at the project in 2017 when the JE Zone was confirmed as a new zinc discovery and the large surficial copper system was located at Grunter North.
The mineralisation intersected at the JE Zone last year was extremely weathered, with significant loss of zinc and lead from the system, so this year's follow up drilling will be deeper to intersect the mineralisation below the depth of weathering and obtain an accurate measure of the zinc and lead grades.
Five holes will be drilled at Paperbark for 1325m of drilling in order to determine the extent of zinc sulphide mineralisation at the JE Zone prospect, test the down dip extent of surficial copper mineralisation at the Grunter North Prospect, and test shallow extensions of the JB Zone Mineral Resource.
The first three holes to be drilled will further investigate the new zinc discovery at the JE Zone Prospect, and are targeted on determining the extent and grade of zinc sulphide mineralisation at the JE Zone.
The fourth hole to be drilled in this year's follow up drilling will test the down dip extent of surficial copper mineralisation at the Grunter North Prospect. In 2017, drill hole PB02-17 was completed at the Grunter North prospect as part of an assessment of the potential for economic copper oxide or copper sulphide deposits to occur.
The extensive nature of the surficial copper oxides at Grunter North, suggests it's possible that extensive surficial copper mineralisation represents leakage up faults from a copper sulphide body at shallow to moderate depth, below the depth of weathering.
Due to the localisation of the copper mineralisation between the Grunter and Barramundi faults, any copper sulphide mineralisation at depth at Grunter North could be similar to the structurally controlled copper sulphide mineralisation at the Gunpowder Copper Mine.
The JB Zone Mineral Resource is open to the east and to the north at relatively shallow depth. The fifth hole of the follow up program will test for shallow extensions to the JB Zone Mineral Resource and determine if the zinc mineralisation at the JB and JE Zones is connected at depth. This drill hole will also determine if there is any connection between the JB Zone Mineral Resource and the new zinc discovery at the JE Zone.
Here are the five holes mapped out along with locations of the holes drilled last year: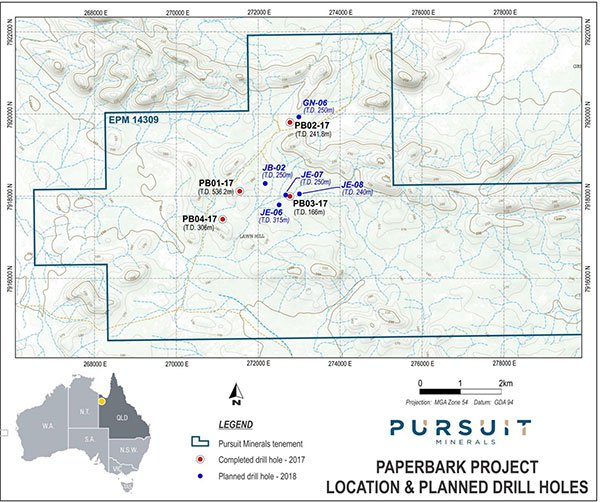 The first assay results, which will be from the drilling at the JE Zone Prospect, are expected to be available early June.
Here is an article from finfeed.com (a related entity of S3 Consortium) summarising PUR planned drilling at Paperbark this year: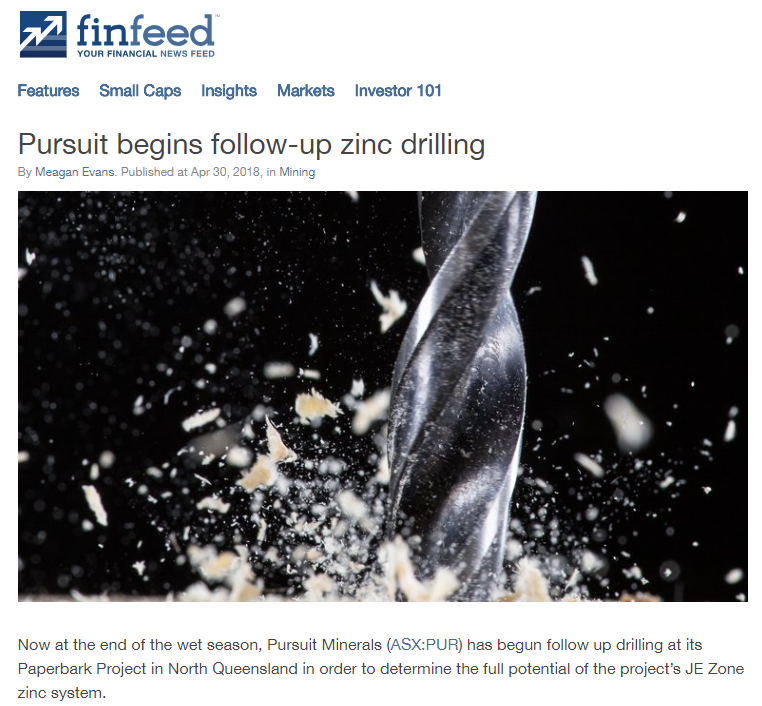 What's next for PUR?
With an expanded portfolio to keep it busy we can expect a significant volume of news flow out of the company over the coming months.
Next month assay results from drilling at Paperbark will begin to flow in — these results will be worth tuning in for as they will guide the next steps of exploration at PUR's Queensland operations.
Of course, PUR does have a lot of exploration still to undertake, so investors should take a cautious approach to any decision made with regard to this stock.
As for its vanadium projects in Scandinavia, PUR has plenty of historical exploration to follow up on, as well as securing mineral licences for the projects in Sweden.
There is an additional level of support for PUR coming from having both zinc and vanadium prices sitting at highly attractive levels, which would carry over to higher margins once this aspiring producer enters its projects' commercialisations stages.
---