AUZ Weeks Away From Delivering Offtake Samples of Critical Battery Metals
PUBLISHED: 23-01-2018 10:00 a.m.
We're only several weeks into a new year, and yet sharply focused ASX junior, Australian Mines (ASX:AUZ), already has its hands full.
While most of the financial world has been slumbering over the Christmas-New Year's period, the quick-moving AUZ has just smashed a considerable milestone, and is now on the verge of another.
Come February – just weeks from now – AUZ will be delivering offtake samples of commercial-grade cobalt sulphate, nickel sulphate and scandium oxide from its demonstration-size processing plant in Perth.
This will bring AUZ one step closer to its objective: to emerge as a major global supplier of critically needed battery and technology metals.
Speeding along this process has been the recent inclusion of an essential component for AUZ's processing plant.
Over the Christmas break, the autoclave arrived at the Simulus Laboratories site. With installation complete, the autoclave – a vital piece of the polymetallic puzzle for boosting processing capacity – is now due to complete commissioning later this month.
AUZ is hoping that this stage can be rapidly completed, given that it has previously received a series of quality assurance and control testing results regarding the autoclave's capabilities.
In fact, one of the world's leading inspection, verification, testing and certification companies has already given AUZ's new equipment the thumbs up.
AUZ is busily progressing two world-class, JORC-compliant, cobalt, nickel and scandium projects in NSW and Queensland: Sconi and Flemington.
Each project is estimated to have a mine life of at least 20 years and has potential to provide 95% of the raw materials used in emerging battery technologies... which bodes very nicely indeed for potential offtake partners, who will want a reliable supply of the stuff.
To jog your memory, Sconi is the most advanced project of its kind in Australia, with mining and environmental approvals in place, and a Bankable Feasibility Study (BFS) in its final throes.
It should be noted, however, that AUZ remains a speculative stock and investors should seek professional financial advice if considering this stock for their portfolio.
Following its heavily oversubscribed capital raising late last year, AUZ is in a sound financial position to complete the Sconi BFS and to steer the project through to a final investment decision, including a comprehensive program of ore processing through the demonstration plant to fine-tune the larger-scale engineering studies.
This $348 million-capped ASX junior has come a long way since it first crept onto our radar back in August last year, since then transitioning steadily from development into near-term production.
And with potential offtake partners set to receive cobalt sulphate, nickel sulphate and scandium oxide samples in February – a matter of mere weeks away – AUZ could be soon leaving its small-cap days far behind.
Keeping you in the know with: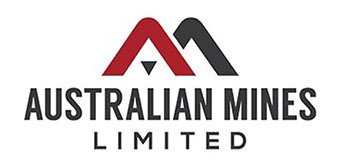 Australian Mines Limited
ASX:AUZ
We last caught up with Australian Mines (ASX:AUZ) at the end of November last year with the article, AUZ: Unlocking Value in NSW Cobalt. In that piece, we looked at what differentiates AUZ from its cobalt peers as a 'full-package' kind of play, as well as the attention (and $20 million in funds) it's attracted from institutional investors – a clear endorsement of the high-level quality of AUZ's assets and tightly honed development strategy.
We also took an in-depth look at the burgeoning electric vehicle (EV) scene, and the uneven supply/demand dynamics that underpin the cobalt market... which AUZ could well stand to shake up, if it continues on the steady path it's maintained so far.
As we explored, the global EV battery market is set to grow at a compound annual growth rate (CAGR) of 41.95% between 2017 and 2021.
As a company that's taken early notice of the movement towards renewable energy sources and battery technologies, AUZ has a razor-sharp edge.
We've been tracking AUZ's movements for a while, watching its sure-footed progress from fledgling developer to near-term producer, so the latest update in its court – a sizeable milestone – doesn't come as a huge surprise to us.
Speaking of which, let's look now at the nitty gritty of this most recent development, and what this means for AUZ...
Everything in place at processing plant
AUZ's demonstration-size cobalt-nickel-scandium processing plant was constructed in order to fast-track negotiations with potential off-take customers – something that's now coming to a head.
To give you a better idea of what's at play here – and how the newly installed autoclave fits in with the bigger picture – the processing plant uses a conventional pressure acid leach (PAL) front end to dissolve the metals into solution with a solid liquid separation and standard solvent extraction (SX) and sulphate crystallisation back end to separate out the cobalt, nickel and scandium to produce final products.
It looks something like this: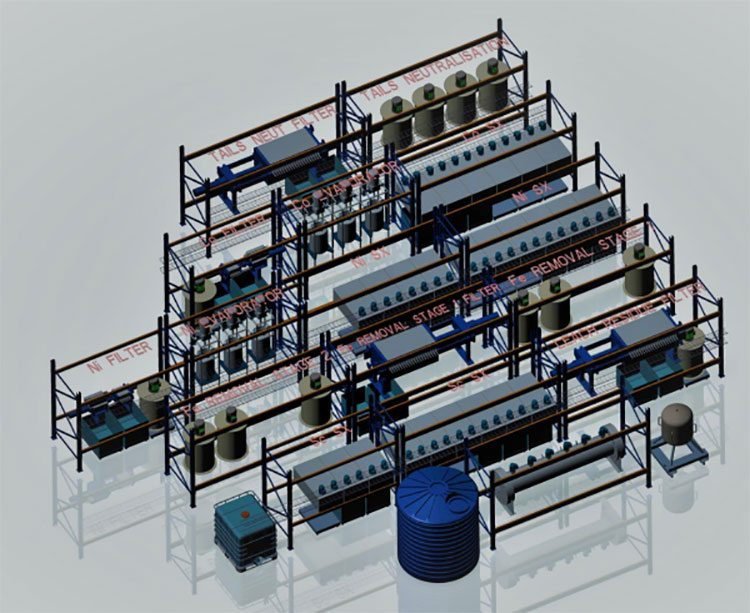 Once commissioned, the plant will be capable of processing more than 15 tonnes of ore per week from the Sconi and Flemington projects.
AUZ is using a proven processing flow-sheet in the development of the plant, similar to that being proposed by its larger peer, the $841 million capped Clean TeQ (ASX:CLQ) for future production from its Syerston Project in NSW.
Backtracking for a moment, AUZ's connection to CLQ is worth a mention here. Remember that AUZ's Flemington Cobalt-Scandium-Nickel Project and CLQ's Sunrise are two halves of the same deposit. AUZ's Sconi Project also bears a number of intriguing similarities to Sunrise – for more detail, we compared AUZ to this larger cobalt peer in our last update .
Remember, here that AUZ has some way to go to reach the heights of CLQ, so investors should take a cautious approach to any investment decision made with regard to this stock.
Moving on to the latest on the processing plant, AUZ has now clinched an essential component in its polymetallic processing strategy – the autoclave, which is essential for maximising processing capacity.
Finfeed.com , ( a related entity of S3 Consortium Pty Ltd as defined in Section 9 of the Corporations Act 2001) covered this piece of news on the day it was announced: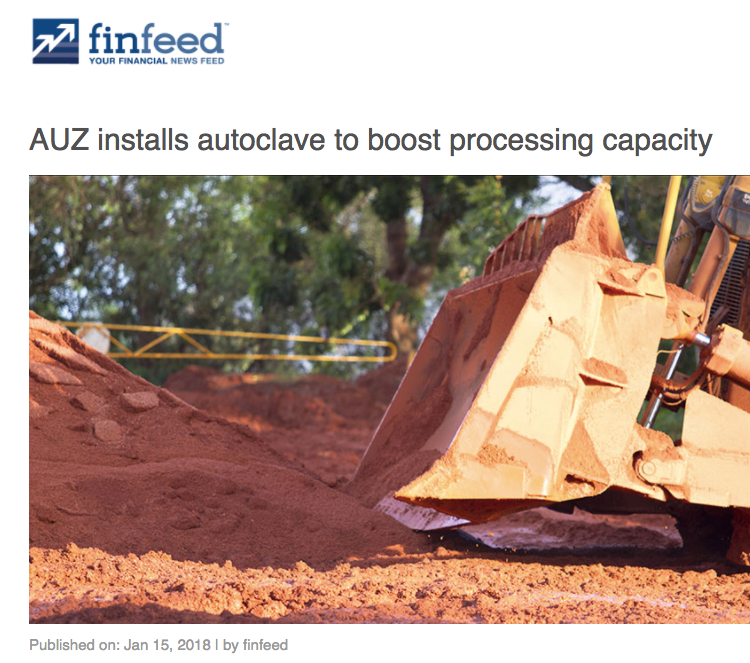 Having taken delivery of the plant late last year, AUZ installed the autoclave over the Christmas period at the Simulus Laboratories site in Perth, assisted by Simulus Engineers at the Welshpool laboratory.
A series of rigorous quality assurance and control testing has been completed on the autoclave (which you can see alongside the processing plant itself in the images below) by a leading inspection, verification, testing and certification company, certifying that it complies with Australian standards.
In other words, all systems are go.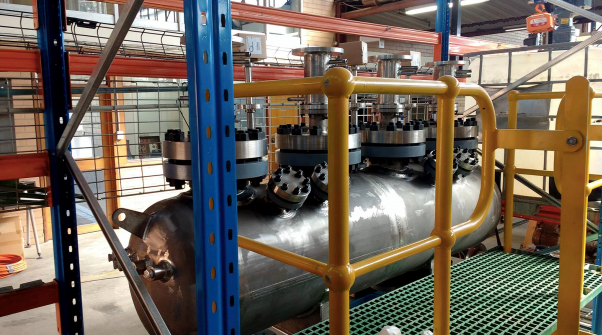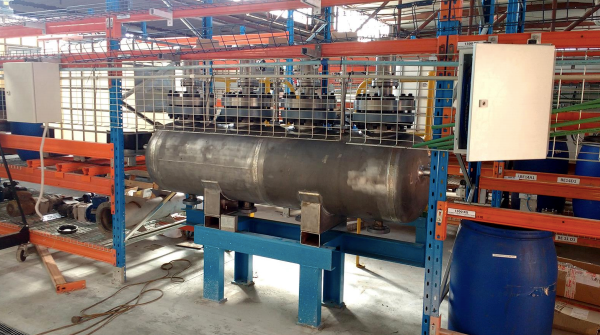 With installation now complete, the demonstration plant is on track for completion and commissioning before the end of this month. And according to AUZ, the plant is expected to begin processing ore previously delivered from trial mining at Sconi within the next three weeks.
The project-critical autoclave component is a major step for AUZ as it builds up momentum. More broadly, all of this means that AUZ will soon be in business; the plant will be producing commercial-grade cobalt sulphate, nickel sulphate and scandium oxide, which will be delivered to offtake partners on a priority basis in February.
How much of the product AUZ's offtake partners will want is yet to be determined and will be distributed on a case-by-base basis, so investors should tale all publicly available information into account before making an investment decision.
And that's only a matter of weeks away – something that could well serve as a share price catalyst for this nimble ASX junior.
A view to the future: will 2018 realise AUZ's electric dreams?
...Very possibly, if it keeps up the strides it's made so far.
On top of the aforementioned offtake sample milestone coming up, AUZ continues to progress a series of other high-impact works.
This includes completion of its BFS at Sconi and PFS at Flemington, as well as accelerated Resource expansion drilling at Flemington.
Sconi itself is de-risked and on the road to a final investment decision, which is also expected early this year. On top of that, commissioning of the processing plant is also on schedule for the end of this month.
In short, things are coming together in a serious way for this $348 million-capped battery metals-focused junior, and it seems to us that AUZ could already have its work cut out for itself in the months to come.
---