Zinc Supplies Shrivelling as ASX Explorer Fast Tracks JORC Resource
PUBLISHED: 08-03-2017 13:33 p.m.
In the wonderful world of commodities, there is always an avenue worthy of exploration.
We have just been alerted to one ASX company that has taken the bold step of identifying a plump zinc exploration opportunity amidst a strong base metals resurgence...
...and with a fistful of historical exploration drill data including 40,000 metres of drilling previously carried out by the likes of Lundin Mining, Rio Tinto and Boliden.
This company is keen on applying some modern exploration techniques to unearth new pockets of wealth in a historically rich zinc mining area in the heart of Ireland.
This ASX-listed minnow has confirmed it is proceeding with an option to jump two feet first into one of the world's prime zinc areas and has already delivered its first JORC-reportable resource estimate before the ink has even dried on its option agreement.
This $13 million capped company completed its due diligence earlier this week and is now proceeding to acquire an 80% interest the Keel Zinc Project in Ireland.
This is a genuine brownfields Zinc development opportunity, with the 40,000m of historical drill data already facilitating an initial Inferred Mineral Resource estimate of 6.9 Mt at 5.6% Zn and 0.8% Pb. A great starting point given this company is yet to commence any modern exploration.
The timing of this deal couldn't be more ideal for this company, with zinc prices continuing their march to fresh highs as zinc supplies continue to shrivel globally.
However, the company is in its early stages and investors considering this stock for their portfolio should seek professional financial advice for further information.
Zinc projects are becoming increasingly more difficult to bring online just at the time when zinc is being positioned as a key catalyst for the emerging growth in lithium-ion batteries and the new generation of digital devices that require ample amounts of new age commodities such as graphite and lithium, but also cobalt and zinc.
Take a look at the emergence of zinc as a component of the new-age energy revolution:

This company also happens to have to some shrewd geologists in its corner in the form of CSA Global, an independent consulting outfit which will be running the ruler over its newly acquired Irish zinc asset and helping to identify upside opportunities.
Also very handy, is this company's Captain and current CEO, Bill Guy. Guy has over 20 years in front-line commodity market experience with a fine track record including the advancement of Jupiter Resources from small explorer to mid-cap developer. It is hoped he will be able to shepherd this company from its currently low valuation and nurture its operations to usher in a significant player in the global zinc shakeup over the coming years.
With zinc prices currently doing this: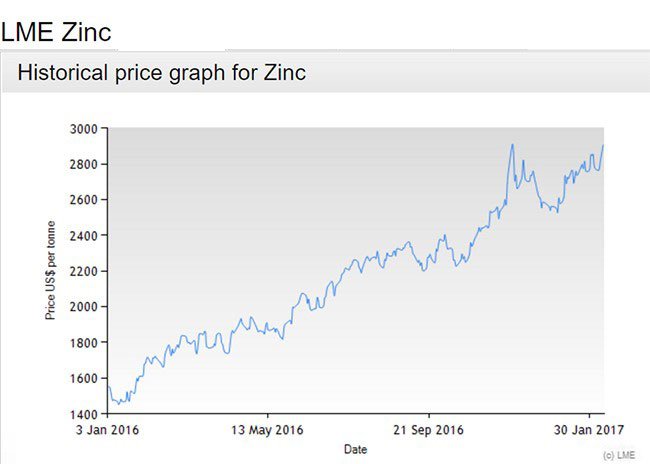 The past performance of this product is not and should not be taken as an indication of future performance. Caution should be exercised in assessing past performance. This product, like all other financial products, is subject to market forces and unpredictable events that may adversely affect future performance.
.... it could be a great time to load our muskets, and consider pulling the trigger on adding an appropriate dollop of this zinc explorer into our commodities investor portfolio.
Introducing:

Ram Resources

Ram Resources (ASX:RMR) is a small explorer with large expansion plans — if you thought this ram has sheepish connotations, we would respectfully disagree.
Having previously explored Australia's Fraser Range and West Kimberley for several years, on the lookout for nickel sulphide and gold deposits, RMR is now turning the corner by turning over a new leaf on the Emerald Isle.
Ireland is a hot-spot for global zinc production and has a reputation for birthing zinc deposits for persevering explorers. RMR recently completed due diligence, is ready to proceed on an option agreement for an 80% stake in the Keel Zinc Project and is determined to build on its initial JORC Resource by the end of 2017.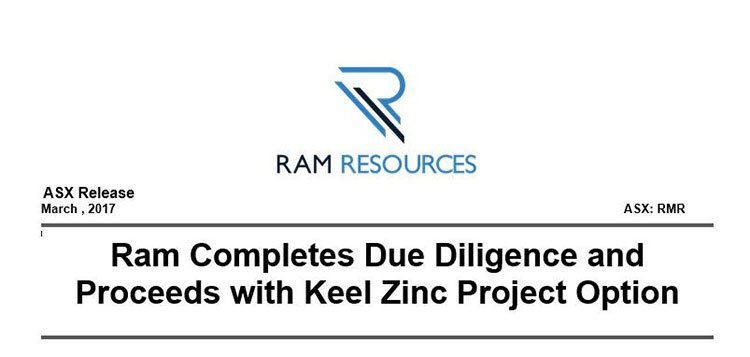 Let's go through what RMR is acquiring, and most importantly, whether RMR's reanimated exploration activity can add colour to small-cap investor portfolios.
RMR has now completed its due diligence period and is now proceeding with the option agreement to acquire 80% interest in the Keel Project.
The option period runs for 12 months and RMR will be required to make payments totalling $1.25 million and issue 140 million shares to exercise the option to formally complete the acquisition.
The due diligence processes included a thorough assessment of over 40,000 metres of drilling completed by Rio Tinto, Boliden and Lundin Mining.
A resource estimate has been completed by independent consulting firm CSA Global Pty Ltd and resulted in an initial Inferred Mineral Resource estimate of 6.9Mt at 5.6% Zn and 0.8% Pb.
RMR is now focused on designing an initial drill programme aimed at upgrading the Mineral Resource estimate with drilling expected to commence in late April 2017.
Here's a look at the Keel Zinc Deposit Mineral Estimate:

One of the most significant results was the finding that large low grade mineralisation envelopes surrounding higher-grade mineralisation.
The tonnes increase rapidly when moving down the grade curve. For instance, there is 16-18Mt at 3.8% from a 2% Zn cut-off.
It is expected as drill density is increased around high grade zones, that segments of the low-grade halos can potentially experience increase in grade as definition is improved with a more selective model. As you can see by the chart below, the drill hole spacing, while currently variable, averages around 80 metres.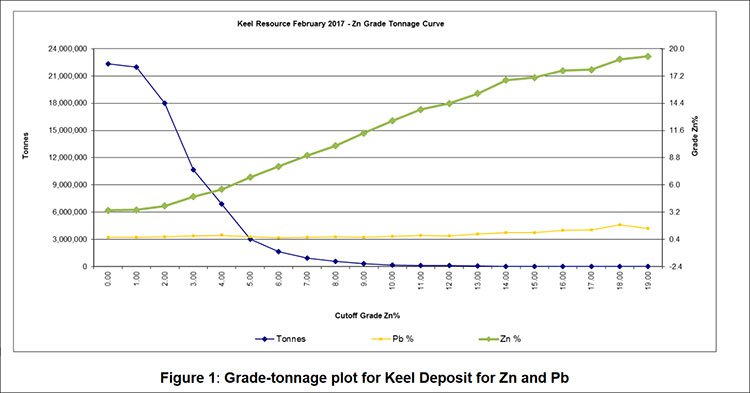 The high silver grades seen above were returned from drilling by Lundin Mining in campaigns from 2005-2012, and had been reported in a historical resource estimate (American Smelting and Refining Company, 1971) at the project.
RMR will also assay for silver in the upcoming drill programme.
Just to give you an idea of the historical strength of this project , here are some more explorational highlights: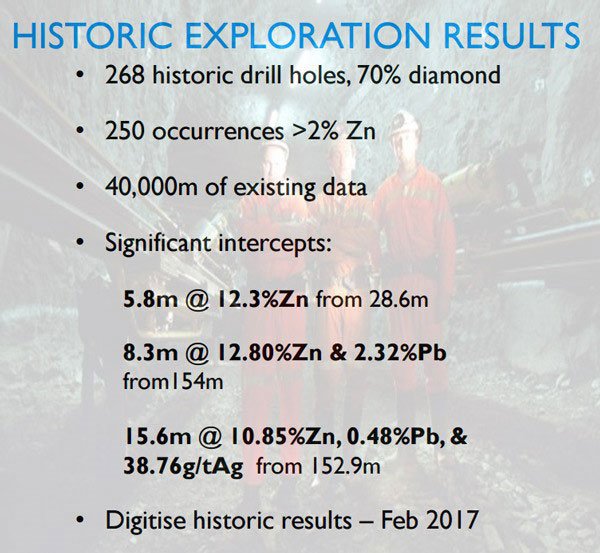 These initial figures are fairly significant and set up strong hopes of RMR ending up with a significant mineral resource sometime over the coming months.
RMR intends to hasten this process as much as possible through extracting maximum value from historical data and by applying quality financial and technical leadership.
The Keel Project provides RMR with significant immediate exposure to the strong zinc market which is headlined by supply deficits and a 61% spot price increase in 2016.
Of course it should be noted here that commodity prices do fluctuate and caution should be applied to any investment decision here and not be based on spot prices alone. Seek professional financial advice before choosing to invest.
Let's do a flyover to see where, what and how RMR is exploring...
The Keel Zinc Project is situated in the south of Longford Town in Ireland and covers an area of 66km 2 .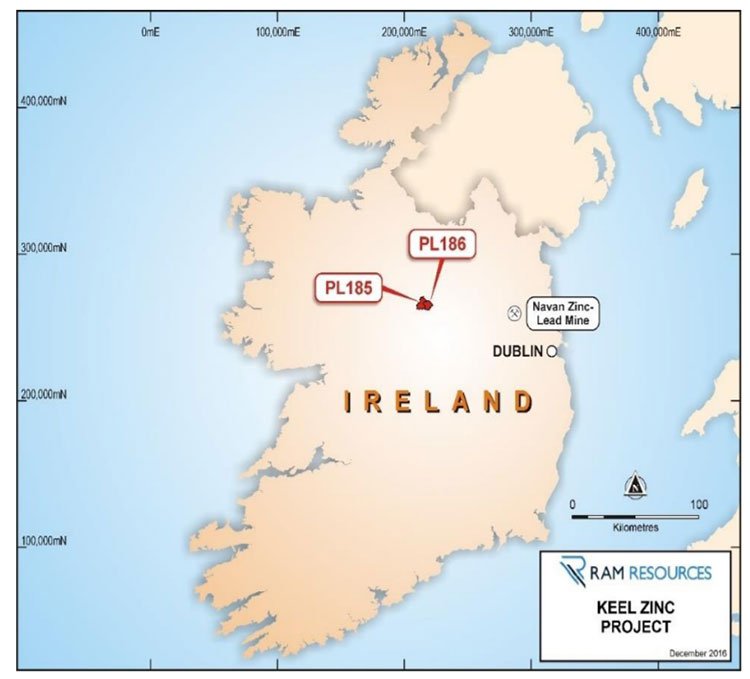 The ground covered by the prospecting licences has been held by major mining companies since the 1960s. First, Rio Tinto held this ground between 1963 and 2006, before it passed to Lundin Mining who committed significant exploration dollars between 2006 and 2012.
Historic diamond drilling by Rio Tinto, Boliden Group, Lundin Mining has delineated two main mineralised horizons over 1 kilometre in length. This will constitute the initial target for RMR's exploration activity. In aggregate, Keel already has 268 drill holes returning +250 Zinc assays >2% Zn, available for RMR to get its teeth stuck into.
If you fancy having a gander at some of that data, click on the link below:


Ireland has a rich mining history, and continues to be a base-metals production hotspot where multiple zinc-lead orebodies have been mined and with several significant undeveloped deposits and prospects.
Now in 2017, RMR is stepping up to the plate to see if it can deliver what previous explorers couldn't.
RMR is confident it can achieve success on the back of cutting-edge modelling, exploration techniques, improved regional understanding and possibly most significantly, the fact that zinc prices have risen to a point where projects such as Keel could become incredibly lucrative...
Zinc in the 1960s is not zinc in 2017 — and it's all to do with its applications.
Keel Project represents an opportunity for RMR to assert its zinc market position and ride the coattails of a base metals market revival currently going from strength to strength.
The global Zinc market — let's see what all these aspirational zinc hunters are vying for
Zinc prices were under pressure for several years, but this year the tide seems to be turning as mining closures started to hit the supply chain and prices have consolidated their impressive rallies.
The zinc price outlook is strong and strengthening:

Last year, analysts at Macquarie Wealth Management highlighted that zinc had hit a fresh 15 month high of US$2370 per tonne.
Zinc prices have continued to rise so it's not a huge surprise to see RMR strafing into zinc exploration on the fly.
Ram has already identified a large mineralisation system with a high grade core. The next challenge is to infill the historical wide spaced drilling (80m) to target the high grade mineralisation.
If RMR can upgrade and re-categorise much of the current inferred resource of 6.9 Mt at 5.6% Zn and 0.8% Pb, we could see RMR initiate a much more pervasive metamorphosis that attracts even more people to its overlooked story.
If RMR's zinc grades are commercially viable and bulky enough to sustain mining operations over the long-term — RMR would be in-line for a significant uptick in its market valuation considering its current market cap of AU$13 million.
Peer Comparison
In terms of peers, RMR has several close-quarter neighbours that are further advanced in the zinc exploration/production stakes. Ultimately, RMR is looking to emulate these steeds that have vaulted to improved valuations on the back of rising zinc demand.
Here are those peers, graphed by market capitalisation: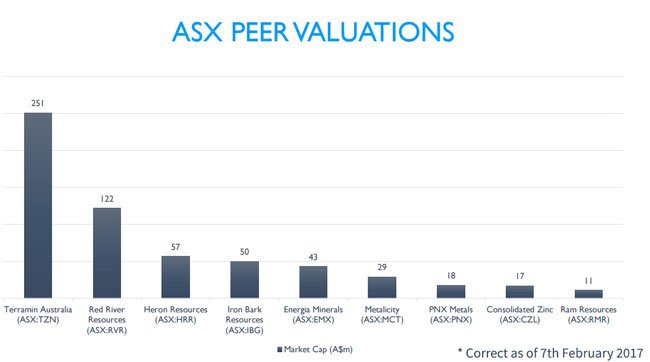 As you can see, RMR has some serious emulation to do, which could be considered a setback in the progress stakes...
...but by the same token, paves the way for larger share price gains if RMR can convert its good start at the Keel Project and deliver a bumper maiden JORC Resource later this year.
So, assuming RMR can get its exploration on the straight-and-narrow through to production, what is the ultimate prize?
Zinc inventories remain well stocked but they are being tapped faster than expected which means the outlook for demand is healthy moving forward.
The projected ramp-up in demand in addition to few new zinc projects coming online is currently giving zinc prices a lift, and RMR is perfectly positioned to take advantage over the coming months and years.
Zinc future
As zinc market dynamics continue to blossom in RMR's favour, there is another caveat many market commentators, analysts and investors are overlooking.
Zinc as a commodity is seeing increasingly more applications and uses. Whilst the zinc market is still dominated by casting, its application in digital devices as part of the lithium-ion battery story could be worth noting as these technologies remain at early stages of maturity.
For now, it would seem lithium-ion batteries will be the go-to vehicles to usher in the new energy revolution. But when stories like the Samsung one below hit the newswires, there may still be further plot twists ahead in the lithium-ion battery revolution story: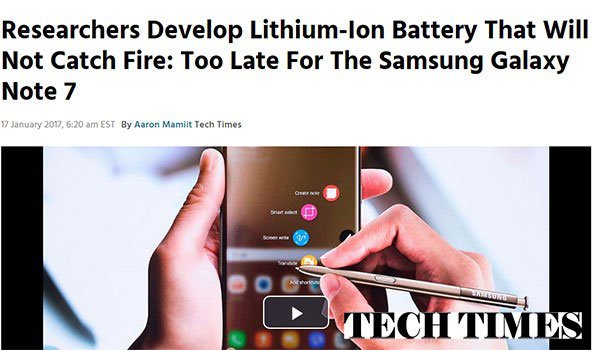 Samsung's lithium-ion battery quagmire caused by its Samsung Note 7 remains a firm fixture in the rear-view mirror, which opens the door for other elements such as zinc to enter the fray as an alternative battery raw material.
Zinc has long been a potential rival to lithium as the chemical foundation for batteries and energy.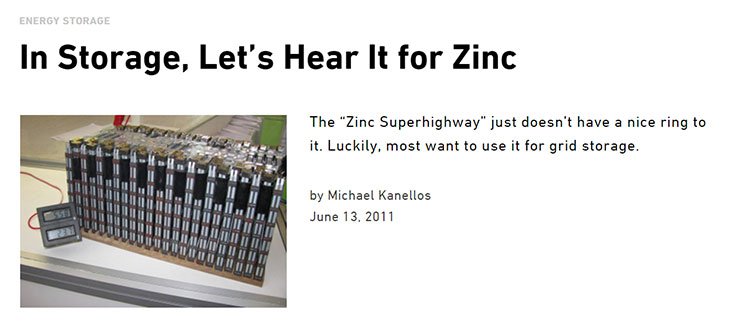 Zinc sells for around $2,250 per metric ton versus $5,000 or more for lithium carbonate (a precursor that requires further costly refinement), reserves are massive with an estimated 224 trillion tons in the first mile of the earth's crust and you can find it almost anywhere.
It's also easily recyclable, can store a substantial amount of electrons into confined space and zinc batteries aren't subject to what's known as 'thermal runaway reactions' or bursting into flames like Samsung's Note 7.
The zinc market will continue to be dominated by galvanising and casting, but its futuristic applications could also grow into larger market significance.
From zinc to commercial viability
RMR comes across as an opportunistic ASX entrepreneur not afraid to put its money where its mouth is.
Having now completed its due diligence to acquire the Keel Zinc Project, RMR is looking to enable Keel's progress...
...and build on its maiden JORC Resource before the end of 2017.
RMR is adamant it can fast-track Keel's development through to a JORC-compliant multi-million tonne deposit and development opportunity.
There are several steps required for this to occur but already, the development path has a structured timetable with reachable milestones.
Here is an outline of the timing, so grab your calendars and set those reminders: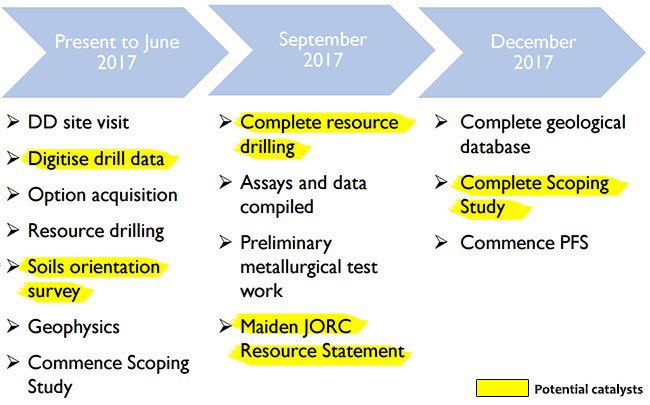 RMR's next steps include completing exploration potential reports and designing a maiden infill drill programme aimed at upgrading the initial mineral resource estimate.
RMR's strong management and technical team has access to a war chest of historical exploration data that could be leveraged into a shortcut to higher zinc resources, higher zinc grades and earlier move into production.
Of course, nothing is guaranteed here, and this company is still in the early stages of exploration, so investors should take a cautious approach when considering this stock for their portfolio.
The zinc mining space has seen a shortage of mine developments or advanced projects in the pipeline for quite a while.
Not only that, but the Keel project has never been exposed to 3D resource modelling or any modern exploration methods; this again adds credence to the idea that RMR could do what Rio Tinto, Boliden and Lundin could not — prove up an economically viable zinc Resource worthy of world markets.
There has been virtually zero zinc exploration globally since 2011, but all that is gradually changing as enticingly resilient zinc prices attract fresh zinc projects to supplement dwindling inventories.
Which means it's time to keep an eye on the likes of RMR as it looks to capitalise on a zinc market behaving in accordance with commodity-investor preferences...
Zinc up.
---