WMN Enters Graphene Technology Race
PUBLISHED: 26-06-2015 09:58 a.m.
Graphene is just one atom thick – yet it's 200 times stronger than steel by weight.
This high tech material formed from graphite can be sculpted into any shape and is more conductive than copper.
The global market for graphene is predicted to be worth over $200M by 2026 – but graphene use is so new that manufacturers have only just begun to understand its true potential and capitalise on it.
If graphene becomes the go-to material for making things, $200M by 2026 could easily become a lot more in the decades to come...
We could see graphene in cars, smart phones, airplanes – the list is endless.
Western Mining Network (ASX:WMN) has just signed a Memorandum of Understanding to acquire a 51% stake in a South Korean firm that's at the very bleeding edge of high tech graphene and graphite materials development.
This is a strategic investment that could position WMN as one of the world's leading graphite and graphene producers at its Tamboli Project in Indonesia.
On the one hand, it can mine and produce high-grade graphite to sell to steelmakers and battery producers worldwide. On the other hand, it can leverage its new acquisition to make space age products now and far into the future.
WMN has also just begun the process to secure its first offtake agreement for graphite with a South Korean firm – even before the first truckload of ore has been dug up for in-house processing at Tamboli.
This company is led by top tier management and backed by high profile Indonesian players, including Panji Suharto (grandson of the nation's former President) and has strong links to South Korea's elite levels of business.
WMN is opening doors and doing deals other companies can only scratch their heads at...

Western Mining Network (ASX:WMN) has a market cap of around $75M and a rapidly advancing plan to develop a graphite project in Indonesia.
The Next Mining Boom first covered WMN in the article Graphite Godfather's Asian Power Play , which covers the company's plans in depth – it's an excellent place to start your deeper research.
­­
Right now though, we're focused on the big deals coming WMN's way – the acquisition of a South Korean graphite technology company and the first off take agreement for WMN's graphite.
But first, let's have a quick recap of the key points of WMN's plans...
WMN's Indonesian graphite project is called Tamboli, and it comprises two key components on the island of Sulawesi: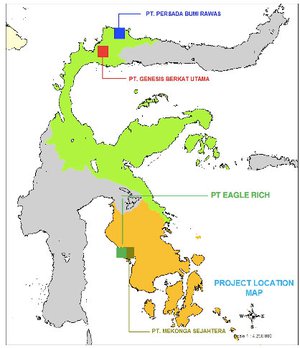 Pt Mekonga Sejahtera is a 98ha graphite exploration license, which WMN holds an option of 75% over. Then there's Pt Eagle Rich – a 100ha piece of land earmarked for construction of a graphite beneficiation plant and industrial estate – WMN holds options on 99% of this.
Widespread drilling at Tamboli is returning strong graphite results, and the company could have a JORC grade resource in the bag soon.
Ultimately the company plans to send raw material to its own processing plant, turning it into commercial grade 94% pure graphite powder material.
WMN signed an agreement with a pair of Korean partners to take the raw graphite material it mines and turn it into a saleable product of 94% purity – bringing the entire value loop in house.
From that point, it'll sell it at an attractive margin, given the high sale price of up to US$1,200/tonne this material currently attracts.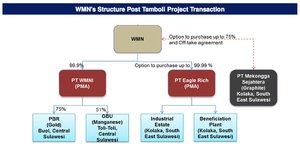 With all of this put together – mining and processing graphite AND developing commercial technology for its uses – WMN offers a complete loop of profit potential.
Now, before we get any further, it's important for us to explain, briefly, the significance of WMN's South Korean connections...
South Korean connections drive WMN ahead
Pushing a big resources project into production is as big a challenge as any, with more moving parts than a Swiss watch – so it pays to have the best people on hand to execute the task.
And WMN seems to be making an art of having the right connections...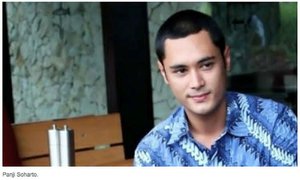 The picture above is of Panji Adhikumoro Suharto – the grandson of Indonesia's former President Suharto – and he's WMN's local advisor in Indonesia.
Panji Suharto owns a significant stake in Hyundai Automobiles Indonesia and recently toured Australia on WMN's behalf, drumming up interest and investment.
At a local level, Panji Suharto is a guy with lots of influence who can help WMN navigate any red tape – and his South Korean connections through his part ownership of Hyundai Indonesia are coming in handy too.
In Korea, big business is done by massive conglomerates called chaebols , which control the vast majority of Korean businesses like Samsung, Hyundai and LG.
If you can get inside the tight-knit chaebol circles, things can get very profitable – and via Panji's ownership of Hyundai Indonesia, WMN is intimately tied to this otherwise protective and closed off world
WMN already has a partnership with a South Korean firm to construct its Tamboli industrial estate, so it's already evident that WMN has the right Korean connections.
And as you're about to see, the South Korean link just keeps getting stronger for WMN...
South Korean MOU for carbon tech
In a significant step forward for its global carbon ambitions, WMN has just signed a Memorandum of Understanding (MOU) to acquire up to a 51% stake in a leading South Korean graphite innovator – Carbon Nano-Material Technology Co. Pty Ltd (CNT).

CNT is at the forefront of developing refined graphite and graphene carbon materials – all derivatives of the graphite WMN is getting set to mine in Indonesia.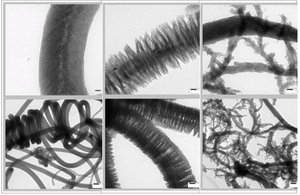 The picture above is a series of magnified views of Graphite nano-fibres manufactured by CNT.
Now, CNT's nano-fibres are absolutely tiny, but put them together and they can create a super strong, incredibly flexible and adaptable material – graphene.
Graphene is made from a layer of carbon (graphite) one-atom thick and it's the strongest material ever tested in the world , 200 times stronger than steel by weight. At an atomic scale it's a honeycomb structure that's also completely flexible and more conductive than copper.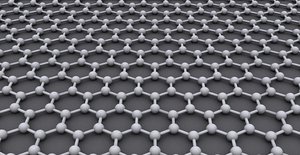 Source Wikipedia
So finding real world uses for this space age material is a big – and potentially very lucrative – push happening around the world.
Those who can unlock the applicable value of graphene could revolutionise manufacturing and make billions in the process.
There are predictions that the market for graphene could reach $200M by 2026 and keep growing as more and more uses are found for it.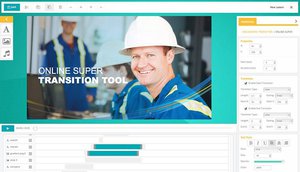 CNT's business model seeks to capitalise on the growing demand by producing graphene and making a wide range of materials and applications for it:

CNT makes a range of carbon nano tubes, graphite nano-fibres and cell carbon nano-fibres – the building blocks of graphite and graphene technology.
This is a company at the very forefront of graphite and graphene technology development and now WMN is set to take a majority stake.
Under the MoU, WMN will take a 51% stake in CNT in stages – starting with an issue of $1.950M worth of shares and investing the same dollar amount in cash. That will give WMN an initial 26% stake of CNT.
From there, WMN will have an exclusive right to acquire a further 25% of CNT, giving it an overall 51% share.
To boot, WMN will also receive an irrevocable fifty-year free technology license covering any and all developments made under the agreement, as well as a fifty-fifty joint ownership agreement covering any and all technologies they develop jointly or on their own from the closing date forward.
This deal sets up WMN for potentially years and years of revenue derived from high technology products.
Our Track Record
Regular readers of our sites will be familiar with our long-standing interest in high potential stocks.
To note just a few:
The past performance of these products are not and should not be taken as an indication of future performance. Caution should be exercised in assessing past performance. These products, like all other financial products, are subject to market forces and unpredictable events that may adversely affect future performance.
The big (and very, very small) picture for WMN
By taking a 51% stake in CNT, WMN is positioning itself as a miner and producer of graphite and its most innovative end uses.
It can mine its own graphite, process it and sell it – be it to steel manufacturers or battery makers, or process it into a high tech material like graphene.
For WMN, this MoU with CNT is a concrete step towards its goal of establishing a graphite empire in the heart of Asia that can make money from every element of the material's value chain.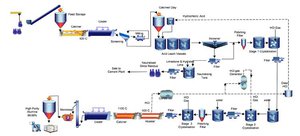 When construction of WMN's industrial estate outside the Tamboli mine gates begins, its 51% stake in CNT could see it quickly establish real world applications for graphite and graphene technology.
At The Next Mining Boom , we see this is as further proof of the company's ability to get things done – the big names it has in the leadership team are coming through with deals seemingly no one else can.
Speaking of which...
1st customer lined up – and yes, it's South Korean!
WMN has just signed a letter of intent with South Korean industrial supply company Dongsung Highchem Co Ltd to supply up to 50,000 tonnes of graphite per year from its Tamboli project.

The final agreement between WMN and Dongsung, detailing monthly delivery volumes and pricing points, is expected to be finalised in the coming months, so at that stage we'll be able to put a dollar value on the deal.
But at a rough estimate, depending on flakes size graphite sells for over $1,000 a tonne, the deal could bring at least $50M a year onto WMN's books – much more if the graphite price returns to 2011 levels: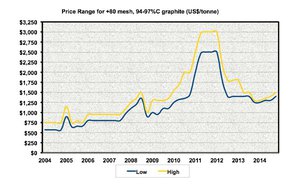 The LoI was signed after Dongsung analysed samples of WMN's Tamboli graphite ore and also checked out WMN's mining plans and workings for its beneficiation plant.
WMN proved to Dongsung that not only is its Tamboli graphite of the highest quality, it can also mine, process and deliver it.
Dongsung will be using WMN's Tamboli graphite for steel applications in Korea, so this is a big deal for the company and a mark of confidence in the project.
Could there be more customers on the way for WMN?
To give this the big picture treatment, the announcement came before WMN has even entered production, which shows just how in demand new sources of graphite are for the industries using it – companies are lining up to get a piece of WMN.
But for now, this arrangement serves as yet another example of WMN's South Korean connections paying off.
Next steps for WMN
WMN is having a cracking run right now – and we think there could be much more around the corner.
The company will surely be working to finalise the details – and dollars – of its off take agreement for Tamboli graphite with Dongsung, as well as its acquisition deal to get a 51% stake in CNT. We'll be keeping an eye out for any further details on these key developments.
Drilling to establish WMN's JORC resource at Tamboli is also ongoing and could yield some results soon – which could prove to be an important price catalyst – we'll be looking out for anything on that as well.
WMN is steadily building up its momentum to become a leading global scale miner, processer and producer of high grade graphite products – from additives to steel and rechargeable batteries to high end technologies using graphene.
Its high level contacts in Indonesia and South Korea are laying a sturdy foundation of deals and arrangements that it could use as a springboard to the global space. As long term investors at The Next Mining Boom , we're watching with great interest...
---