White Rock Minerals Set to Start Exploration Programme to Explore Alaskan Zinc Potential
PUBLISHED: 07-03-2018 10:00 a.m.
Having acquired its under-explored zinc project at Red Mountain in Alaska just 18 months ago, Australian mineral explorer and developer White Rock Minerals (ASX:WRM) is now set to commence an aggressive exploration program in the upcoming field season to validate existing deposits and discover new ones.
Those who have been following the WRM story since the company first caught our attention in January last year, would know that this $11.8 million capped company has two major 100%-owned projects on the go, including its advanced Mount Carrington gold-silver project in NSW.
We'll have a brief look at Mt Carrington shortly, however it is Red Mountain that is capturing current attention.
The Red Mountain polymetallic project in Alaska is a zinc-dominated volcanogenic massive sulphide (VMS) exploration project, which is rich in high-grade zinc deposits.
This zinc-silver-lead-gold project provides WRM with a quality advanced project, centred on an established VMS district where there is significant potential to discover additional deposits beyond the known zinc-silver-lead-gold deposits at the Dry Creek and West Tundra Flats prospects.
The original tenement package included 25 mining claims over a total area of 16km2. Since acquiring this, the company has greatly added to the original tenement package, which now includes 224 claims covering a strategic position of some 143km2.
WRM conducted initial desktop geophysics and geochemistry analyses and established that the first stage of this development is geologically viable and is now keen to share its Alaskan story with investors. Underpinning this view is the global significance of this zinc VMS project's maiden JORC Resource, which has a high-grade component of 9.1Mt @ 12.9% ZnEq.
Of course it is early stages for WRM at this stage and investors should seek professional financial advice if considering this stock for their portfolio.
WRM has outlined its aggressive exploration programme.
A contract for the exploration camp facilities has already been let, a drill tender has been let, and preparations are underway to set up transport to the camp site. The area will be accessed via ice road during winter in order to haul in the necessary equipment, ready for work to commence in May.
WRM will undertake a targeted diamond drilling programme (aimed at in-fill and expansion of the high-grade Maiden Resource), on-ground orientation EM across the two already identified deposits, surface geochemistry studies and a follow-up diamond drilling programme on the best of the more than 30 already identified exploration targets.
There is plenty of upside to this project; exploration ceased in the 1990s, but will resume in 2018 with modern exploration techniques that have advanced in this time giving WRM a distinct advantage over past explorers in the region.
The two known deposits are still open at depth and in places along strike, and 30 similar targets have been identified. The initial drilling campaign will aim to infill and extend the maiden resource at Dry Creek and West Tundra Flats.
The summer field season operates from around May through to October. During this period, WRM will operate its diamond drilling programme on potential thickened intervals within the known deposits and extension targets defined by previous historical drilling and early ground geophysical and geochemical surveys. A total of 15-30 holes will target new areas.
As spring commences in the northern hemisphere, it's now time to get on the ground.
Here's the latest on...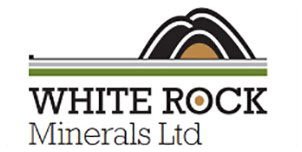 White Rock Minerals
ASX:WRM
When we last updated you on White Rock Minerals (ASX:WRM) back in October, the junior exploration company was regarded as a small-cap bargain by independent research groups.
In an updated research note on the 2018 strategy for WRM's globally significant Red Mountain project, analysts determined that there is potential for WRM to 'increase resources and possibly to establish a new, 100% owned, VMS camp just 100km south of Fairbanks'.
There is a great deal of upside here. Alan Kohler of the Constant Investor speaks with WRM CEO Matt Gill about the upside potential in this podcast: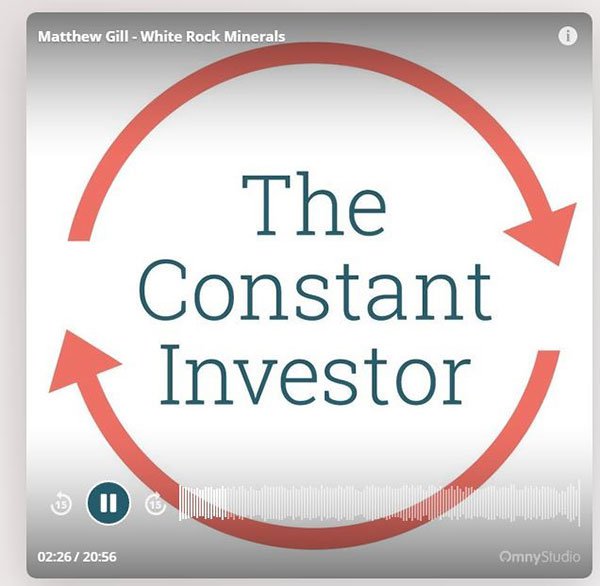 And here is Matt Gill himself speaking about the power of being a diversified company:
So what is behind the projects? Let's start with Red Mountain.
Gearing up for exploration
Last month WRM announced an update about how it is getting ready to commence exploring in Alaska and why this is an "exhilarating" time for the company.
This followed the exploration strategy released in December 2017 that outlined in detail the proposed programme for this year.
WRM intends to maximise the available time of the field season to complete a programme of geophysics, geochemistry, geological mapping and two drilling programme's aimed at:
The already defined deposits at West Tundra Flats and Dry Creek; and

Reconnaissance drilling on the best of some 30 targets already identified.
Here's a look at existing Red Mountain deposits and regional targets: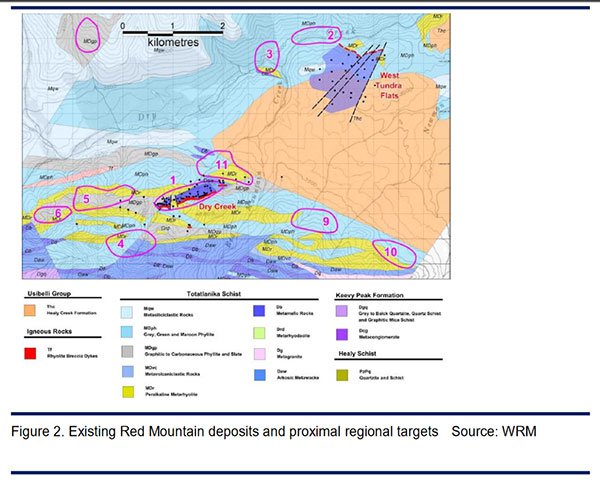 The initial drilling campaign will commence in May with the aim to infill and extend the maiden resource which already has two identified deposits (Dry Creek and West Tundra Flats) and a Resource base of 16.7Mt at 8.9% ZnEq1 including a high-grade component of [email protected]% ZnEq1.
As stated earlier, the drilling is aimed to follow-up on drilling last done in the 1990s, which included:-
It is a good time to be looking for zinc.
Zinc: the fourth most consumed metal on the planet
Zinc is the fourth most produced and consumed metal on the planet, behind iron, aluminium and copper.
The following chart indicates the steady increase in production over the years: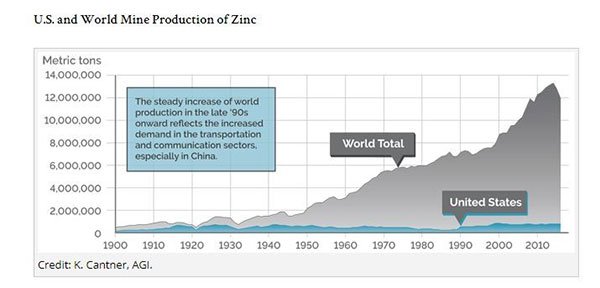 In 2016, China was the main producer at 38% of global supply, followed by Peru, Australia and the United States. China is also a significant consumer of the global supply of zinc.
Research company Wood Mackenzie forecast the need for greater mine capacity for zinc by 2018 in response to rising demand, mine closures and consumer demand, much of it driven by China as headlines such as the one below attests:

With what WRM expect to find, they could well tap into this demand.
Although it should also be kept in mind that commodity prices and demand does fluctuate, so investors shouldn't base their investment decisions on these factors alone and should take a cautious approach to any investment decision made with regard to this stock.
VMS mineralisation was first discovered at Dry Creek in 1975 and West Tundra Flats in 1981.
Zinc deposits typically occur in clusters (VMS camps). Deposit sizes follow a normal distribution, and deposits within camps typically occur at regular spacing. The known deposits at Dry Creek and West Tundra Flats provide valuable information about where to target and identify more deposits within the Red Mountain camp.
Here's a view looking west towards Red Mountain and the camp site:

Red Mountain's maiden JORC 2012 resource totals 16.7 million tonnes at 8.9% zinc equivalent. Within that is a high-grade resource component of 9.1 million tonnes at 12.9% zinc equivalent, which puts it in the top quartile of undeveloped high-grade VMS zinc deposits globally.
The maiden resource at Red Mountain places this project in a global context. The combined deposit size and grade makes Red Mountain comparable to projects such as the $154 million capped Red River's (ASX:RVR) Thalanga Project in QLD and the $180 million capped Heron Resources' (ASX:HRR) Woodlawn project in NSW, both now going into production.
WRM sees significant discovery potential, given the lack of recent exploration in the area. This is further enhanced by the nature of VMS clustering, and the large areas over which these can occur.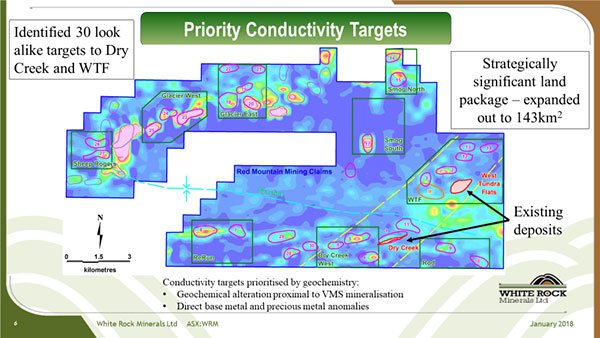 New targets to be explored in 2018: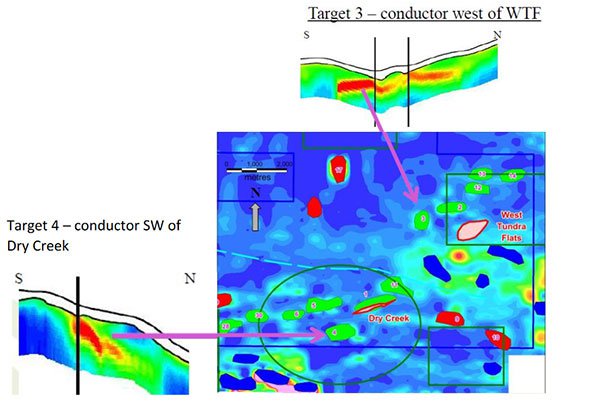 Alaska: a well-developed mining industry
Alaska has a long history of mining.
In 2017 it was ranked 10th out of 91 jurisdictions globally in the Fraser Institute Survey, which rates the most attractive jurisdictions for mining investment.
Alaska is the largest state in the United States. It has a long history of gold and base metal mining and with a state government that supports explorers with a well-developed mining industry.
Fairbanks is Alaska's second largest city and an established mining hub. Major road and rail access is within 80km of the project to the west and north-east and the project is located approximately 60km from a major highway.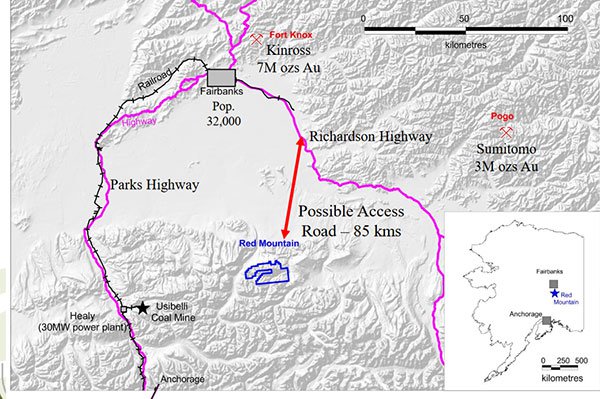 This is a sparsely populated region with no community or environmental legacy issues in the immediate area. The setting provides WRM with great potential in a state that has been home to a number of world class precious and base metal deposits, including the world's largest zinc mine – Teck's Red Dog mine, and the famous Fort Knox gold mine.
Of course Alaska is just one notch on the belt.
Mount Carrington Project
The site at Mt Carrington offers existing gold and silver open pits and remnant infrastructure. Epithermal mineralisation is associated with a large collapsed caldera in the northern region of the New England Fold Belt.
This project is underpinned by a JORC Resource estimate containing over 300,000 ounces of gold and 23 million ounces of silver.
In late December, WRM reported the key outcomes of its Pre-Feasibility Study (PFS), which confirmed the technical and financial viability of the initial project development and provided a very strong rationale to advance the project through a Definitive Feasibility Study (DFS) towards development.
As a key outcome from the PFS, WRM declared a maiden ore reserve in accordance with the JORC Code 2012 for the Mt Carrington project of 3.47 million tonnes of ore at a grade of 1.4g/t gold containing 159,000 ounces of gold.
The study considered a two-stage approach. The first stage plan looks at the gold-only mineralisation.
The second stage of the project's development presents a great opportunity to potentially increase the scale and overall life of the mine, with minimal capital outlay. It will look at silver mineralisation and is still under investigation.
There is a long way to go for WRM to meet its goals here, so investors should seek professional financial advice if considering this stock for their portfolio.
While the market capitalisation of WRM largely reflects the value of Mt Carrington, market interest in Red Mountain is expected to grow, which has the analysts looking optimistic.
What do the analysts say?
A recent independent report by DJ Carmichael offered a valuation estimate of $52.7 million for Red Mountain and $17.3 million for Mt Carrington. It recommended WRM a 'Speculative Buy'.
The broker assigned a value to the Red Mountain project of 6 cents per share and values the combined Red Mountain and Mt Carrington projects at 8 cents per share.
For the coming 12 months, DJ Carmichael is targeting a share price of 4 cents. The price target is based on a successful exploration programme and high associated newsflow from Red Mountain in 2018.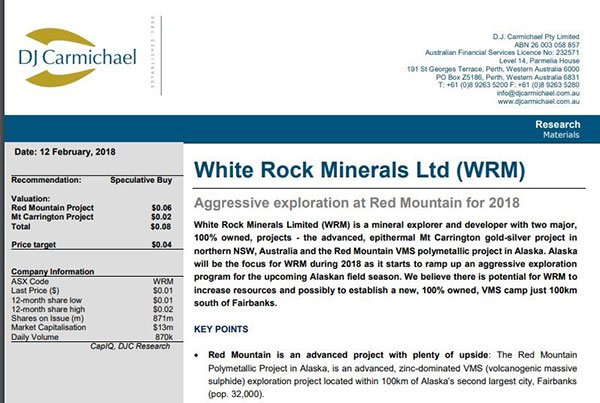 It should be noted that broker projections and price targets are only estimates and may not be met. Those considering this stock should seek independent financial advice.
DJ Carmichael isn't the only broker to get in on the act.
Fundamental Research Corp. (FRC), Canada's oldest and largest independent research firm, also initiated coverage and released a Red Mountain Zinc-Silver Project and Mount Carrington Gold –Silver Project Valuation Report.
The Fundamental Research Corp. report values the Red Mountain Zinc –Silver VMS Project at A$42.6 million, equivalent to 5 cents per White Rock share and the Mount Carrington Gold –Silver Project at A$29.6 million, equivalent to 3 cents per White Rock share.
Together with working capital of A$1.4 million, the total value of these assets is estimated by FRC to be A$73.6 million, equivalent to 8 cents per share.
Again broker projections may or may not be met and caution should be applied when factoring these into any investment decision.
The broker projections are very positive for this growing junior ASX stock and if it hits its milestones, they prove to be more than just speculative.
What's next for WRM at Red Mountain?
Exploration in Alaska will be a red-hot focus for WRM in 2018.
WRM is ready to further build on its geological knowledge of mineralisation, increase confidence in the resource base and expand the existing deposits.
WRM sees significant discovery potential, given the lack of modern day exploration at Red Mountain. Potential success throughout the exploration programme could offer plenty of newsflow for investors.
---