US$ 20M Backing from Elite Financier: "Super Steel" Project Funded All the Way to Construction
PUBLISHED: 01-07-2014 12:49 p.m.
"Space age" steel is about to go mainstream.
There is one metal which steel makers know makes their product stronger AND lighter.
It's not easy to get your hands on it – there are just three producers in the world and it fetches $40,000 / tonne.
It's Niobium (Nb)... Although Niobium is rare, its properties are irresistible.
It's used in jet turbines, rocket sub-assemblies and even Apollo lunar modules.
The main market for Niobium is as an ingredient in High Strength Low Alloy (HSLA) Steel, which is about 20% of the developed world's steel output. Just 10% of the developing world's steel uses Niobium, but it's catching up – fast.
HSLA steel is the future for steel makers, and Niobium plays an irreplaceable part of it.
The current market for Niobium is $2.2 billion/year, and is expected to grow 30% over the next six years.
The US Government has classified Niobium as a "critical and strategic" metal.
No Niobium mines exist in the US, so it is completely dependent on imports.
In fact, our planet has not seen a new source of Niobium since 1976 – yet the market has grown many times over.
With continued strong demand forecast in the steel making sector, the race to uncover a fourth source of this elusive wonder metal is starting to heat up.
We know of an ASX listed company that is sitting on an inferred resource of 82 Mt at 0.52% Nb 2 O 5 .
In a recent US$20M deal, the company secured funding for the future development of its Panda Hill Niobium Project, in Tanzania – all the way to construction.
At a forecast production rate of 2 Mt /year, this company, currently capped at just $26M, can contribute 3.3% to the world's entire Niobium supply, with a mine life spanning 40 years.
At prices of $40,000 / tonne, that's approximately $80M/year revenue... and cash costs are expected to be low, with high margins, and a short payback period on construction costs.
By teaming up with a Tier 1 mining partner, backed by a $7.9 billion private equity group, the company will reduce the need to dilute shareholders, and progressively de-risk the project, receiving 4 x $5M payments up to a Decision to Mine.
Each $5M payment will see their new cornerstone investor earn 12.5% of the project, for a final 50% project ownership.
To top off the recent $20M funding news, our company has also just raised a further $3.6M AUD from institutional and sophisticated investors in the UK to pay back creditors and provide a buffer of working capital.
A competing Niobium explorer, just saw its share price rise significantly in the past few months. Its project is much less advanced than our ASX listed company – surely it's only a matter of time before the market catches onto our company. With some serious financial fire-power in its arsenal, this company is now funded to all the way to mine construction...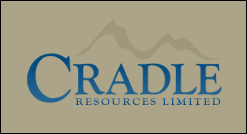 Let's have a quick recap of CXX's plans out in Tanzania. Remember, if CXX's Panda Hill project can be fully realised, it could deliver up to 3.3% of the world supply of this increasingly utilised super element, Nb.
The quickest explanation for Niobium is that it makes steel lighter. The main driver in Niobium growth right now is the manufacturing of cars with HSLA steel.
You can't buy a Mercedes Benz without Niobium in it. The German engineers know that if you add Niobium into your car it's lighter, more fuel efficient, and stronger – and other nations' car builders are taking notice. Japan, South Korea, India and China are ramping up their vehicle production and at the same time improving quality and performance. Niobium will be in demand to make cars that are lighter for fuel economy, faster for performance and stronger for safety.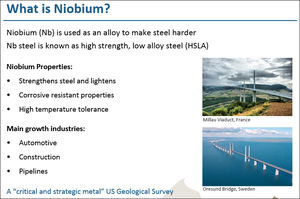 It won't stop with cars either – the BRIC (Brazil, Russia, India, China) nations want to improve the quality of the steel they use to build with, so whoever can supply the goods will reap the rewards. CXX is front and centre to capitalize on the growth of high quality steel. Remember, there has been no new source of Niobium that's come on stream since 1976 . Investing with CXX is an opportunity to claim a stake in a tightly held market.
CXX bought a 50% stake in Panda Hill Pty Ltd in April 2013 with an exclusive option to secure the balance of ownership by 2017.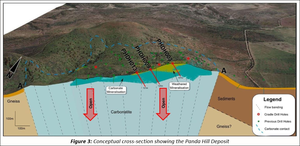 Now, after months of exhaustive due diligence, CXX investors have finally discovered exactly who is taking CXX's project through to construction. The recent confirmation of this deal was enough for Patersons Analyst Simon Tonkin to release a price target of over 200% (from current levels) on CXX: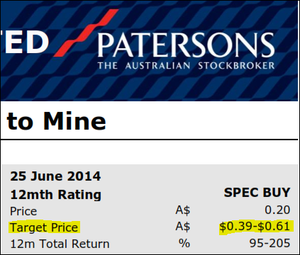 We aren't saying this price target will be reached – these predictions don't always come true, and analysts can get things wrong. But even so, Tonkin's research includes a lot of interesting facts... So, just who are the big shot investors funding CXX's Niobium project?
Tremont Investments Limited backed by Denham Capital
Tremont is an African-focussed mining platform with 25 years of experience bringing projects in Africa into production.
It's backed by Denham Capital , a private equity firm with $7.9 billion of investment capital to its name, concentrated on energy and resources. Now they are putting US$20M into CXX for a 50% share in project development. This will be spread over 4 instalments which will progressively earn Tremont and additional 12.5% share in the project.
In 2011, Tremont raised US$200M through Denham Capital to establish an African resource investment platform and target opportunities throughout the continent. Denham itself is a huge bankroller of commodities and has resources projects with over US$7.9BN invested in the metals, mining, oil and gas and power sectors:

Denham Capital, with such a large investment pool, are no slouches – to be selected in their elite portfolio of projects isnt easy.
After months of intense due dilligence, where CXX's team and their project was poked and prodded, tested and re-tested, from the finance to the geology, they finally agreed that CXX's Panda Hill Project was worthy of entering the Tremont / Denham Capital portfolio.
Now that CXX have been selected in an exclusive portfolio of projects, they are sure to be looked after. Here is Director Caroline Donally from Denham explaining how they go about making investment decisions :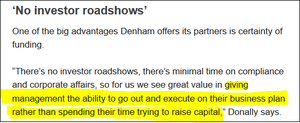 In addition to the deep pockets of Denham Capital through Tremont, CXX can closely work with Tremont trusted team of elite advisors...
Pangea Exploration – Tremont's trusted African Advisors
Tremont and Denham Capital work with the best, and when it comes to Africa, there is an elite duo they trust – Rob Still and Anton Esterhuizen.
Rob Still is the CEO at Pangea Exploration and his name is one that strikes confidence into the cheque books and long term projections of scores of investors involved in the African resources sector. Just take a look at his CV: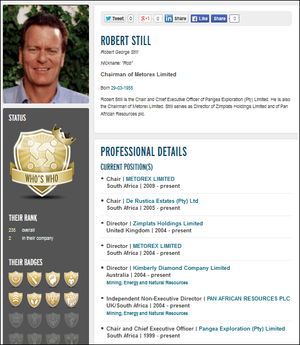 How does he find the time to run all those companies and count his money?
South African born Still is something of a Swiss army knife for Africa's mining and energy industries and has carved a reputation as the go to manager who gets things done.
We've done some asking around and the consistent thing we hear is that when Rob Still is on board with a project then it will be delivered.
Meanwhile Pangea's crack geologist, Anton Esterhuizen is globally recognised in his field. He played a big role in the discovery and evaluation of Xstrata Group's world class, high grade Rhovan vanadium deposit in South Africa. He also has a habit of re-evaluating gold deposits in South Africa and Tanzania, like the massive Burnstone gold deposit, in the process attracting low risk cash flow chasing majors to these countries. This duo's hall of fame is dotted with stars all over Africa: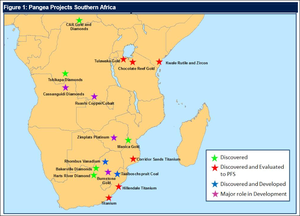 Denham Capital, the big investment firm that's backing Tremont is known as a careful investor that does everything it can to minimise risk and maximise returns. It wouldn't be floating money to Tremont for its CXX venture if it didn't think it was worth it.
Having Pangea Exploration there to really test CXX's Project helped Tremont make their final decision. With world renowned, regional experts like Rob Still and Anton Esterhuizen teamed up with CXX gives a gold stamp for the company's plans.
Our Track Record
Regular readers of our sites will be familiar with our long-standing interest in high potential stocks. To note just a few:
Following the Next Oil Rush article on ASX:TPT – Drilling Just Weeks Away for Tiny Explorer Targeting 1.6 Billion Barrels of Oil
– TPT's share price has risen as high as 80%.
After the Next Mining Boom covered ASX:SGQ in the article BHP Gives Away Potential Global Scale Nickel Project – its share price has risen as high as 70%.
After the Next Oil Rush article on ASX:SWE The last junior oil explorer operating in this exciting region with this same JV partner went up 800% in a matter of months – the share price has been up to 150% since we called it.
And who could forget the Next Oil Rush tip of the decade, TSX:AOI, which has since a rise as high as 600% (!) since we called it in the report East African Oil – Hot Tip of the Decade!
The past performance of these products are not and should not be taken as an indication of future performance. Caution should be exercised in assessing past performance. These products, like all other financial products, are subject to market forces and unpredictable events that may adversely affect future performance.
US$20M deal sets up CXX
So, CXX has just secured US$20M in funding from an elite and wealthy team of professionals – enough to fully see the 82 Mt at 0.52% Nb 2 O 5 inferred resource Panda Hill Niobium Project through to construction:

The first tranche of US$5M has already been received and will be put straight into the Pre-Feasibility Study works:

The agreement allows Tremont to be the sole funder of project development which will be split into four stages:
The first US$5M tranche has already been received by CXX;
The next US$5M will be used for completion of the Pre-Feasibility Study – schedule for early next year;
The third payment of US$5M will be used toward completion of the DFS – expected late next year, and;
The final US$5M payment will be used for project development funding.
Through each payment Tremont will accumulate an additional 12.5% of the Project, up to a total of 50%.
It's worth noting that Tremont's first $5M payment for a 12.5% earn in was done at a premium to CXX's current share price.
This is because the Tremont deal values the project and CXX at $40M – yet CXX is currently sitting at a market cap of just $26M...
Along the way the Project will be continually de-risked, metallurgy should be improved, and project economics should become even more attractive.
So there you have it. US$20M in funding – enough to cover the DFS and take the Panda Hill project right up to construction – a significant hurdle overcome.
This is a very good deal.
CXX has secured solid funding to complete the DFS at Panda Hill and bring this promising project into production. It now has an experienced partner who can help shepherd the project from drawing board to bottom line.
CXX has found the ideal partner in Tremont.
It's cashed up and has a close financial relationship with one of Africa's biggest investment firms, Denham Capital, and also has years of experience getting projects like Panda Hill from the drawing board to production.
At The Next Mining Boom we added CXX to our portfolio because of its potential to bring the world's first new source of Niobium onto the market since 1976. Now, we're seeing CXX take massive steps to go from potential to production with this shrewd and well-timed funding deal.
Why we think this deal is a winner
The bottom line for us at The Next Mining Boom is that this funding deal between CXX and Tremont eliminates most of the risks associated with getting a mining project off the ground and ahead. It does this in three key ways:
1. CXX doesn't need to go to the markets for money to get to construction
CXX's management are the biggest shareholders in the company. Before the deal with Tremont was made, the bosses owned 65% of the shares with the rest split between friends, family and small holders.
Diluting such a strong shareholding to fund Panda Hill's development is inevitable – it's rare that a company in CXX's position can secure debt funding – or even want to risk going down that path.
The usual way for small caps to raise funds is to make share placements over and over again to fund different chunks of the mining plan or even just to keep the lights on – US$5M for drilling here, US$15M for a DFS there – each and every time the existing shareholders become further diluted – and frustrated.
That's just spinning the wheels and often results in a huge number of parties becoming involved.
The option of bringing in Tremont as a 50% partner in return for US$20M to get Panda Hill to the construction phase is a master stroke. CXX gets solid funding in one go and a close business relationship with a Tier 1 private equity fund with strong links to elite level financing because remember, Tremont is backed by the multi-billion dollar investing powerhouse Denham Capital.
The US$20M from Tremont in return for a 50% stake in Panda Hill will fund a DFS and get the project to the construction phase. At that point it is expected that CXX (and 50% partner Tremont) will need more funding to build the mine and production facilities for Niobium. This brings us to the second risk CXX has eliminated through this deal:
2. CXX has cut its portion of capex in half
CXX's Scoping Study reckons on a capex of US $185M to develop a 2Mtpa Niobium mine out at Panda Hill in Tanzania.
Taking a staged approach, CXX has estimated a total cost of US$125M, which would see 1Mtpa production in the first 3 years, then ramping up to a 2.3 Mpta production.
Nb sells for over US$40,000 a tonne – so that capex represents a very low cost to bring a high margin product into the market.
Now it's even cheaper for CXX to do that. The funding deal with Tremont for US$20M in exchange for a 50% stake means Tremont will fund 50% of capex costs as well.
So instead of CXX trying to fund at least US$125M for production, they only need to come up with US$62.5M – a much smaller chunk of cash to raise when the time comes after the DFS is completed.
And remember, Tremont's got CXX's back now and there's a direct line to deep pocketed Denham Capital.
We don't want to jinx it but we reckon getting more funding for the Panda Hill project is going to be a lot easier now that CXX is in business with Tremont. That brings us to our final point about this funding deal:
3. Pangea Exploration adding technical weight
The other benefit to the deal is that CXX are taking on strategic, cornerstone investors, who can bring their vast African and geological skills and experience to the table.
Instead of raising funds from anyone who wants to chip in, CXX can use their new investors for technical help on the path to mine construction.
Now CXX is free to develop its DFS with the help of a highly rated investment firm, backed up by one of Africa's hot shot project managers Rob Still. When it reaches the construction phase the gates are wide open for it to seek more funding from its new friends.
A further $3.6M AUD just banked by CXX
But wait... there is more cash for CXX...

CXX just sealed a $3.6 million AUD placement from institutional and sophisticated investors in the UK. These investors were issued shares at $0.20 AUD per share, and there were 18M shares issued in total:

This extra cash will pay out existing creditors and give the company some working capital.
CXX's hunt for "super steel's" vital ingredient
So now you know the big news for CXX – US$20M in funding – and the great promise Niobium holds for emerging players.
To attract this kind of deal, CXX had to do a lot of exploration beforehand. The first thing CXX did was to find out how much Nb was in the ground.
Panda Hill was said to have a sizeable near surface Nb resource (56Mt at 0.5% Nb2O5, with previous metallurgical test work showing favourable recoveries at an average 65%) in the carbonatite.
That changed significantly when CXX brought in independent mining consultants, Coffey Mining, which undertook a 13 hole diamond drilling programme. Coffey has reviewed the Panda Hill project and estimated a resource of 81.8Mt at 0.52% Nb 2 O 5 – much more Niobium of a higher quality than first thought.

The strip ratio at Panda Hill is under 1:1.
That means the Niobium is close to the surface and Panda Hill can be an open cut mine. This reduces upfront mine costs dramatically. No expensive, deep shafts are required. Many of the Nb deposits are situated on a hillside – once again making things easy come production.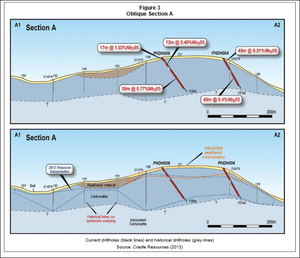 It's worth highlighting the recent metallurgy testing undertaken on the weathered material at Panda Hill.
The maximum potential niobium recovery at a 55% Nb 2 O 5 grade is between 75% and 82% – compared to the fresh ore average of 88%.
Existing Nb producers – there are only three of them – recover about 50 to 60% overall – so CXX's results are in line with the big producers .
Comparing the resource size and grade to other Niobium projects, CXX's stacks up pretty well – represented by the large red triangle in the graph below, it is clear that CXX have the highest grade development prospect outside of Brazil: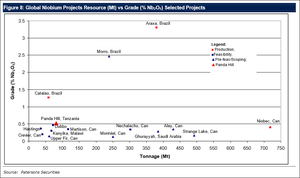 The Panda Hill project sits right near the industrial city of Mbeya which has a population of 280,000 people and is a major service centre, so this isn't a project in the back of beyond.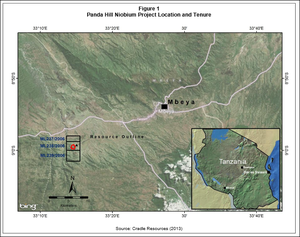 Best of all for CXX, Panda Hill is visible from the airport indicated on the map above.
Niobium is a very valuable commodity that can be transported like gold. It is not a bulk commodity that needs to be shipped in a container or hauled in a freight car.
A plane will do; so transport costs are a negligible component of the Niobium sale price.
All in all, CXX's acquisition of the Panda Hill Niobium Project was a shrewd, well-timed move. The demand for Nb is growing and a new source of this valuable commodity is overdue.
Now that CXX has secured US$20M in funding from Tremont it can complete the DFS for Panda Hill and press forward to production.
Big re-rating for CXX's Niobium rival
The Niobium sector is really heating up as CXX takes giant steps forward to get into production of this valuable commodity. Check out the 200% gain in two months that Niocorp Developments Ltd just had:
The past performance of this product is not and should not be taken as an indication of future performance. Caution should be exercised in assessing past performance. This product, like all other financial products, is subject to market forces and unpredictable events that may adversely affect future performance.
Just like CXX, Niocorp is developing a new source of Niobium to feed the growing demand for this rare and valuable commodity.
Niocorp's Nb project is at Elk Creek in Nebraska, USA and the company is conducting a three stage infill drilling programme on site to get its resources into the measured and indicated category. When that's done a feasibility study will be initiated.
Ok, so far pretty similar to CXX – but why the big jump in value for Niocorp?
Well, the price of Niobium might have something to do with it – over US$40 a kilo – and Niocorp's drilling programme is now well under way with two drill rigs on site conducting a three phase exploration programme totalling 12,000m.
The first core samples from the first drill rig are being analysed and Niocorp says both rigs will be running 24 hours a day.
The company's growth is very likely being driven by investor anticipation of Niocorp showing positive results, either a bigger resource than first thought, one of higher quality, or even both.
The US imports all of its Niobium so a new source of this in-demand material in the heart of the world's largest economy seems to be getting investors excited about this commodity.
The good run Niocorp is having is a good sign for CXX.
Remarkably, CXX is actually a little further down than the track than Niocorp – CXX has a Scoping Study in the bag, updated metallurgy results on its resource and has already done quite a bit of drilling.
Its next move is a DFS. Yet Niocorp are currently valued at over US$90M – somehow CXX is currently valued at just $26 million AUD – less than a fifth...
CXX's next moves
Now that the Scoping Study is complete, and CXX have successfully sewn up funding requirements up to a Decision to Mine, drilling work will continue to firm up the resource.
CXX are currently in the Pre-Feasibility Study (PFS) stage, with further drilling to kick off in the coming quarter. Now that CXX has a partner with deep pockets – Tremont – we expect to see things accelerate. This is the timetable CXX reckons for the PFS: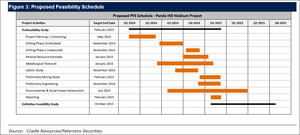 CXX doesn't have to go to the markets with placement offers and further dilution of shareholders to get funding for the DFS so we expect work on this to begin by Q1 of 2015. Major catalysts along the journey are:
Metallurgical testwork results at the end of September
Ongoing drill results
Preliminary Feasibility Study (PFS) Results early next year
Development decision in the second half of next year
Production in 2017 – entry of CXX into the world's niobium marketplace as the fourth global supplier.
CXX now has a cornerstone investor which is taking a 50% stake and there is a good possibility that once the US$20M has been spent on the DFS and we get to the construction stage, the world may have its first new source of Niobium since 1976 – the year before Star Wars came out!
The force is with CXX right now – and it's called Tremont Capital.
---