Update on Orinoco Gold (OGX): Up 100% since we called it.
PUBLISHED: 15-05-2013 09:18 a.m.
It's been about a month since we first wrote on Orinoco Gold (ASX:OGX) and the stock has performed extremely well, currently trading around 30c (around 100% above where we first called it).
The team at The Next Mining Boom is very pleased with this result, particularly considering the tough market conditions in small cap resources stocks, and we continue to hold a long term position in OGX.
When we first wrote about OGX, we talked about the high grade gold potential and a potential multimillion ounce high grade gold deposit.
OGX has just announced to the market a significant intersection of high grade SILVER after reassaying and testing its drill core for mineralisation outside of the known gold zones. This is IN ADDITION to the gold potential which we wrote about.
OGX's latest announcement can be found here :
Before we discuss this potentially game changing announcement, we have to give you a quick reminder about where we first called OGX: at 14c on the 5 th of April: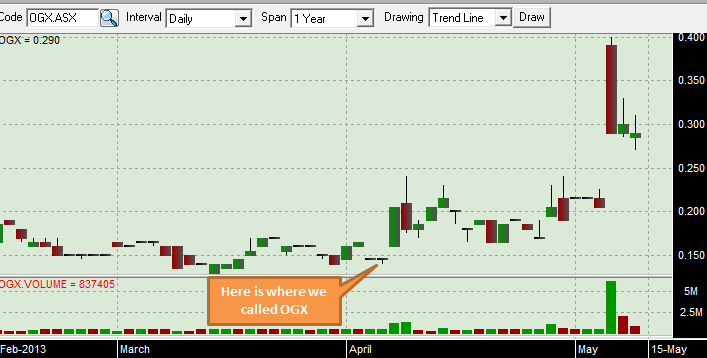 The past performance of this product is not and should not be taken as an indication of future performance. Caution should be exercised in assessing past performance. This product, like all other financial products, is subject to market forces and unpredictable events that may adversely affect future performance"
At around 30c, OGX is currently sitting around 100% above where we first introduced it to our readers, and even hit 40c the day the silver hit was announced. Not a bad result and we hope that The Next Mining Boom readers are sitting on some nice paper profits, or have even taken a profit, depending on each individual's trading strategy (consult your advisor!).
Like The Next Mining Boom on Facebook to receive new articles as soon as they are published:
So what does this announcement mean?
Well, from a potentially high grade gold deposit, we have now found out that there is also potentially high grade silver at Cascavel and therefore a potential high grade precious metals deposit.
OGX has assayed existing drill core (they drilled 22 drill holes targeting gold) for commodities other than gold and discovered that the drilling for gold has also intersected extremely high-grade silver – and not just a little – but high grades over significant widths.
For those that understand drilling results, the first intersection shows 17.6m @ 1,263 g/t silver from 101m down hole.
For those unfamiliar with silver and more familiar with gold, the easiest way to think about this grade is in terms of putting a silver grade in to a 'gold equivalent'.
If you divide the gold price by the silver price you get what is called the 'gold-silver ratio'. At the time of writing this would be 1450 (the price of gold in $/oz) divided by 23 (the price of silver in $/oz) and hey presto, the gold-silver ratio is around 63.
Now, putting this intersection of 1,263g/t in to a gold equivalent, this would mean dividing 1,263 (OGX's grade) by 63 (the gold-silver ratio) giving a gold equivalent of around 20g/t.
In other words – "extremely high grade gold" equivalent.
This intersection has shown that the silver is over THICK widths and BETWEEN the gold heavy zones. The fact that the silver has been discovered between the two gold zones is important for several reasons – but primarily because a zone of rock that was previously thought to be economically worthless is now potentially very valuable!
You could think of the mineralisation as a thick zone of silver with gold sitting on top and underneath it ('sandwiching' the silver if you like) – which means this WHOLE gold/silver/gold unit is being investigated for open pit extraction which is an even cheaper mining method than underground mining.
As a bonus, OGX announced that there was also a potentially economic amount of copper in the silver zone – just another commodity that would have to be extracted in a mining scenario that might add more value to the product mix from the Cascavel project.
OGX will now retest this same silver bearing horizon in each of the other existing 21 holes and determine whether the silver is also present in this same host rock.
Here is what we know so far, taken straight from OGX's latest presentation: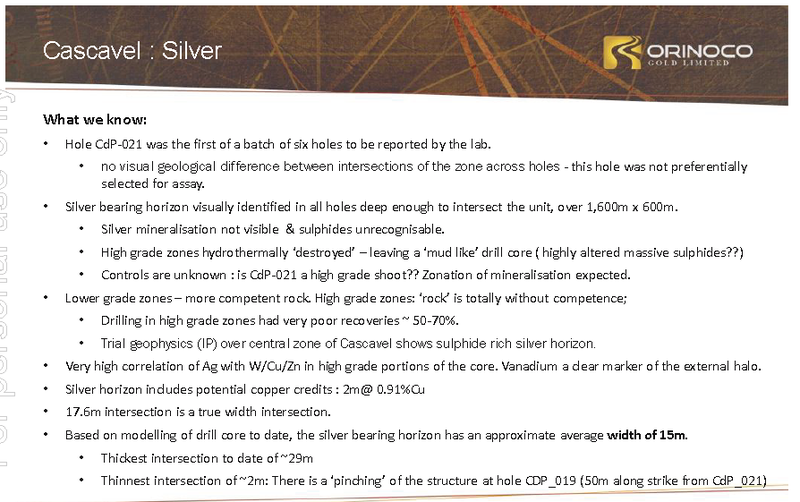 Mark Papendieck, OGX's Managing Director gave an interview on Boardroom radio which gives a good overview of OGX's announcement.
You will notice the words, 'economic game-changer' thrown in. These are words we like to hear!
Mark also recently did an interview on Boardroom radio (prior to this announcement) explaining the overall OGX strategy . We'd recommend having a listen to gain an understanding of OGX straight from the horse's mouth. The interview also features David Mendelawitz from Cleveland Mining (ASX:CDG), another ASX junior venturing into Brazil and another stock we follow closely
Just raised money
OGX just raised ~$3.6m in a heavily oversubscribed placement after returning these high grade silver results. In an extremely tough market to raise money for juniors, this means that they are now well funded for continued exploration.
The announcement can be found here :
Conclusion
When we first wrote about OGX, we talked about the high grade gold potential of OGX and a potential multimillion ounce high grade gold deposit. We now wait to see whether OGX's deposit will become a precious metals deposit, incorporating silver.
OGX will now retest the previous 21 drill holes over 6000m that were previously tested for gold to see whether OGX's asset could graduate from a low cost gold deposit, to a low cost gold AND SILVER deposit ( with copper! ).
Here's what we are waiting on: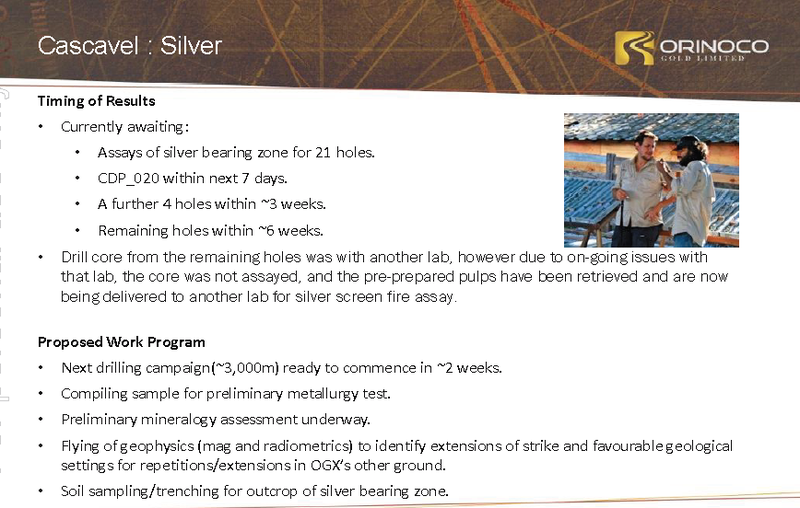 It should be a very interesting couple of months coming up for OGX and we are glad readers heard about this story when OGX was trading around 14c!
Good luck in your investments
The Next Mining Boom
---