Space Age Metals Play Hits Warp Speed: CXX Now Just Weeks Away from DFS
PUBLISHED: 04-03-2016 10:43 a.m.
The Next Mining Boom presents this information for the use of readers in their decision to engage with this product. Please be aware that this is a very high risk product. We stress that this article should only be used as one part of this decision making process. You need to fully inform yourself of all factors and information relating to this product before engaging with it.
Where does one look for the best investment opportunities during a cyclical mining downturn?
A good place to start is new-age commodities that are going to be most relevant to the next 20 years of tech driven industrial growth.
Think of lithium and graphite which have burgeoning demand for batteries and advanced materials and plenty of market interest as a result.
At the Next Mining Boom , we've been following a resource company that is firmly in this category, with the world's largest undeveloped economic deposit of a specialty new-age commodity that is used to produce high strength steels for high tech applications.
The market for this commodity is substantially larger than lithium and it is growing at about 7% per annum.
For the last 40 years there has only been 3 mines world-wide quietly producing the commodity and making a lot of money for their owners.
As a result, the price of this commodity has been remarkably stable – it's a club deal.
The largest producer is owned by one of Brazil's wealthiest families and this commodity is making a small fortune for them every year, if you call $600m profit per year a small fortune!
It's all under the radar and that's the way they like it.
This ASX listed company is now ready to join this exclusive club.
At the same time, this company's project is in East Africa and there are political and social challenges to deal with making it a very high risk investment so caution is advised if considering for your portfolio.
This company has just announced the results of its pilot plant test work which proves that a simple, low cost flotation process will work for its ore.
These are crucial results, as favourable metallurgy is the exception rather than the rule in this commodity.
With these results, the race to production is on.
Except it's not really a race...
There has been no new producers of this specialty commodity in 40 years and there are no other projects vying to enter production.
A Pre-Feasibility Study has already demonstrated an NPV (net present value) of over US$400 million and a cash operating margin of over 50% at current prices.
This is being upgraded to a Definitive Feasibility Study (DFS) which is due to be released within weeks – providing a neat catalyst for this stock.
The ASX company which owns 50% of this project has a market value of only A$23 million.
The other 50% is owned by a committed partner with deep pockets willing to bring the project into production quickly.
Watch this space.... this project is going into production.
So what is this new-age metal?
The mystery commodity is... Niobium
Niobium is a key element used to make harder steel and advanced steel products.
Niobium is used in a wide variety of every day applications from creating lighter and more fuel-efficient car bodies to technologies of the future including Elon Musk's Space X rocket engine nozzles and niobium bar gravitational wave detectors.
As we push the limits of what is possible in engineering we will continue to need advanced materials such as niobium and its alloys to produce the solutions to tomorrow's problems.
Niobium is so important that the US Geological Survey describes it as a "critical and strategic metal".
These advanced steels are the growth future of the steel industry. As a result the demand for niobium is increasing much faster than the demand for steel. Niobium is truly in the new age metal club.
Furthermore, the average price per kg has been stable over the past 5 years in complete juxtaposition to the ongoing commodity price declines.
Breaking into this private party is not easy, but this company has:
A top-notch, well-advanced project in the bag, excellent metallurgical results and some heavy resource-investing hitters in its corner ready to fund the project to completion.
So without further ado, we re-introduce: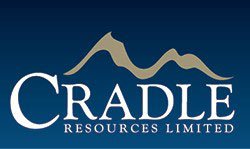 Be honest, have you ever heard of Niobium?
If you haven't, click on the link for a whistle-stop tour: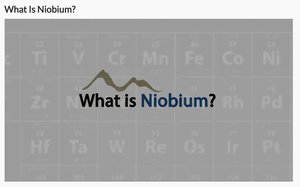 Here at The Next Mining Boom , we first heard of Niobium back in 2014 which eventually led to our original article on Cradle Resources (ASX:CXX), Rare Ingredient in "Super Steel" – Tiny ASX Explorer has Just Found Enough to Become the 4th Largest Global Supplier .
We've had one eye on CXX and Niobium ever since then, as the company has gradually progressed project development – now, the company has reached a crucial point on its journey to production, as its DFS is now just a few weeks away.
When we last wrote about CXX, in the article US$ 20M Backing from Elite Financier: "Super Steel" Project Funded All the Way to Construction , the company was about to embark on its most important round of exploration following its rather attractive Scoping Study that penciled in US$460MN NPV and an IRR of 57%, with capital expenditure under US$200MN.
CXX was just about to move into the Feasibility Study stage – often a key catalyst amongst mining aficionados, and investors.
Now, we're here to update you on how things are shaping up after almost two years of exploration.
Let's start with the latest news from the company – a major step toward proving to investors that the Panda Hill Mine can be a profitable operation.
Panda Hill pilot test work highly successful
In order to confirm that lab processing of the Panda Hill ore can be replicated on a vastly larger scale, CXX shipped 35 tonnes of mixed ore for testing to a commercial laboratory SGS in Lakefield, Canada in late November 2015 to complete the final stages of piloting plant testing.
The recent news is good – CXX has just confirmed results from its pilot plant test work that are considered definitive and confirm consistent, predictable recoveries at expected grades.
The results confirmed 71% Niobium recovery in Fresh Carbonite Rock...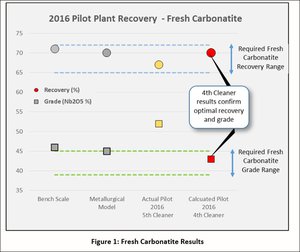 ...and 62% recovery in Moderately Oxidised Carbonite rock: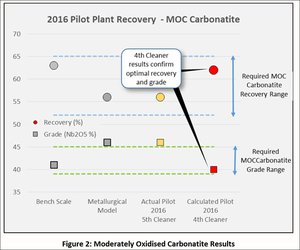 What these pilot plant results have confirmed is that the niobium recoveries and concentrate grades previously achieved at bench scale can be replicated on a grander scale.
The circuit was stable and adjusted quickly to changes in inputs. With consistent, predictable recoveries obtained, this is one more tick in the box for CXX as it finalises its DFS.
From these results, it's clear that CXX now has the right circuit and flowsheet, producing the right recoveries.
These results will be used to fine tune the design and cost estimates for the Definitive Feasibility Study.
CXX has advanced its Panda Hill Project in Tanzania to within striking distance of a DFS
CXX has been busy drilling holes and collating assay results for the past few years at Panda Hill in Tanzania.

The results have been more than encouraging as CXX now holds one of the highest grade and largest tonnage Niobium projects anywhere in the world outside of Brazil.
CXX's 178Mt @ 0.5% Nb 2 O 5 JORC Resource could potentially mean CXX having its hands on 3-5% of world Niobium capacity.
And yet CXX remains capped at AU$23MN, far lower than all its other comparable peers.
A revaluation could be on the cards, and CXX is doing everything it can to secure the best hand.
Before we get into CXX's arsenal, let's take a look at the broader market it's entering into.
From the cradle to the grade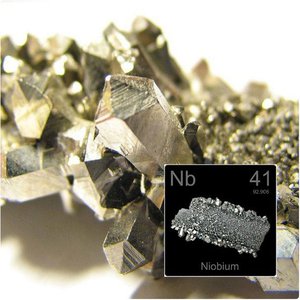 In a very similar vein to other specialty metals such as tantalum and zirconium, Niobium has a bright future given its special properties.
Niobium is a key component in high-strength low alloy (HSLA) steels, with small amounts (~300g per tonne) added to steel significantly increasing its strength (30%).
Niobium steel is a modern product and is used in cars, pipelines, buildings and bridges. Niobium is also used in arc-welding rods for stabilised grades of stainless steel.
Niobium has superconductive properties and it has been useful in making superconductive magnets in the form of Niobium-zirconium wire, which retains its superconductivity in strong magnetic fields.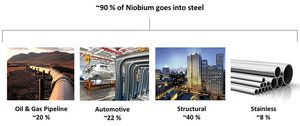 Thousands of pounds of Niobium have been used in air frame systems, including in the Gemini space program .
Niobium is used in jet turbines, rocket sub-assemblies and even Apollo lunar modules.
Clearly, it's a metal that is very alluring, for both industrial applications, as well as more consumer-friendly varieties such as coins and jewellery.
The Niobium landscape
But what about the other producers?
There are only three producing Niobium mines in the world.
Current Niobium production is around 60,000tpa Nb or 90,000tpa FeNb (ferroniobium) with a total value of US$2.2 billion.
Brazil is currently the world's largest producer of Niobium, generating a whopping 92% of global capacity. So when it comes to Niobium production, its epicentre is Brazil.
Brazil has two of the largest Niobium deposits in the world, the Araxá and the Catalão deposits.
The Araxá mine is operated by CBMM . The Catalão mine is operated by Anglo American, who have a pretty large pile of problems right now. So much so, the global mining major may be selling their Niobium asset later this year to pay down debt.
The current world leader in Niobium production, by a country mile we might add, is CBMM which is owned by the Moreira Salles family, one of Brazil's wealthiest dynasties.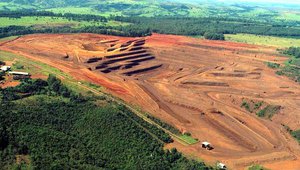 CBMM's Araxá Niobium mine in Brazil
CBMM is privately owned and therefore not listed on any stock exchange, but generates more than $600 million in annual profit, with an estimated market value of around US$13 billion, calculated based on the sale of a 30% stake to a group of Asian steelmakers for $3.9 billion in 2011.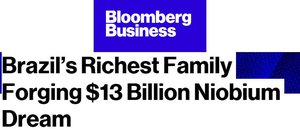 There are some countries out there that prefer to have self-sufficiency in critical supplies – possibly to further imperialistic ambitions and economic prowess. Examples here would include the US, China, Russia and the EU.
Here's how the Niobium landscape could look like if CXX is able to add its project to the mix.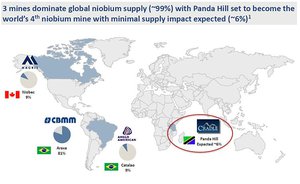 As you can see, the majority of the world's supply is coming from Brazil where Anglo American and CBMM are dominating. Another 9% comes from Canada's Niobec.
CXX wants to shoehorn itself into this tightly-held market, to produce around 3-6% of the world's supply when it is set to go into production in around two years' time.
With regards to pricing and estimating what kind of revenues CXX can expect to generate, here are some estimates provided by Roskill.
Remember that Niobium is a highly specialised metal for which pricing is set directly between buyers and sellers without a centralised exchange.
Here are the prices from 1990 to 2015...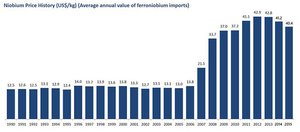 As you can see above, in the last seven years, the prices have fluctuated but only minimally. In 2014 it sat at US$41.13kg/Nb. In 2015, it dropped to US$40.36kg/Nb.
Industry consultant Roskill reports that prices have remained consistent and have the potential to rise to US$45kg within the next four years.
The average price per kg has been stable in complete juxtaposition to the ongoing commodity price declines seen for metals such as iron ore, nickel and copper.
At the same time, commodity prices can be hard to predict – so there is no absolute guarantee Niobium will stay this way.
One of the great background factors is that China and the US – the world's two largest consumers of steel, currently have zero domestic deposits or domestic production of Niobium.
Combined, the U.S and China account for over 40% of global Niobium demand – yet have no domestic supply

Data in metric tonnes.
Research and markets estimates are that the global Niobium market will grow with a compound annual growth rate of 7% from 2015 to 2020.
So it's a smart game that CXX are playing.
CXX's Niobium arsenal
CXX is determined to parachute into this favourable landscape, and although we touched on the pilot test results above, here are some more of CXX's Project specifics to help it achieve its goal.
Mapped out below is CXX's Panda Hill Project, located in Tanzania: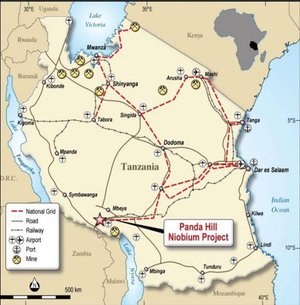 Panda Hill is an open-pit asset with shallow mining and non-complex processing required. Supportive infrastructure is already in place which again helps to curb additional project costs.
Here's a cross-section of Panda Hill...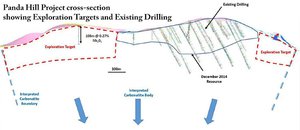 Panda Hill: Open at depth with only 30% of carbonatite tested to date
Not only has CXX got its hands on a hefty Niobium deposit close to production, but future resource upgrades are also waiting in the wings – considering the unexplored exploration targets.
It's also interesting to observe that the strip ratio at Panda Hill is under 2:1 life of mine – that means the Niobium is close to the surface and Panda Hill can be an open cut mine.
This reduces upfront mine costs dramatically. No expensive deep shafts are required.
With Niobium currently fetching around US$40 per kg (US$40,000 per tonne), a rough estimate suggests CXX has the potential to record around US$200MN (A$292MN) in revenues each year, assuming it can get production going.
Now, these figures are speculative and can fluctuate depending on a number of factors – its recommend investors consider a range of factors before choosing to invest in this stock.
Any revenues earnt from the project will be split 50/50 with its JV partner Tremont – but more on that later.
On the cost side, CXX is aiming to produce its Niobium at a cost price of US$21.75 per kg – a 49% margin against the assumed long term sale price – which gives substantial slack for price fluctuations and a healthy profit margin from day one.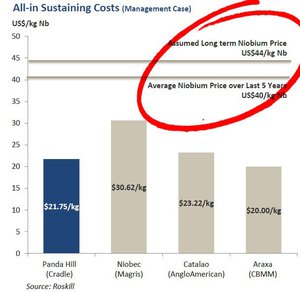 CXX is on course to become one of the most efficient, low-cost Niobium producers in the world, second only to CBMM's Araxa project.
Average production is expected to be around 5,200tpa, able to deliver an NPV of US$420MN at Panda Hill.
...but CXX is valued at only A$23MN, ten times less than its half share of projected NPV.
Here at The Next Mining Boom , that's what we like to call an interesting ground-floor stock brimming with potential.
Big hitters rocking this Cradle
Any resource investment tends to generate that warm-and-fuzzy feeling for investors if there are big hitting, big spending resources giants involved.
It's part and parcel of resources exploration, regardless of which resource.
By teaming up with a Tier 1 mining partner, backed by a $7.9 billion private equity group, CXX is committed to getting its Panda Hill ticket punched without further diluting shareholder value.
CXX has teamed up with Tremont for a 50/50 JV deal on Panda Hill and operating their joint-venture vehicle, Panda Hill Tanzania Ltd (PHT).
Tremont is an African-focused mining investment platform with 25 years of experience bringing projects in Africa into production.
It's backed by Denham Capital , a private equity firm with $7.9 billion of investment capital to its name, concentrated in energy and resources.
This merry band of resources investors is now almost at the finishing line in terms of getting all the feasibility done and dusted.

Tremont has invested over US$20MN into Panda Hill with the last US$5MN committed last November , leaving only the DFS and actual project construction left before production can begin.
CXX has secured solid funding to complete the DFS at Panda Hill and bring this promising project into production. It now has an experienced partner who can help shepherd the project from drawing board to bottom line.
One of the most surprising – yet alluring – aspects for CXX, is that Niobium projects are very rare in the mining industry, with the last commercial Niobium project coming online as far back as 1976.
That's a long time for a resource with as much world-wide demand and high-end space-age applications as Niobium.
At The Next Mining Boom we have been tracking CXX's progress because of its potential to bring the world's first new source of Niobium onto the market since 1976.
Now, we're seeing this company take massive steps to go from potential to production, subject to a few last hurdles.
From developer to producer
The US$20MN investment from Tremont in return for a 50% stake in Panda Hill has funded CXX's DFS with the project now about to move into the construction phase.
At that point it is expected that CXX/Tremont will need more funding to build the mine and production facilities.
CXX's DFS estimates 1.3Mpta production ramping up to 2.6Mpta out at the Panda Hill mine in Tanzania.
In the meantime, project takeover talk is doing the rounds.
A few weeks back, Anglo American was rumoured to be offloading some its Niobium assets in Brazil for a reported US$1 billion .
One of the prime contenders is X2 Resources, the private-equity firm founded by former Xstrata Chief Mick Davis.

Davis founded X2 in 2013 raising $5 billion from backers including Noble Group, private-equity fund TPG Capital and other sovereign-wealth and pension-fund investors in 2014.
According to Bloomberg, X2 has not made any investments so far although Anglo American's Niobium asset could be its first...
Could the Niobium takeover talk spark a broader scramble for this super alloy?
It would seem the answer might be yes...
From cradle to catalyst
CXX has forged a clear path to market, and it could be a great one for investors looking for a niche metals play insulated from the turmoil in bulk commodities, yet still leveraged to future industrialisation and steelmaking.
When looking at analyst research, The Sophisticated Investor previously published a research note valuing CXX shares at an intrinsic value of A$0.54 per share, compared to the current price of A$0.175 – that's a premium of over 200%.

At the same time, and there is no guarantee that CXX will go up in value on this report alone – always consider a range of factors before making an investment, including your own personal circumstances.
In the report, published in March 2015, Sophisticated Investor cites Claude Dufresne as a potentially key factor for CXX. Mr. Dufresne was responsible for securing Niobium offtakes at the Niobec mine in Canada between 2001 and 2012.
His expertise could be the final element that clinches that all-important offtake deal, and crystalises the prospect of imminent revenues.
Meanwhile, Argonaut equity research analyst Patrick Chang, sees CXX as a 'spec buy ' citing an EBITDA margin in excess of 100%. A team of mining research analysts at Mirabaud also sees CXX as a spec buy with a target price of $0.56 per share.
We would of course urge all readers to conduct their own research, while bearing in mind that analysts are not always correct.
Cradling a space-age resource, in the most space-age of times
CXX has imminent niobium production in its grasp.
Ticking all the boxes a Niobium developer could ever want, Panda Hill is a potential cash cow that could not only fill CXX's coffers but add a new diversified producer to a Niobium industry that's been coiled up like a spring since 1976.
Rather than falling from grace like so many other commodities, Niobium demand is expected to stay stable and rise over the coming years.
Sale prices have remained rock solid for over a decade countering the theory that all commodities rise and fall in unison.
At the same time, CXX is a high risk stock, and there is no guarantee of success here. It's always a good idea to seek professional advice before choosing to invest.
CXX has put itself in the batter's box with a high grade 100Mt+ Resource that needs a final round of funding to be taken up to production...
...but that funding has been largely assured with the JV deal with Tremont/Denham.
Billion dollar resource funds don't go fishing for billion dollar new-aged commercial projects, and take them to the finish line, only to let them back in the water for someone else to reel in and monetise.
Here at The Next Mining Boom , we think Panda Hill is going all the way to production, giving CXX the potential to go all the way to the bank.
---