Significant Ruby & Vanadium Deposits Found: MUS Looks Set to grow its profile in 2018
PUBLISHED: 19-04-2018 10:30 a.m.
The Next Mining Boom presents this information for the use of readers in their decision to engage with this product. Please be aware that this is a very high risk product. We stress that this article should only be used as one part of this decision making process. You need to fully inform yourself of all factors and information relating to this product before engaging with it.
The ruby market has continued to grow from strength to strength over the last eight years with prices increasing more than 60%.
This has opened the door for the likes of Mustang Resources (ASX:MUS), an ASX-listed junior explorer looking to capitalise on the rising value of rubies and other in-demand metals.
MUS has a sizeable ruby inventory totalling 333,184 carats and remains the only ASX-listed ruby stock and revenue generating listed ruby developer in the world.
The company has focused on developing its Montepuez Ruby Project, situated in the heart of the globally significant Montepuez gem-field, where it recently uncovered a new ruby-bearing deposit.
Significantly, this new discovery is located only 3.5km from its processing plant at the Montepuez Ruby Project in Mozambique.
Montepuez sits beside a number of the world's most important gemstone operations, including: the JSE-listed multinational resources company Pallinghurst (JSE:PGL) which acquired Gemfields PLC in 2017 and Fura Gems (TSXV:FURA)
During the first quarter of 2018, a total of 29,069.1 carats were recovered from processing 43,940m3 (68,107 tonnes) of material at Montepuez — at an average grade of 0.42 carats/tonne.
These recovery grades are approximately 13.5% higher than results from the fourth quarter of 2017 and although the company processed less gemstones and at lower grades during the last quarter, this was primarily due to the tumultuous weather in the region.
The rainy season is now over and with the newly discovered Mozambique ruby deposit, it is expected that during the upcoming quarter, more gemstones will be processed and at higher grades.
Although MUS remains a speculative investment and investors should seek professional financial advice if considering this stock for their portfolio.
Additionally, MUS has worked hard in 2018 to diversify its interests and has developed a promising portfolio of vanadium and graphite through the company's high grade Caula Graphite and Vanadium Project in Mozambique.
Already this project has delivered a maiden JORC Inferred Resource of 5.4Mt at an average grade of 13% TGC (6% cut off) for more than 700,000 tonnes of contained graphite.
Even more promising, the Caula Project recently returned impressive assay results for an average vanadium grade of 0.42% V2O5 over 125m — with grades as high as 1.02% V2O5.
MUS plans to begin initial vanadium and graphite production by mid-2019. This is supported a vanadium price of US$35/kg (up from US$15/kg two years ago) and rising demand for graphite from the growing EV and expandable markets.
There's a lot on MUS's plate for the remainder of the year, so without further delay, let's catch up with: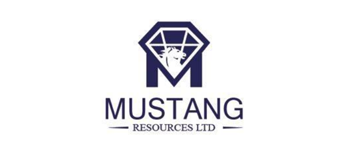 New Energy Minerals Ltd

We caught up with Mustang Resources (ASX:MUS) last October, where we focused on the company's inaugural ruby tender of up to 400,000 carats in the article "Mustang's Maiden Ruby Auction Just Weeks Away".
While this offering failed to meet the company's expectations, MUS has since strategically regrouped — with management now emphasising a lower cost strategy and a more diversified business plan.
The diversification into vanadium and graphite is a canny move.
Comparatively, just a couple of years ago Syrah Resources (ASX:SYR) — a company possessing a very similar high-grade vanadium deposit to MUS, came under the attention of one of the world's largest conglomerates, US$205 billion Glencore (LSE:GLEN), the operator of the Rhovan vanadium mine in South Africa.
If MUS can execute on its plans surrounding ruby exploration and meet its production targets regarding vanadium and graphite in mid-2019, it too may attract the attention of bigger players.
The following video gives an overview of the progress being made at the company's Caula Project.
As you can see the company has regained its composure and is making great strides with its graphite and vanadium play, however the latest news is all about gemstones.
Of course, as with all minerals exploration, success is not guaranteed — consider your own personal circumstances before investing, and seek professional financial advice.
New ruby deposit at Mozambique
MUS's latest discovery at its Montepuez Ruby Project may be the company's most promising to date.
This new deposit, named 'Block D', was found during MUS's exploration and test pitting campaign undertaken during March 2018. This deposit will form a central part of the company's upcoming bulk sampling program.
Here's a look at where Block D sits in relation to MUS's plant.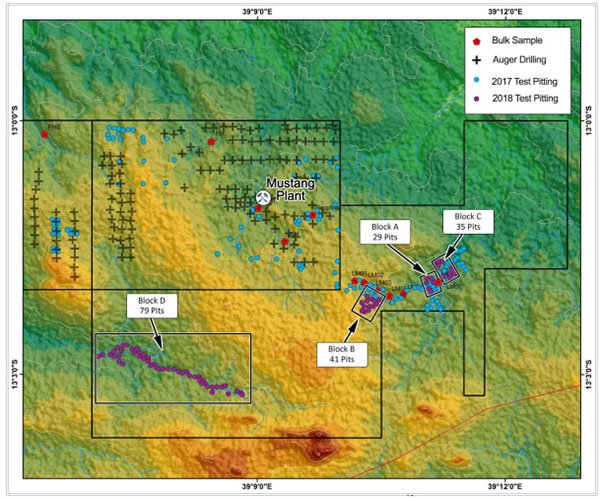 Following the discovery of this deposit, Managing Director Dr Bernard Olivier pointed out that the success of its ongoing exploration activities continue to show the significant prospectivity of the Montepuez Ruby Project.
Yet it is not just Block D which looks promising for the company. Block A, B and C all have confirmed ruby bearing gravels. Again, these are shown on the above map.
The company is now looking to recommence the exploration bulk sampling program at Montepuez following the completion of the rainy season.
New growth opportunities in sales and marketing
To complement the company's latest discoveries, MUS has also shifted its focus in the sales and marketing departments.
Key to this new focus will be on the regular sales of rubies of all product categories, to both local and international customers.
These new strategies, which aim to align the company's sales volume with its production capacity, were initiated by Dr Olivier.
Dr Olivier has over 18 years' experience in the exploration, mining and marketing of coloured gemstones, and has pointed out that MUS is confident that it can continue to steadily build value around this asset — which is strategically located in the heart of the Montepuez gem-field, currently the world's leading supply source of rubies.
This new focus should allow MUS to not only more accurately identify the demand for different categories of stones, but it should also generate substantial market intelligence for the company.
As a consequences of this shift, the company has closed its sales facilities in Mauritius.
Instead, the company has established a sales and marketing office in Chanthaburi, Thailand, a significantly smaller, lower cost facility more aligned with the company's revised sales and marketing objectives.
Accordingly, the company's 333,184 carat inventory, previously located in Mauritius and Mozambique, has now been relocated to the Chanthaburi office.
There, the company's inventory will be re-parcelled and prepared for sales as part of the ongoing implementation of the new sales and marketing strategy.
Ultimately, this measured approach aims to generate stable cash-flow for the company, which will prove important for MUS as it progresses its sampling, exploration and production programs in the short to mid-term.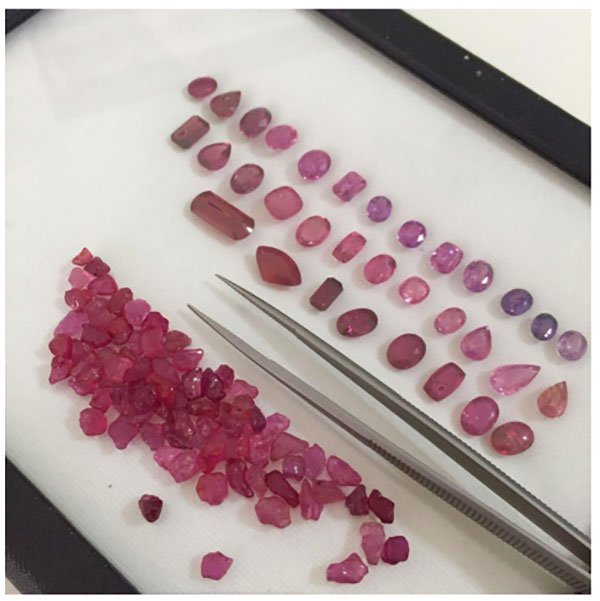 Compelling geography: Caula Graphite & Vanadium Project update
During 2018 the company has worked hard to further establish itself an important player in the vanadium and graphite space.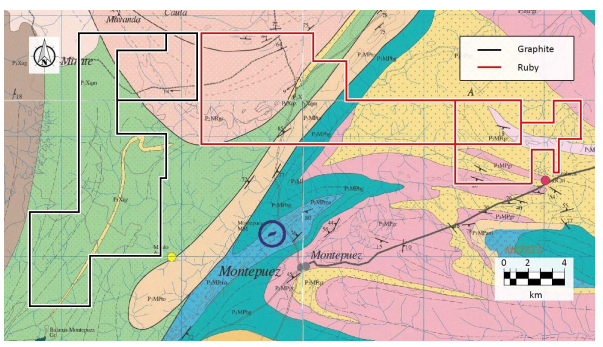 However it is an early stage of this company's development and if considering this stock for your portfolio you should take all public information into account and seek professional financial advice.
MUS's Caula Project, which generates high-quality vanadium as a by-product, has already delivered stellar results for the company.
This project has provided the company with a JORC Inferred Resource of 5.4Mt at an average grade of 13% TGC, for more than 700,000 tonnes of contained graphite.
Add to this the recent appointment of Dr Evan Kirby as the company's metallurgist, who is keenly experienced in South African vanadium projects and MUS looks well placed to significantly increase shareholder value in the next few years.
With all this considered, the company is aiming to begin generating early revenue from its graphite and vanadium products and start first production by mid-2019.
Rubies, vanadium and graphite: all rushing towards a positive future
While US sanctions on Burmese ruby imports were lifted in October 2016, a number of issues still surround the Burmese supply, with many smaller operations continuing to skirt regulations and large jewellers like Cartier and Tiffany avoiding Burmese rubies in favour of Mozambique supplied rubies.
As pointed out in the recent Financial Times article "Red alert: the rise of the ruby", the industry has made significant progress and is "working closely with the local community to improve health and safety as well as employment and educational programs".
Ethically sourced rubies from Mozambique are in higher demand than ever.
Some companies, such as Tiffany's will only accept gems from suppliers that can guarantee that the gem was ethically sourced.
And Tiffany's looks to have brought gemstones back into its product offering in a big way: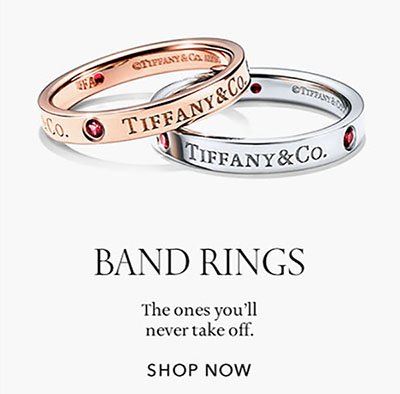 This spells good news for companies like MUS which make ethically sourcing their gemstones a key priority.
Yet it's not just positive news flow coming from MUS's ruby operations, the company is starting to gain positive traction for its graphite and vanadium projects too.
As reported by mining news site, miningne.ws, high-grade deposits found at MUS's Caula Project in Mozambique.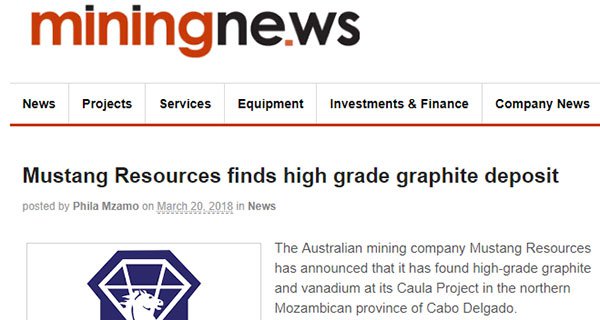 This kind of positive news flow, in conjunction with fact that vanadium remains scarce and demand robust, means companies like MUS could see significant interest for investors looking to gain exposure to vanadium and vanadium-containing products.
What's coming up for MUS?
While 2017 may have been a difficult year for the company, 2018 looks very promising for this junior explorer with a number of growth catalysts now on the table.
These include the company's new sales and marketing tactics, the plan to begin vanadium and graphite production by mid-2019 and the company's new ruby deposit at its Montepuez Ruby Project.
Add to these growth catalysts the fact that MUS remains the only revenue-generating listed ruby developer in the world and you have a small company with a lot of upside potential in 2018 and beyond.
---