Rising Zinc Prices Support PUR's Queensland Project Exploration
PUBLISHED: 21-02-2018 10:00 a.m.
Mineral explorer and project development company, Pursuit Minerals Limited (ASX:PUR) is busy advancing its 100%-owned projects all located in world-class Australian metals provinces.
PUR's primary focus is on progressing two cornerstone zinc projects in Queensland, in the heart of the Mt Isa Province. PUR acquired a 100% interest in the projects from Teck Australia Pty Ltd early last year, prior to listing on the ASX via a reverse takeover of Burrabulla Corp Ltd.
These high quality, advanced zinc exploration projects are Bluebush and Paperbark, which along with zinc are also prospective for lead and copper.
The Paperbark project hosts an established zinc JORC-compliant Mineral Resource at the JB prospect of 10Mt at 3% zinc and lead. It also has confirmed copper oxide and copper sulphide mineralisation. The project is located 20 kilometres south-east of the Century zinc mine, which its owner, the $490 million capped New Century Mines (ASX:NCZ), says is on track to be the fifth leading zinc producer in the world this year.
PUR recently completed Heavy Liquid Separation (HLS) test work at Paperbark, leading to a zinc upgrade from the JB Zone Mineral Resource to over 15%, while reducing the sample mass by a factor of ten.
The nearby Bluebush Project, located just 72 kilometres north-east of the famed Century Mine, hosts zinc mineralisation over an area of more than 120 square kilometres, making it one of the largest areas of zinc mineralisation in Australia.
PUR is uniquely placed to deliver value as it seeks to discover world class deposits adjacent to existing regional infrastructure and extract value from its existing mineral resources.
The company's exploration takes place amidst a highly supportive commodity price environment. Its major exposure to zinc is proving quite lucrative with the commodity's price seeing a strong rally in 2017 — a trend that's expected to continue through 2018 as heightened demand brought about by new technologies collides with low global stockpiles.
However, PUR remains a speculative stock and investors should seek professional financial advice if considering this stock for their portfolio.
As for PUR's ongoing exploration at the Bluebush Project, targets are now being worked up to test as it seeks to identify whether a world-class zinc deposit is present.
All the latest from:

Pursuit Minerals
ASX:PUR
We last updated you on the company on 1 December 2017 with the article — ASX Stock Purring into Action as Zinc Exploration Continues in Mt Isa .
Since then, PUR has checked off a number of boxes including the completion of its 2017 drilling programme, confirming a new zinc mineralised system at its Paperbark Project, and reporting positive results from Heavy Liquid Separation (HLS) testwork at Paperbark's JB Zone.
Just this week it notified the market that it is planning five drill holes for 1,325m for the Paperbark Project to further investigate the new zinc discovery at the JE Zone Prospect. Three of these five holes drilled at Paperbark will determine the extent and grade of zinc sulphide mineralisation within the JE Zone.
Furthermore, PUR has lined up six holes for the north-west sector of Bluebush following confirmation that this area hosts enhanced grade sedimentary exhalative (SEDEX) style zinc mineralisation.
The goal at Bluebush will be to determine if a globally significant SEDEX style zinc deposit occurs in the north-west sector of the Bluebush Project.
For a quick refresher on PUR and its portfolio of zinc and copper projects in the Mt Isa Super Basin, here is Managing Director Jeremy Read talking to The Pick :
Paperbark Project
PUR's Paperbark Project in north-west Queensland occurs within the Lawn Hill Platform of the Western Succession of the Mt. Isa Province. The project consists of two exploration permits EPMs 14309, 25191, that cover an area of approximately 110 square kilometres.
Previous exploration at the project has focused on the JB Zone, where a JORC (2012) Inferred Mineral Resource of 10.4Mt at 2.7% zinc, 0.2% lead, 1g/t silver at 1.5% zinc cut-off grade has been defined.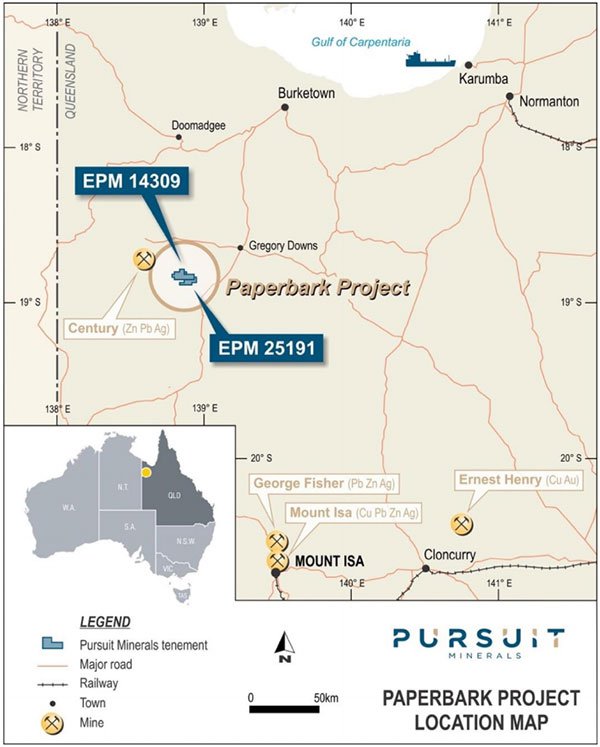 Recent exploration activities at the project include Heavy Liquid Separation (HLS) from drill hole PB01-17 at the JB Zone. This has proven to be very successful and an extremely positive development for the Paperbark Project's JB Zone Mineral Resource with PUR successfully intersecting a broad zone of zinc-lead mineralisation at the southern end of the JB.
PUR reported on 1 February, that the drill hole (PB01-17) intersected a broad zone of zinc-lead mineralisation in the southern section of the JB Zone Mineral Resource, returning 68m at 1.39% zinc and 0.05% lead from 271m down hole depth.
Testing of a composite sample from the 68m intersection of zinc and lead mineralisation in drill hole PB01-17, saw an increase in the zinc grade to 17.5% zinc and a ten-fold decrease in overall sample mass.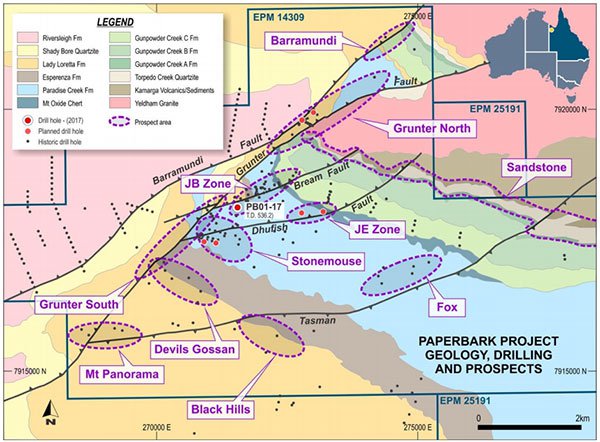 These results indicate that pre-concentration of the JB Zone Inferred Mineral Resource, prior to milling and flotation, has the potential to significantly decrease processing costs for its operating and capital development.
It means that any mineral processing operation of the JB Zone, should have lower operating and capital costs as the milling and flotation sections of the processing plant would process only one tenth of the material that was mined and at substantially higher zinc grades.
This week, PUR announced a planned drilling run on the back of 2017 results. The company has been a little quiet lately as it rides out the wet season, but is now gearing up for a major strike.
The company will drill five for 1,325m to further investigate the new zinc discovery at the JE Zone Prospect.
A second drill hole will test the down dip extent of surficial copper mineralisation at Grunter North and test for shallow extensions to the JB Zone Mineral Resource.
Three of the five hills drilled at Paperbark are set to determine the extent and grade of zinc sulphide mineralisation at the JE Zone.
Drilling is set to commence in April just a couple of months from now, with results to flow shortly after.
Bluebush Project
The Bluebush Project consists of two exploration permits (EPMs 8454 and 8937) covering an area of approximately 214 square kilometres. It is located approximately 280 kilometres north-northwest of Mount Isa and 72 kilometres northeast of the Century Mine in northwest Queensland within the Lawn Hill Platform pf the Western Succession of the Mt Isa Province.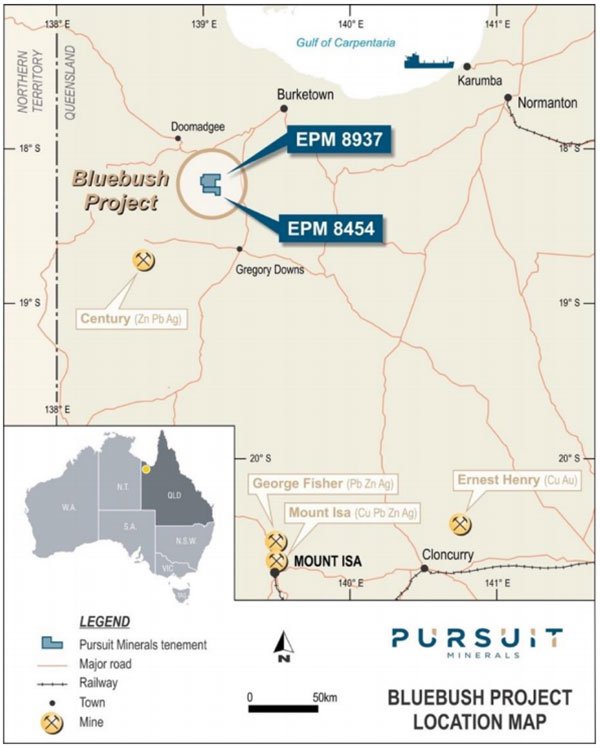 Previous drilling at the project intersected zinc mineralisation over an area of 120 kilometres. This makes Bluebush one of the largest areas of zinc mineralisation in Australia and highly prospective, and hopefully lucrative, location for PUR to be exploring.
However PUR does have a lot of exploration still to undertake, so investors should take a cautious approach to any decision made with regard to this stock.
Drilling programmes at the Bluebush Project in 2017, as well as at Paperbark, delivered some very encouraging results, on which PUR will follow up with further drilling this year. This will occur directly after the planned drilling at Paperbark.
The 1482 metre Bluebush drilling programme, completed in October 2017, significantly advanced PUR's understanding of the distribution and controls of zinc mineralisation across the entire Bluebush sub-basin. PUR confirmed that the northwest quadrant of the Bluebush Project was an area of enhanced zinc grade . Follow up drilling will be conducted this year to determine if that area of the Bluebush Project hosts a globally significant SEDEX style zinc deposit with the goal of delivering a clearly economic drill intersection.
Here are the locations of the project drill holes and intersections: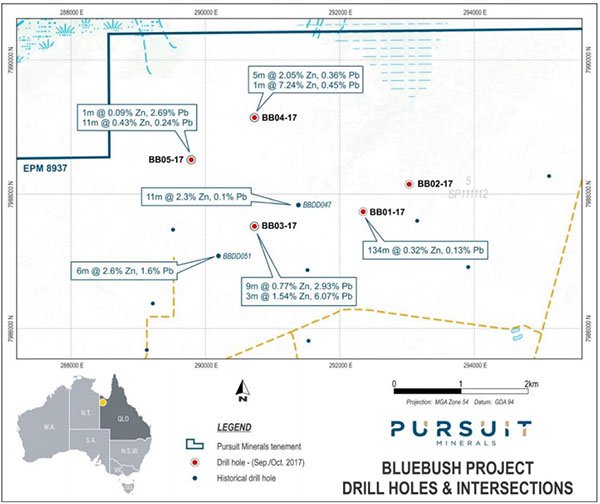 On top of the exploration already underway at Paperbark this year, the results from the Bluebush Project give PUR a real focus for drilling. Follow up drilling is scheduled for after the wet season and after drilling is completed at Paperbark.
It is a well-defined area where the grade of zinc is substantially higher than the widespread zinc mineralisation across the Bluebush sub-basin.
Investors would be wise to keep an eye out for newsflow as PUR seeks to identify a world-class zinc deposit in the northwest quadrant of the Bluebush Project.
Morningstar Research report
On December 6, Morningstar published a research report of PUR . With the stock trading at 15 cents per share at the time, Morningstar determined that the company was undervalued by the market and had a fair value of 17cps.
With the share price now sitting at just 10 cents, for a market cap of $6.86 million, a look back on Morningstar's analysis shows that the stock is trading at more of a discount today than it was back in early-December.
Here is a snapshot taken from the report: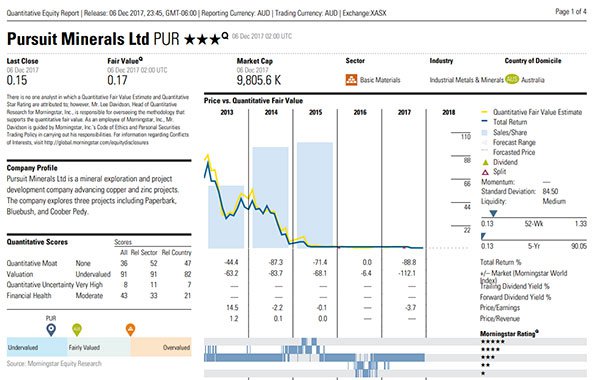 It should be noted that broker projections and price targets are only estimates and may not be met. Also, historical data in terms of earnings performance and/or share trading patterns should not be used as the basis for an investment as they may or may not be replicated. Those considering this stock should seek independent financial advice.
Not only that, but since the above report was published, PUR has updated the market with some encouraging progress...
Accommodative commodities market
One factor working in the favour of junior mineral exploration companies including PUR is the current supportive commodities price environment.
The year ahead holds expectations of renewed demand for base metals including zinc and lead, driven by demand for new technologies that require base metals to be manufactured. This combined with low levels in international stockpiles could see base metals prices, along with aspiring producers such as PUR, gain significant traction.
While zinc started this year at decade high prices, there seems to be further upside on the horizon. Prices for the base metals are at ten year highs having exceeded US$3500 per tonne in January — well up from its 2017 low of less than US$2500/tonne that it hit in May last year.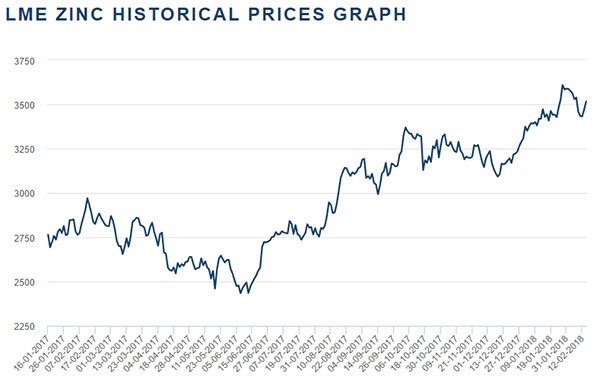 Zinc now faces a confluence of factors combining to support higher prices for at least the year ahead.
The factors include China imposing tougher environmental regulations on its commodity producers. With China currently supplying around half of the world's base metals supply, the crackdown is pressuring supply and seeking buyers to find alternative supply sources.
And while there will be a growth in worldwide mine supply this year it will be insufficient to replenish global stocks, which will remain at critically low levels. Here you can see the declining zinc inventory from the London Metals Exchange (LME):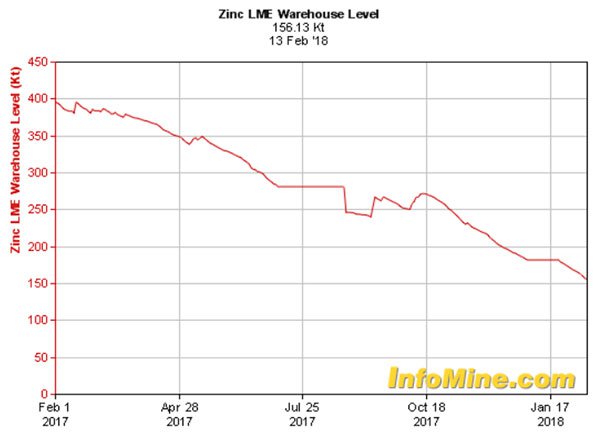 Zinc has wide industrial applications, with about half of all zinc produced used to galvanise iron or steel and prevent rusting for use in the auto, shipbuilding and construction industries. The next largest use of zinc is as an alloy, when combined with copper or other metals, for use in automobiles, electrical components, and household fixtures.
This article from Mining.com in mid-January explains the zinc market and its outlook for 2018: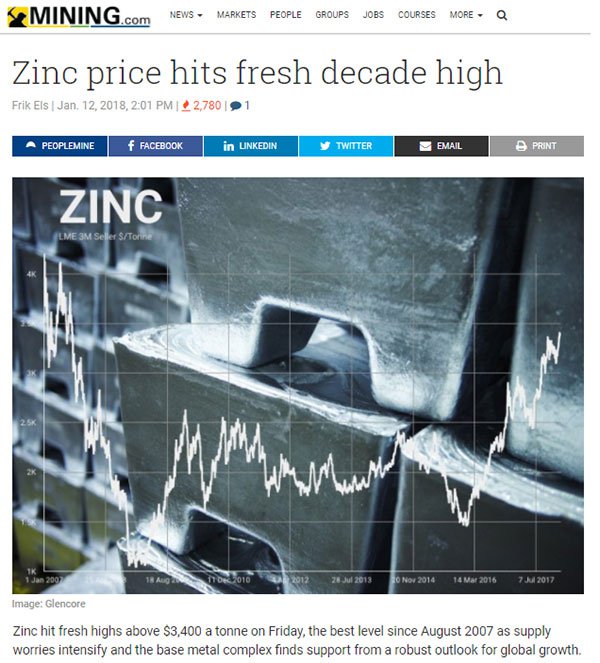 Lead is another base commodity that has seen a run up in price in recent years that's not about to stop.
Analysts from INTL FCStone anticipate lead prices will hit US$2900 per tonne over the course of 2018. If lead reaches that level, it would be its highest price since 2011 and it doesn't have far to go, having reached close to US$2700 per tonne at January's end.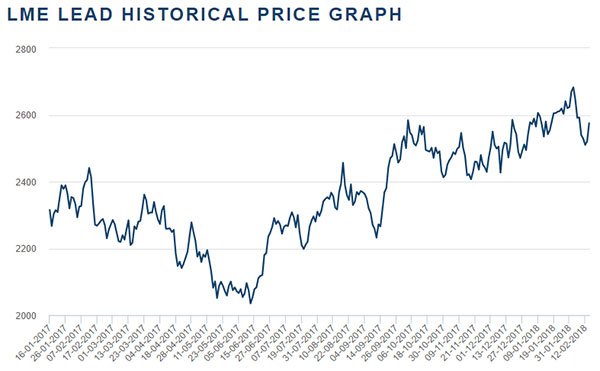 It should be noted though that commodity prices do fluctuate and caution should be applied to any investment decision here and not be based on spot prices alone. Seek professional financial advice before choosing to invest.
Along with zinc stockpiles, lead inventories are declining. The LME lead warehouse level dropped from 190,000 tonnes this time a year ago, to just 120,000 tonnes in January 2018.
PUR is looking to capitalise on current market movements.
A final word
PUR is wasting no time in progressing its two highly prospective cornerstone zinc projects in Queensland, in the heart of the Mt Isa Province. And with zinc prices hovering around ten year highs now is an ideal time to kick into higher gear.
But it's not only rising commodity prices that encourage PUR and its prospects going into 2018, the location of the company's two cornerstone projects — Paperbark and Bluebush — is also reason for confidence.
The projects are within a stone's throw of the famed Century Mine, one of the world's largest zinc mines that began open-pit zinc production back in 1999.
PUR is busy is building on its existing Mineral Resource at the Paperbark Project and will soon move onto to further exploration activities at Bluebush. With plenty of action planned for the year ahead, there should be significant newsflow to keep the attention of investors.
---