Refocused AUL Drills Down on Victoria's Eastern Goldfields
PUBLISHED: 14-02-2018 10:00 a.m.
Armed with a new name to match its new focus, AuStar Gold Limited (ASX:AUL), formerly Mantle Mining (ASX MNM), is intent on returning its cornerstone asset in Victoria's prolific eastern gold fields region back into production.
AUL's Morning Star mine, which the company acquired in 2015 as part of its acquisition of Morning Star Gold NL and its large tenement holding, is an advanced high‐grade gold project in the Woods Point Goldfield. It has significant infrastructure including processing plant, a strategic tenement footprint, and is prospectively well positioned for near‐term trial mining.
The nearby Rose of Denmark gold mine is another asset that the company is honing in on — with its current drilling programme reporting significant results that justify further drilling and confirm the company's belief in the mine's prospectivity.
Having identified its objectives going forward, AUL recently made a series of strategic divestments of non-core assets that didn't fit its new streamlined direction. It has emerged in a position to capitalise on its most promising gold projects.
Yet, it is early stages here and investors should seek professional financial advice if considering this stock for their portfolio.
AUL has successfully completed the sale of its non-core Queensland asset portfolio — the Charter Towers, Granite Castle project and is well advanced with the Norton Gold Project. It signed an agreement for the disposal of the Charters Towers and Granite Castle tenements for $400,000 in early November. It also signed a sale agreement for its 90% sale of the Norton Gold Project for total consideration of $525,000.
The company's cash balance also received a boost via a $400,000 private placement from shareholders last quarter, which AUL has the option to follow up on with a further $500,000 of convertible notes, expiring February 28.
Commissioning of a potentially company-making bulk sampling program at its flagship operation is getting closer and closer and with promising results from exploratory drilling nearby this is a story just getting started.
With a fresh capital injection and a new name, it's time to take another look at an emerging gold star on the ASX:

AuStar Gold Limited
ASX:AUL
Since making a series of divestments last year, AUL had narrowed its focus on a return to production of the Morning Star Project in the prolific East Victorian goldfields, which includes the highly promising Rose of Denmark Mine. The historically mined goldfields which boast historical production of six million ounces of gold, yet remain highly prospective especially when modern mining techniques are considered.
Morning Star is an advanced high‐grade gold project, with significant infrastructure including processing plant, a strategic tenement footprint, and prospectively, well positioned for near‐term trial mining.
Here is a summary of the mine:
We last updated you on the company just months ago, back in late-November 2017, with the article, Cash is Flowing as MNM Starts Trial Gold Mining . Since then, AUL has continued to turn around its business — a process it embarked upon in 2016.
It is simplifying its business strategy, disposing on non-core assets, fine tuning its management team, and devoting focus to its cornerstone asset at the high-grade Morning Star Project and Rose of Denmark Mine.
Queensland asset divestment
The new name and logo is symbolic of this new direction, having been approved by shareholders at the company's AGM on 30 November 2017.
The Morning Star Mine is the more advanced of the company's two mines in focus. The mine has historical production of 830,000 ounces of gold at an average grade of 26.5 g/t gold, and AUL is tapping a zone not previously picked up, with bulk sampling is about to take place from the rehabilitated mine's Stacpoole zone.
The project has a processing plant and administration building already on-site — greatly cutting costs for AUL.
Meanwhile Rose of Denmark is the company's longer-term play which has seen a lot of drilling of late. The mine is located just 22 kilometres from the aforementioned processing plant, so we can expect gold from both the Rose of Denmark and Morning Star mines to find its way to the one plant.
Not many junior mining companies have the infrastructure AUL has, which on its own merits a second look at the company. But in the prolific and storied Eastern Goldfields region of Victoria?
This is the gold which figuratively built Melbourne, all without the new mining techniques which make canny operators like AUL such a compelling story.
Modern mining technology and techniques, with a fixed gold price have resulted in many mines that didn't stack up economically in the past, now attracting attention from junior explorers, such as AUL. There are opportunities to go into established gold fields and pick off what miners simply couldn't get to back in the day.
Any success here, however, is speculative at this stage and investors should take a cautious approach to any investment decision made with regard to this stock.
AUL believes it has a winning strategy and if its latest progress at both mines is a guide, then it may be difficlt to disagree.
Progress at Morning Star
While the company has completed exploratory drilling at Morning Star, it is still a hive of activity as AUL prepares for a bulk sampling programme at the mine.
The Morning Star winder was recommissioned in November after getting new parts in from overseas. Meanwhile, a mine manager, skilled contract miners and a casual labour force has been engaged for the upcoming bulk sampling program.
The work is being done on a seven day, dayshift only roster which requires the laying of rail, development around the airway, which is now completed, allowing development to the ore itself.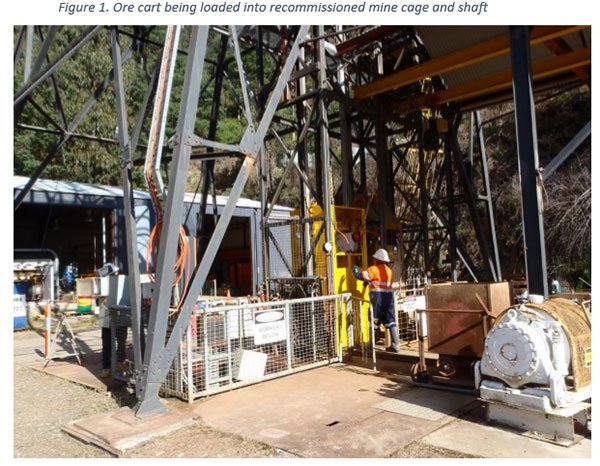 At this stage, AUL expects the ore at the Stacpoole Zone to be intersected during the current quarter, at which point the bulk sampling will begin in earnest.
Meanwhile, the company continues to make good progress on the permitting and environmental approval fronts for an alternative decline access. AUL is focused on permitting a conventional decline which will help with the bulk sampling programme, having submitted a "Transitional" work plan to the Victorian Government's Earth Resources and Regulations department, which then will allow a workplan variation to be submitted for the decline.
Rose of Denmark has been a hive of a different kind of activity.
Drilling vindicates Rose of Denmark decision
Since we last checked in with AUL, it has commenced drilling at Rose of Denmark and has already recorded significant results.
Historical gold production at Rose of Denmark totalled approximately 37,000 ounces at 12.5 g/t and was sourced from both within the near surface adit and from a deeper production shaft of around 200m deep.
AUL expected to encounter gold not reached by previous drilling at the project and embarked on a 500-600m diamond drilling programme.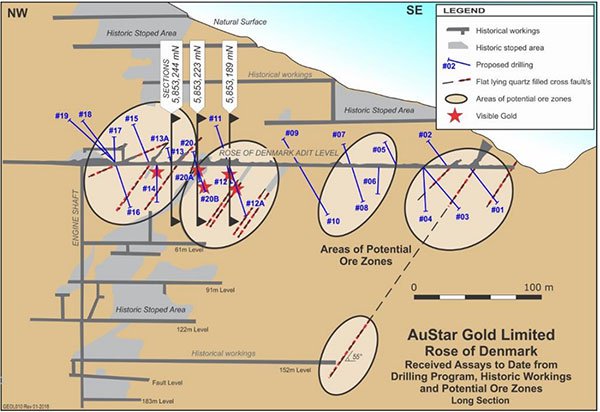 On January 29, announced that the drill programme at Rose of Denmark continued to deliver significant results, following visible gold intersections announced in December.
These results included:
0.4m at 112.18g/t gold (RoD 012A)

0.5m at 10.97 g/t gold (RoD 20)

0.6m at 6.75 g/t gold (RoD 20A)

0.5m at 162.82 g/t gold (RoD 20B)

0.5m at 29.85 g/t gold (RoD 20B)

... the sort of grades that get gold-hunters energized.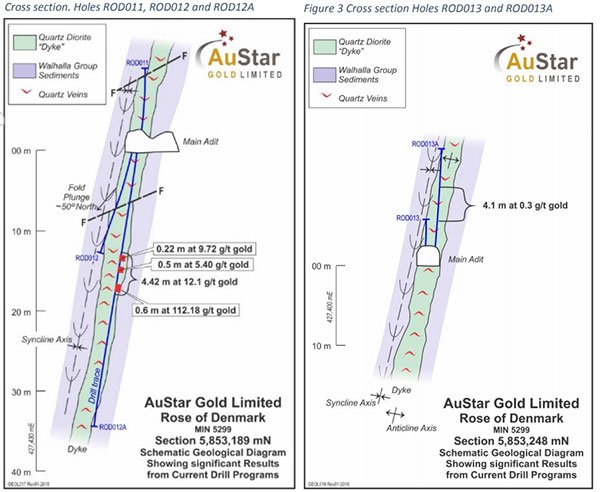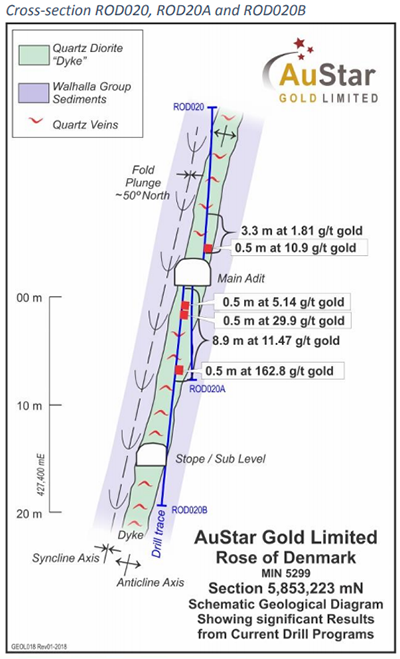 These drill results provide further confirmation of management's newly established geological model for the Rose of Denmark gold mine and they justify further drilling and progress to develop a bulk sample .
Assay results from this recent drilling are to be plugged into a geographic model, so that the company can make a decision on whether Rose of Denmark is further drilled and developed.
It meant that during the current round of drilling the company has, in effect, vastly de-risked further drilling and planned bulk sampling works at the project.
Prior to these results, AUL on January 9, reported visible gold in core in multiple drill holes.
The visible gold and accompany assaying values fell within the company's geological model — with the numbers to be plugged into a database which will then allow drilling to go forward and for the planning of bulk sampling.
You can take a look at some of the gold specks brought up below.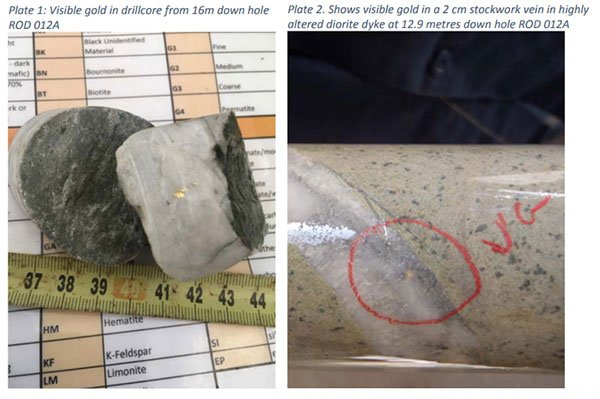 With visible gold on the surface before the samples were sent off for assay, management weren't surprised when the initial numbers came in...
Assays from the three holes returned decent grades including:
0.25m at 8.44g/t gold

0.22m at 9.52g/t gold

0.3m at 2.74g/t gold

0.5m at 3.28g/t gold

These grades, albeit from preliminary drilling, provided early indications of a very promising gold project.
The nature of the mineralisation at Rose of Denmark means that it can be a bit difficult to decide which assay method is going to work best. Confirmation of a successful assay isn't just about the grades, but choosing which method to go with to get the best out of the drilling.
The gold at Rose of Denmark tends to be both coarse and fine, with Victorian gold in general 'nuggety' in nature. After this round of assaying, AUL was able to nail down bulk leach assaying techniques, such as Leachwell, as the way to go.
Thanks to its nailing down of assaying technique, further results could have upside to them.
Here's what caught our eye when the company reported its results :
"...Leachwell analysis with a fire tail assay will be the most appropriate technique going forward and should minimise under reporting of the drill samples' gold grades."
AUL successfully measured both the coarse and fine gold components in the deposit. It was able to highlight the ore shoots — a valuable tool in planning further works.
To re-cap, recent drilling at Rose of Denmark, revealed visible gold and decent grades; confirmed the best method for assaying; provided geological data for AUL's model to make further drilling as efficient and successful as possible.
That essentially means any results coming onto the market from this point should catch investors' eyes.
Although the stock remains speculative and investors should seek professional financial advice if considering this stock for their portfolio.
All in all, Rose of Denmark is going swimmingly for an early-stage project.
Two bites of the cherry
With an active drilling programme and trial mining progress at the Morning Star mine underway, investors can expect to see plenty of news flow coming out over the next few months. This isn't a company which completes a drilling programme then goes quiet for months on end.
Expect to hear a lot more about drilling results and assays for Rose of Denmark, while also keeping on the lookout for progress reports at Morning Star ahead of expected bulk mining in the March quarter.
AUL has built up a position in a prolific mining region and has built two projects worth keeping an eye on over the next couple of months and a large, prospective exploration holding for the much longer term.
---