Tiny ASX Explorer has Just Found Enough to Become the 4th Largest Global Supplier
PUBLISHED: 16-01-2014 17:16 p.m.
How can you make steel stronger AND lighter?
Adding a tiny amount of this little known element drastically increases the strength of steel.
The developed world is using it right now, and steel hungry emerging economies are rapidly catching on... Currently only three companies in the entire world are mining and selling this rare mineral and making big profits doing so.
It is worth $40,000 / tonne – that's about 5 times the price of copper.
This element is so rare that no new supply has come on the market since 1976...
We have uncovered an ASX listed junior who is looking to mine this rare mineral, and following an extensive drilling campaign have just found they are sitting on a resource that could be worth up to $1 billion dollars. That's right, $1 billion.
No wonder one stock analyst is predicting the company share price to more than double by the end of the year, with potential for a tripling of the share price in an upside scenario (read on for a link to this report). It's been almost 40 years and no new sources have entered the market – this company is on track to break the drought.
Should this resource be fully exploited, this tiny ASX listed company could be controlling 5% of the world's supply to a market getting more and more desperate every day.
Since it was first produced in the 1960s, demand for this unique substance has grown eight times over to become a $2.2 billion dollar a year industry and it's still growing.
Just three companies supply the global demand and for the longest time investors have had precious few chances of getting involved – especially at such an early stage as this. The substance we at The Next Mining Boom are excited about is called Niobium (Nb) .
Niobium is so valuable that it can be transported like gold – straight on a plane to the customer. No need for big infrastructure spends as it is not a bulk commodity like iron ore.
This company's project has the highest grade outside of Brazil where most Nb is mined.
Their deposit is near surface, close to infrastructure, and when judged against their competitors, will be much cheaper to extract. This will allow them to knock out the weakest, high cost competitors from day 1 of production.
Not bad for a $22 million small cap explorer. The management team owns 65% of this company, and most of the other 35% is owned by friends and family – so the success of the project is personal.
The Next Mining Boom is pleased to introduce: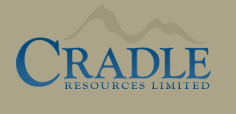 Cradle Resources Ltd
ASX:CXX
Cradle Resources (ASX:CXX) has become the newest player in the global Niobium game and at their Panda Hill Project in Tanzania, they have a high grade resource which could stir up what is a very stable industry by delivering 5% of the world's supply to hungry hi tech steel producers.
This game is very tightly held and no one wants to get out of it.
Niobium is used as a critical element in the production of high strength, lighter steel – it's used in cars, bridges, jet planes, oil and gas pipelines – and the steel mills are all starting to turn to Niobium in the race for higher quality products.
The Niobium price is currently about US $40,000 / tonne, and has remained relatively stable since the 1990s. Long term pricing indicates US $45,000 / tonne.
No new source of Niobium has come on stream since 1976 yet in April of 2013 CXX acquired Panda Hill Mining Pty Ltd (Panda Hill) which holds a world class Niobium project in South West Tanzania. The Panda Hill project is nestled amongst an airport, power lines, roads and industrial areas: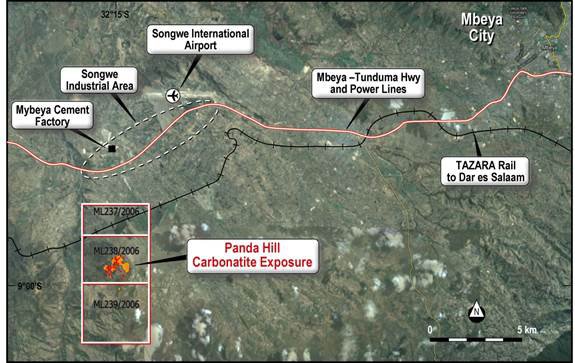 CXX's purchase of Panda Hill set tongues wagging in 2013. Rob Brierley from Patersons recently revised his Speculative Buy Rating for CXX, predicting it to more than double the current share price.

In fact Mr Brierley went further in his report, running the numbers on an upside scenario, which would see a tripling to the current share price:

The above price target re-rate came after CXX upgraded their resource estimate in November 2013, following a 13-hole diamond drilling programme. The drill results lead to an anticipated 50% increase in contained metal at the Panda Hill site.
In addition, a new high-grade weathered zone was reported with material close to the surface. Based on these results, the current resource estimate has firmed up and improved with increased tonnage (82 Mt) and a higher quality grade (0.52%).

Further ticks include the fact that the Panda Hill project is well located close to existing infrastructure and the Niobium is expected to be extracted for a competitive price. This bodes well for a Scoping Study due out in January 2014 and we expect a 'pre-feasibility' study to be completed by Q3 of 2014.
CXX is a company The Next Mining Boom will be keeping a close eye on in 2014 and beyond.
Our Track Record
Regular readers of our sites will be familiar with our long-standing interest in reporting on high potential stocks that we uncover. We published a report on Swala Energy (ASX:SWE) titled The last junior oil explorer operating in this exciting region with this same JV partner went up 800% in a matter of months . SWE has traded as high as 150% since.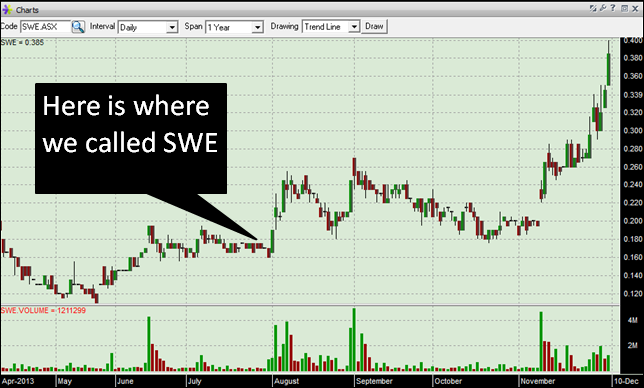 The past performance of this product is not and should not be taken as an indication of future performance. Caution should be exercised in assessing past performance. This product, like all other financial products, is subject to market forces and unpredictable events that may adversely affect future performance.
Another report on Rey Resources (ASX:REY), revealed them to be the mystery third man in the Canning Basin , and following our article release, REY has been up nearly 75% since.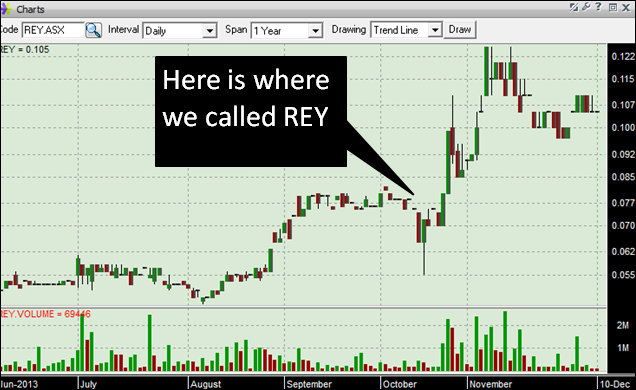 The past performance of this product is not and should not be taken as an indication of future performance. Caution should be exercised in assessing past performance. This product, like all other financial products, is subject to market forces and unpredictable events that may adversely affect future performance.
TSX:AOI was our 'tip of the decade' in February 2012 at around CAD$1.8 and has been as high as CAD$11.25 since – that's over 600%!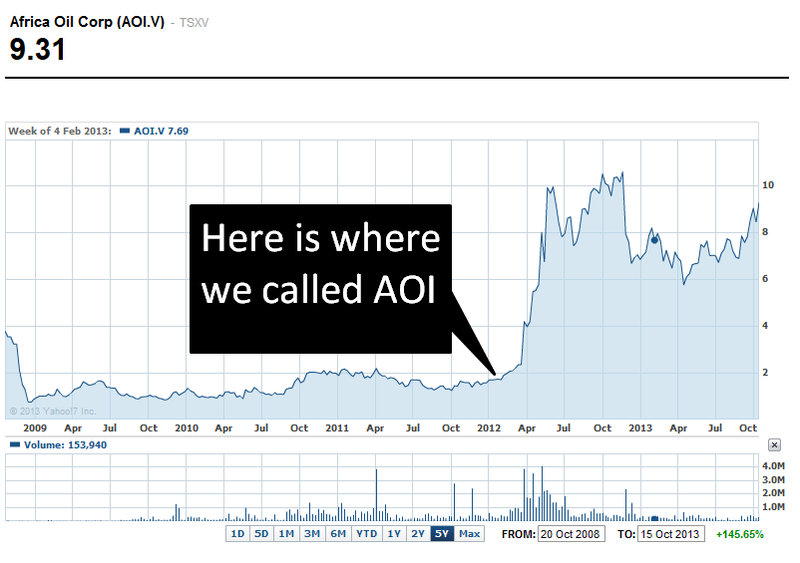 Following a recent report on Pura Vida (ASX:PVD) titled Why has this stock got analysts predicting four thousand percent gains? the PVD share price rose as high as 40%. We have also covered Trafford Resources (ASX:TRF) which has been up 30% and Tigers Realm (ASX:TIG) which has been up over 20%.
The past performance of this product is not and should not be taken as an indication of future performance. Caution should be exercised in assessing past performance. This product, like all other financial products, is subject to market forces and unpredictable events that may adversely affect future performance.
A small plus for a big minus
Before we get stuck further into CXX and their plans let's find out a little more about what Niobium is and why we think the material and CXX have so much potential. Remember, if CXX's Panda Hill project can be fully realised, they could deliver up to 5% of the world supply of this increasingly utilised super element.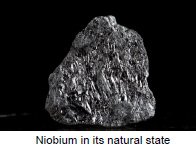 Nb, or Niobium, is most commonly used to make steel harder, lighter and more resistant to corrosion. You can find it in oil and gas pipelines, steel mega projects, top of range cars, and jet turbines. Some of the more left field applications include jet engine components, rocket sub-assemblies and combustion equipment.
You can even find Niobium in electron accelerators – you can't get much more high tech than that.

The quickest explanation for Niobium is that it makes steel lighter. How much lighter?
The most extreme example of recent years is the construction of the Millau Viaduct in Southern France . This cable-stayed bridge is quite simply the tallest bridge in the world, an extraordinary structure that needed extraordinary design and materials to make it possible. The bridge has been consistently ranked as one of the great engineering achievements of all time.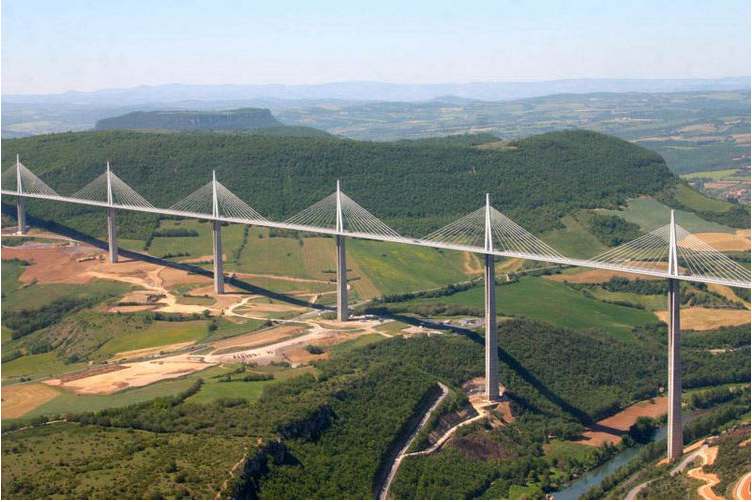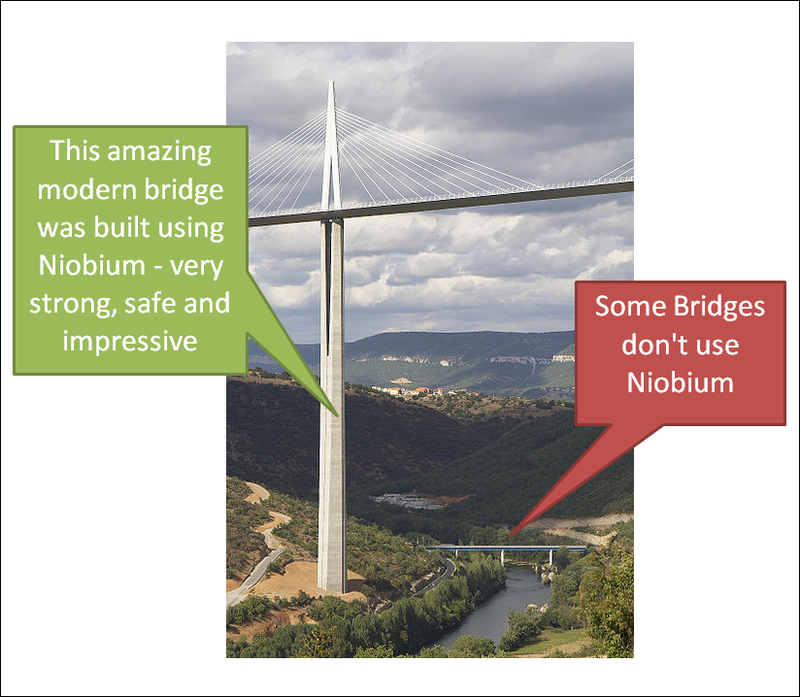 Niobium was used in its construction at the rate of just 0.025 per cent per tonne of steel but it reduced the overall weight of the bridge by an estimated 60% – quite a feat.
Using Niobium meant a lighter support structure is used to hold it all up, keeping costs down and creating savings in the long run for maintenance and efficiency. This project is a glimpse into the future – how bridges will be designed and built in the coming decades. The perfect kind of demand which CXX might be able to cater for.
Lighter, Faster, Stronger, Better
The main driver in Niobium growth right now is the manufacturing of cars with HSLA (high strength low alloy) steel.
Remember the big, oil guzzling hunks of metal called cars 30 plus years ago?
Today's cars are made the way they are, partly thanks to Niobium.
In fact, today you can't buy a Mercedes Benz without Niobium in it. The German engineers know that if you add Niobium into your car it's lighter, more fuel efficient, and stronger.
In fact, with just a tiny spend – about $9 – on Niobium, the weight of a car can reduce up to 100kg. With the current push for the most fuel efficient car possible, Niobium is front and centre to deliver astonishing results in steel quality.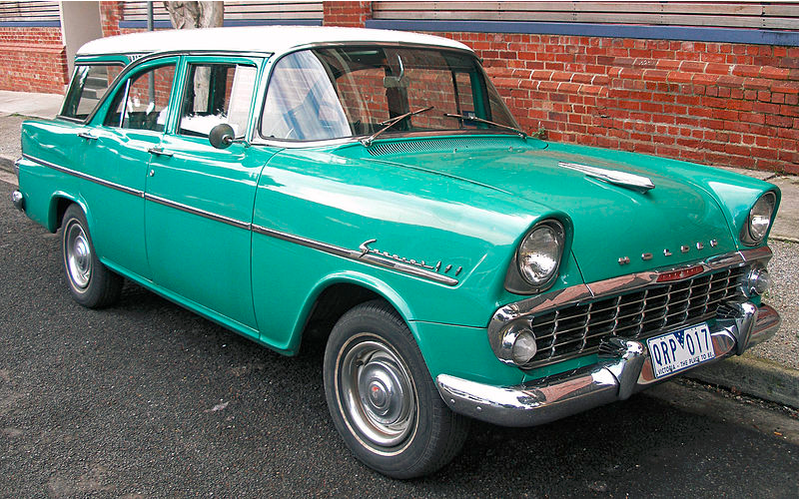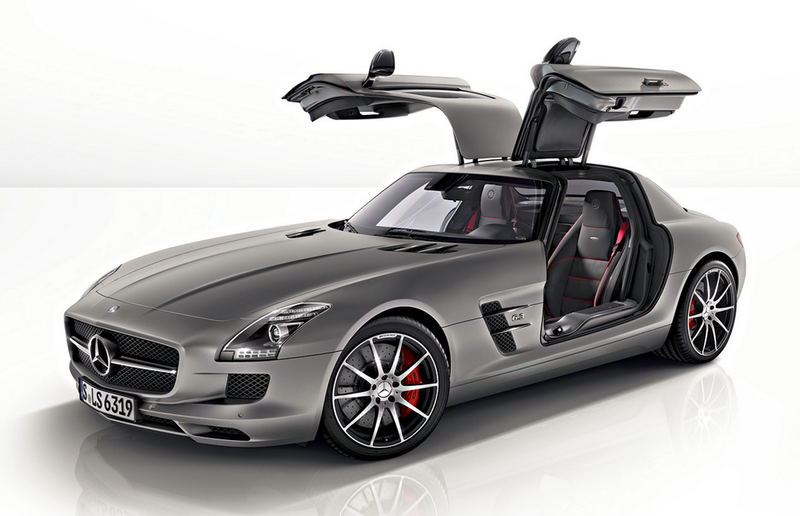 From this...
To this!
The team at CXX knows that growth in demand for Niobium is not limited to well-established industrial nations like Germany and the US. Japan, South Korea, India and China are ramping up their vehicle production and at the same time improving quality and performance. Niobium will be in demand to make cars that are lighter for fuel economy, faster for performance and stronger for safety.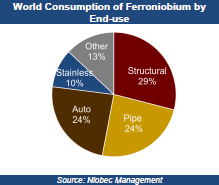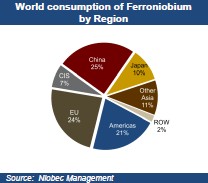 It won't stop with cars either – the BRIC (Brazil, Russia, India, China) nations want to improve the quality of the steel they use to build with, so whoever can supply the goods will reap the rewards. CXX is front and centre to capitalize on the growth of high quality steel via their Panda Hill Niobium project.
Another area CXX is clued up on is the demand for Niobium in the energy sector. Russia and the United States of America have massive pipeline projects in the works (Keystone XL, for example) and the use of HSLA steel with Niobium will make them lighter, more durable and far stronger.

In fact the substance is so valued by America that the United States Geological Surve y has identified Niobium as a strategic and critical element, because of its defense-related uses in the aerospace, energy and transportation industries .
This is hugely significant – there is not a lot of Nb being produced and the USA wants it. Remember, there has been no new source of Niobium that's come on stream since 1976.
Should CXX's plans at Panda Hill be fully realised, CXX investors will have a chance to claim a stake in the tightly held Niobium market.
A foot in a very tight door
This brings us neatly to the competition.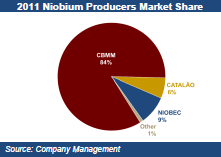 Current Niobium production is around 90,000 tonnes a year with a dollar value of $2.2 billion. There are only three major producers in the world tapping into this massive stream of revenue. It's predicted to continue to grow at a steady 10% pa (compound annual growth rate) in the coming years. This growth is tied to the increased global demand for high quality steel.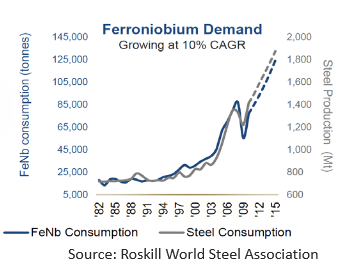 If CXX can prove up their Panda Hill project, and can reach their goal of a 5% market share in this $2.2 billion / year industry, CXX could be generating revenues of up to US $110 million / year. Not bad for a tiny ASX listed junior, flying below the radar of most investors.
1. CBMM – The lion's share
CBMM is a privately owned Brazilian company that produces over 85% of the world's Niobium supply for between $10 and $12 a kilo. The CBMM business has been valued at $17 billion – this is based on the deals struck in 2011 which saw Chinese, Japanese and South Korean steel mills spend billions of dollars for a total 30% stake in the company. These steel mills obviously saw what Niobium can do and wanted a part of it.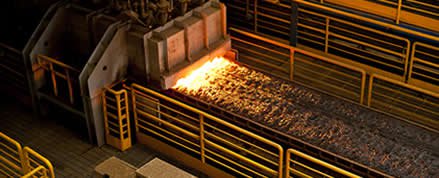 CBMM's profit making machine – thanks to Niobium
As the biggest supplier, CBMM tend to control the price, and ramp up production as they like. However, luckily for CXX, they are considered to be conservative when achieving their profit margins, and welcome new competitors. It's going to be near impossible to knock them off the perch as the number one supplier to the world. CXX only want a taste of a very valuable market, and CBMM are happy for the small end of the market to be tightly contested.
2. IAMGOLD – NIOBEC – High cost Canadian producer
The next player is IAMGOLD , a publicly listed company that runs the Niobec operation in Canada's Quebec province. Niobec is the most expensive producer in the world, with a price tag of around $26 a kilo to get Niobium from its 600m deep underground mine. IAMGOLD get the job done, however due to their mine being so far underground, the costs are so high to produce that they will likely be the first guys to fall out of the market. Should CXX's venture prove successful, IAMGOLD will be very nervous indeed.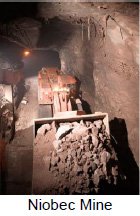 IAMGOLD's Niobec mine – way down below and very expensive to get to
3. ANGLOAMERICA – Second best in Brazil
Lastly, AngloAmerica control the third biggest slice and also operate in Brazil. Last year was promising for AngloAmerica's Nb business which grew its operating profit by 56% to $81 million on the back of a 15% rise in sales and better efficiency at the company's mine in Boa Vista. Again, AngloAmerica don't have a big share of the market, CXX intend to compete against them should Panda Hill advance to production stage.
CXX have the highest grade Nb deposit outside of Brazil
The search is always on for a new source of Niobium – many have tried over the years – but most projects end in disappointment with low yields and poor grades.
The Next Mining Boom is impressed by CXX's Panda Hill project. In terms of grade of Nb outside of Brazil – CXX take the prize, 0.52% Nb 2 O 5 compared to Niobec's grade of 0.42% Nb 2 O 5 . And they won't have to climb 600m down a Canadian shaft to get to it. The resource is close to the surface and has a sizeable tonnage – enough for a 40 year mine life.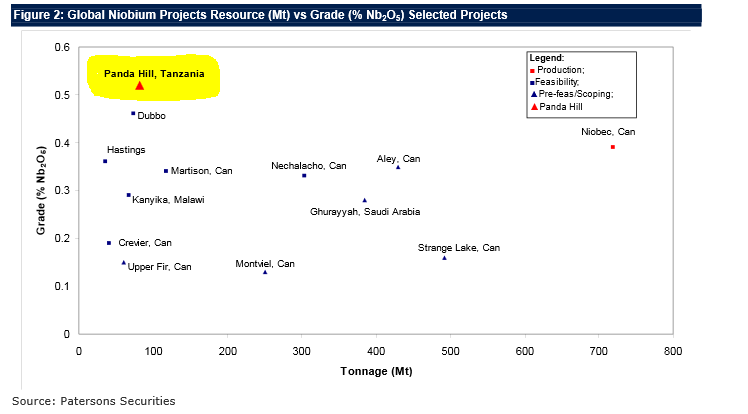 Steel producers are crying out for another source of Niobium as demand continues to grow. There is room enough for another player. CXX can be that player.
From CXX to market – the Panda Hill Niobium Project
CXX bought a 50% stake in Panda Hill Pty Ltd in April of 2013 with an exclusive option to secure the balance of ownership by 2017.
The buy was made after a year's due diligence on the project and MD Grant Davey says the more they studied the market for Niobium, the more promising the opportunity they saw. Seven months after the acquisition, CXX unveiled its plans in November 2013 and have been following them swiftly and surely.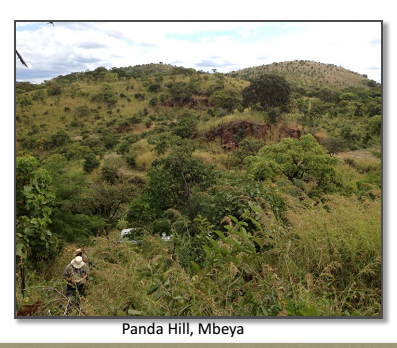 The first thing CXX did was to find out how much Nb was in the ground.
Between the 1950s and 1990s, around 160 holes were drilled, prospecting for all sorts of resources.
Back in April 2013, when CXX arrived on the scene, Panda Hill was said to have a sizeable near surface Nb resource (56Mt at 0.5% Nb 2 O 5 ).
That changed significantly when CXX undertook a 13 hole diamond drilling programme and brought in independent mining consultants, Coffey Mining to evaluate the resource. Coffey reviewed the Panda Hill project and have now, based on the drilling information, increased the resource estimate to 81.8Mt at 0.52% Nb 2 O 5
.
In a nutshell, Panda Hill has much more Niobium of a higher quality than first thought, de-risking the project further. Further test work will continue to refine the resource estimate.
Getting it out of the ground
CXX believes Panda Hill is a robust project, promising to have low cash costs for high returns. The Next Mining Boom recently got on the phone to MD Grant Davey, who believes he can get the CXX Panda Hill project delivering Niobium production for a cash cost of between $15 to $18 / kg. That's up to $11 / kg lower than Canadian producer Niobec.
But why are the costs so low?
The strip ratio at Panda Hill is under 1:1. That means the Niobium is close to the surface and Panda Hill can be an open cut mine. This smashes upfront mine costs dramatically – IAMGOLD up in Canada are very envious, as their Niobium is 600m underground!
Many of the Nb deposits at Panda Hill are situated on a hillside (hence the name) – once again making things easy come production. To get to this point, CXX expect the capital cost for getting the project underway to be around $190 million for 2 Mtpa throughput – not bad at all for such a high tonnage, long life, Niobium mine.
For the first 10 years of mine life, CXX reckons Panda Hill will yield 0.7% Nb 2 O 5 and predicts the mine will have a 40 year life span. CXX have sufficient ore for a 30 year plus mine life based on the current resource. It's likely that CXX will target higher grades upfront to improve the attractiveness of the project.
Paterson's have suggested an upside scenario of 2.2 – 2.4 Mt a year. Should total resource size be 82 Mt, as predicted, that would lead to a mine life of almost 40 years. 40 years of very lucrative Niobium production.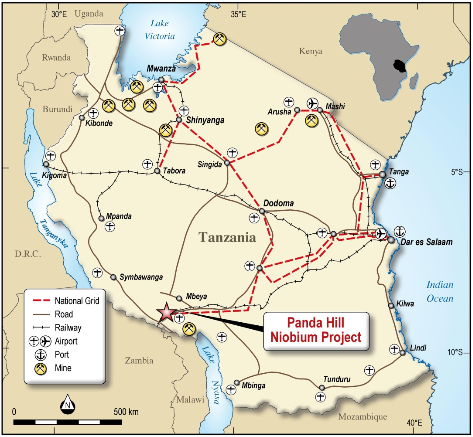 Take a look at the map . CXX won't have to build much infrastructure.
The Panda Hill project sits right near the industrial city of Mbeya which has a population of 280,000 people and is a major service centre. There is an airport, road system and rail links all within reach of Panda Hill's location. This is a big plus for us at Next Mining Boom ; CXX's holding is not out in the back of beyond needing significant investment for the basics.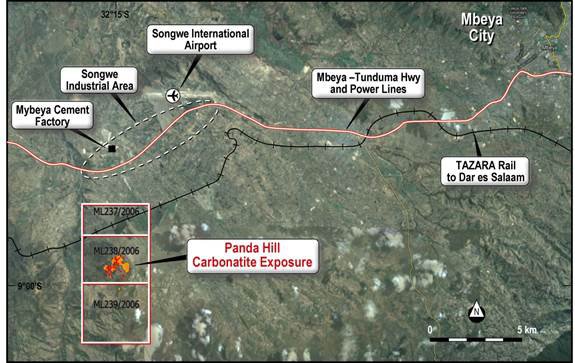 Another way CXX will save money is that Panda Hill is visible from the airport indicated on the map above. This is significant because Niobium is a very valuable commodity that can be transported like gold. It is not a bulk commodity that needs to be shipped in a container or hauled in a freight car. A plane will do; so transport costs are negligible.
New blood versus old – CXX and Niobec
Let's compare CXX's new project at Panda Hill with an existing one; Niobec, the Canadian Nb producer owned by IAMGOLD.
Take a look at this video to see at what lengths they need to go to get their Niobium out of the ground!
Niobec niobium mine from IAMGOLD Corporation on Vimeo .
Pretty flash right? From the video you should have gotten a fair idea of why Niobec is currently the most expensive Nb producer in the world.
In some ways, Niobec is very similar to what CXX is pushing to build in Tanzania. Both operations have a resource that is of a similar grade – Niobec has a grade of 0.42% Nb 2 O 5 and Panda Hill has 0.52% Nb 2 O 5 . Geographically they are almost a mirror image (weather excepted of course!). Niobec is close to a major city with good road, rail and air links at its disposal, much like CXX with its proximity to Mbeya.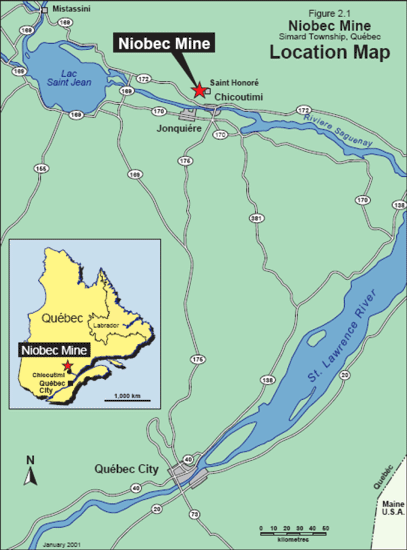 But cost is what counts. Have a look at Niobec's figures for the period 2008 to 2012.
Year Nb Price EBITDA Head grade $US $US Nb2O5 2008 $34/kg $79m 0.62% 2009 $37/kg $86m 0.61% 2010 $37/kg $79m 0.61% 2011 $39/kg $68m 0.57% 2012 $41/kg $72m 0.55%
Note: Extracted from Annual Reports of Iamgold Limited (rounded)
You can see there that the price of Nb has been pretty steady for a while, rising from $34 a kilo to $41 in just five years. Niobec extracts it for around $26 a kilo (the most expensive rate of the 3 existing producers) yet its raw profits (EBITDA column) hover in a good range. Niobec performs like a blues drummer; rock steady. CXX believes it can play a similar tune to Niobec; but with one crucial difference.
Niobec is an underground mine – 600m straight down.
CXX's deposit at Panda Hill in Tanzania is a less than 1:1 strip ratio – close to the surface and able to be open cut.
How would you prefer to find your Niobium? Down a 600m shaft or in a shallow pit?
In dollar figures, that's a cash cost of $26 / kg for Niobec versus CXX's estimated cash cost between $15 and $18 / kg.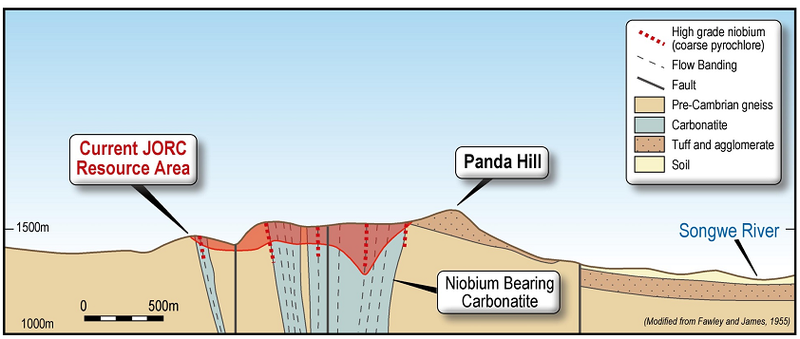 Niobec has been going for more than 30 years at a steady pace.
But we at The Next Mining Boom are backing CXX to overtake them.
Investigations and drilling to date have shown that CXX has a better grade and they could construct a project of similar size and scope (2Mtpa). Niobec's deep digging eats away its profits and competitiveness. CXX's shallow deposits mean it has the potential to mine Niobium open cut – cheaper, faster and more efficiently – passing the benefits to its investors.
Who is running the show at CXX?
Just like their focus on Nb, CXX's management team is sticking to another abbreviation – KISS – or 'keep it simple stupid'.
This is another reason we at Next Mining Boom are backing these guys to deliver what they promise. The Project Management team owns 65% of CXX. Most of the other 35% is owned by friends and family – so the success of the project is personal, and the shares tightly held.
Chairman Craig Burton has over 25 years' experience managing resource projects. MD Grant Davey is a mining engineer who has done lots of work in Africa. Non-Executive Director Evan Cranston specialises in mining law while Non-Executive Director Didier Murcia has extensive experience in Africa resource projects – he is even an Honorary Consul for the United Republic of Tanzania – which could come in very handy.
How can investors get involved with this tight knit group?
Well, there are just over 128M shares on issue with 23M in listed and unlisted options. Those options will be excisable in two tranches, the first in January 2015 and the next in May 2016. The Panda Hill site itself is split down the middle between CXX and a sole metals trader in Britain named Israel Weinstock.
CXX has an exclusive option to purchase the rest from him by March 2017. That's a good deal which gives CXX lots of freedom. So there you have it; a tight knit team of industry professionals with strong support behind them, a killer plan in hand and a valuable resource waiting to be tapped.
What's next for CXX
It's all systems go for CXX in 2014.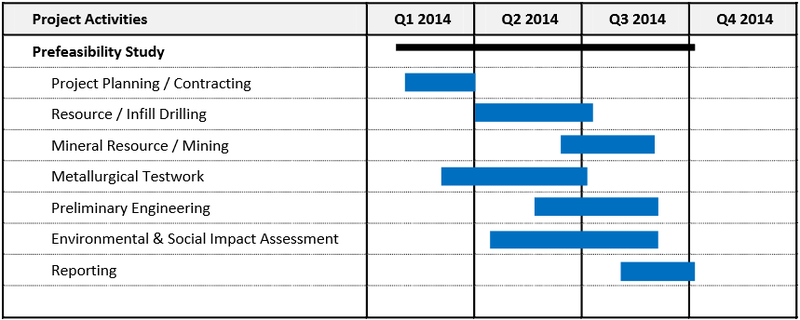 They have a Scoping Study for Panda Hill due out in January 2014 and a pre-feasibility study for Panda Hill due out in the third quarter.
After that we understand CXX will begin a definitive feasibility study completed by mid-2015. In the meantime, it's more than likely that the demand for Niobium will continue to grow at a steady clip.
We think investing in CXX will allow investors to get their hands on a rare, tightly held commodity and benefit from a company that is set to succeed.
---