PSM Commences Zinc-Silver, Copper-Gold Drilling at Ubeong
PUBLISHED: 17-08-2017 09:00 a.m.
It's all systems go, over at Peninsula Mines (ASX:PSM) whose portfolio of exploration projects has been rapidly progressing in South Korea — the epicentre of the world's electronics and energy boom.
We'll come to PSM's role in the new energy movement shortly, however, what is really driving the company forward right now is the outstanding new zinc, copper and gold-silver discovery opportunities, particularly at its Ubeong Project, where drilling has now commenced .
PSM has reported significant new geophysical and geochemical results at Ubeong in the June quarter, where outstanding drilling targets have been generated for the potential discovery of a major porphyry/sulphide system with zinc-silver as well as copper-gold.
The analyses of 110 surface rock chip samples from historical surface workings at the Chilbo Prospect at Ubeong have generated very high-grade results, which combined with outstanding surface soil sampling results for zinc, silver and copper.
Furthermore the detection of very strong Induced Polarisation geophysical anomalies, has generated multiple drilling targets for the discovery of a major new porphyry sulphide system.
The current round of drilling is designed to test the most intense of the very high chargeability zones identified during the IP surveys. IP is a geophysical method that detects buried sulphide bodies – that may carry copper, gold, zinc and other goodies.
PSM has also been buoyed by the recent announcement that it has received approval from the Korean Forest Service to access two separate drilling sites at its Osu Gold Project.
The upside here is that PSM will drill the Ubeong targets and discover high grade copper-gold and/or zinc-silver mineralisation, as well as test high-grade gold and silver targets at Osu. Success at either or both of these projects will then generate a major drilling programme in Korea, to delineate new JORC resources for the Company.
Although it should be noted here that PSM is still an early stage play. Investors considering this stock should bear this in mind and seek professional financial advice before making an investment decision.
The company has maintained its tight expenditure, spending just AU$0.55 million during the quarter, approximately two-thirds of which was direct exploration expenditure and the company still has just over $1 million in the bank, with no debt.
PSM is in a strong position to move forward with its plans for drilling at Ubeong, Osu as well as at its graphite projects, which we'll get to shortly and, with plenty of newsflow to come, these kind of proactive, discovery aspirations could have a very positive effect on its A$12 million market cap.
PSM represents a bit of a piñata that's busting with potential and striving for a hit.
Catching up with: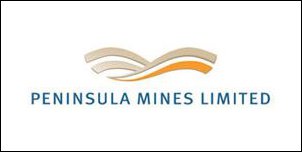 Peninsula Mines

Peninsula Mines (ASX:PSM) is a company that's all about providing investors exposure to the growing demand for graphite and lithium through several highly prospective projects (that are already delivering excellent exploration results).
We last wrote about PSM in our article, ' High Grade Zinc and Graphite Results Mark PSM's South Korean Ascent' , where we delved into its chances of forging a commercially viable metals empire in Asia's far east. A few months on, PSM's progress has been very positive and sets it up for a breakthrough.
This time around the focus is on PSM's highly prospective base and precious metals projects, where extremely encouraging results from geochem and IP geophysics looks to be pointing towards a major Zinc-Silver with Copper-Gold discovery at its Ubeong Project.
PSM's activities in South Korea are still relatively early-stage, but the results to date point to outstanding potential, with targets now being drilled.
We'll now describe PSM's projects in more detail. Firstly, here's a look at where they sit: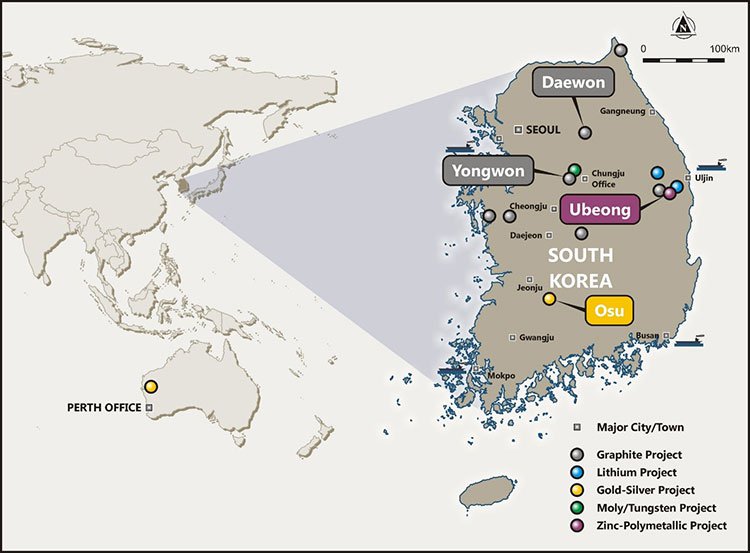 In total, PSM is operating four distinct projects in South Korea (see above) — two focusing on graphite, and two focusing on zinc, copper and gold and silver.
Drilling outstanding new metals targets at Ubeong
PSM is on course to discover a major new zinc-silver and copper-gold resource, with drilling commenced at its Ubeong Project, testing a series of outstanding rockchip and soil geochemical targets and new, very strong, IP geophysical anomalies (indicative of sulphide bodies).
The company has secured three granted tenements and multiple tenement applications over the eastern 10km strike length of a highly prospective limestone-skarn unit that includes the historical Chilbo mine workings and adjoins the operating Keumho Zinc Mine.
Here is the lay of the land at Ubeong, where you can see potential for PSM to discover major new base and precious metals systems: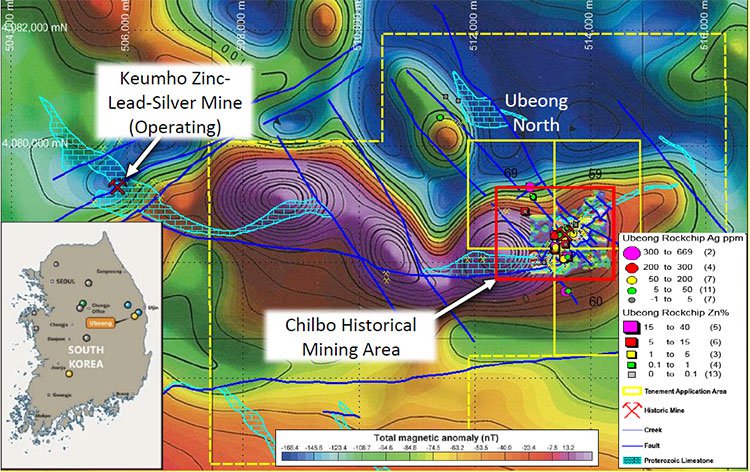 In the red square is PSM's zinc-silver and copper-gold prospect, associated with the historical Chilbo mine workings. The area has been mapped, detailed geochemistry done, rockchip samples taken and detailed magnetics and Induced Polarisation (IP) geophysics also deployed.
Furthermore, this area has historical mining projects scattered across it. The historical Yeonhwa zinc-lead-silver project has produced around 10 million tonnes zinc, silver and lead until the 1980s and the operating Keumho zinc-lead-silver mine lies just outside PSM's tenements.
The high-grade zinc-silver mineralisation identified in the Chilbo workings area occurs towards the eastern end of the limestone skarn-unit, associated with an extensively faulted zone that has offset the unit and is interpreted to have acted as a conduit for mineralisation.
On July 12, PSM released the following news: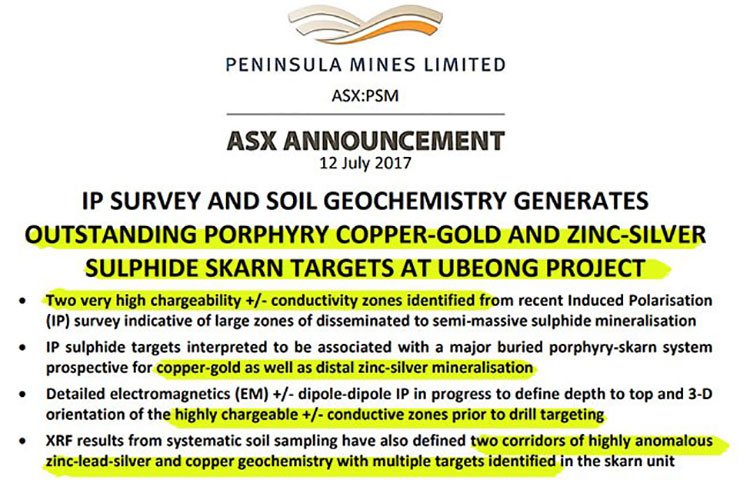 From the Induced Polarisation (IP) survey imaging over the Chilbo workings area shown below, notice PSM's key targets: Copperhead and Krait.
These two targets indicate high prospectivity for metals-bearing sulphide mineralisation, including copper, gold, zinc and silver mineralisation, indicated by very high grade results been sampled in outcrop adjacent to these buried targets at the Taipan and Cobra targets.
Yesterday the company announced that Drilling is now underway . The name of the game for PSM now is to drill its key targets as quickly and effectively as possible, and there are strong hopes for PSM's drill bit to make a substantial discovery and prove up a maiden JORC Resource at Ubeong within as short a timeframe as possible.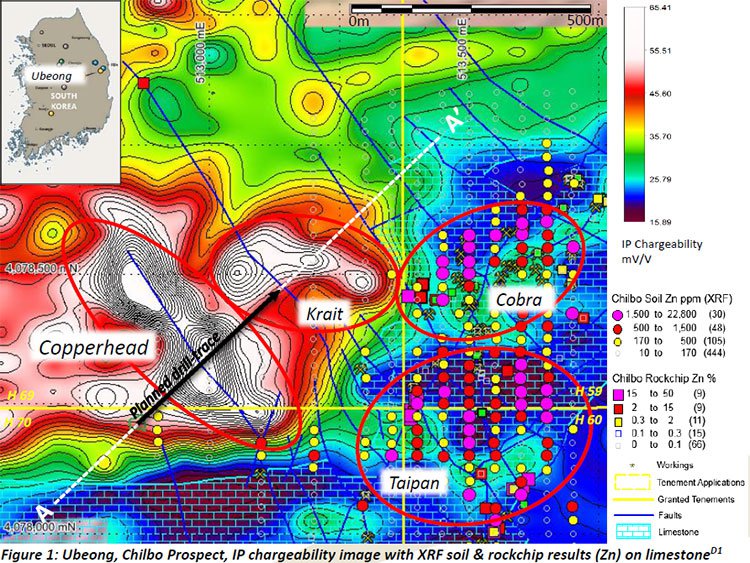 The initial drillhole is planned to intersect the Copperhead sulphide target zone from 50m to at least 300m downhole, continuing to >400m where it is expected to intersect intrusive rocks below the interpreted sulphide target.
Further drilling may then be carried out from the same site subject to encouraging initial results. Drilling is also planned to test the Taipan and Cobra targets, which XRF soil sampling results indicates are significant and broad, northeast-southwest oriented zones of highly anomalous zinc-lead-silver and copper mineralisation.
Very high grade rock chip sample results of up to 48.8% Zn and 958 g/t Ag, 27.9% Zn, 13.85% Pb, 1.1% Cu from Taipan and up to 25.6% Zn, up to 215 g/t Ag and up to 2.3% Cu from Cobra are associated with through-going faults that have disrupted the skarn-limestone and potentially provided a conduit for hydrothermal mineralising fluids, linking to the high-chargeability Copperhead and Krait targets, that may represent the core of the porphyry-sulphide system.
Drilling of the Krait, Taipan and Cobra targets is subject to further access agreements currently being negotiated. Testing could also be carried out from the current private land access, subject to identifying a drilling rig capable of drilling shallow angle holes, with possible directional drilling capability.
Here's a look at the diamond drill rig, currently drilling towards the buried Copperhead IP sulphide target, which may be as close as 50 metres below surface.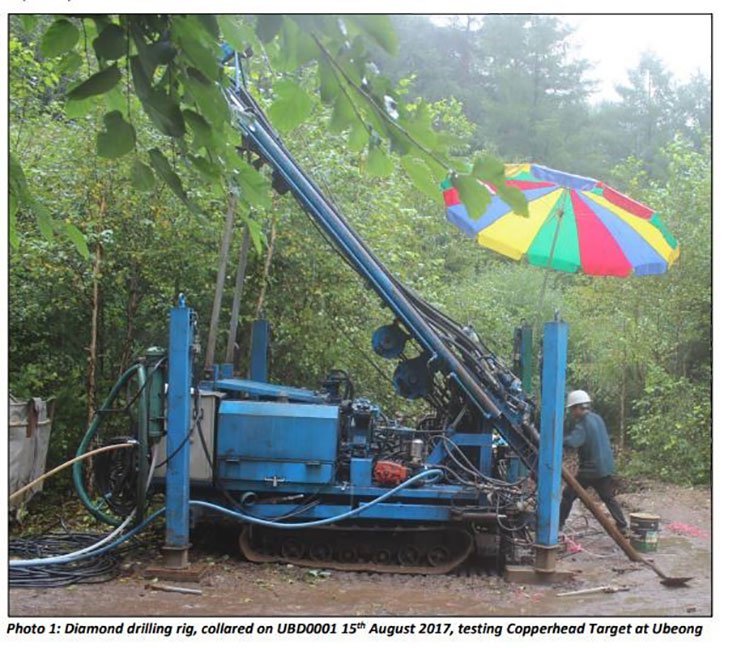 With PSM's drilling schedule filling out quite nicely, it is hopeful of seeing several catalysts in the form of drilling assay results, further rock chip and soil sample results, geophysical targets and any other pertinent tidbits of info — to be summarily published by PSM over the coming weeks and months.
Remember, however, this is a speculative stock and investors should approach their investment in this company with caution and seek professional financial advice.
The other key piece of recent news was the announcement that PSM had received approval from the Korean Forest Service to access two separate drilling sites at its Osu Gold-Silver Project.
Access to these sites at the Osu will enable PSM to test high-grade gold silver targets, including:
The first drilling site is located immediately to the west of the Pal Gong East Lode where rock-saw channel sampling by PSM was completed obliquely across a 30 metre wide zone of sulphidic sub-epithermal vein structures in and around the historical underground workings. Several high-grade, polymetallic results were produced across the veined zones.
These included relatively broad thicknesses of 5.7 metres grading 3.14 grams per tonne gold and narrower sections of 0.2 metres grading 18.3 grams per tonne gold. Strong silver mineralisation was also encountered.
The proposed drilling will test the down-plunge extensions of these high-grade zones within and below the area of previous historical stoping on the Pal Gong East structure.
The second drilling site is located to the east of the Pal Gong West lode where previous limited drilling in 1975 by the Korean Mineral Promotion Corporation, now the Korea Resource Corporation (KORES), intersected very high grade silver and gold mineralisation, including 0.3 metres grading 5.1 grams per tonne gold and 2,252 grams per tonne silver from 86.3 metres.
The proposed drilling from this site will include 1 to 3 diamond drill holes testing the immediate vicinity, along strike and down dip, of the previous drilling intersections below the area of historical stoping on the Pal Gong West structure.
The following graphic indicates the areas where sampling has been undertaken, and the subsequent results.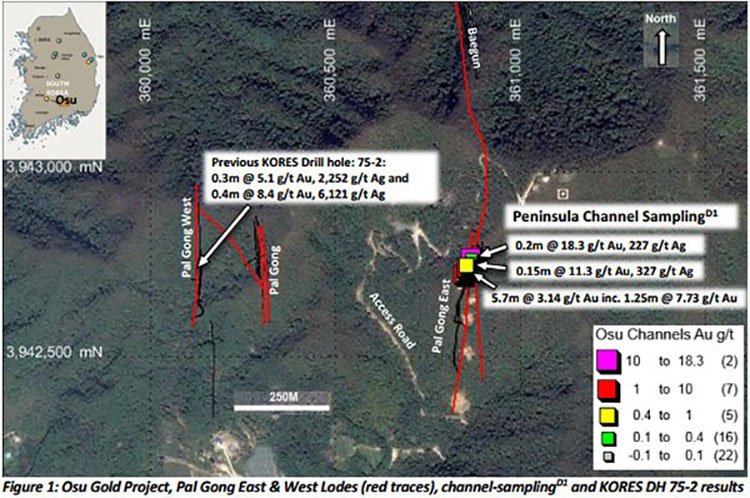 PSM now has multiple drilling targets to test during this next stage of the South Korean exploration programme.
PSM is advancing quickly with drilling in progress at its base and precious metals projects at Ubeong and Osu, but it is also worth having a quick look at the way in which it is advancing its graphite ambitions:
Down at Daewon
PSM's graphite-focused aspirations were given a significant boost recently.
PSM reported some strong metallurgical results from its latest high-purity concentrate testing, announcing 96.7% TGC and a recovery rate of 82% at the Daewon Graphite Project.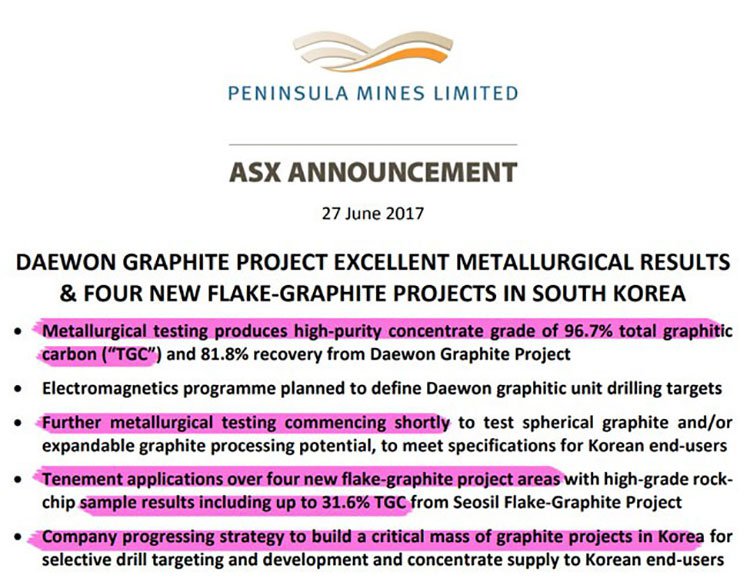 The Daewon Graphite Project (in addition to the Yongwon Graphite Project) represents PSM's flagship graphite asset, aimed at commercialising one of the most sought after metals in the world today.
Just recently PSM lodged an application for four more flake-graphite prospects in South Korea...
...which will all be aggregated into a single basket and processed to their maximal commercial potential. The overarching plan is to collate a "critical mass" of graphite projects to be drilled and JORC'd as soon as reasonably possible.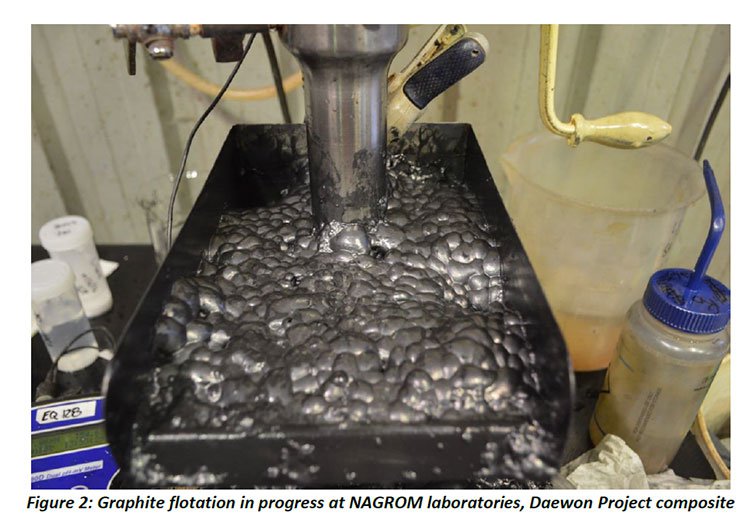 From the new tenement applications, PSM already has some initial rock-chip samples to base its ongoing exploration activity.
Here are the four new project areas, and all their alluring highlights laid out...
Seosil
Four new tenement applications located in central Korea (see Figure 1), with evidence of very large graphite flakes (see Figure 3 below) along metamorphosed contacts with a granitic intrusion. Five samples were collected for analysis at Nagrom Laboratories in Perth that produced results of up to 2.08m @ 25.7% TGC including 0.87m @ 31.6% TGC. Mapping and further sampling of the graphitic unit for petrography and metallurgical testing is planned.
Daeheung
Two tenement applications located ~80km south of Seoul, where Korean Mineral Promotion Corporation (KORES) previously reported surface exposures of graphitic units over a 1km strike length and sample analyses ranging from 13% to 50% TGC. Further rock-chip sampling for petrography and further analyses is in progress.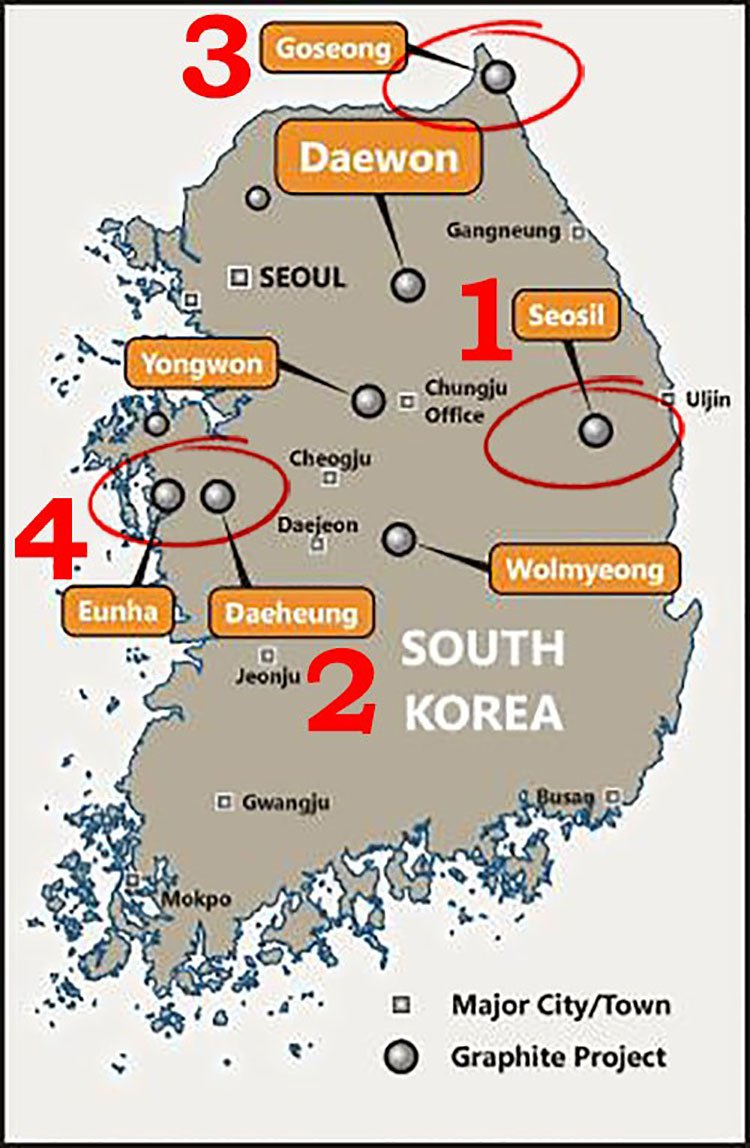 Goseong
Two tenement applications located close to the northeast coast of South Korea. A number of graphitic units from 3m to 5m wide were inspected and nine samples collected for analyses at Nagrom, producing results that included a channel sample intersection of 3.9m @ 3.4 % TGC.
Eunha
PSM has a single tenement application over the historical Eunha Project, where previous KORES work identified nine graphitic units occurring over more than 1,300m of strike. The graphitic units were described by KORES as being 2m to 20m thick, and having an average grade of 6-7% TGC . Sampling of the graphitic unit in workings at the southern end of the project area has returned analytical results of up to 0.8m @ 19.3% TGC . Much of the near surface potential is obscured by Motorway 15 and the project will be assessed for its underground resource potential.
So OK, PSM is putting together quite a graphite arsenal over in South Korea — but what's the endgame?
The endgame for PSM — is to become a prominent supplier of high-grade graphite to Asian manufacturers and industrial customers.
The reason for all the expansionary thinking and growing valuations across the new-energy theme is entirely to do with technology doing things better, faster, cheaper and safer.
As a step forward in this aim, PSM recently signed a non-binding MoU with Canadian Stock Exchange Listed DNI Metals. The two companies will form a cooperative joint venture to supply (and potentially develop and produce) up to 20,000 tonnes per year of >180 micron, >95% Total Graphitic Carbon (TGC) flake graphite concentrate from calendar 2018 to South Korean end-users.
The companies have also agreed to identify scope to significantly increase supply to meet projected demand for large-flake graphite concentrate to supply expandable graphite and/or other graphite products production in South Korea.
This announcement follows one in June in which PSM signed with Graphene Korea Co., which effectively guarantees at least 20,000 tonnes of graphite at >95% TGC, as well as anything else PSM manages to scoop out of the ground in Korea.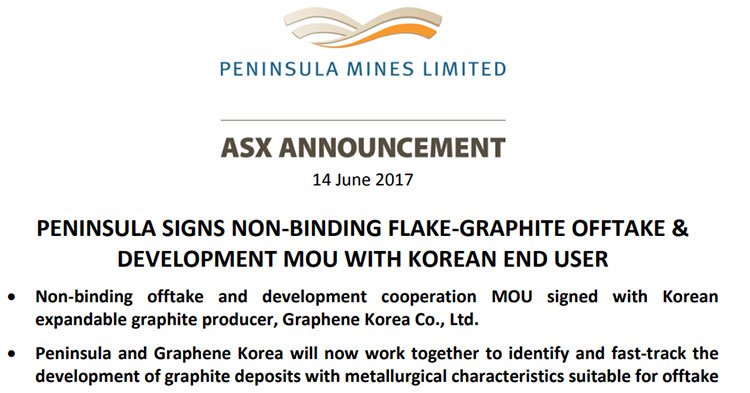 From the sampling done so far, PSM is wielding "excellent metallurgical results", is about to see pencil in its first Exploration Target, and already has one eye on a maiden Resource.
Graphite Evidence of an energy renaissance
Global macroeconomics and geo-politics have combined to give metals prices of all varieties a significant shot in the arm over the past 18 months. The emergence of high-tech industries related to power storage has most definitely put the cat amongst the pigeons in the world of commodities.
Dozens of companies are scampering into the field to discover supplies of the elements expected to reshape modern manufacturing and industry. However, it's the small-capped minnows such as PSM that could potentially deliver the most outstanding returns.
Although it's still early days and there is a lot more exploration to do, so investors should seek professional financial advice for further information if considering this stock for their portfolio.
For the time being, if we look for anecdotal evidence regarding which part of the world will have better underlying demand for graphite-intensive end-products, it seems China is accelerating away from its US counterparts: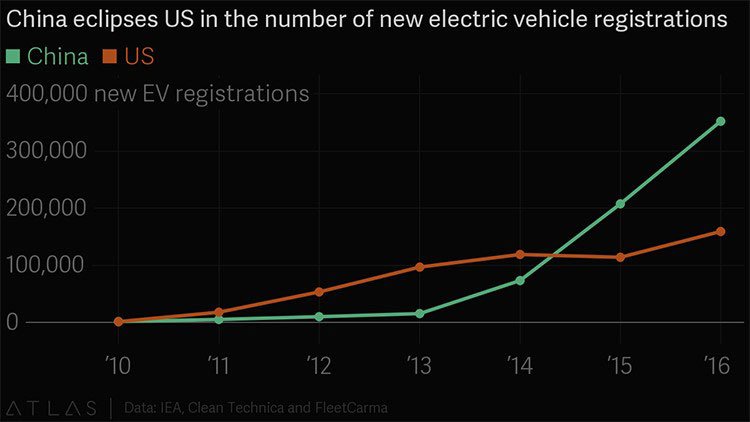 As you can see, EV sales are ramping up in China, and also growing steadily in the US. So while the various US-based companies stampede over themselves in attempts to supply Tesla's growing empire in North America with graphite, lithium, cobalt and zinc...
...PSM plans on doing exactly the same over in Asia, where there are more than a few Tesla-emulators preparing to build not only more cars than Tesla, but also sell more within a close proximity of its base of production.
Straightforward development and strong funding could see PSM make good on its Asian potential
Having neatly arranged a superlative bag of multi-faceted metals assets in South Korea; PSM is doing exactly what every $12MN-capped ASX-minnow should — make hasty progress with its array of metals projects in-time for a demand spurt from steelmakers and battery manufacturers.
PSM is freshly-funded and still has AU$1.04 million in the bank and is looking to accelerate exploration initiatives right across its portfolio of projects. PSM has already established, and is growing, a portfolio of graphite, lithium and gold-polymetallic projects all from the same pool.
Global macroeconomics and geo-politics have combined to give metals prices of all sorts and varieties a significant shot in the arm over the past 18 months. However, with the emergence of high-tech industries and markets, the need for high-grade zinc, copper, graphite, lithium and gold remains more than satisfactory for PSM to capitalise on its potential.
There is some way to go for PSM, but priced at just over $0.02 per share, there is plenty of catching up to do.
PSM is intent on building up a metals commercial haven in South Korea, to supply the next generation of energy demand.
---