PSM Adds Zinc Assets to its South Korean Metals Portfolio
PUBLISHED: 04-04-2017 11:25 a.m.
It's all systems go at Peninsula Mines (ASX: PSM) as we move into the second quarter of 2017.
As we mentioned in our previous article on this ASX-dwelling Asian interloper, PSM is already on-track to deliver a graphite/lithium option in the high tech hub of South Korea.
In fact the company has just gained direct Korean government support through the Korean Resources Corporation (KORES), as a co-funder of 200 metres of an 1,100 metre drilling program at its Yongwon Graphite Project.
While access approval is still required, it is believed the co-funding will support the drilling application. Drilling will then be aimed at defining an Indicated Resource to be subjected to initial economic development studies.
Government support in South Korea is vital to PSM's polymetallic ambitions.
South Korea is home to tech giants Samsung, Hyundai and LG Electronics, all of whom currently have a need for lithium-ion batteries to help power their cars and other high-tech gadgets.
And graphite is a major component of lithium ion batteries...
PSM hopes it can fast track its exploration projects to be part of the new energy paradigm, and it is certainly on its way with its graphite play.
But what has us updating our readers in this edition of The Next Mining Boom , is the prospect of PSM scooping something value generative from its zinc assets – also located in South Korea – in the coming months.
The company's zinc project now has its first three key tenements officially granted, part of a large area of applications, following high-grade assay results for zinc and a spectrum of other metals.
The latest progress on its zinc project allows PSM to fast-track surface geochemistry and IP geophysics to define several drilling targets within a large, 2km x 2km prospective area.
Although it should be noted here that PSM is still an early stage play and a speculative investment. Investors considering this stock should bear this in mind and seek professional financial advice before making an investment decision.
All in all, we think PSM is doing everything a small-cap explorer should — stitching together a neat portfolio of in-demand commodities and applying the necessary fieldwork to commercialise it, for the benefit of early investors.
With the share price primed at bargain-basement levels around $0.02 (2 cents/share), we think PSM could be in-line for a change of fortunes, especially as the metals resurgence continues full steam ahead.
Updating you on: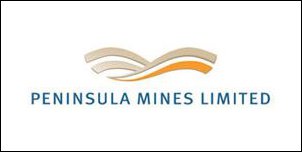 Peninsula Mines

Peninsula Mines (ASX: PSM) is intent on building up a commercial energy-metals haven in South Korea, to supply the next generation of energy demand, fuelled by gadgets and electric cars (amongst other things).
The company is providing investors with exposure to the growing demand for lithium and graphite through several highly prospective projects that are already delivering excellent exploration results.
The last time we stopped in on PSM, we focused on its graphite, gold and lithium intentions. A fine basket of metals that constitutes its commercial pipeline over the coming years.
However, in this article, we are focusing on PSM's dark horse metal — zinc.
PSM's zinc project just got a huge shot in the arm with the granting of three key tenements, close to PSM's central position in South Korea.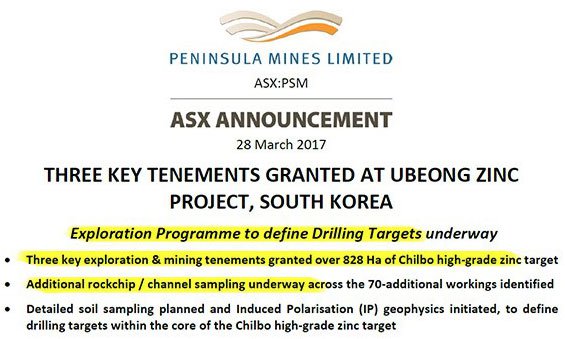 PSM has been granted key exploration and mining tenements over the Chilbo high-grade zinc target.
This is great timing because it gives PSM the chance to fast-track the zinc portion of its broader 'new-age' metals portfolio, already stocked with lithium, graphite and gold potential.
If that wasn't enough, it's located near its final consumption point in South Korea, currently one of the most technology-driven nations in the world.
Whatever PSM digs out of the ground could be snaffled up by the dozens of manufacturers jostling for supply in South Korea.
Here's PSM's project locations on the map: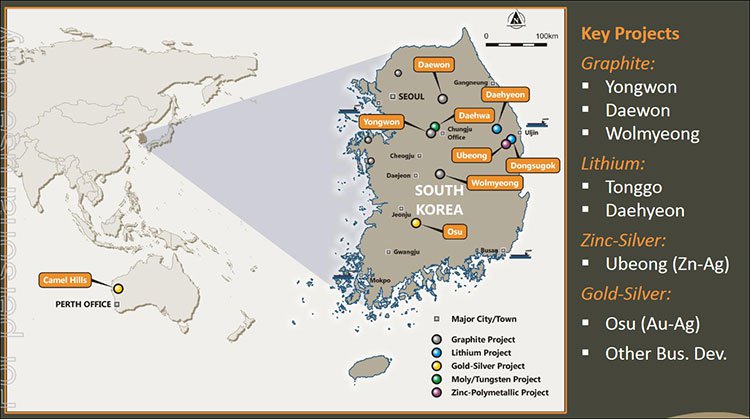 PSM has a swathe of prospective tenements that are quickly becoming fully-fledged projects.
Proof in the pudding
So far, PSM's activities in South Korea are very much early-stage, but the potential for identifying commercial resources is certainly present.
A soil sampling programme at the high grade zinc target Chilbo (within the Ubeong zinc project) has produced results of up to 2.1% Zinc, while high-grade channel sampling results have included very high grade results of 2m @ 29% Zn, 0.4m @ 39.7% Zn and 1.0m @ 23.1% Zn.
PSM's upcoming Induced Polarisation (IP) geophysical survey, will commence mid-April to test the area of structural dislocation associated with the main area of workings in the Chilbo area.
This could be a hugely important inflection point for this stock, assuming the results are of a high-grade nature.
PSM holds 100% of three key tenements and also holds a number of tenement applications over the eastern 10km of strike length of a highly prospective limestone-zinc-skarn unit at Ubeong in the eastern part of South Korea.
Looking at the most recent geophysics survey, it's clear that all focus is on the Chilbo mine — the likely epicentre of PSM's zinc exploration in South Korea.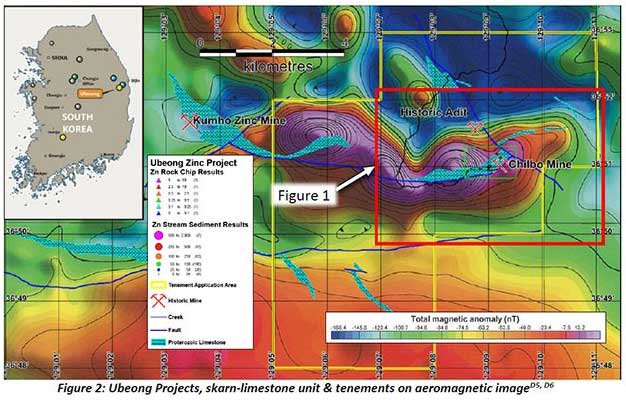 High-grade zinc-silver mineralisation has been located, associated with the historical Chilbo Mine towards the eastern end of the skarn-unit.
Workings have been mapped over a 4km 2 area at Chilbo and are associated with a complex, mineralised, faulted zone. The operating Kumho Zinc Mine occurs just outside PSM's tenement applications at the western end of the skarnified limestone trend.
PSM has previously announced high-grade zinc-silver (+/- lead, copper, gold) results, produced from historical dumps and adits in the Chilbo mine.
Additional rock chip sampling and a detailed soil sampling programme have commenced, and PSM's geologists have completed a detailed ground-magnetic survey that will map the magnetic limestone-skarn unit and potentially mineralised structures. IP geophysics is also planned to detect buried sulphide bodies directly.
The objective of the rock-chip, channel, and soil sampling, as part of a complementary geophysical programme is to define drilling targets for massive-sulphide zinc-silver mineralisation to be tested as soon as possible.
PSM's vision is not only for today or tomorrow — it's for the coming decade, as long as it can tap into a rich hot-spot of mineralisation.
The next stage is for PSM to complete its Mineral Deposit Surveys (MDS), as required by the South Korean Government, to have more tenement applications granted in the future.
So with PSM's zinc assets now in motion, what are they in store to capitalise on?
Assuming PSM can keep its drill bit chugging, the expanse of the current metals resurgence seems to surprise even today's conservative analysts...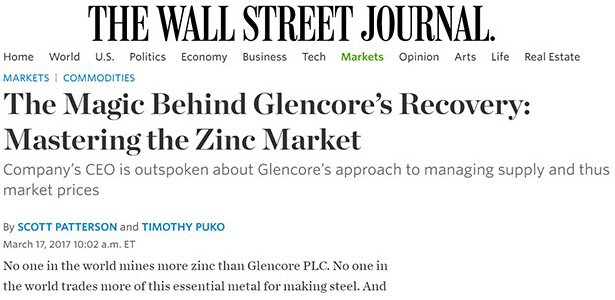 The Wall St Journal has an interesting piece on how having a leg up in the recovery, has a lot to do with 'mastering the zinc market'.

Mining.com is also supportive of a zinc rally that's built on renewed steel building and industrial recoveries across the globe — starting in Asia, the epicentre of PSM's operations in South Korea.
The zinc market was in deficit in 2016, and global zinc demand is expected to grow 2.5% in 2017. This is mostly down to mine closures and cutbacks coinciding with increased demand for zinc as steel production starts chugging again.
Zinc, up 12% year to date, is being buoyed by record refined output in China and tight supply after a number of mine closures.
Of course, commodity prices do fluctuate and caution should be applied to any investment decision here and not be based on spot prices alone. Seek professional financial advice before choosing to invest.
Zinc is utilized in galvanizing steel products, so one of the primary drivers of growing zinc demand is infrastructure growth in emerging markets.
Rising modernization and urbanization is hastening growth in residential and non-residential construction. Therefore, construction industries in developing countries like China, propel the demand for galvanized products which, in turn, drives the growth of the zinc market.
Here's how zinc has performed in the past 18 months: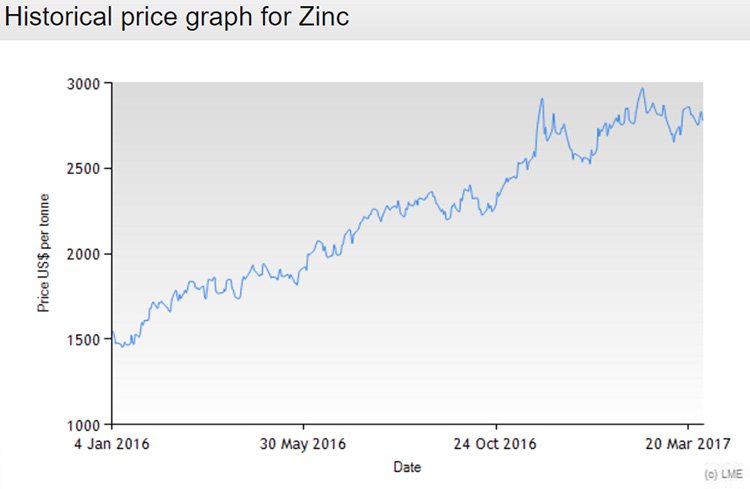 For a more comprehensive review of the zinc market, we recommend this professional report from Technavio ;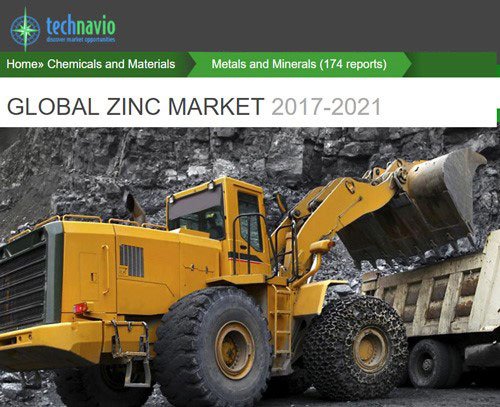 PSM's Graphite update
Not getting carried away with its zinc plans, PSM is also pursuing several other resource interests, most interesting of which is graphite.
PSM has the full support of local South Korean company, KORES, and is government-backed to seeing its Yongwon Graphite Project progressing all the way through to production.
KORES has recently confirmed it will co-fund PSM's 1,100m drilling programme, with sampling and assaying to follow thereafter: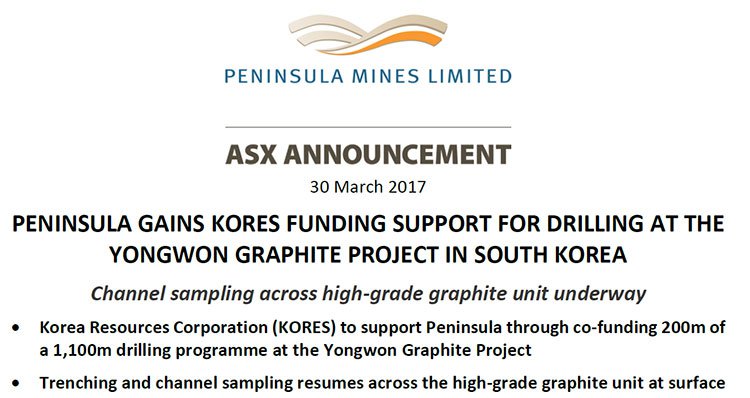 Access approval from the Chungju Local Government is required for the approximately 1,100m drilling programme at Yongwon, which has the objective of defining an Indicated Resource that may then be subjected to initial economic development studies.
The Yongwon Graphite Project serves as PSM's graphite flagship, which has delivered excellent metallurgical results in its fledgling history, with over 97% TGC measured in early lab tests.
Previous channel sampling by PSM produced a high-grade trenching intersection of 9.7m @ 11.7% TGC including 2.5m @ 16.9% TGC & 2.45m @ 16.1% TGC.
Results like that may one day put PSM in a position to feed the world's leading lithium-ion battery manufacturing market in South Korea.
Here is PSM's most recent drilling targets: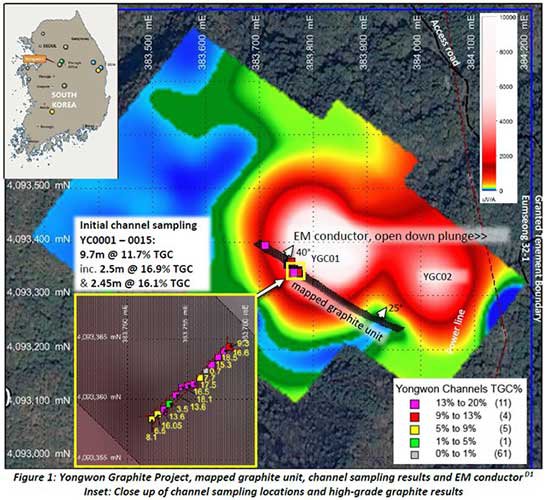 That nuclear-white-looking anomaly that's off the charts, right in the middle of the graphic, is something we're particularly interested in.
With PSM pencilling in over a dozen drill holes across the entirety of this seemingly significant prospect, there are most likely catalysts afoot.
PSM has a well-established bond with the South Korean government, which has contributed funding towards PSM's exploration — and continues to do so to this day, helping to de-risk PSM's operations a tad further.
The South Korean government sees lithium and graphite supply as pivotal to its economic success and has thus been highly supportive of players in this field – which bodes well PSM as it looks to fast track its projects.
Meanwhile, PSM has finalised the results of petrography and initial metallurgical testing. The focus was on the generation of a flake graphite concentrate, producing a very high grade concentrate of 97% graphite from the Yongwon project. This is the type of graphite that is suitable for the production of spherical graphite for lithium ion battery and anode applications and/or expandable graphite, or even the production of graphene.
We like the sight of this very neat convergence of needs and necessity. The world needs high-quality graphite, and PSM needs market traction.
Also in PSM's kitty is an alluring gold asset worthy of patience
Given that the high-grade gold silver target at Osu in the south-west of the country is now primed for drilling, it could be argued that confidence surrounding results from exploration at that deposit will be greater than early stage work at some of PSM's other assets.
Should this be the case, drilling at Osu could have a more pronounced impact on PSM's forward prospects, and in turn its share price.
However, like all speculative mining stocks – success is no guarantee to occur and investors should only use the information in this article in conjunction with other publicly available information before making an investment decision.
The project includes historical workings extending from Baegun Mine to the Pal Gong East workings along a strike corridor of 1.5 kilometres, within which exists multiple high-grade gold-silver-polymetallic veins and shear zones flanking the northern and southern sides of Mt Pal Gong.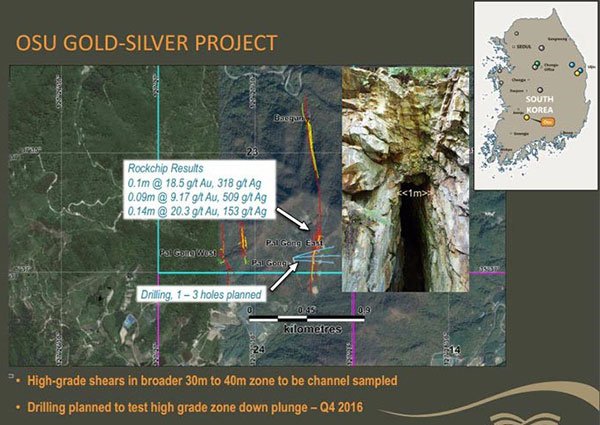 Straightforward development and strong funding could see PSM make good on its Asian potential
Having neatly arranged a superlative bag of multi-faceted metals assets in South Korea; PSM is doing exactly what every $10 million-capped ASX-minnow should — make hasty progress with its array of metals projects in-time for a demand spurt from steelmakers and battery manufacturers.
PSM is looking to accelerate exploration initiatives right across its portfolio of projects. PSM has already established, and is growing, a portfolio of graphite, lithium and gold-polymetallic projects all from the same pool.
Global macroeconomics and geo-politics have combined to give metals prices of all sorts and varieties a significant shot in the arm over the past 18 months.
However, with the emergence of high-tech industries and markets, the need for high-grade zinc, lithium, graphite and gold remains more than satisfactory for PSM to capitalise on its potential.
There is some way to go for PSM, but priced at $0.02 per share, there is plenty of catching up to do.
---