Promising Assays Released From CORA's Sanankoro Gold Discovery
PUBLISHED: 01-02-2018 17:00 p.m.
The Next Mining Boom presents this information for the use of readers in their decision to engage with this product. Please be aware that this is a very high risk product. We stress that this article should only be used as one part of this decision making process. You need to fully inform yourself of all factors and information relating to this product before engaging with it.
West African gold explorer Cora Gold (LON:CORA) is focused on two world class gold regions in Mali and Senegal in West Africa.
CORA is exploring amongst the giants in the region with some big name gold producers in Mali, including the £6.8 billion-capped Randgold Resources (LON:RRS), that delivers around half of the country's gold output, the £472 million Resolute Mining (ASX:RSG), the £1.5 billion Endeavour Mining (TSE:EDV), the £2.9 billion AngloGold Ashanti (JSE:ANG), and £2 billion Iamgold (TSE:IMG).
Given the extensive exploration programme that CORA is undertaking at its flagship Sanankoro Project, this £7.1 million micro-capped AIM junior has considerable upside potential, especially when you consider the encouraging nature of its most recent results.
Before we go too far, it should be noted that for political and social reasons, this is a very high-risk stock. Getting mining projects up and running in African countries such as Mali is not simple, and there may be challenges ahead.
Historical exploration resulted in the Sanankoro Gold Discovery, in addition to multiple, high potential, drill ready gold targets within CORA's broader portfolio.
This hard work now looks to be bearing fruit.
We introduced you to Cora in early-November, not long after the company began trading on London's AIM market, with the article, Could this New AIM Junior Discover West Africa's Next Major Gold Mine?
Since then the company has made a number of significant announcements, not least this week's stage one assay results.
Highlights from stage one drilling confirm the discovery of a new gold zone of at least 1200 metres length with potential to increase to more than 3000m.
The impressive assays include:
17 metres at 5.43 grams per tonne from 67 metres downhole (including 8 metres @ 11.24 grams per tonne);

11 metres at 5.24 grams per tonne from 4 metres downhole (including 1 metre @ 52.80 grams per tonne);

20 metres at 2.15 grams per tonne from 77 metres downhole;

15 metres at 1.41 grams per tonne from surface; and

10 metres at 1.37 grams per tonne from 39 metres downhole.

These results not only indicate strong potential for the zone to carry economic grades and widths, but importantly also remain open to the north and south at depth.
According to Dr Jonathan Forster, CEO of Cora Gold this initial drill programme has delivered impressive grades of gold and vindicated the company's current Sanankoro exploration strategy. We'll have more on that shortly.
Further developing Sanankoro is the company's primary focus as CORA believes it has the potential for a standalone mine development.
There are plenty of reasons to believe in the company's success, a crucial one being the fact that CORA is led by a highly experienced and successful management team that has a proven track record in making multi-million ounce gold discoveries which have been developed into profitable mines.
All the latest from...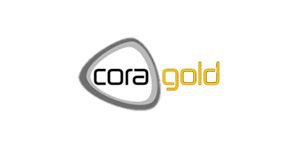 Cora Gold Limited (LON:CORA) was formed in 2012 and significantly enlarged in the lead up to the AIM listing in 2017 with the amalgamation of Hummingbird and Cora Gold's former parent, Kola Gold's gold exploration assets in Mali and Senegal.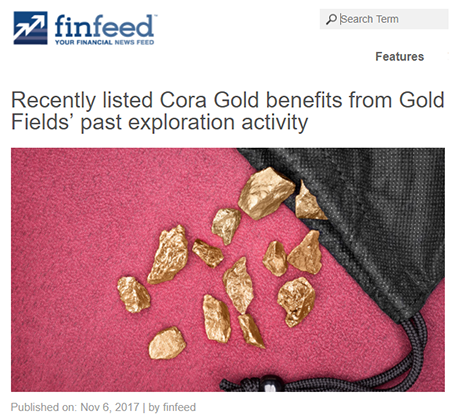 Having listed on October 9, the junior gold explorer isn't wasting any time.
Just a month ago, CEO Dr John Foster spoke about CORA's coming milestones and ambition to become a stand-alone gold mine at the 121 Mining Investment London Autumn 2017 conference:
CORA holds interests in 14 permits in Mali and one exploration licence in Senegal, over an area of more than 1700 square kilometres. These are spread across two significant geological areas, the Kenieba Window (either side of the Mali and Senegal border) and the Yanfolila Gold Belt (south-west Mali).
While no mineral resource estimates or reserves have yet been defined, CORA plans to conduct further exploration on its existing portfolio of mining properties and prove a resource.
Are gold prices ready to rise?
Along with highly prospective projects, CORA can also claim its excellent timing as an asset...
Talk in the gold market has turned to peak gold production occurring this year. While the gold price has been range-bound for going on two years, analysts are now saying that gold discoveries have peaked and production will only fall from here. And these aren't just any analysts.
This idea had earlier been broached by Mining.com in 2016, when it concluded there are no more easy gold discoveries and that the number of major gold discoveries is shrinking. MarketWatch has also asserted that we're heading for an 'impending gold production cliff ,' based on analysis by Sprott Asset Management.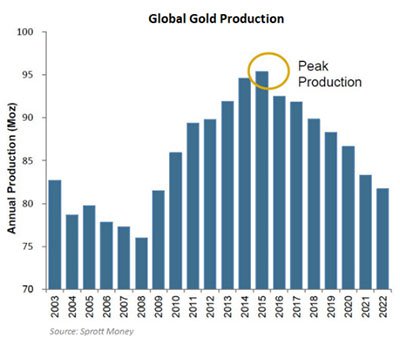 Furthermore, the Chairman of the World Gold Council, Randall Oliphant, said the world may have reached peak gold, declaring that gold production in 2017, 'may be the most that will ever be produced'.
Oliphant said in the near-term, production is likely to plateau at best, before slowly declining as demand rises, especially given global political risks and robust purchases by consumers in India and China.
That's not saying that we're not going to fall off a cliff anytime soon, but it raises questions as to how enough gold will be produced to meet demand.
This all points to a rise in the gold price above current levels. Some estimates point to a rise to US$1400/oz. over the next year.
Of course this is speculation and investors should take all publicly available information into account and take a cautious approach to any investment decision made with regard to this stock.
The gold price is currently at US$1250/oz. — at a level at which it has been hovering for the past few years after having recovered from its late-2015 lows.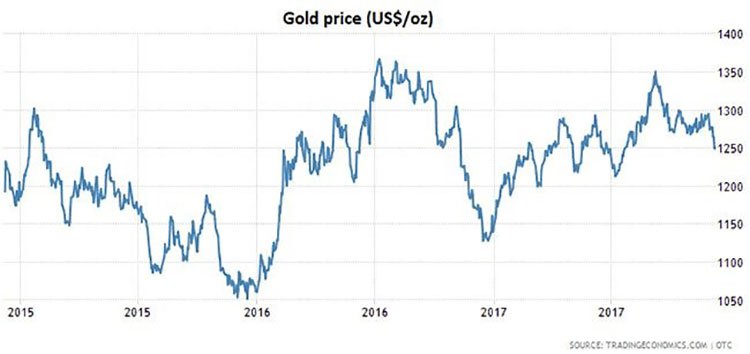 The past performance of this product is not and should not be taken as an indication of future performance. Caution should be exercised in assessing past performance. This product, like all other financial products, is subject to market forces and unpredictable events that may adversely affect future performance.
Drilling Commences at Sanankoro Gold Discovery
Following the mobilisation of rigs on 30 November 2017, CORA commenced a six-month drill programme at its flagship Sanankoro Gold Discovery in Southern Mali.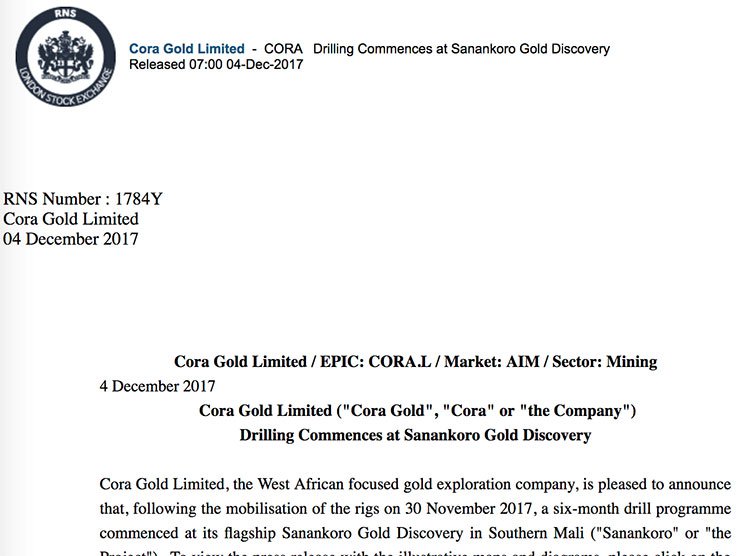 The drilling programme at Sanankoro is building on Gold Fields' positive historical results from Zones A and B. initially, at least, the programme is designed to further highlight the potential scale of Sanankoro which could be a +1 million ounce standalone mining operation.
Earlier exploration by Gold Fields include drill intercepts of:

Here is CORA's flagship project, the Sanankoro Gold Discovery in the Yanfolila Gold Belt, including Zone A and B: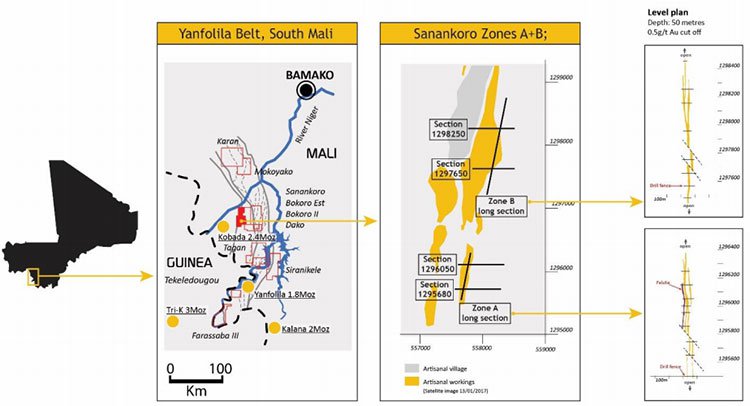 The first phase of the campaign focused on an initial target of 1.5-kilometre strike length, which lies within a broader target of more than four kilometres in length.
Stage 1 drill results are in and look promising
CORA has been working hard on its drilling programme over the course of the last few months and the results from this first phase of drilling are now in and look to be very promising, delivering impressive grades of gold.
Here are the highlights again, just to reiterate how encouraging these results are:
17 metres at 5.43 grams per tonne from 67 metres downhole (including 8 metres @ 11.24 grams per tonne);

11 metres at 5.24 grams per tonne from 4 metres downhole (including 1 metre @ 52.80 grams per tonne);

20 metres at 2.15 grams per tonne from 77 metres downhole;

15 metres at 1.41 grams per tonne from surface; and

10 metres at 1.37 grams per tonne from 39 metres downhole.

The company feels these results vindicate its strategy of stepping away from the known zones of gold mineralisation at Sanankoro to demonstrate the extensive gold endowment of the belt.
The results are shallow with broad zones of high grade mineralisation and provide great encouragement with respect to the mineralised potential of the over 15 kilometres of identified strike at Sanankoro.
The initial 3000m combined AC and RC programme is part of the full drilling programme which as stated above will be around 15 kilometres, as well as some 1000 metres of core drilling, which CORA expect to complete during the second quarter of 2018.
Numerous clear drill targets are still to be tested by AC or RC drilling. The hope is these will possess similar styles of gold mineralisation.
Other highlights from the drilling show the target remains open to the north, south and at depth, with drill holes only tested to vertical depths of up to 100 metres. The depth of oxidation appears to range from about 40-50 metres in the north to around 80-100 metres in the south and the most southerly drill fence lies at the northern end of a 450 metre long zone of artisanal mining.
Importantly for CORA, mapping suggests that the gold zone could link to Zone B, approximately 4 kilometres to the south of Target 1.
The following map illustrates the potential connection between Zone A and B.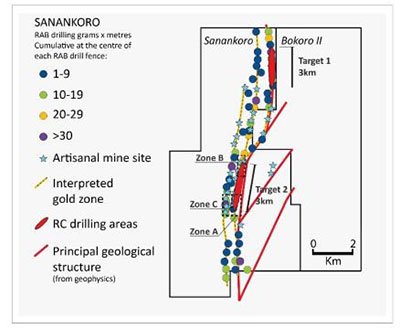 Stage two drilling is now underway with 4000 metres of combined RC/AC and 500 metres of diamond core focusing on Sanankoro Zones A, B and C.
In summary, the programme's three primary objectives are:
Undertake systematic exploration drilling at Target 1 to depths of about 100m to identify the potential for the zone to host continuous gold mineralisation with economic widths and grades. This has now been done.

Identify the influence of E-W veins, and confirm selected previous historical drill results within both Zones A and B.

Commence testing for possible extensions along strike to the north and south of, and in between, Zones A and B.

Target 1 breakdown
Whilst we have discussed the recent drill results, let's now drill down into the target zone.
Target 1 is located about five kilometres to the north-northeast of Zone B and forms part of a much larger zone in the northern extent of the identified strike of Sanankoro.
It was historically tested by four fences of shallow, angled, reconnaissance RAB drill holes on widely spaced drill fences between 400 metres and 800 metres apart. Much of Target 1 lies along a ferricrete plateau, within a +50 ppb gold in soil anomaly. Each drill fence returned significant indications of primary gold mineralisation.
Locally, small areas of disused surface artisanal workings were identified through detailed mapping of the target. The following diagram clearly shows the makeup of Target 1 and the proximity of Zone A and B to each other.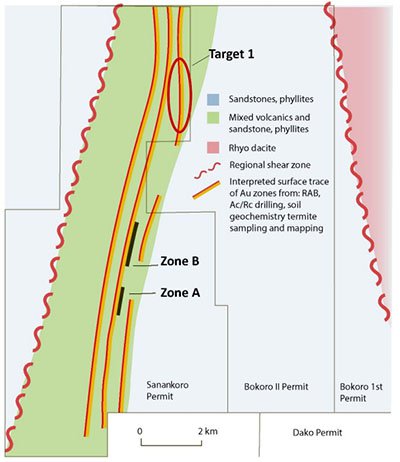 The recent Stage 1 drill results confirm that Target 1 can be added to the inventory of Gold Zones that CORA will prioritise for follow up infill drilling.
A number of core drill holes will be required, in conjunction with information from ground IP to enable better understanding of geometry, structure and mineralisation controls prior to subsequent infill drilling.
Zone A and Zone B
Recent detailed mapping and investigation of artisanal mining, combined with a review of historical drill core, indicates the presence of a well-developed set of east-west trending, sub vertical, quartz veins that are believed to carry gold mineralisation. This complements the previously identified sub vertical and low angle set of quartz veins that trend on an azimuth of around 015 o .
Historical drilling was aligned on an east-west axis to test only the 015 o trending zones but didn't systematically test gold mineralisation potential from the east-west trending vein set.
Anecdotal evidence, as well as artisanal workings, suggest the east-west trending veins carry gold.
The continuous programme of combined AC and RC drilling will test the significance of the east-west veins and provide some infill and confirmatory drilling of the historical drill results. CORA will do this by drilling on a north-west azimuth with the objective of intersecting all three quartz vein sets on a systematic basis.
CORA will also complete a number of drill fences which will test for extensions along strike to both Zones A and B, as well as the section between the two zones.
Looking ahead
A successful drilling programme has provided further encouragement to CORA on the potential scale of the Sanankoro Gold Discovery.
Of course it is in an early stage play and investors should seek professional financial advice if considering this stock for their portfolio.
Now that the first results are in, there is likely to be plenty of newsflow ahead as the full drilling programme of approximately 15,000 metres really takes shape. That is on top of the 1000 metres of core drilling scheduled for completion during the second quarter of 2018.
The timing of the drilling programme aligns well with what gold industry experts are declaring to be peak gold...and an expected rally in gold prices heading into 2018.
---