NUS Signs Cornerstone Investor to Fast Track Long Life Low Cost Gold Project
PUBLISHED: 17-12-2018 10:35 a.m.
It was just two months ago that we alerted our readers to the potential of junior gold explorer, Nusantara Resources (ASX:NUS).
In case you missed our previous NUS article, it would seem all eyes are peeled on the company's flagship holding, the Awak Mas Gold Project.
Located in South Sulawesi, Indonesia, the Awak Mas Gold Project boasts a 30-year history, which has seen some 1100+ drill holes completed for more than 135 kilometres of total drilling.
Although Awak Mas has had several previous owners over the years, the project area has not seen extensive exploration, with last significant activity occurring almost 20 years ago.
Nusantara has been rapidly changing this and through its good work is bringing this large gold project back to life. The project now possesses a 1.1 million-ounce Ore Reserve and 2 million-ounce Mineral Resource, which dates back to the 1980s.
This $24 million capped junior recently completed a Definitive Feasibility Study (DFS), which confirmed the project's potential. In fact, the DFS found Awak Mas to be a financially robust, technically feasible, long-life, low cost gold project.
The DFS supports an initial 11-year mine life, producing ~100,000oz gold per year while delivering strong margins at a low all-in cost of just US$758/oz. Factoring in the low all-in cost and its close proximity to established power and transport infrastructure, the Awak Mas project is well positioned to withstand any short term volatility in the gold price (currently US$1,246).
With all approvals in place for construction, NUS has wasted little time moving on the highly promising DFS results, having recently secured a strategic Indonesian cornerstone investor to expedite the development process.
On December 12, the company joined forces with Indonesian listed PT Indika Energy Tbk (IDX:INDY), a leading energy resources, services and infrastructure firm in the region. Indika will obtain a 19.9% interest in NUS. In addition, current significant shareholder, will increase their ownership from 10 to 14%. Together these investments will raise A$10.25 million. The placement will be at 23c which is at a 20% premium to Friday's share price.
As part of this strategic agreement, NUS has appointed Richard Ness as Non-Executive Director to its Board. Ness is a prominent mining executive currently serving as the Commissioner of PT Indika Energy Tbk and President Commissioner of PT Petrosea Tbk – two leading companies in the Indonesian energy and oil & gas sectors.
Ness is highly regarded in the Indonesian region, and brings more than 38 years of professional experience within the energy, mineral resources and mining sectors to NUS at board level.
When you put all the pieces in place, this strategic partnership should deliver valuable financing and development avenues for the Awak Mas site, which NUS is targeting for first gold production in early 2021.
With that in mind let's examine the latest news from...

Nusantara Resources
ASX:NUS
The Awak Mas Gold Project: ticking all the right boxes
Indonesia has not been known as an investment hotspot in Australia. However, due to a more favourable political climate and a desire for the country to be a leading global economic hub, the tide looks to be turning.
In fact, several analysts see Indonesia as becoming an economic powerhouse.
Nusantara Resources (ASX:NUS) wants in on the action.
The location of its Awak Mas Gold Project has a lot going in its favour.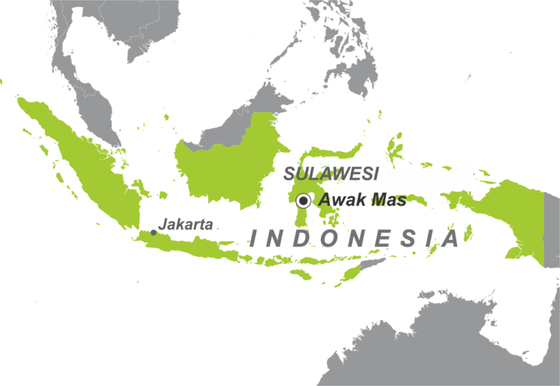 Backed by its supportive regulatory environment, where local and national government aid mining activities, Sulawesi is an attractive proposition for emerging players in the sector. The Sulawesi region has a rich history of mining, and provides prospective companies with an experienced and ready workforce for mine construction and operation purposes.
In the following Podcast published on Finfeed, Nusantara CEO Mike Spreadborough gives his insight into what it is like doing business in the region:
Exploration activities at Awak Mas (while infrequent) can be dated back to 1988 when the deposit was first discovered.
It has since changed hands between several companies including: Battle Mountain Gold, Lone Star Exploration, Gascoyne Gold Mines, JCI, Masmindo Mining Corporation, Placer Pacific, Vista gold and One Asia Resources.
As noted in our previous article, Upbeat DFS points to Long Life Gold Mine, NUS' wholly-owned subsidiary, PT Masmindo Dwi Area, has sole rights to explore for and leverage deposits within the project area until 2050, with options for extension.
The project is 100% owned through a 7th generation Contract of Work (CoW) with the Government of Indonesia, which allows 100% foreign ownership.
The project is found in non-forested land and is supported by stable, quality infrastructure including: low cost grid power, roads, a nearby airport and access to deep water ports.
Awak Mas is comprised of three deposits: the Awak Mas, Salu Bulo and Tarra deposits (as seen below).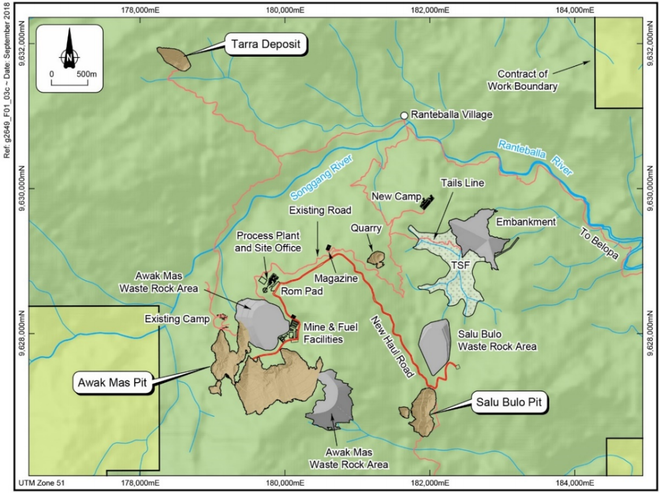 In October this year, NUS released the findings of its Definitive Feasibility Study, which supported a mining operation including two open pit mines for an initial 11-year life (and a low project strip ratio of 3.5.).
The DFS base study determined a post-tax NPV of US$152 million, with a 20.3% IRR using a gold price of US$1250 per ounce. This included an initial capital cost of US$146 million, and an All-In Sustaining Cost (AISC) of US$758 per ounce.
This news was covered on finfeed.com...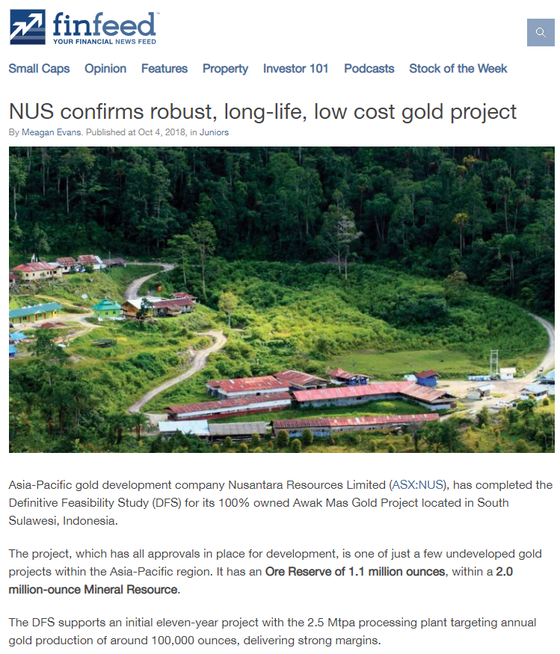 In addition, here's a short clip that provides an overview of the project and the DFS results:
In summary, the Awak Mas Gold Project has potential to become Indonesia's next profitable gold mine.
Strong nearby infrastructure? Tick. Supportive region? Tick. Promising DFS results? Tick.
And through its latest agreement, it can now fast track its development further.
NUS signs cornerstone investor
While the Awak Mas Gold Project holds promise, local expertise and knowledge can be a welcome addition, especially when it comes to developing nations.
On December 12, NUS achieved a crucial milestone, bringing the highly experienced Indika Energy on board as its Indonesian cornerstone investor.
Once NUS' current A$10.25 million cap raise is complete, Indika (via its wholly owned subsidiary PT Indika Minerals Investindo) will obtain a 19.9% stake in NUS.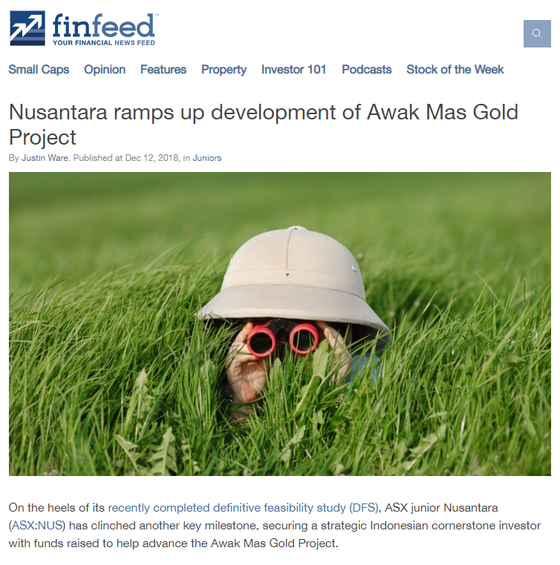 The key details of this raising are as follows:
NUS has entered into a subscription agreement for a placement of 30.6 million shares at 23 cents per share, for total funds A$$7.04 million with a subsidiary of Indika. Indika will obtain a 19.9% interest as a result.
Existing shareholder AustralianSuper has subscribed for 11.2 million shares at 23 cents per share. This placement will raise A$2.6 million and is subject to shareholder approval. AustralianSuper's holding will rise to 14%.
Subject to shareholder approval, Indika will subscribe for a further 2.8 million shares at 23 cents per share totalling $0.64 million.
NUS' major shareholder, Lion Selection Group (ASX:LSX), which holds 32.32%, supports both placements.
Indika and AustralianSuper will be issued options on a 1 for 2 pro-rata to their share subscriptions, these options will be exercisable at A$0.35 on or before November 2020.
In total, these placements will raise A$10.25 million, which will advance the development of the Awak Mas Gold Project through further optimisation studies, near-mine exploration, prep work and general working capital.
About PT Indika Energy TBK
Having listed on the Indonesian Stock Exchange (IDX) in 2008, Indika Energy has become a fully integrated energy company that is geared towards recognising and streamlining synergies across operations.
Primarily focused on Indonesia's abundant natural resources, Indika specialities include optimising exploration, engineering, construction, production, shipping and transhipment to domestic and international clients.
Indika has been consistently identified as a leading performer in Indonesia, as evidenced by the following recognition:
Bank Indonesia's Best Foreign Exchange and Foreign Loan Pioneer (2013)
President Director Wishnu Wardhana selected as Chair of Asia-Pacific Economic Cooperation (APEC) Business Advisory Council (2013)
Awarded Indonesian Sustainability Report Award (2011)
Recognised as a role model at the World Economic Health Forum (WEF) Annual Meeting (2011)
Indika's core business is split into three pillars: Energy Resources, Energy Services and Energy Infrastructure: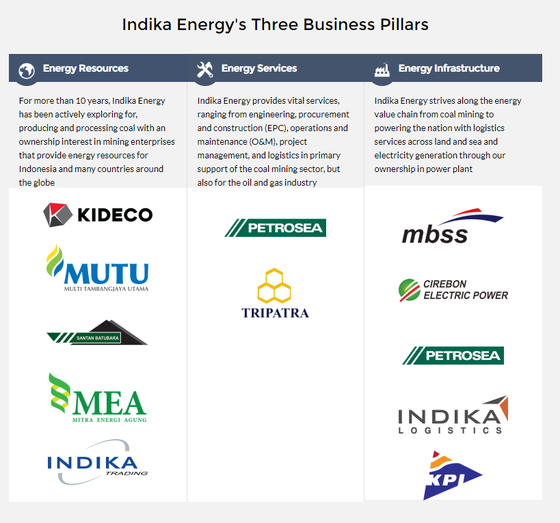 Indika has a long history of identifying emerging exploration and resources companies, with some examples of strong performers below...
Energy Resources:
In 2012, the company acquired an indirect 85% equity interest in Multi Tambangjaya Utma (MUTU), since then, MUTU has developed coal hauling infrastructure that can move up to 3 million tonnes by road and 5 million tons by barge port annually.
Energy Services:
Indika Energy owns a 69.8% interest in Petrosea, which has remained one of Indonesia's largest contract miners since its foundation in 1972.
Petrosea offers a complete pit-to-port mining solution, which has been widely recognised as one of the country's leading energy sector contractors.
A globally recognised company with a proven track record of success, the Indika partnership is a major coup for NUS as it looks to ramp up its activities at the Awak Mas Gold Project.
Richard Ness appointment another big tick
In mining circles, Richard Ness is almost as famous as his crime-busting, prohibition era namesake, Elliot.
Ness has a long history of good deeds in Indonesia and has more than 20 years management involvement in the region specifically within trade, investment, environment and tax and regulatory frameworks.
The relationships has built in this time will be invaluable to NUS, specifically those he has with government.
NUS already has a close working relationship with the Indonesian government and this appointment will only serve to solidify those associations.
In 2016, Ness was appointed as Commissioner of Indika Energy, after previously serving as a Director from May 2009.
He is also currently serving as President Commissioner of PT Petrosea Tbk. (since 2010).
The Harvard Business School graduate served as Commissioner of PT Mitrabahtera Segara Sejati Tbk. (2010–2011), as President Director of various affiliates and subsidiaries of Newmont, as mining consultant at PT Clinton Indonesia and as Vice President of PT Freeport Indonesia.
He also holds the position of Chairman of Mining for the American Chamber of Commerce, Indonesia.
Ness will no doubt work with NUS to develop a forward moving strategy that will quickly benefit this fast moving junior explorer.
With Ness in its corner, NUS' DFS outlook should come to fruition sooner rather than later.
The final word
We have looked at length at Nusantara's DFS, but now with Indika and Ness in its corner, we should expect work to really ramp up.
Remember, this is a company that is targeting its first gold production in early 2021, so there is a fair amount of news to flow.
NUS is an excellent position in Indonesia and is in possession of a project that not only has history behind it, but what looks like a long future ahead.
---