Mustang's Maiden Ruby Auction Just Weeks Away
PUBLISHED: 12-10-2017 13:15 p.m.
The Next Mining Boom presents this information for the use of readers in their decision to engage with this product. Please be aware that this is a very high risk product. We stress that this article should only be used as one part of this decision making process. You need to fully inform yourself of all factors and information relating to this product before engaging with it.
Things are heating up for rapidly emerging ruby developer and producer, Mustang Resources (ASX:MUS).
With its maiden ruby auction just weeks away, sure-footed MUS is set to tender around twice its initial target of 200,000 carats.
Highly successful production ramp-up has put MUS on track to now offer up to 400,000 carats at its inaugural rough ruby tender.
This epic inventory surge owes to record production rates at MUS's Montepuez Ruby Project in Mozambique and impressive results from its artisanal miner development program (AMDP).
MUS has been rapidly ticking milestones off its proverbial checklist as it homes in on its first sale, which will be held over four days from Friday 27 to Monday 30 October in Port Louis, Mauritius.
The auction is expected to produce significant cash flow for MUS, with more than 40 leading global ruby buyers already confirming their attendance.
The plant at MUS's Montepuez Project is working at maximum capacity of 1,500 tonnes per day, delivering consistent daily recoveries of high-quality rubies totalling >1,000 carats per day.
MUS has also been fast-tracking its work program, with extensive secondary deposits discovered and low-cost bulk sampling well underway.
The Montepuez Ruby Project comprises four licences covering 19,300 hectares, and is directly adjacent to the world's largest ruby deposit discovered by multinational natural resources company, Gemfields PLC in 2012.
Gemfields brought the deposit to global prominence and went on to generate US$280 million in rough ruby sales through June 2017.
With Gemfields recently delisting from the London exchange following a takeover...
MUS is now the only listed ruby producer in the world.
And it stands to tap into a fruitful market.
The global polished ruby market size exceeds US$2 billion per year. This makes up a large segment of the total coloured gemstone market (ruby, sapphire and emerald), which is estimated to be worth US$5.9 billion per year.
Over the past eight years, increased demand has driven ruby prices to increase 63%. Yet ruby supply from sources outside Mozambique tend to be fragmented and unreliable.
However, the size of the market share that MUS can secure remains to be seen at this stage, so if considering this stock for your portfolio do your own research and seek professional financial advice.
In this light, MUS stands to capitalise on the current global demand for ethically produced rubies by emerging as a reliable, consistent supplier.
Currently valued at a modest AU$91 million, this rapidly emerging ASX stock could be a highly salient entry point into a burgeoning market. And with MUS's maiden auction now just two weeks away, things are only set to get more serious from here.
Without further ado, let's catch up with: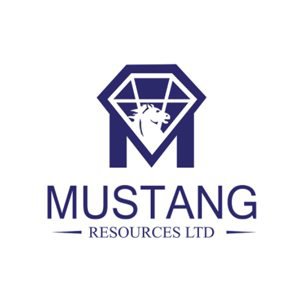 New Energy Minerals Ltd

Mustang Resources Limited (ASX:MUS) is an emerging gemstone developer and producer with an unwavering focus on near-term development of its highly prospective Montepuez Ruby Project in northern Mozambique.
We last caught up with MUS in July with the article, MUS to Emerge as the World's Only Listed Ruby Miner . At that point, MUS's ruby inventory was skyrocketing on the back of the success of its upgraded processing plant at Montepuez.
Since then, MUS has been ramping up its game with purposefulness and razor-sharp focus, building its inventory with record months of production , and multiple bulk sampling pits opening on recently discovered ruby-bearing gravels at Montepuez.
MUS has also started the process of converting exploration and prospecting licences to mining concessions with tenure of 25 years and already being granted their first mining concession earlier this week.
The most recent development is certainly encouraging: the company's ruby inventory has grown strongly to 352,260 carats in the lead up to its maiden ruby tender locked in for October 27-30.
Prior to that, MUS announced that it had exceeded its auction target back in September. Here's an article discussing that production from Finfeed.com:
(Finfeed is a related entity of S3 Consortium Pty Ltd as defined in Section 9 of the Corporations Act 2001).
This impressive string of newsflow has carried over to the company's share price, which is up more than 288% over the past year. That includes a sharp spike seen in the run up to the upcoming maiden ruby tender and inventory build-up.
The past performance of this product is not and should not be taken as an indication of future performance. Caution should be exercised in assessing past performance. This product, like all other financial products, is subject to market forces and unpredictable events that may adversely affect future performance.
Let's take a moment to capture a snapshot of MUS's flagship project, which sits at the centre of MUS's broader gameplan...
The company's tenements sit immediately to the west of Gemfields' Montepuez Project, and cover similar geology.
MUS has identified multiple ruby deposits in its expansive 193 square kilometres of highly prospective ground. You can see how this tracks out in relation to Gemfields' tenements and neighbouring artisanal activity in the map below:
We'll return to the part Gemfields plays in the wider ruby story a bit later, but the key thing to bear in mind here is that the now-delisted Gemfields has generated revenue of US$280 million from eight ruby auctions since June 2014, with an average price of US$26.67 per carat for all stones, reaching US$688.64 per carat for high-quality gems.
On its path to its maiden tender, MUS sourced AU$8.5 million in unsecured funding through a convertible note with Arena Investors LP, a US-based institutional investor with some US$600 million in assets under management.
This considerable milestone was covered by Finfeed .com in July:
This will be drawn down through four tranches, and ensures that MUS is fully funded through its first ruby auction that will begin on October 27.
Let's take a closer look now at MUS's ruby count.
MUS's sparkling ruby inventory
MUS's inventory now weighs in at 352,000 carats. Compare this with its initial goal of accumulating a 200,000-carat inventory in time for its inaugural rough ruby auction in October.
These results mean that MUS's inventory is set to comfortably exceed 300,000 carats by the time of the auction.
As of August, this is what MUS's ruby inventory looked like:
...And now, it's exceeded the scope of that graph entirely, rising to more than 350,000 carats.
August saw MUS resolving some initial teething issues, enabling the ramp up of its upgraded processing plant to reach its full target rate of 1,500 tonnes per day, delivering consistent daily recoveries of high-quality rubies totalling >1,000 carats per day.
In the image below, you can see bulk sampling of ruby bearing gravels through the processing plant at MUS's Montepuez Ruby Project:
Here is a high quality Mustang ruby from August 2017:
The ramped up plant also translates to scope for further substantial increases in processing rates by operating additional shifts in the future.
The most recent inventory surge stems from record production rates at Montepuez, as well as strong results from the MUS's artisanal miner development program, following the implementation of "bushman jigs" and sorting tables.
Exceeding its most optimistic inventory targets, and with strong demand building from global customers, it seems like the planets are in alignment for the world's only listed ruby producer.
The company have 42 leading global ruby buyers from Thailand, India, Sri Lanka, Hong Kong and Europe officially registered to take part in the tender and have signed tender access agreements.
Subsequently, MUS's tender inventory will be significantly higher than previously expected, which will in turn open the door to increased sales and revenue. This has also attracted leading ruby buyers from around the world, who are looking for critical mass as they seek to meet the strong demand for these stones.
Which brings us to...
The main game – the auction
As we've mentioned, MUS's inaugural rough ruby tender has been scheduled to run from 27-30 October in Port Louis, Republic of Mauritius. Careful selection of time and place play strategic roles here.
Mauritius was chosen above other short-listed global locations as the most suitable setting, owing to its proximity to both the Montepuez Project in northern Mozambique as well as key customer locations in Asia.
Importantly, it's situated within the zero-tax/free trade zone, and the conference centre where the auction will be hosted boasts excellent natural lighting conditions – for maximum sparkle.
To ensure simple and efficient logistics, MUS has leased a safehouse and sorting facility adjacent to the conference centre where final grading and parcelling of the stones will take place prior to the auction.
October also makes for critical timing, giving buyers time to prepare their acquisitions for Christmas and the Chinese New Year. MUS's tender will also be held prior to Gemfield's next auction, which is expected in November/December.
As an indication of what can be achieved in the gem market, Gemfields achieved record prices at its latest auction in June this year, netting US$54.5 million (AU$63.3M) from 900,000 carats at an average of US$61 per carat:
And with Gemfields recently delisting from AIM, this ups the stakes for MUS as the only listed, pure Mozambican ruby exposure.
Gemfield's pre-takeover market value was some AU$300 million, suggesting that there's room for a lot more growth in MUS's not-so-distant future.
MUS's October auction will define the value range for rubies within each of its grading categories and will be a key indicator of the long-term commercial viability of the Montepuez Project.
Encouragingly, the auction is expected to produce significant cash flow to assist in funding the project's future working capital requirements and potential expansion plans.
What say the analysts?
As it approaches its maiden ruby auction, MUS has attracted the attention of several brokers.
In August, Mark Gordon, senior analyst at Independent Investment Research (IIR), updated his previous valuation in a comprehensive report, placing a 12-month price target of $0.16 per share, on the company.
Following the recent share price rally the company is now trading at close to IIR's August valuation.
However, since then, stockbroking firm Baker Young has published its own research note on the company.
In summary, the broker views MUS as a "high risk, high reward resource play". It values the company at $0.215 per share citing exponential growth in the company's ruby inventory, the upcoming maiden rough ruby auction providing strong cash flows, as well as strong growth in the ruby market.
Even after the company's recent share price performance, Baker Young's target price is more than 50% higher than the current share price.
Past performance is not necessarily indicative of future results. As part of the due diligence process, clients must consider all factors over and above the past performance of the product. Clients should not engage with a product solely on it past performance.
The full report can be accessed here:
To be sure, these are highly encouraging reports which envision a favourable ruby forecast.
It should be noted that broker projections and price targets are only estimates and may not be met. Those considering this stock should seek independent financial advice.
A precious market
We took a look at the market state of affairs for this blood-coloured gemstone back in July , especially in relation to the luxury scene and China's role as a major growth market, but it's worth going over some fundamentals here.
Rubies are the most valuable of the coloured gemstones, second only to diamonds. Gems with five or more carats are highly rare (read: especially valuable).
Strong demand for rubies of all qualities from the China and the US, as well as Europe, India, and Thailand, has seen prices surge by 63% over the past eight years.
The global polished ruby market size exceeds some US$2 billion per year. This makes up a considerable portion of the total coloured gemstone market (ruby, sapphire and emerald), estimated to be worth US$5.9 billion per year.
That market grew by 13% in 2015 — in comparison, the diamond market fell by 17%, from US$84 billion to US$70 billion.
Underpinning the highly lucrative ruby market is an uneven supply/demand dynamic.
Ruby supply can be fitful, tending to be restricted to artisanal or privately funded mines with limited future supply visibility.
While the ruby market has been limited in the past by scarcity and unreliability of supply, the discovery of Montepuez and original production by Gemfields have brought about market certainty. In fact, over the past decade, Mozambican rubies have revitalised the worldwide trade, owing to the large quantities and the wide range of qualities and sizes made available.
Wholesalers and producers are now looking to capitalise on this, and to develop a stable, mature market similar to that which was set up historically by De Beers with diamonds.
And with Gemfields now delisted, MUS is in a unique position as the only listed Mozambican ruby play.
MUS is therefore impeccably placed to tap into this supply/demand imbalance by emerging as a reliable major global supplier of high-quality rubies, catalysed by its maiden auction.
Of course, commodity prices do fluctuate and caution should be applied to any investment decision here and not be based on spot prices alone. Seek professional financial advice for further information.
What next?
The barrage of activities MUS has marked out on its corporate calendar means that a steady flow of news is expected through to the end of the year and beyond.
Given its expectation-smashing inventory, moreover, it's becoming clear that the AU$91 million-capped MUS is still capable of surprising us.
Exploration work, including auger drilling and test pitting is also ongoing at Mozambique, aimed at discovering new bulk sampling areas. MUS intends to establish a minimum ten-year JORC Compliant Resource through investing into aggressive auger drilling and pitting program after the upcoming ruby tender.
Following the tender, MUS will reinvest a portion of the proceeds for low cost scale up of its existing processing plant and set up an additional processing plant to achieve targeted 1-2Mtpa processing capacity.
It wants to plans to rapidly grow its ruby inventory from increased processing capacity to deliver at least two tenders in 2018, and then moving to minimum of three per year from the 2019 calendar year.
MUS also intends to pursue opportunities to grow its landholding in the world class Montepuez gem field to more than 400 square kilometres, up from 193 square kilometres as well as increase its economic interest in its main existing projects.
For now, the immediate focus and critical development will be the results of MUS's maiden ruby auction.
And with this happening in a matter of weeks, MUS's small cap days might soon become a thing of the past.
---