Milestones Mounting for PSM: High-Purity Downstream Graphite for Korea's Battery Industry
PUBLISHED: 27-06-2018 10:22 a.m.
Peninsula Mines (ASX:PSM) is a metals micro-cap with major plans in the high-tech hub of South Korea — a country with a huge, and ever-growing need for lithium-ion battery materials, in particular high-purity graphite, as well as lithium and other metals.
In just the last three years, Google, SparkLabs and several other big names in the tech world have set up shop in Seoul. The country is already home to tech giants including Samsung, Hyundai and LG Electronic. It has the highest broadband penetration in the world at 97% and is also soon to roll out 5G coverage.
To put this further into perspective, South Korea has the highest government backing per capita for start-ups, and the majority of these are in the tech space.
The South Korean government is so determined to cement the country's place at the top of global tech/innovation that it has established multiple programs through its 'Invest Korea' program to attract foreign founders: like its K-Start-Up Grand Challenge program providing flights, office space, and stipends to foreign founders, as one example.
All of this context gives a good indication as to why an ASX-listed play might want to unlock the potential to produce battery minerals to power this high-tech revolution, such as high-purity graphite in Korea – to directly supply the world's leading lithium-ion battery producers directly with the products they need and take advantage of strong, and rapidly growing, regional demand.
In its latest news, PSM announced that four out of five drillholes at its Eunha North project intersected thick, potentially high-grade, graphite. The intersections will now be logged and sampled for total graphitic carbon (TGC) analysis as well as flake distribution. This will then lead to further drilling designed to define a maiden Mineral Resource.
This news has come in the wake of PSM being granted a key exploration and mining tenement over the high-grade, >16% graphite, Gapyeong graphitic unit, located just 50 kilometres east of Seoul and close to key infrastructure and lithium-ion battery production.
The tenement grant allows PSM to commence initial drilling (subject to landholder access), targeting a large, high-grade, graphite resource for potential development and downstream processing.
The downstream play is important here as PSM has launched its value-added graphite processing test-work program, designed to confirm that PSM can produce high-purity (>99.95%) spherical graphite for lithium-ion battery anodes, to meet end-user specifications and demand in South Korea.
How it meets that demand is yet to be seen, so investors should seek professional financial advice for further information if interested in this stock.
PSM's down-stream play sits alongside its strategy to supply Korean end users with up-to 24,000 tonnes per year of large-flake graphite via a Binding Supply Agreement with Canadian listed DNI Metals Inc., who have projects in Madagascar, and an existing MOU with Korean expandable graphite producer, Graphene Korea (formalised in June 2017) which envisages offtake of large-flake graphite concentrate and development of graphite mining and processing projects both within, and potentially outside, Korea.
With a diverse range of graphite and other battery minerals assets in South Korea, and offtake and supply MOUs already in place, PSM is planning to produce the right minerals and downstream materials at the right time – and take the Korean battery market by storm.
Catching up on:

Peninsula Mines

The emerging new-age metals opportunities in South Korea are well and truly on the global radar, with plenty of media, investors and companies taking notice: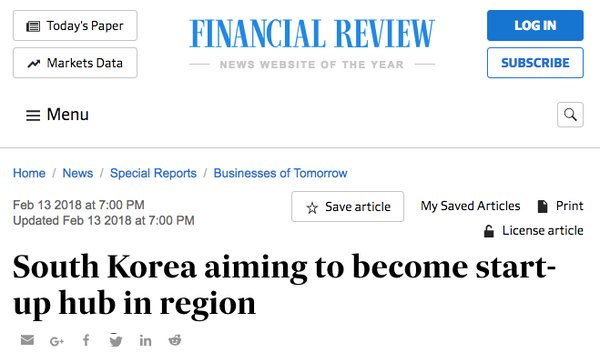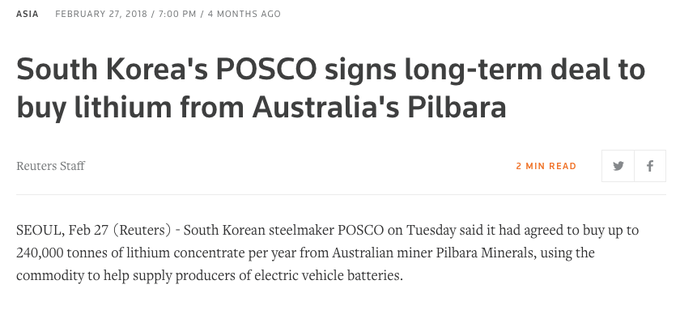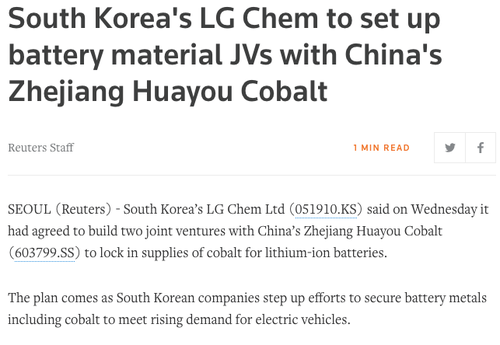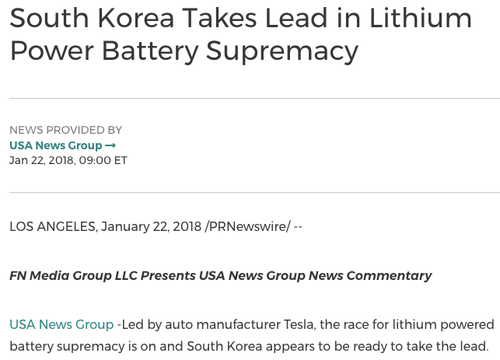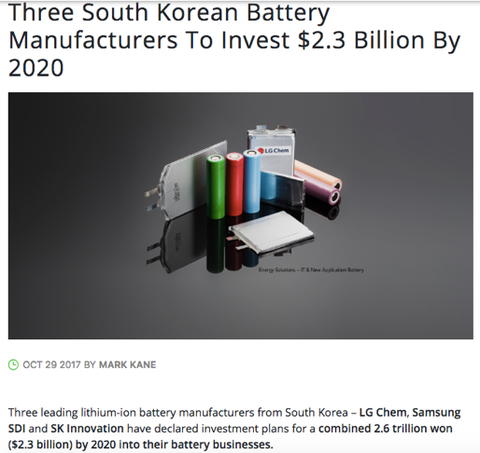 We know that Peninsula Mines (ASX:PSM) is in the right place for new-age battery minerals and metals discovery, and strong off-take demand. The more pertinent question is: what is the potential of the specific projects it has its hands on?
PSM has four flake graphite targets: Eunha, Gapyeong, Yongwon and Daewon, but it is Gapyeong and Eunha which are the current focus of drill-targeting and downstream metallurgical testing, and hold the most promise for its downstream graphite ambitions.
You can see where each of its projects is located on the map below: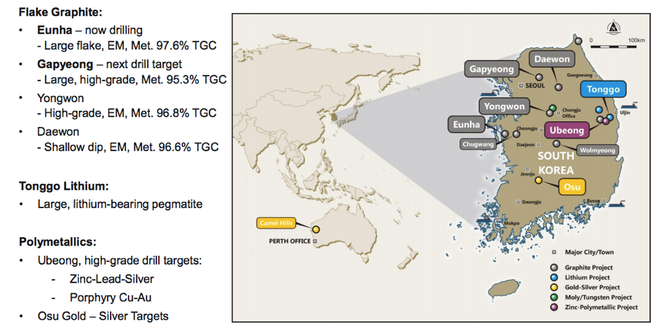 All four of the company's key graphite projects have demonstrated potential to produce high-grade (>95%) graphite concentrate. The next steps are to drill resources and test capacity to generate high-purity, downstream, materials to go straight into a lithium-ion battery.
Let's start off with a look at the news out of PSM's high-graphite-grade Gapyeong project over the last several months.
Filling graphite supply gaps with the Gapyeong Project
June has been a big month for PSM as far as its Gapyeong Graphite project is concerned.
In mid-June, PSM announced that it had been granted a key exploration and mining tenement over the high-grade (>16% graphite) Gapyeong graphitic unit.
The tenement, Gapyeong 125-3, covers the bulk of the known strike length of the high-grade graphitic unit at the Gapyeong Graphite Project, located 50km east of Seoul.
Below is a snapshot of Gapyeong's tenements, sample locations, mapped graphitic unit and electromagnetic (EM) anomalies: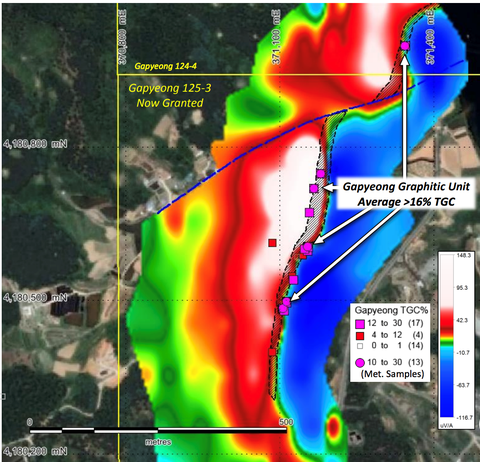 With the key tenement now granted, PSM is planning channel sampling and initial drilling to test for continuity of the high-grade graphite surface results, averaging more than 16% total graphitic carbon (TGC) — which is already supported in theory by highly conductive EM survey results over a one kilometre strike length and depth continuity to >500m.
PSM has an initial drilling programme already planned, which is intended to confirm the continuity and thickness of the high-grade graphitic unit. Drilling is pegged to start once final access agreements with local land-holders are in place.
What makes this recent news even more significant is the fact that in May, PSM announced high-grade metallurgical concentrate results of 95.4% TGC for a ~80kg composite sample from Gapyeong (which produced a high-grade bulk composite assay of 17.7% TGC).
This is a key piece of the puzzle for PSM. While finding graphite may be straightforward, the real questions for a potential miner/processor are: how readily can the graphite be extracted, at what level of purity (for what cost) can it be produced and will the final product be what the end-users/offtakers want?
This high-grade concentrate sample will now be subjected to a testing program designed to generate >99.95% TGC purity spherical graphite suitable for off-takers producing lithium-ion (graphite) battery anodes in South Korea.
Then a Resource drilling program is the next big ticket item on the list for PSM's Gapyeong project.
Eunha North Graphite Project — Resource drilling
Gapyeong is far from the only major graphite play PSM has on the boil.
In fact, the company's Eunha graphite play was announced as the subject of targeted Resource diamond drilling that kicked off in May.
The diamond drilling program has tested the Eunha North graphitic unit EM target and was initially planned to determine thickness and orientation, prior to a detailed 40m x 40m drill out (up to 2,000m) of the 500m strike length and approximately 10m thick graphitic unit.
In its most recent announcement, PSM reported that four of five initial drillholes have intersected thick, potentially high-grade graphite.
PSM has thus far completed a total of 488.9m of diamond drilling across the five drillholes, with visually estimated graphite intersections as follows:
EHD0001: 9.38m (6m TW) from 89.71m of potentially high-grade (>10%) graphite
EHD0003: 20.32m (14m TW) from 57.88m of potentially high-grade (>10%) graphite
EHD0004: 10.72m (7m TW) from 28.96m of potentially high-grade (>10%) graphite
EHD0005: 12.82m (8m TW) from 66.18m) of potentially high-grade (>10%) graphite
Initial drilling indicates that the EM anomaly at Eunha North is related to a steeply west dipping graphitic unit, averaging ~10m true width of potentially high-grade (>10%) graphite (visual estimates).
The intersections will be logged for TGC analysis and flake distribution prior to further drill work, to define a maiden Mineral Resource.
The following map shows the project location, EM conductors, mapped graphitic units, the drill hole locations and channel sampling: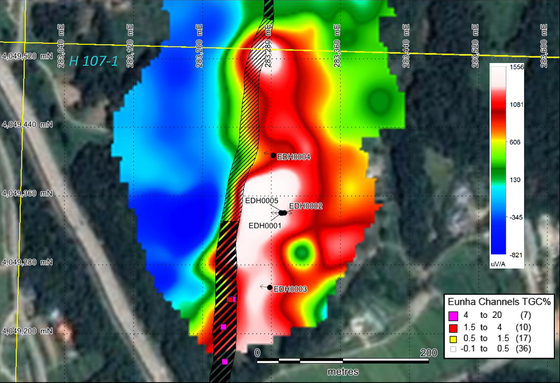 Eunha was chosen as the first graphite resource-drilling target due to the very-high concentrate grade from initial metallurgical testing of 96.7% TGC (target >95% TGC).
This confirmation of the high concentrate grades achievable at Eunha will allow Independent Metallurgical Operations to complete the generation of the >5kg, high-grade (>96.5% TGC) concentrate sample to be sent to a German spherical graphite processing specialist to be processed, with the objective of generating a >99.95% TGC purity spherical graphite product suitable for lithium-ion (graphite) battery anode production in Korea.
Of particular note is the fact the Eunha target is located not far from the Dangjin Port in Chungnam Province, where PSM has been offered an industrial site for downstream, spherical graphite processing facilities.
It's a good thing, then, that PSM just launched its testing program for value-added spherical graphite...
Changing the game: PSM launches testing program for high-purity spherical graphite processing
With South Korea being such a technologically focused country, it is little wonder it is one of the world's largest producers of lithium-ion batteries.
However, the status quo for South Korea has been to obtain downstream graphite products — including spherical graphite for lithium-Ion battery anodes — predominantly from China, in a process outlined below: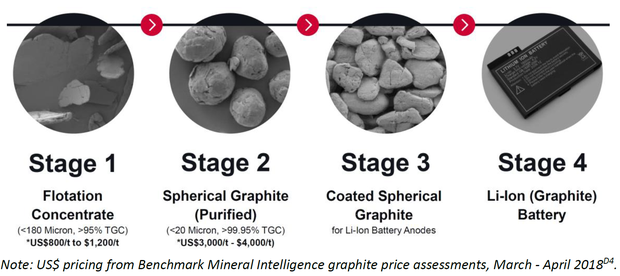 What PSM has done is identify an opportunity to mine and process graphite to produce value-added spherical graphite from within South Korea, to directly supply lithium-ion battery manufacturers and other graphite end users in-country.
Which makes this news from April that much more positive: the launch of its value-added graphite processing test-work program, designed to produce very high-purity spherical graphite to meet end-user specifications and demand in South Korea.
Of course PSM remains a speculative stock and investors should seek out all publicly available information before making an investment decision with regard to this stock.
The graphite processing test-work program was initiated by PSM following the TGC results out of the Eunha Graphite Project, mentioned above.
These samples will be composited by IMO to produce a >100kg bulk-sample for initial batch testing, targeting high-purity (>97% TGC) concentrate, prior to further processing to produce a second >5kg concentrate sample for spherical graphite testing.
It's a smart plan overall from PSM. Mine and process graphite, process it into a highly useful concentrate, then produce high-purity, value-added spherical graphite, all ready to feed to one of the hungriest lithium-ion battery markets in the world... South Korea.
Once the graphite is out of the ground, the pathway to production of this high-value graphite product should work roughly like this: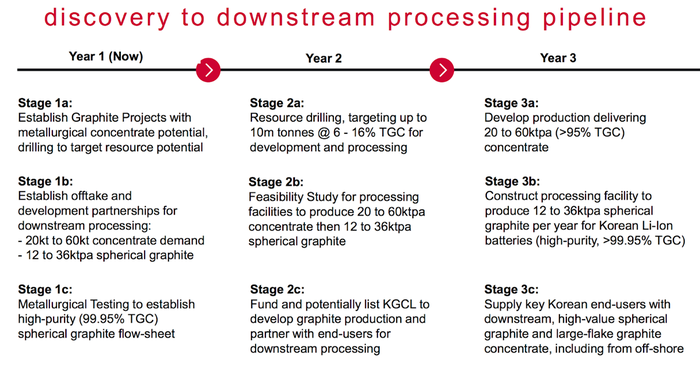 The production of spherical graphite increases the potential value of the graphite product from a current market price (<150μm, >94-95% TGC) of ~A$1,000/t... to a market price for uncoated, purified (>99.95% TGC) spherical graphite of >A$4,000/t.
The company plans to carry out the testing program in parallel with drilling and channel sampling to generate graphite resources at Eunha and its other graphite projects.
PSM's bonus - a high-grade Zinc play at Ubeong
PSM is very much focused on its value-added graphite production plans, but its Ubeong Zinc Project is quietly producing some outstanding high-grade results for zinc, as well as lead and copper, and will continue to be a strong focus for PSM's drilling efforts – with good reason:
Ubeong features a 10 kilometre strike of a prospective 'skarn' horizon, with historical mining and outcropping zinc-lead-silver and copper-gold that has not had any modern exploration, until now.
PSM has several targets it's keen to exploit at Ubeong. The first cab off the rank is the Python prospect:
Ubeong — impressive intersections at Python target
In what was a very busy month of news for the company, PSM announced in May it had returned some impressive intersections from drilling at its Python target at Ubeong.
Drill-hole UBD0005, testing a lead-zinc soil anomaly/skarn target, intersected multiple zones of massive, breccia and disseminated sulphides including a 9m zone from 54m with handheld XRF readings of up to 22.5% lead and 21.4% zinc, averaging ~1% zinc-lead.
UBD0005 intersected a 27m zone from 42m downhole of "variably developed massive-layered, breccia and disseminated sulphide mineralisation".
The below image is of drill core from UBD0005, 62m to 62.2m, showing sulphide breccia including galena (silver), sphalerite (brown) and pyrite:

The drillhole intersected "several massive, fault-breccia and disseminated sulphide zones in a psammitic and pelitic sequence, potentially overlying the targeted skarn-horizon".
What this means from a practical perspective is that there is even more potential for a large, new high-grade zinc and lead discovery at Python in the targeted skarn below this intersection, which, if proven, would be a serious 'BINGO!' moment for PSM.
Ubeong — Ilweol target delivers positive samples
Back in November, PSM provided an update on its freshly discovered Ilweol trend at the Ubeong Project, with high-grade zinc, lead and copper sampling results from a 1km corridor of extensive historical workings at Ilweol (4km south of the Ubeong mineralised skarn deposit).
A total of seven rock-chip samples — including five underground channel samples — have been located from the corridor. The Ilweol workings are located near a significant historical processing plant at Yonghwa, which was operational until the 1970s.
The discovery of the Ilweol trend marks an opportunity for PSM to expand the footprint of the Ubeong skarn-porphyry mineralised system.
Importantly, a large section of the northwest-southeast trending Ilweol mineralisation falls within the already granted tenement Dogyedong 72.
High-grade intersections from previous, KORES (Korean Government), drilling included:
- ILW 77-1: 7.0m (3.5m true width, TW) @ 14.58% zinc, 1.37% lead, 2.12% copper from 191.9m
- ILW 77-3: 2.1m (1.5m TW) @ 18.66% zinc, 11.08% lead, 3.21% copper from 253.6m and 5.5m (4.0m TW) @ 10.16% zinc, 1.61% lead, 1.45% copper from 263.6m
- ILW 76-3: 3.6m (2.5m TW) @ 15.5% zinc, 1.48% lead from 181.3m
The below graphic shows the Ilweol Target, cross-section A – A' through the Korea Resources Corporation (KORES) drilling and massive sulphide lode: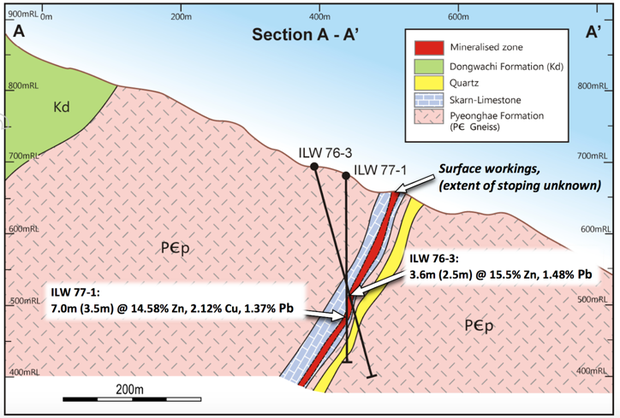 The findings were delivered via a report released by KORES — the diamond drilling was completed in 1976 and 1977, re-compiled and reported by KORES in 2016, but only released to the company upon grant of the tenements.
The high-grade zinc-lead-copper massive and breccia sulphide mineralisation at Ilweol is associated with a >2km strike length limestone-skarn horizon, that was previously mined from the 1940s to the 1970s to a depth of about 150 metres.
A key factor for PSM's future prospects at Ilweol is the fact that the six promising drill results were completed from the surface and have tested the lode at sections over a ~1km strike length, testing below the level of the previous workings and open at depth and to the northwest.
The next step at Ilweol will be follow up drilling, subject to landholder discussions, and agreements being put in place.
What's clear is that PSM is onto some very high-grade zinc intersections, with evidence to imply the discovery of a high-grade massive sulphide zinc-lead-copper skarn.
PSM all set to take South Korean metals market by storm?
We have covered a lot of developments across PSM's projects over the last six months — and it seems the company has no shortage of good news beyond its exploration activities.
Since our last update the small cap raised A$1.9 million through a share placement which issued 118.75 million ordinary shares to institutional and sophisticated investors. Impressively, the company reported that it had retained A$1.37 million in cash with no debt as at the end of the March quarter.
PSM holds underexplored flake-graphite deposits, with drilling in progress; to bolster those ambitions, it has a positive price outlook on several of its commodities, and the strong, and growing, in-country demand which it's eager to meet.
With more drilling and testing currently underway, PSM's graphite program and business plan will now be accelerated, with the objective of creating a positive cash-flow generating business as soon as it can...
...and on top of this it has very high grade zinc (with lead and copper) intersections to follow up at its Ubeong project.
It should be noted though that PSM does have a lot of work to do yet, so investors should seek professional financial advice for further information before making an investment decision.
PSM has a top executive team with an established track record of discovery, development and corporate/financing, so it's clear there's a lot to like here.
We will be watching on to see if this micro-cap can make the most of its multiple opportunities in the burgeoning tech capital of South Korea.
---