MEI Strengthens Cobalt Exploration Across Expanded Portfolio
PUBLISHED: 02-08-2018 10:36 a.m.
'Only drilling can create true project value', say Meteoric Resources' (ASX:MEI) management as it fast tracks a comprehensive exploration program, drill testing targets across all of its primary cobalt projects in Canada.
MEI has assembled a quality package of highly prospective primary cobalt projects in the Canadian state of Ontario. This region is particularly notable as a mining friendly jurisdiction, which hosts some of the highest grade cobalt deposits of anywhere in the world.
When we last looked at MEI back in March, it was evident that the company had an impressive array of cobalt-focused assets in Canada and that the prospect of exploring those assets could increase investor interest in the company. At that time, MEI was also actively reviewing several additional cobalt opportunities in the region.
The company has since delivered on that goal, with its shareholders poised to potentially benefit from a much larger portfolio. Its recently released quarterly sums up its current position of strength quite nicely. Here are a few highlights:
Three further highly prospective acquisitions.
Target generation exploration program across portfolio of projects began following commencement of Canadian field season.
Geophysics program at Mulligan completed identifying multiple IP targets-results exceeding company expectations.
Maiden drill program commenced following end of the quarter.
MEI's key focus remains cobalt — a canny move with the metal trading at US$70,000 per tonne.
While the cobalt price has pulled back some from its lofty highs of about US$90,000 per tonne earlier in the year, it still remains substantially above its long-term average and well above the sub-US$40,000 levels seen prior to 2017.
More importantly, the underlying dynamics expected to drive demand are still in place, and as we will discuss later, the outlook for cobalt remains compelling.
With a supportive cobalt price environment, projects located in a mining friendly jurisdiction, and now an intense target generation program complete, MEI has all the pieces in place to fast track exploration across its portfolio of Canadian cobalt projects.
First up is a diamond drilling program at the Mulligan Project, consisting of an initial 16 holes for 1570m that is now underway. This will be followed by drilling across MEI's wider Canadian cobalt portfolio.
Over the coming months airborne geophysical programs are scheduled to commence at Iron Mask and Mulligan East, with ground geophysics at the Burt, Joyce Lake and Lorrain projects.
Of course, as with all minerals exploration, success is not guaranteed — consider your own personal circumstances before investing, and seek professional financial advice.
All up, we expect plenty of news flow making its way to investors in the near term. On that note, we revisit one of the most active emerging cobalt plays on the ASX.
All the latest from,

Meteoric Resources
ASX:MEI
The key areas to focus on when assessing to what extent Meteoric Resources' (ASX:MEI) investment credentials have improved since we last covered the stock back in March are the pre-drilling exploration program and management's acquisition strategy.
Firstly, we will examine the preliminary exploration undertaken since MEI kicked off its exploration campaign in April.
MEI's cobalt exploration strategy in Ontario is primarily focused on historical workings for high-grade cobalt and silver. It has provided the company with numerous targets, laying the foundation for the drilling program which has just commenced.
In order to determine the progress the company has made, it is important to understand management's strategy from the outset.
The company strategically acquired properties that demonstrated high-grade cobalt and silver during historical exploration and production activities, including the Mulligan property which produced eight tonnes extracted from the area which graded an average of 10% cobalt.
The key priority was to run geophysics and commence drilling at these locations to confirm high-grade primary cobalt mineralisation.
Here's a look at its East Ontario Projects: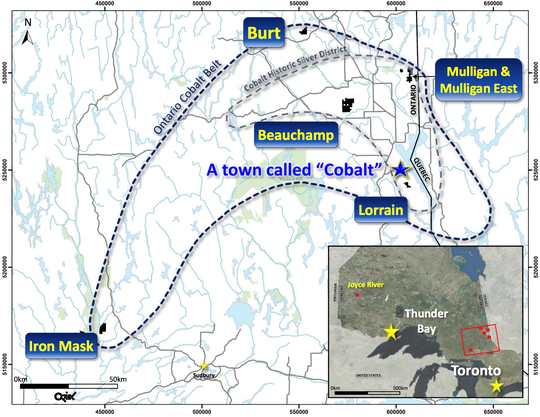 The Mulligan property was the first of the company's targets, the others can be seen on the map above in the Ontario Cobalt Belt — Mulligan East, Burt, Iron Mask, Beauchamp, Lorrain, as well as Joyce River to the west.
Here Managing Director Dr Andrew Tunks provides a rundown on the company's drilling program, which starts with drilling at Mulligan.
Deductions that can be made from early work
Over the course of six weeks, management assessed all of MEI's cobalt projects and were impressed with the prospectivity for high-grade cobalt mineralisation demonstrated at each.
Having established access to the projects and confirmed the geology and structure, the company went on to finalise geophysics programs for all seven of the cobalt projects in the Canadian portfolio.
Ground-based geophysics was completed at Mulligan by June, and the company was in the process of mobilising to the Burt Project before systematically working through the projects until all were completed.
The Burt Project consists of nearly ten square kilometres of highly prospective cobalt ground, hosting three major fault/shear zones over a 5.7 kilometre strike length, with potential for primary cobalt mineralisation.
It is seven kilometres along strike from Battery Mineral Resources' Island 27 Project, where grades of 4.18% cobalt, 12.1g/t silver, 0.38g/t nickel and 0.098g/t gold were intercepted.
Mulligan delivers outstanding geophysical results
The initial ground-based geophysics results achieved at Mulligan exceeded management's expectations, with surveying defining numerous highly prospective targets which will be the focus of the upcoming drilling program.
Key features were cobalt rich polymetallic veining, whilst numerous highly anomalous zones in both chargeability and magnetics were identified.
Encouragingly, the surveys outlined numerous target regions where very little historic work had been reported and where no modern exploration techniques had previously been applied.
Over the coming months airborne geophysical programs are scheduled to commence at Iron Mask and Mulligan East, with ground geophysics at Burt, Joyce Lake and Lorrain.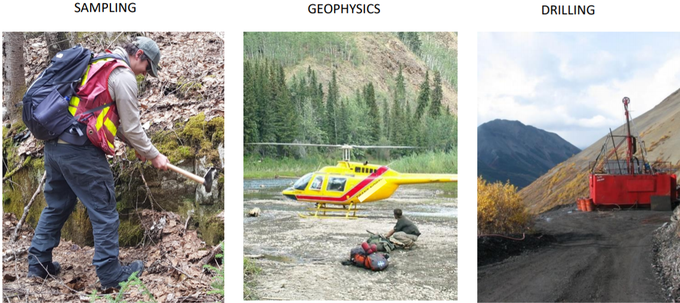 Drilling in progress at Mulligan
Data from the geophysical survey was modelled in 3D to support the design of the 16-hole maiden drill hole program at Mulligan which has just commenced.
Nearly 1600 metres of NQ (75 millimetre diameter) diamond core drilling is underway, testing the seven highly chargeable IP modelled anomalies, and this should be completed by mid-August.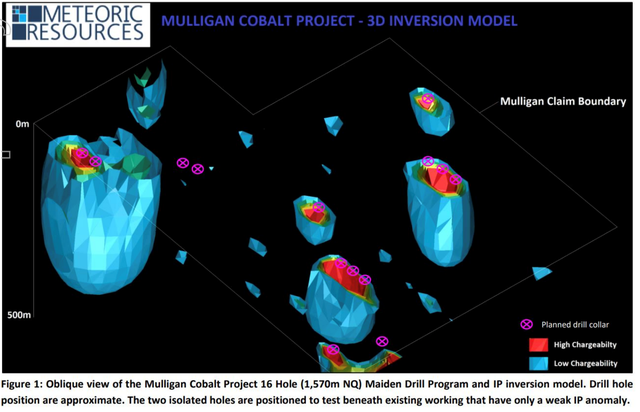 Previous samples collected by the Ontario Department of Mines and other exploration groups, as well as the results of grab sample assays released by MEI in December 2017 perhaps provide some insight as to what could unfold in the coming weeks.
The project site was visited to confirm historical high-grade rock samples collected by the Ontario Department of Mines in 1952, which yielded 12.6% cobalt, 1.03% nickel, 29.76 g/t gold and 39.69 g/t silver.
Also, historical samples taken by Conwest Exploration yielded 19% cobalt and 56.69 g/t gold.
MEI reported in December that a bulk sample of eight tons, grading an average of 10% cobalt, was extracted from this area, and it has confirmed high-grade results of up to 9.7% cobalt from its own rock chip and grab sampling initiatives.
Yet, what these results will ultimately show is yet to be determined, so investors should take all publicly available information into account and seek professional financial advice before making an investment decision.
Here Finfeed.com report on the drill program at Mulligan: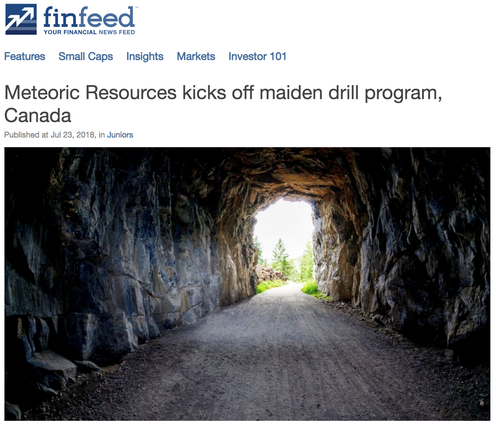 Iron Mask likely to be next in drilling program
Following Mulligan, Iron Mask may be next in line for drilling.
In fact, MEI suggest that drilling could commence at the highly prospective Iron Mask Project as early as September/October 2018.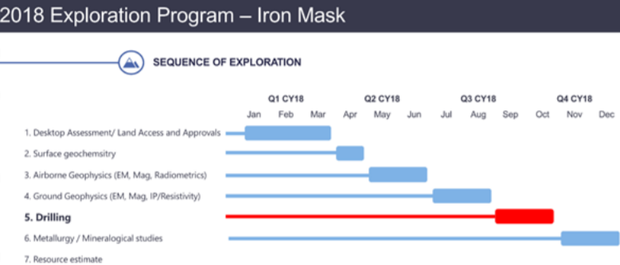 Surveying has already confirmed extensions of mineralised zones in MEI's claims and several geophysical targets have been identified from historic data.
The company's eight claims cover circa 1400 hectares in the Sudbury Basin region which has past production exceeding US$120 billion of nickel-copper and platinum group metals (PGM).
There are three main areas where sampling has been undertaken, being Cobra Showing, Cobalt Shaft and Iron Mask Shaft.
Cobra has returned chip sampling grades of 11.3% cobalt and grab sampling grades of 21.3% cobalt with a robust grade of 6.2%.
Grab sampling at Cobalt Shaft yielded grades of up to 16% cobalt and 4.8% nickel.
Channel sampling at Iron Mask delivered grades of 3.2% cobalt and 6 g/t gold.
At Iron Mask, several geophysical targets have been identified from historic data compilation, while EM and magnetic surveys have confirmed extension of mineralised zones into MEI claims.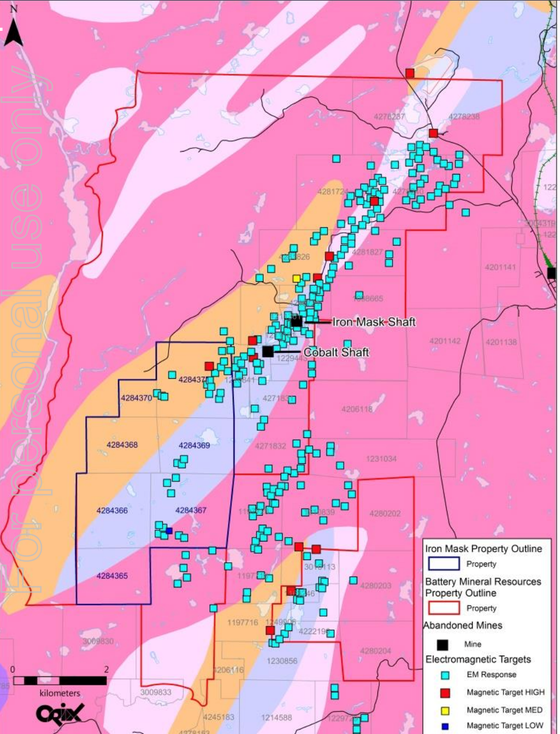 Management delivers on acquisitions
Management's other key strategy in 2018 was to expand its portfolio of projects.
It has achieved this goal, arguably much quicker than many would have thought, pegging new ground and entering into binding acquisition agreements in relation to three different prospects.
While cobalt is central to the three acquisitions, one in particular could be a source of precious and base metal production.
However, this is how the company's portfolio shapes up following its recent round of acquisitions.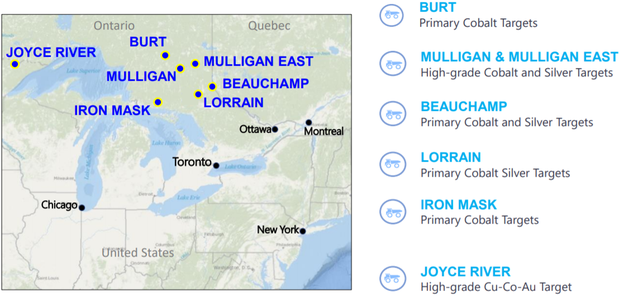 The first of the acquisitions was the Beauchamp Cobalt Project, covering an area of 33.5 square kilometres, it lies 40 kilometres north of the Cobalt Camp, Ontario.
This involved a low-cost pegging of open ground where management expects that shareholder value could quickly be realised through geophysical exploration.
Beauchamp has the regional fault structure known as the Cross-Lake Fault, interpreted as the major control of cobalt/silver mineralisation at the Cobalt Camp.
There are also a number of sub-parallel fault structures to the Cross-Lake Fault, which together will form the target for MEI's cobalt exploration.
Management believes that the Beauchamp area has all the right rock types combined with excellent geological structure, and as such is looking to fast track exploration at the property.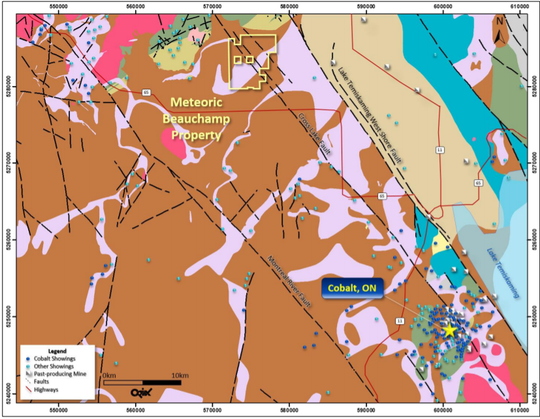 Visible cobalt at Lorrain
Only a week after MEI pegged new ground at Beauchamp, the company signed a binding agreement to acquire 100% ownership of the Lorrain Cobalt Project, strategically located just nine kilometres from the town of Cobalt in Ontario, Canada and within the heart of the famous Cobalt Camp.
This area is historically the most productive cobalt mining camp in Canada, having produced 50 million pounds of cobalt and 600 million ounces of silver over a 60-year period.
The Lorrain Cobalt Project contains numerous historical workings for high-grade cobalt-silver-nickel-copper.
Exploration commenced immediately, and the results of detailed mapping and rock chip sampling, which will include sampling at the historical shafts, pits and dumps, should prove interesting.
Below is an Erythrite "Cobalt Bloom" specimen from the historical mine dump at Lorrain.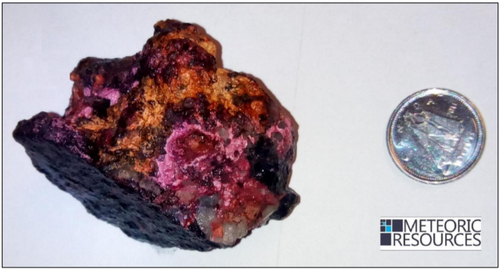 The project area contains numerous cobalt-silver shafts and pits which have never been explored using modern exploration techniques.
The Lorrain area is famous for high-grade cobalt, with a 1930's report stating that at 53 metres down shaft there was 'plenty of cobalt'.
Not only does the area have substantial historical workings, but management noted abundant visible cobalt mineralisation, typical of the type of territory MEI is adding to its portfolio.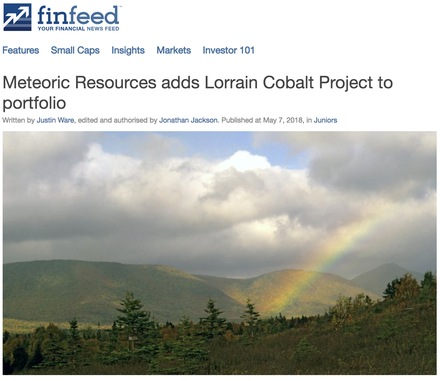 Potential for copper credits at Joyce River
In mid-May, MEI signed a binding agreement for the 100% acquisition of the Joyce River Cobalt Project, continuing to build on its Canadian cobalt acquisition strategy.
The Joyce River Cobalt Project is located in north-western Ontario within the Uchi Greenstone Belt as indicated below.
It covers an area of 4.6 square kilometres, highly prospective for cobalt, copper and gold mineralisation.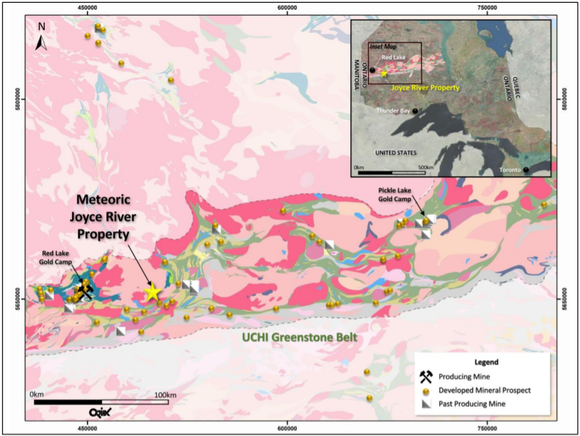 The project contains large bodies of mafic and ultramafic intrusive rocks containing cobalt, copper and gold mineralisation in semi-massive to massive sulphides.
The outcropping sulphide mineralisation is a new geological style for MEI's cobalt portfolio, and the company could be looking at a deposit that has the capacity to deliver significant multi-commodity tonnage.
Importantly, the complementary metals have returned high grades in the course of rock chip assay testing.
Credits from by-products can have a significant impact on the economic viability of any mining project, and cobalt is no exception.
The following are pictures of high grade copper from rock chip samples taken at the Joyce River Project.

Historical data, magnetic signatures and airborne EM anomaly trends at Joyce River suggests that the sulphide-bearing pyroxenite is approximately 1.6 kilometres in strike length. Late sulphide bearing quartz-veins are associated with gold mineralisation.
Economically significant cobalt-copper-gold values have been established to be coincident with both high magnetics and airborne EM anomalies.
It is this type of trend which is evidenced in the historical rock chip assay results shown below.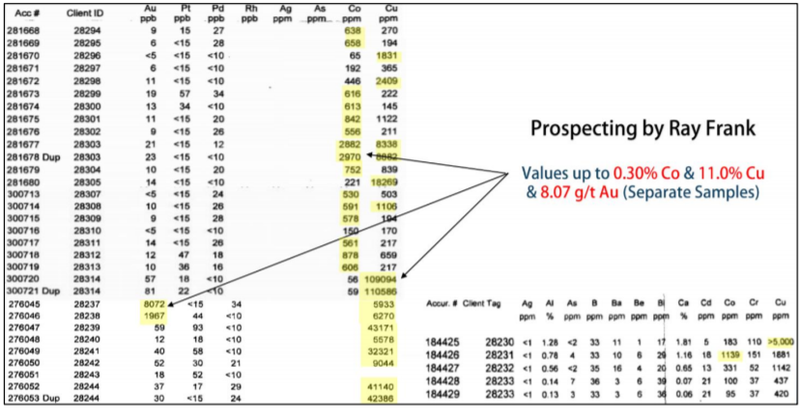 Cobalt fundamentals still in place
As the chart below shows, since January last year cobalt mainly traded in a range between US$40,000 per tonne and US$80,000 per tonne, implying a mid-point of US$60,000 per tonne.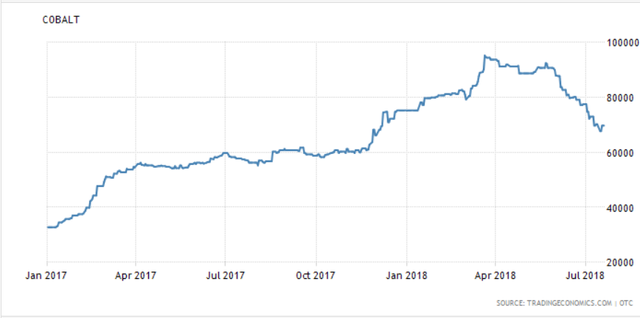 It is important to note that when the metal struck US$60,000 per tonne in July 2017, it was a level that it hadn't traded at for more than ten years.
Consequently, to still be trading in the vicinity of US$70,000 per tonne indicates that in relative terms the underlying dynamics which are expected to drive substantial demand are still seen to be in place.
This could suggest that some of the apparent panic selling in the cobalt sector is unwarranted.
Just like companies, currencies and coffee beans, cobalt is traded in an open market.
While it has benefited from strong buying from forward-looking investors over the last 12 months or so, it isn't insulated from profit-taking.
Though it is impossible to determine what is fair value, analysts tend to be in accord that the key fundamental demand drivers are still in place.
Yet commodity prices do fluctuate and caution should be applied to any investment decision here and not be based on spot prices alone. Seek professional financial advice before choosing to invest.
Cobalt consumption expected to grow exponentially
Global Energy Metals continues to expect cobalt demand to exceed 120,000 tonnes per annum by 2020, an increase of approximately 30% from the 93,950 tonnes consumed in 2016.
Cobalt distributor, Darton Commodities expects battery consumption to account for around 60% of all cobalt demand in 2020, for a nearly 60% rise in battery demand from 2016 levels. This growth in battery consumption will primarily come from rising electric vehicle demand.
The rechargeable battery segment has also become both the largest and potentially fastest growing end-use of cobalt, with lithium-ion batteries for the electric vehicle market being the most important growth driver for cobalt demand.
Additionally, industrial and home grid energy storage systems, like the Tesla Powerwall, are increasingly using lithium-ion batteries due to their charge acceptance, longer shelf life, reliability and lower total cost of ownership.
With drilling underway expect plenty of news from MEI
With the maiden drilling program at Mulligan now underway, shareholders can expect plenty of news flow going forward. And there's plenty of reason to be optimistic.
The Mulligan project includes significant historical workings along with seven new geophysical targets — an ideal place for MEI to complete its first drilling program.
From there, MEI will be following up the maiden Mulligan drill program with further drilling across its entire Canadian portfolio comprising seven highly prospective projects, in the famed Ontario cobalt region.
---