Major Cornerstone Investor in Place for Rafaella
PUBLISHED: 26-06-2019 12:40 p.m.
Rafaella Resources (ASX:RFR) has been a star in the ASX resources space over the last month.
The stock has gained more than 120% since we brought the company to your attention in the report, Previously Overlooked ASX Micro-Cap Confirms Transformative Tungsten Project.
At that time, Rafaella announced it is acquiring a 100% of the shares of the private Spanish company Galicia Tin & Tungsten (GTT), owner of the Santa Comba tin-tungsten project in Spain.
Backing up Rafaella's strong performance over the last month comes further major news for shareholders today.
In a huge sign of confidence, the world's oldest independent and privately held commodities trading company is coming onboard as a cornerstone investor.
Transamine Trading S.A, headquartered in Geneva, Switzerland, specialises in all aspects of non-ferrous raw materials production and trade, and it has now conditionally agreed to provide both financial and operational support to the development of the Santa Comba Tungsten Project.
Transamine will provide strategic support through marketing services and offtake agreement and equity investment of up to $1.5 million.
The trading company has conditionally agreed to purchase 100% of the project's tungsten and tin concentrate production, including managing logistics for tungsten concentrate delivery to HC Stark Tungsten GmbH.
The new project adds to RFR's diversified project portfolio that includes the McCleery cobalt and copper project in the Yukon territory, Canada, and the Sandstone gold project in Western Australia.
But it's this new deal that executive director Ashley Hood describes as a transformational one for RFR, saying the Santa Comba project "represents an attractive tungsten opportunity with low entry costs and the prospect of exceptional returns for shareholders".
Hood said of the agreement, "Transamine's support represents a significant vote of confidence for the Santa Comba Project and its potential and validates our acquisition of the Project.
"Transamine's marketing and logistical support will be vital as the Santa Comba Project ramps up production during early stages and we look forward to working with Transmine to advance the Project."
The acquisition comes at a perfect time as end users scramble to secure alternative, reliable sources of tungsten — a specialty metal that has been identified as a critical raw material having vast commercial, industrial and military applications.
Having now secured the financial and strategic endorsement of such a well-respected and venerable trading house as Transamine, I expect RFR to go from strength to strength.
Let's take a look at the latest deal with...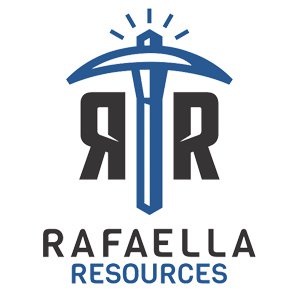 Rafaella Resources Limited
ASX:RFR
Market capitalisation: $6.5 million
Share price: $0.17
Here's why I like RFR: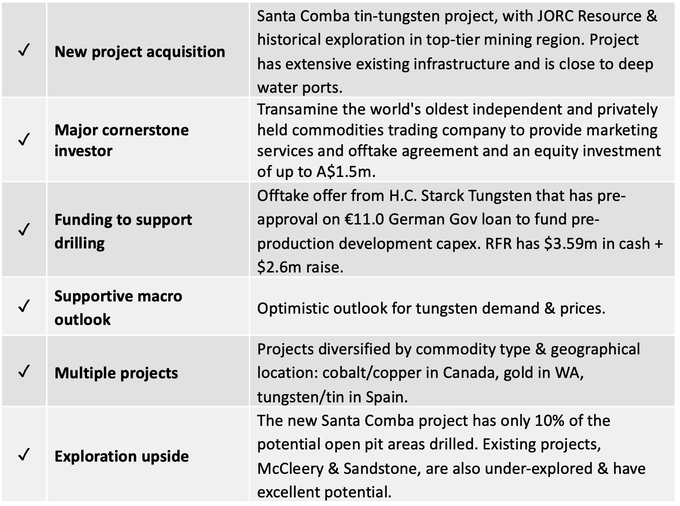 Securing the strategic support of Transamine is a major win for the junior exploration company, Rafaella Resources Limited (ASX:RFR) and its acquisition of the Santa Comba Tungsten Project in Spain.
Along with this newly announced support of Transamine, RFR has received an offtake offer from H.C. Stark Tungsten GmbH (HCS) with associated development funding from the German government.
In addition to the upside potential of the Santa Comba tin-tungsten project acquisition, I last month laid out why the company was a good buy at those levels.
At the time the stock was hugely unloved, capped at just $2.6 million with a 7 cents share price and only very lightly traded. Looking at its cash backing, its share price should have been around $0.13.
Here's the stock's performance since then: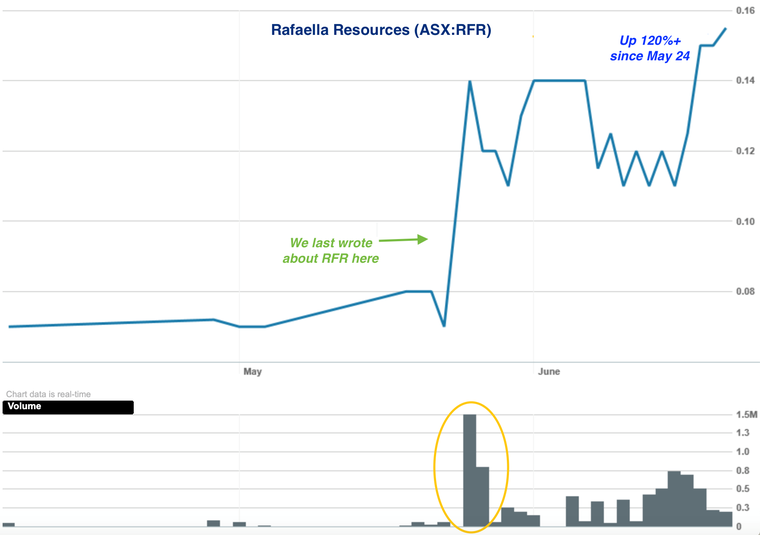 And while the share price has since rallied to 17 cents, it still remains attractive when considering that the (proposed) acquisition involves issuing shares to the vendors at $0.20 per share. The scrip-based purchase will also involve a capital raising, targeting $2.6 million, via a share placement at $0.20 per share.
That raising has already gained support. Transamine Holdings and Investments, Hong Kong has agreed to support equity raising, committing $1 million to be followed by a further $500,000 once a positive feasibility study is complete and the execution of German government development funding.
Founded in 1953 and headquartered in Geneva, Switzerland, Transamine Trading S.A is the world's longest established independent and privately held commodities trading company specialising in non-ferrous raw materials production and trade.
As a cornerstone investor, Transamine must believe the project stacks up and has agreed to provide marketing and logistics services to Galicia Tin & Tungsten S.L. (GTT), the current 100% owner of the project.
In terms of a heads of agreement negotiated in May, GTT is currently the subject of an agreed acquisition by Rafaella.
More detail on today's announcement is available in the following Finfeed article: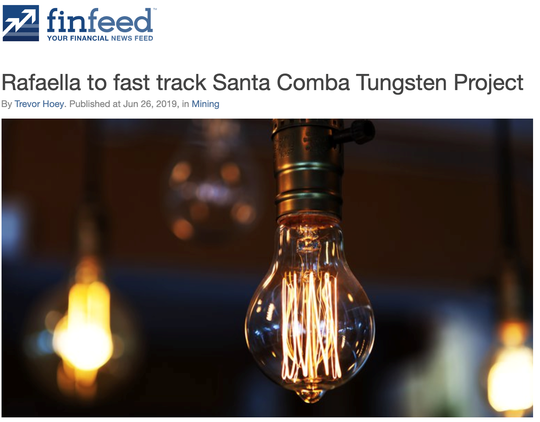 Rafaella has recognised Santa Comba as a development project that's capable of being fast-tracked to production.
A more detailed review of the project can be found in my last report of RFR in May, but here are the project's strengths: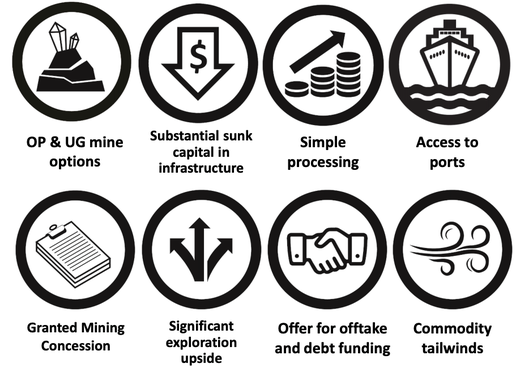 A final word
Today's announcement is further verification that the project stacks up. As the world's oldest independent and privately held commodities trading company, Transamine has a proven track record of investing wisely.
It's commitment to step in as a cornerstone investor on this project and taking the offtake production is significant affirmation of the quality of the project and Rafaella's future.
---