Lithium Explorer PLH Intent on Catching up to its Much Bigger European Peers
PUBLISHED: 26-06-2017 09:57 a.m.
The Next Mining Boom presents this information for the use of readers in their decision to engage with this product. Please be aware that this is a very high risk product. We stress that this article should only be used as one part of this decision making process. You need to fully inform yourself of all factors and information relating to this product before engaging with it.
We're hot on the heels of a small-capped company that's determined to have not one, but two, future-proofed world class resource projects under its belt.
With serious and well connected international talent on its Board, and deep pocketed financiers, Plymouth Minerals (ASX: PLH) is now moving directly towards commercialising the first of its two primetime assets.
First off, we have PLH's San Jose Lithium Project, located in Western Spain. The project has just received some much welcome news...
... a 1.3Mt lithium (LCE) Maiden Mineral Resource , making the San Jose project one of the largest in Europe.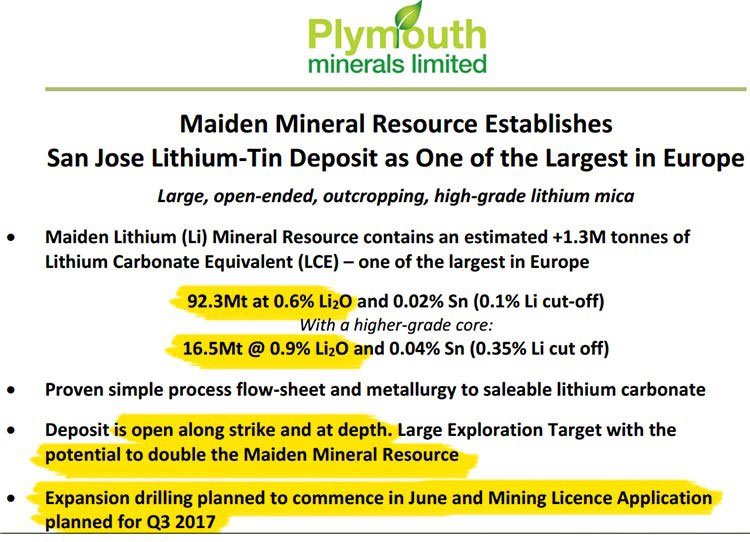 Not only that, but San Jose is open along strike and at depth. That means there's a good chance of seeing its already hefty 120Mt exploration target, which is on top of the resource, rise significantly over the coming months. It also has the potential to see PLH doubling its Maiden Resource within a year.
That's the kind of outperformance a small-cap investor could get used to.
The company has a second project on the go also – this one an exploration project for Potash.
It should be noted there that PLH is a high risk stock, with its potash operations situated in a volatile region where it can be difficult to get mining projects up and running. Investors should therefore seek professional financial advice if considering this stock for their portfolio.
PLH has just kicked its second goal in as many months at its Banio Potash Project – with drilling delivering big broad intercepts of potash in the current programme.
PLH recently announced that it had completed the third Phase One drill hole on its 100% owned Banio Potash Project in Gabon. Samples are now being dispatched and results are due shortly.
Potash is hotting up right now – prices are up 20% this year already and is perhaps as hot as lithium as lithium rides into a battery powered sunset – so when Australia's richest woman invests in the UK's biggest potash mine, you know there is something significant sprouting.

At its core, PLH has two highly prospective projects on the go and is exploring for two commodities that are in the midst of substantial increasing demand.
There are also plenty of catalysts to come including finalisation of Process Met early Q3 2017, Scoping Study Q3 2017, Mining Lease Application to be lodged late in Q3 and a PFS to potentially be delivered as early as Q4 2017.
So before we get to the reaping, let's take a look at what PLH has sowed, and most importantly for early stage shareholders, how PLH plans on harnessing its bumper harvest of assets before year end.
Catching up with: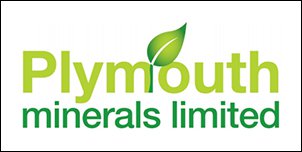 Plymouth Minerals

Plymouth Minerals (ASX: PLH) is nearing its date with destiny.
The date we're referencing is PLH's long-awaited Mining License application, with an expectant lodgement date of September 2017. This brings up a unique revaluation opportunity between now and the end of the year — as long as PLH stays on course and completes the required exploration steps at its San Jose lithium/tin project in Spain.
In the interim, this junior lithium explorer has delivered a maiden JORC Mineral Resource estimate that substantially raises the estimated tonnes by 11% and bumps up the volume of contained lithium by 16.5% above the historic estimate (non JORC) at the San Jose lithium and tin deposit in Western Spain.
There is also a high likelihood of PLH publishing an update Scoping Study sometime before the end of 2017 — yet another possible avenue for PLH to make project progress and raise its current AU$30M market cap.
We first delved into PLH earlier this year. In our article, 'Two Pronged ASX Developer Attacking Future Proof Lithium and Potash Markets' , published in May, we ran the rule over this resources juggler, involving not one but two highly lucrative commodities — lithium and potash.
Since then PLH has really delivered – JORC resources for lithium and tin, 2 holes drilled into the Banio project in Gabon and two drillholes with big, broad (tens of metres) intercepts of potash. On top of all of this, top tier management has joined the Board.
Both projects come on the back of two distinct themes that have dovetailed into position for PLH to take advantage.
Lithium is being earmarked as an enabler for the biggest energy revolution in history; while potash is being pencilled in as a means to save the world from arable land depletion and the knock-on effects of rampant population growth.
Here at The Next Mining Boom , we think PLH has picked its market tussle rather well as both lithium and potash remain undersupplied, even for the current level of demand.
In contrast to rising future lithium demand, the supply picture is literally bare-boned and needs a large increase in lithium production in coming years for prices to remain stable.
Just look at projected lithium demand to 2025: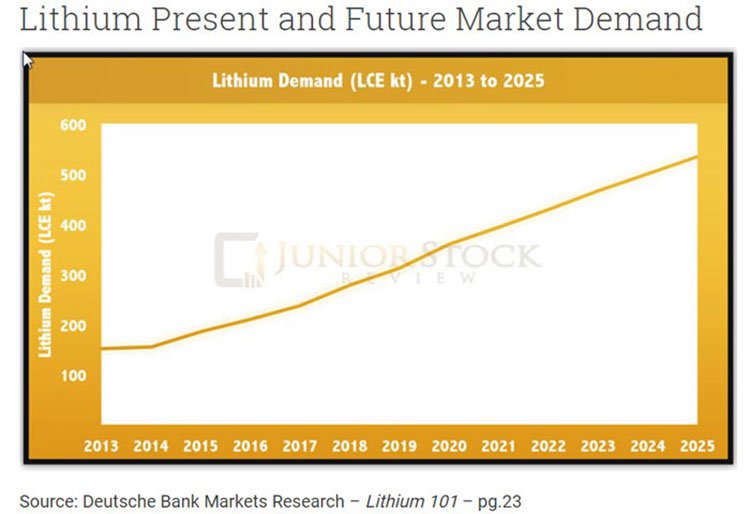 Meanwhile, on the supply front there are calls for an OPEC-style organisation to control the market and its evolution. Lithium really is stepping into oil's shoes, which makes us think it could be a good idea for investors to take a lesson from crude oil, and take an early stake in lithium.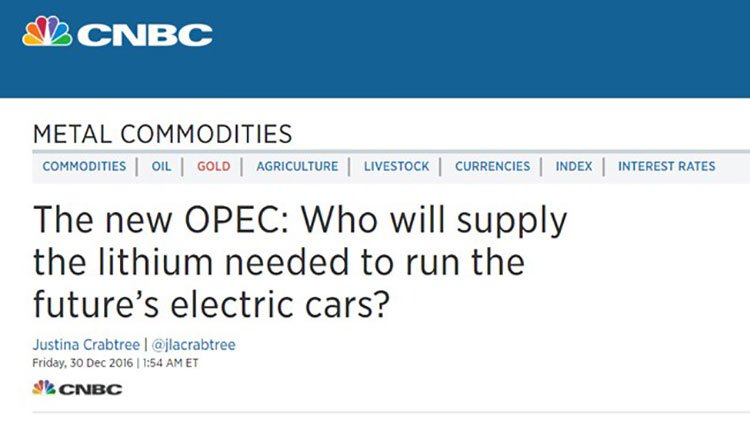 In the early 1970s crude oil fetched $3 per barrel.
By 2010, crude oil reached a peak of over $100 per barrel.
Could the same market theatrics seen in oil markets, come across to lithium?
It should be noted here that commodity prices do fluctuate as we have also seen with oil and investors should take a cautious approach and not make any investment decision on commodity prices alone.
If lithium can repeat oil's rise at this time, being a low-cost lithium producer with prime real estate in the EU (which already consumes 30% of the world's lithium), could be a lucrative move as its peers could attest.
Given PLH intends to get to production, it makes sense to see how PLH stacks up against other ASX-listed lithium hopefuls.
Bear in mind that the ASX now has well over 50 dedicated lithium explorers (many of whom have showed up on the scene as a result of hype, rather than productive substance); so here's a brief comparison with some of the prime contenders.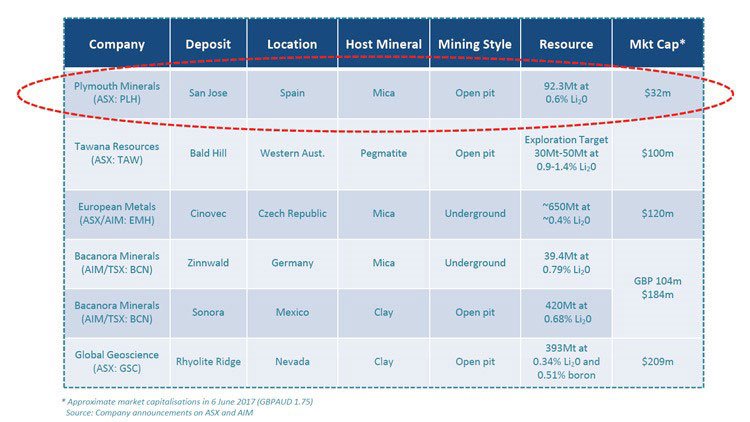 Valued at around $30M and sporting a ~93Mt Resource, PLH stacks up well compared to other explorers, such as Tawana Resources (ASX:TAW) and Bacanora Minerals (TSX:BSN) — both of whom are valued significantly higher at $100M and $184M respectively.
There are also a couple of other stocks in the above table that might be familiar to avid Next Mining Boom fans.
We first broke the story of a small, unknown lithium explorer back in April 2015 called European Metals Holdings (ASX: EMH) – you can see that first article here Electric Cars Need This: ASX Junior's Billion Tonne Potential –
Since our first article on EMH, the share price has gone up over 17 times – hopefully you were lucky enough to get on board...
The past performance of this product is not and should not be taken as an indication of future performance. Caution should be exercised in assessing past performance. This product, like all other financial products, is subject to market forces and unpredictable events that may adversely affect future performance.
There is also Global Geoscience (ASX: GSC) – currently capped at $163M, we first wrote about it in December, 2016 – when it was around half that...
Since our first article on GSC, its share price has gone up as high as 185%, and is still hovering some 100% higher than our first article release...
The past performance of this product is not and should not be taken as an indication of future performance. Caution should be exercised in assessing past performance. This product, like all other financial products, is subject to market forces and unpredictable events that may adversely affect future performance.
We are hoping PLH can repeat the feats of some of its much higher capped peers, especially as it has a comparable project, and some nice potash upside to boot.
Perhaps this chart best shows the value proposition in PLH: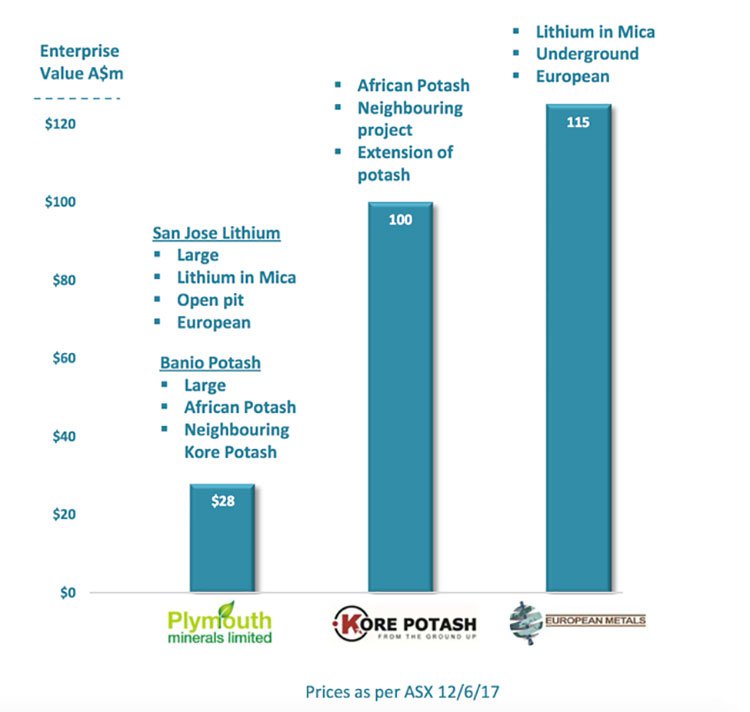 Aside from lithium in Europe, PLH's African potash project could be compared to Kore Potash, a company capped at around $100M – it's got a neighbouring potash project to PLH – but it's almost four times the size.
It's this kind of value that we are looking to be unlocked over PLH over the coming weeks and months...
Some of PLH's bigger goals over the coming months including finalising its Scoping Study next quarter, and then its Prelim Feasibility Study in Q4 2017 – both major catalysts and value inflection points.
Picking up a dollop of this stock at this early stage, may well facilitate a profitable scoop later down the track.
Looking into the projects
From a macro perspective, PLH is well placed; but what about the micro view? Does PLH have the minerals and the management to succeed in both lithium and potash simultaneously?
Let's find out...
Just like we explained in our first article, PLH is running parallel exploration programmes — something akin to a hare and tortoise given the different durations of each commodity.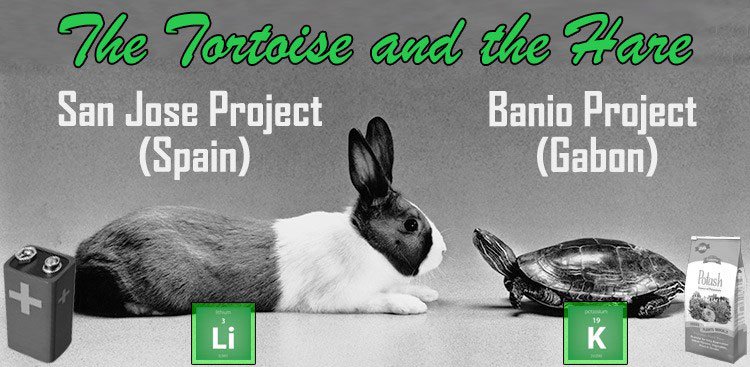 First and foremost, PLH is focusing on lithium as its near-term value-driver
As it stands, the San Jose lithium project is already well advanced.
Here's a quick reminder of the location: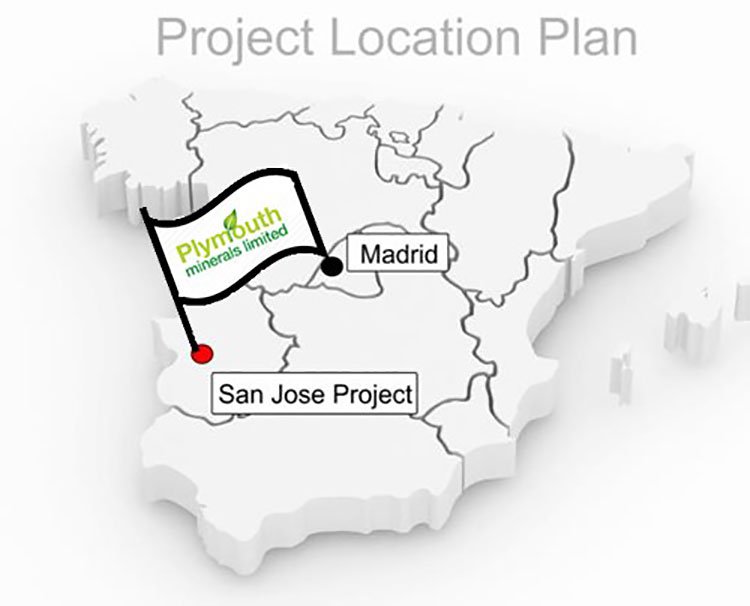 And here is the latest geological snapshot, showing PLH's potential rather clearly.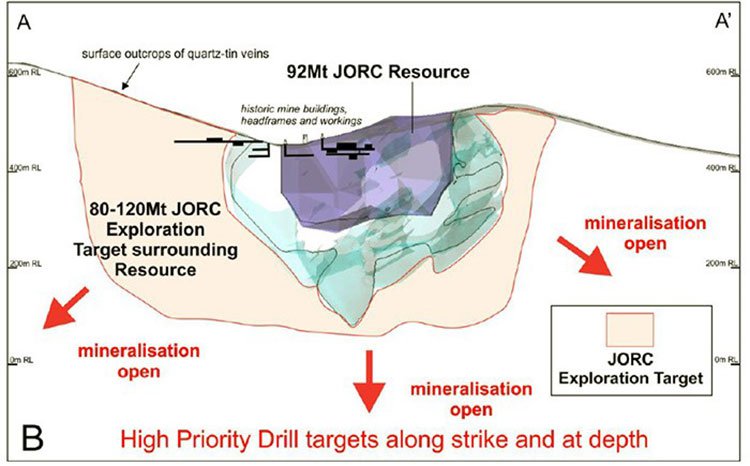 PLH has an 80-120Mt Exploration Target on top of a huge 93Mt JORC resource with mineralisation open in all directions. Surface outcropping is present, which again adds weight to the case that PLH is sitting on top of a bulky Resource that's waiting to be drilled and economically harnessed. The key part of outcropping resources though is the impact on mining – the potential for cheap, low strip open pit operations which helps to deliver low cost product.
PLH is earning up to 75% of San Jose by updating an existing historic feasibility study which involves open pit mining and a simple process flow sheet to produce lithium carbonate on site.
PLH recently announced its maiden JORC resource of 92Mt @ 0.6% Li 2 O and is now completing the required metallurgy update work to facilitate a lodgement for a Mining Lease Application at San Jose in September 2017.
This will allow the production of a JORC Scoping Study for San Jose to produce lithium carbonate (and tin) on site.
PLH's test-work has confirmed its previous estimates of around 97% lithium recovery.
Not only that, but PLH is also expecting to receive a detailed process flow sheet update soon.
That's a date investors may want to pencil into their diaries...
That's because with interim metallurgy results showing greater recovery efficiency, larger Resource potential and solid lithium grades between 0.5% – 1.5% Li 2 O — PLH is doing all it possibly can to progress from explorer to miner in the near future.
This is a great grade for lithium mica and that's what Europe is all about. The first lithium carbonate in the world was produced in Germany from lithium mica. It's proven and robust.
Current and future capex taken care of
Anytime a Resources idea whizzes past our desk here at The Next Mining Boom , we're keen to see how the funding and capital expenditure aspects are tracking. That's because the greatest project in the world will come a cropper unless plentiful funding and suitable expertise is not brought in as part of development.
On this front, what we saw in PLH gave us plenty of cheer. For starters, PLH is being assisted by a multi-billion dollar resource-industry giant, and backed by financiers with very deep pockets.
The big hitter in PLH's corner is Sacyr
Progressing mining projects into commercial territory is tricky and requires plenty of expertise and funding.
PLH has partnered with 'goliath-esque' Spanish company Sacyr, and its wholly owned subsidiary Valoriza Mineria, to progress San Jose in exchange for 75% of the Project's eventual bounty. Sacyr is a construction company worth €1 billion and has more than €26 billion in current projects on its books.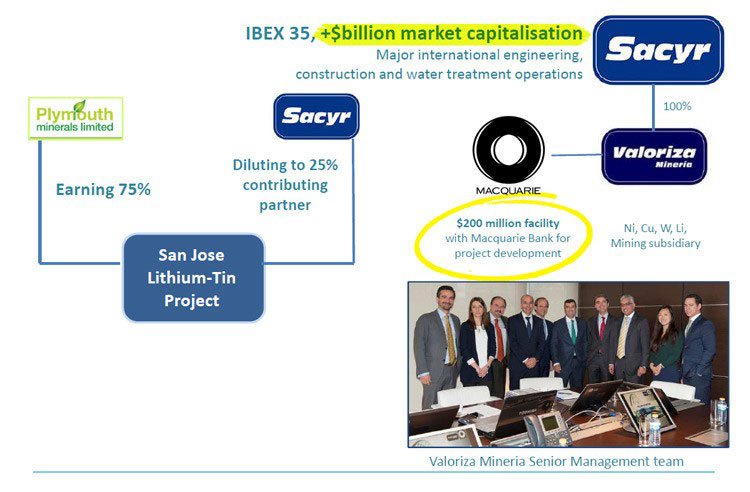 Sacyr is assisting with permitting and construction expertise and PLH is driving the feasibility and technical work leading into financing. Something its Board has ample experience in – especially in Europe.
Big hitter on PLH's books
Further good news is the recent addition of Kevin Tomlinson to PLH's Board of Directors. Mr. Tomlinson brings extensive project finance, development and mining experience, having previously held roles of Managing Director at Westwind Partners/Stifel Nicolaus, and on the Boards of Centamin Plc and Medusa Mining.
Mr. Tomlinson is also the current Non-Executive Chairman of ASX-listed Cardinal Resources (ASX: CDV), a gold explorer with operations in Africa.
CDV has recently had a strong run on the ASX — the kind of rally we are hopeful of seeing from PLH.
And we have good reason to believe it will as more exploration data comes in, to be followed up by a mining application and eventual production in the not too distant future.
The question investors should be asking themselves is what does Mr. Tomlinson know and what does he see here?
In resources, expertise goes a long way, and we're quietly confident PLH has assembled a suitably cracker-jack team of experts that will ultimately commercialise it for the benefit of investors.
San Jose expansion already on the cards?
In terms of the project size and resource quantity, PLH is in the enviable position of having San Jose open at strike and in all directions.
Take a look at the latest Resource picture, illustrated below: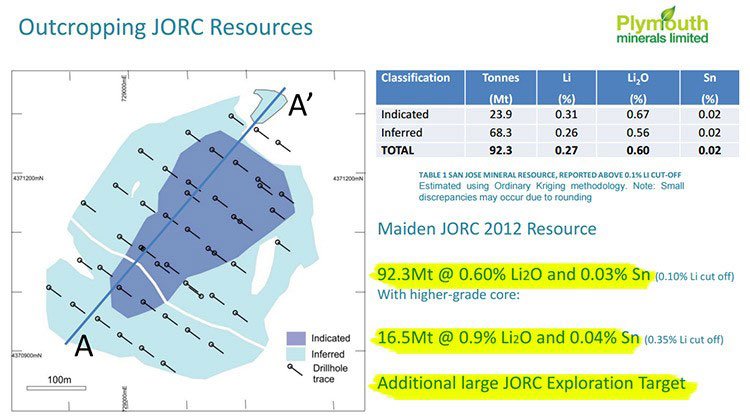 As you can see, 16-100Mt of lithium is likely to be available for PLH and a process rate of 1Mtpa is being considered – that's a big mine already — although this is highly dependent on the grade cut-off and further exploration progress.
PLH could potentially increase its Resource size significantly, simply by continuing to chip away at its Exploration Target.
So, imagine our glee, when we noticed PLH expanding its land tenure in San Jose late last month...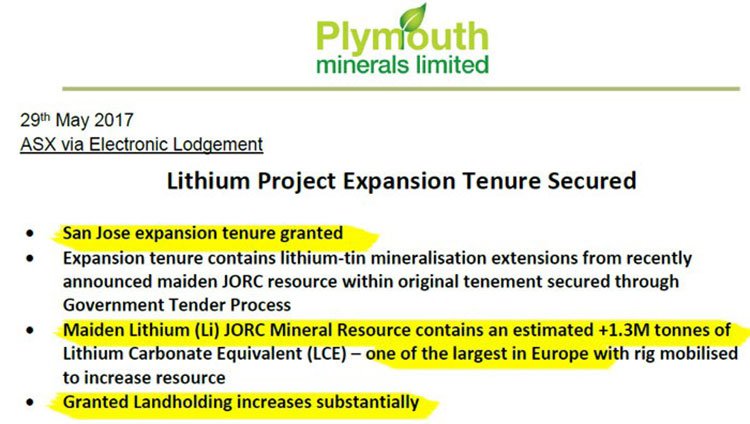 It's these kinds of steps from aspirational juniors that indicate genuine interest towards getting into production.
PLH is in Spain for one thing, and one thing only: high-grade lithium production and sales revenues as soon as reasonably possible.
What next after exploration?
One great feature of PLH, as a small-cap ASX stock, is that there are already murmurings of offtake deals despite the early-stage nature of its exploration in Spain.
PLH is already engaging with customers based in Europe, current and planned, regarding lithium offtake deals to supply a swathe of battery manufacturers in the EU.
Large companies including Tesla, Daimler, Northvolt, LG Chem, Samsung SDI, BMZ, Nissan, TerraE —have each gone on record stating their intentions to build large dedicated electric vehicle (EV) production capacity and ESS battery manufacturing facilities in Europe. Daimler, LG Chem, Samsung SDI, BMZ and Nissan are already at full pelt in developing their EU manufacturing operations.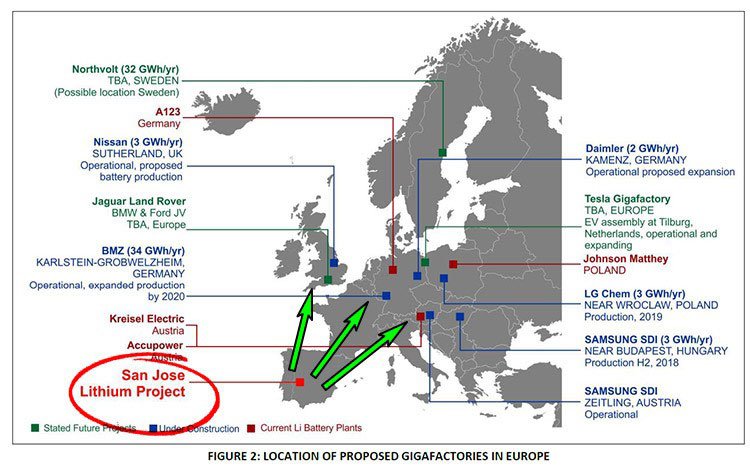 In the map shown above, you can see PLH's San Jose Project loitering with some serious intent. Remember that Spain is a superb location, given the strong infrastructure and very stable political environment.
The spectre of the EU falling apart could give PLH an even larger lift because it could result in each member country fighting tooth and nail for government tax revenue from foreign explorers', such as PLH, exploration and mining operations.
Potash update
With all the focus on lithium, and as we hinted at above, PLH's potash endeavours should not be dismissed.
Potash is a slightly longer-term target for PLH (but also, potentially bigger scale project as hard as that seems to believe).
Once again, everything will depend on grade, cost of extraction and resource size — in a nutshell, more exploration and project development.
The recent news coming out of the Banio Project is that PLH has completed the third hole of its phase I drilling program. The hole was drilled within the Alpha Target area approximately 2.1 kilometres east of the previous hole. That's a big step out but the seismic and historical drilling gave the highly experienced team in country lots of confidence.
PLH has intersected multiple wide potash beds in the course of drilling the third hole, and given similarities of visible mineralisation with the second drill hole the company is now awaiting what it believes will be positive assay results.
Here's a look at work being undertaken on site: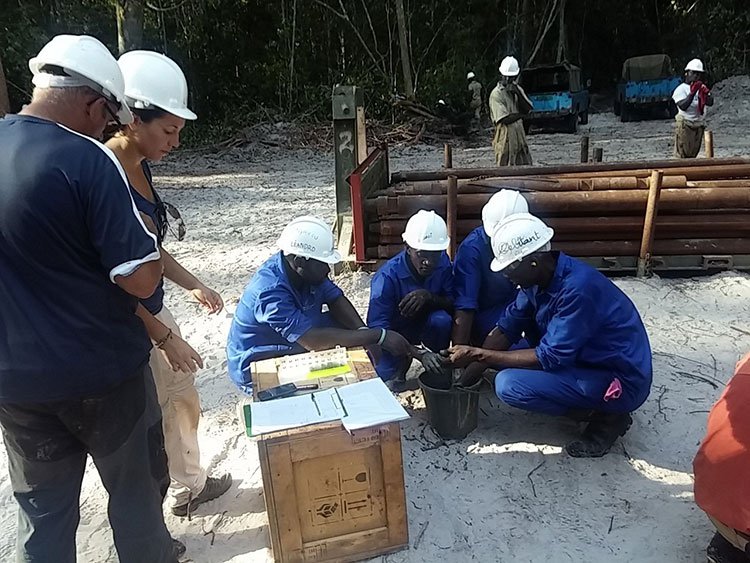 While assay results are still pending, they are due very soon. Core samples demonstrated broad zones of visually identifiable carnallite (pinkish red). Of significance is the fact that these features were also observed in the second drill hole. Samples have been dispatched for analysis, the results of which should be available within approximately four weeks. High grade sylinaite is harder to spot visually as it looks liej common halite salt but where there is smoke (carnallite) there is often fire (sylvinite) in this part of the world.
Further to this, assay results from the second drill hole are imminent, and given the similarities in visible mineral characteristics between holes two and three, these results could see some assumptions made regarding the tenor of mineralisation prior to the return of assay results from hole three.
Having defined a fault zone which is interpreted to be the boundary of potash mineralisation to the immediate south, and subsequently identified broad zones of potash mineralisation, PLH is now assessing data available and planning the next stage of exploration at Banio.
This will determine whether additional drilling will be conducted at Alpha or the larger Ndindi South Target.
If Alpha was big (target up to 2 billion tonnes) Ndindi is huge (target up to 8 billion tonnes)
... and only a few new drillholes can bring it into JORC classification with success confirming historic drilling.
Should PLH be able to bring one or both projects into production it could benefit significantly from its Gabon location.
Of course, as stated this
Brazil is a major consumer of potash and South America is the largest consumer of seaborne potash in the world. Gabon in West Africa therefore enjoys something special in bulk commodities – it's on the coast and that coast is the closest shipping distance to the world's largest seaborne market of any potash region in the world.
However, much of the world's potash is shipped from North America, which is significantly more costly than the much shorter route from Africa. Consequently, African and European producers are often more competitive from a pricing perspective.
Could PLH really be on course to supply a big part of Europe's lithium demand?
Whilst all is shaping up nicely at Banio, it is PLH's lithium play that is most intriguing at the moment as it looks to swim in an ocean of lithium companies fighting tooth and nail to cosy up to battery manufacturers across the world.
The San Jose lithium project has significant outcropping at surface, thereby raising the chances of PLH proceeding with a low cost, low strip ratio, open pit mine.
PLH has a formidable list of third-party partners and backers, which gives us confidence that it can navigate the current lithium gauntlet. The JV with Valoriza Mineria – a subsidiary of Sacyr, is a prime reason.
The strength and depth of its Board and Management also adds to why PLH can access the funding and technical expertise required to commercialise San Jose with aplomb.
The battery factories with a combined proposed output of 100GWhpa would consume up to 50,000t LCE pa. The San Jose Project would supply one third of Europe's planned near term requirements per year. It's been calculated that Europe needs multiple San Jose style lithium mines coming on line every year for the foreseeable future – there is no doubt Europe's battery factories should have the chops to gobble it all up.
And PLH is well placed to service this burgeoning demand.
San Jose has been confirmed as a world class asset with lithium mineralisation that is amenable to a simple open pit mining operation.
Its location is convenient for export, and is further bolstered by the region's modern infrastructure along with its size and economic significance.
Filtering out the constant noise in the markets can be challenging and sifting through all the data can be trying, especially for the novice investor. But digging down into the fundamentals always helps to narrow the field and weed out the undesirable no-hopers.
PLH is gradually stepping away from its junior explorer moniker, and moving into becoming a full-fledged miner, with one foot already in stock revaluation territory.
The team has been kicking goals since we last covered this stock, but the endorsement of top calibre international management could just be the proof in the pudding.
---