Hot Chili in the Box Seat to Deliver a Globally Significant Copper Development with Third Record Drill Result
PUBLISHED: 23-10-2019 09:55 a.m.
Hot Chili (ASX:HCH) looks to be on track to unlock one of Chile's most significant copper-gold porphyry discoveries of the past decade.
Drilling at the Cortadera copper-gold porphyry discovery has continued to lift the status of Cortadera.
The milestones have come thick and fast since February when Hot Chili released world-class historical discovery drill results after announcing its intent to acquire a 100% interest in the project.
Hot Chili has been aggressive in its exploration this year and there have been several successful results highlighting its work.
Just last week the company recorded its third record drill result in a row with diamond hole CRP0017D expanding to 596m, a significant width expansion of 246m from the initial drill result.
The result adds to a growing list of exceptionally wide copper-gold porphyry discovery drill results released by Hot Chili, including the recent confirmation of a 300m expansion to the known extent of high grade, bulk tonnage, copper-gold recently discovered at Cortadera.
Further drilling and therefore further results are expected shortly and could also positively impact the company's standing with investors.
Just recently, Hot Chili went close to matching its 12-month high of 4.3 cents as investors begin to recognise the value of the company's assets. Since the start of the year, Hot Chili has been up as much as 422% and is currently up 316% over those nine and a half months. It is currently trading at 3.8 cents: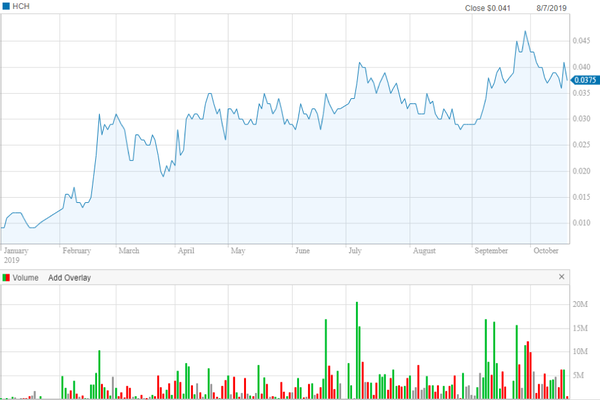 Its performance has caught the attention of sophisticated and professional investors, who last week boosted the company's coffers by A$12.1 million in an institutional-led private placement at a price of 3.6 cents per share.
Whilst the identity of the investors is yet to be announced, the company sees their involvement as a big endorsement of its current direction and apparently, the market does too.
"We are very pleased to be attracting new high-quality investors to the company who share our view that Cortadera is showing all the hallmarks of a company-maker," managing director Christian Easterday said when discussing the significance of attracting prominent investors and maintaining full control of Cortadera.
"This funding support allows Hot Chili to maintain its ability to control 100% of Cortadera through the most value accretive stages of a major global discovery."
The funding could perhaps enable Hot Chili to make good on its comparisons with Rio Tinto (ASX:RIO) and SolGold's (LSE:SOLG) projects.
With that in mind, let's take a look at the raise in more detail and catch up on all the latest news from...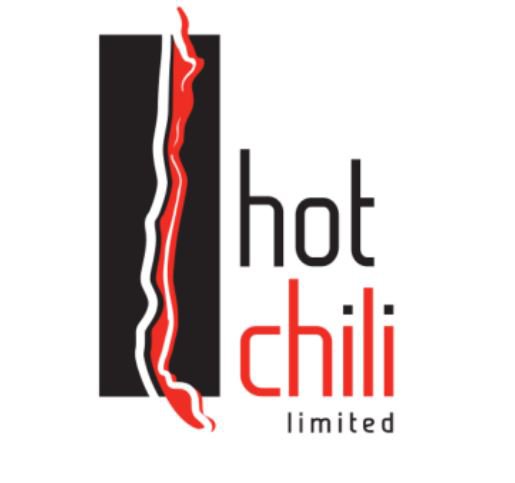 Hot Chili Limited
ASX:HCH
Market Capitalisation: A$67.3 million
Share Price: $0.038
Here's why I think HCH is worth a look: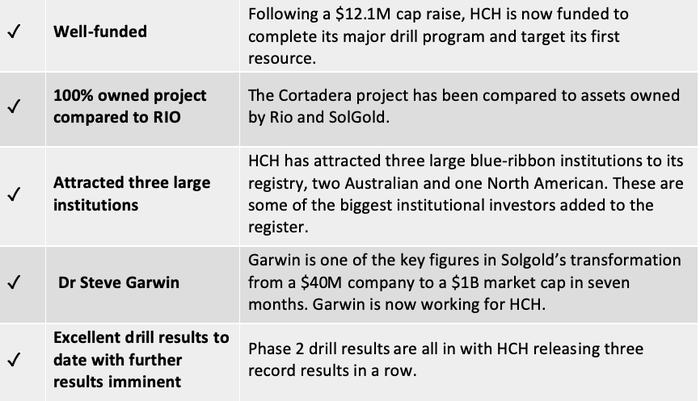 A quick recap
The confidence shown in Hot Chili (ASX:HCH) is due in part to the results of its drill program, which is aimed at defining a significant initial resource at Cortadera.
Cortadera lies just 14km directly southeast of the company's Productora project, which allows this growing Australian junior an opportunity to develop both bulk tonnage deposits with a central processing option, establishing HCH as a premier ASX listed copper developer.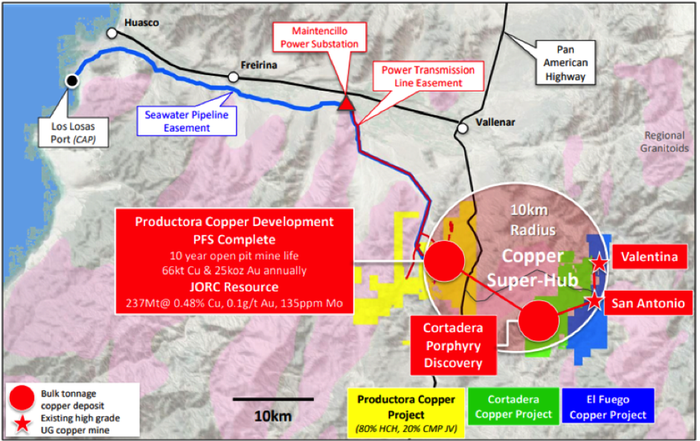 Here's Hot Chili MD Christian Easterday speaking with SNN Network about the company's progress since February:
The previous Next Small Cap article Rio Comparisons On the Money as HCH Could be Just Weeks Away From Company Changing Results, also covers the Cortadera acquisition.
Results speak for themselves
Results since Hot Chili began work at Cortadera in February have been impressive.
Hot Chili's first phase of confirmation drilling exceeded expectations, dramatically re-shaping the company's view of the potential size and grade of the Cortadera discovery.
The latest results do nothing to dampen that view.
Results last week heralded in the release of final assays for the second diamond drill hole of Hot Chili's phase 2 drilling program and marked its third record drill result in a row.
A significant 246 metre width expansion of diamond hole CRP0017D to 596 metres was a highlight.
The higher grade zone within the broad drill intersection remains unchanged and stands at 184m grading 0.7% copper and 0.3g/t gold from 430m down-hole depth.
Importantly, the final result from CRP0017D demonstrates a robust large-scale distribution of copper and gold across the main porphyry (Cuerpo 3) at Cortadera, which remains largely open both laterally and vertically.
Here's a look at the results: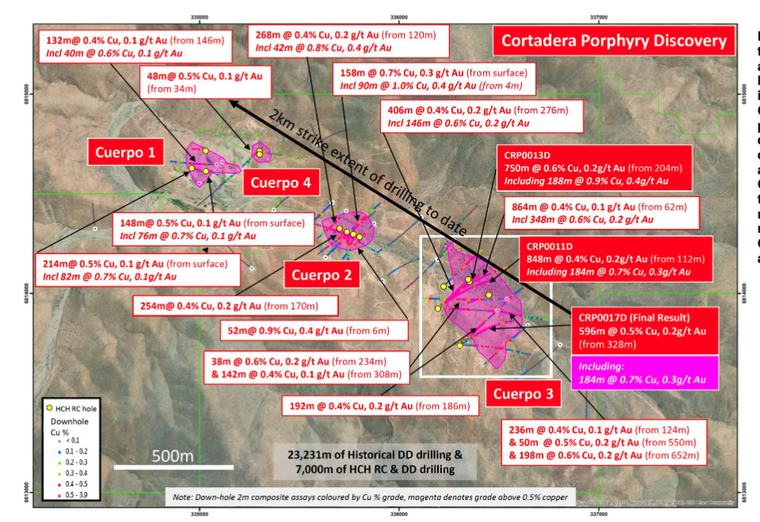 The results provide Hot Chili with some of the worlds' best copper-gold porphyry drill results ever recorded.
Some of the more significant intersections include:
750m grading 0.6% copper and 0.2g/t gold from 204m down-hole depth (including 188m grading 0.9% copper and 0.4g/t gold)
848m grading 0.4% copper and 0.2g/t gold from 112m down-hole depth (including 184m grading 0.7% copper and 0.3g/t gold)
864m grading 0.4% copper and 0.1g/t gold from 62m down-hole depth (including 348m grading 0.6% copper and 0.2g/t gold), and now:
596m grading 0.5% copper and 0.2g/t gold from 328mdown-hole depth (including 184m grading 0.7% copper and 0.3g/t gold
It should be noted here that the bulk tonnage, high grade zone extends from the northern to the southern flank of the main porphyry (Cuerpo 3), over 300 metres from the discovery diamond hole CRP0013D (188 metres grading 0.9% copper and 0.4g/t gold from 516 metres down-hole depth).
Further to this, the entire southern flank of the main porphyry is now open.
As you can see in the map below, it demonstrates that high grade copper-gold could extend across the entire main porphyry at Cortadera.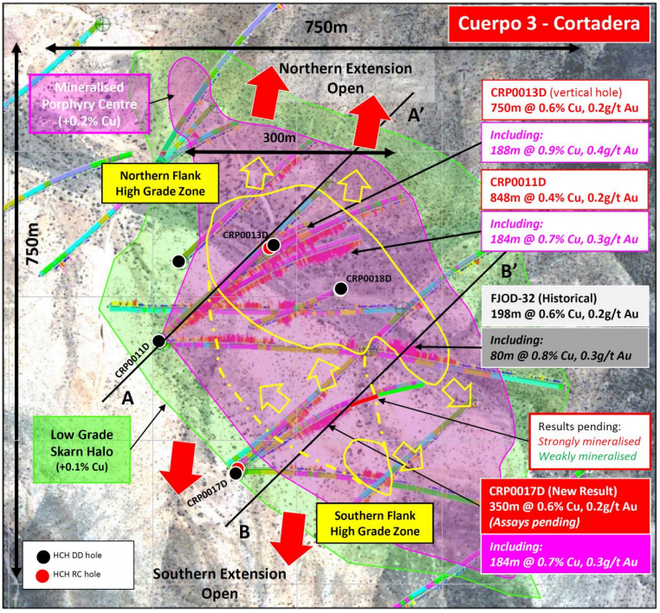 More drilling to come
Hot Chili is currently completing an in-fill drill section targeting the new high grade zone at a spacing of approximately 150m distance from existing record drill results.
Despite a third diamond drill hole (CRP0018D) terminating at a down-hole depth of 768m, the hole successfully recorded a broad Intersection of shallow mineralised porphyry from 50m to 330m down-hole depth, followed by strongly mineralised porphyry from 494m to 622m down-hole depth.
Samples from this hole are now being analysed. Results are expected shortly.
Work on a fourth diamond drill hole (CRP0019D) is also underway and is currently at a depth of approximately 434m down-hole.
The drill hole successfully intersected mineralised porphyry from 120m to 250m down-hole depth, with first results expected to be returned in the coming weeks.
Drilling across the recently discovered high grade zone at Cuerpo 3 will continue for the coming month in advance of the commencement of step-out drilling across each of the four porphyries at Cortadera.
You can read about this further in the following Finfeed article: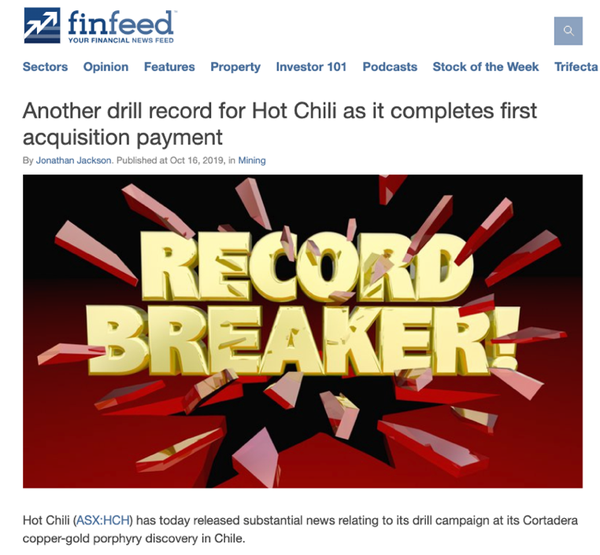 There will be plenty of drilling updates and results into 2020 as the program — supported by the recent $12.1 million institutional placement — advances through a very exciting discovery phase.
The placement and imminent results could be the forerunner to further momentum as Hot Chili races toward its initial resource estimate.
Hot Chili well placed to target first resource
A A$12.1 million capital raise has given Hot Chili the breathing space it needs to take its Cortadera project to the next level.
Money raised will continue to fund Hot Chili's exploration and development initiatives, whilst accelerating its expansion into 2020.
This includes defining a significant initial resource at Cortadera.
Funds raised from the placement were used to satisfy the remaining US$3 million part-payment for the first instalment of the Carola Option Agreement, completion of a 15,000-metre reverse circulation and diamond drilling program at Cortadera and general working capital.
In fact, Hot Chili has satisfied the first payment toward the 100% acquisition of Cortadera from SCM Carola.
This US$3 million payment was the second instalment to the first US$5 million payment of the Carola Option Agreement.
The placement is being undertaken in two tranches:
The first tranche of 325 million new shares, will not be subject to shareholder approval and will fall within Hot Chili's combined 25% placement capacity and will raise A$11.7 million (before costs).
The second tranche of 11,111,112 new shares to related parties will be conditional upon shareholder approval. It will apply to shares subscribed by Blue Spec Sondajes Chile SpA (an entity associated with Hot Chili's chairman Murray Black) and will raise A$400,000.
"The company will continue to advance its longer-term strategic funding discussions, while focusing our efforts to establish Cortadera's credentials as one of the world's top potential standalone copper-gold developments," Easterday said.
Hot Chili's recent confirmation of a higher-grade bulk tonnage underground development opportunity at Cortadera puts it in a unique position amongst potential large-scale global copper-gold developments.
One man who knows all about being in a unique position is highly regarded porphyry specialist Dr Steve Garwin, who is consulting to Hot Chili's exploration team to refine the company's understanding of Cortadera and assist in drill targeting and design.
Garwin's extensive experience with recent tier-1 copper-gold porphyry discoveries, most notably SolGold's (LON:SOLG) giant Cascabel deposit in Ecuador and the Batu Hijau deposit in Indonesia, is providing strong guidance to Hot Chili's exploration and resource definition approach for Cortadera.
Speaking of SolGold
Hot Chili has been able to emulate exactly what the Ecuadorian gold and copper developer did in advance of Newcrest's bid which transformed SolGold from a $40 million market cap company to a $1 billion capped company in just seven months.
One year later, SolGold issued its first resource.
Interest in SolGold from Newcrest and BHP has been extensive — Newcrest has a 15.23% holding, whilst BHP holds 11.2%.
You can read about all the intrigue surrounding SolGold in the following Australian Mining article.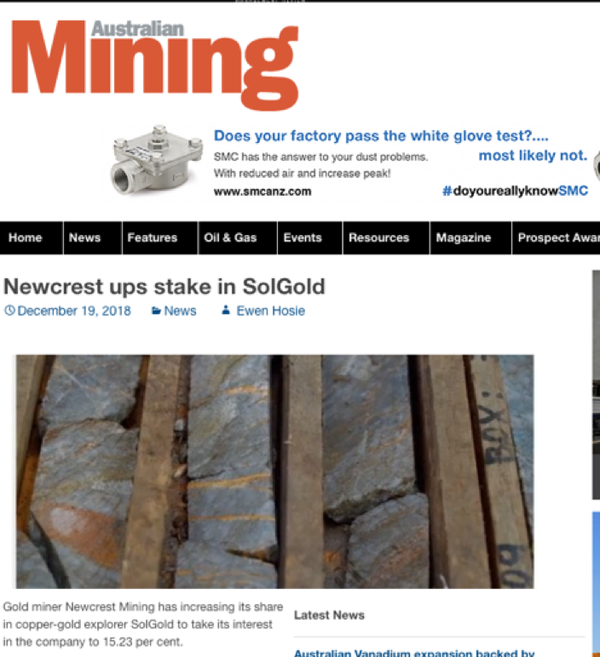 The good news for Hot Chili is that SolGold had similar results, a similar share price, similar sized market cap and capital structure to HCH before they took off.
Hot Chili is located on the Chilean coastline, not in the jungle of Ecuador, but the region HCH is exploring is just as sought after as Ecuador's Imbabura province, where SolGold made its name.
The interest in theses parallels were highlighted by Easterday, who told Next Small Cap, "I guess that is why we have just attracted some of the biggest institutional investors to our register. This is something very difficult to do for a sub-$50M market cap (at the time) company, unless of course the investors believe the company is about to grow rapidly."
Other favourable comparisons
Earlier in the year, Hot Chili chairman Murray Black said, "Under a combined development scenario, Cortadera and Productora look likely to underpin a globally significant new copper development on the coastal range of Chile, virtually unrivalled in size, location and infrastructure advantage by our peers."
On the back of this, Easterday highlighted some interesting peer comparisons in the 'Big Copper' space when he presented at the Latin America Down Under conference earlier this year.
Easterday weighed up Cortadera against Rio Tinto's (ASX:RIO) relatively early stage Winu Project in the Patterson province of Western Australia and SolGold's advanced stage Cascabel Project in Ecuador.
As outlined below, the top three copper-gold drill intersections from the three projects paints an interesting picture.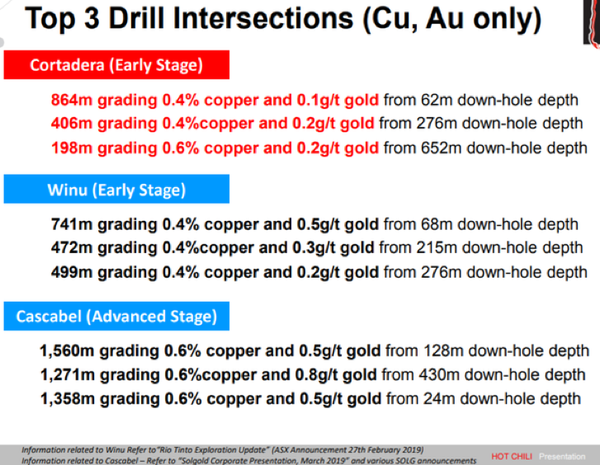 The three projects are all about establishing a 'Big Copper' operation, and central to that goal is the delineation of massive intersections with ore grades and depths instrumental in determining the commercial viability of the deposits.
SolGold's Cortadera and Rio's Winu are both early stage and potentially working up to the impressive widths and grades identified at Cascabel.
There is little between Cortadera and Winu in terms of width of intersections and copper ore grades, with the former taking first place with 864 metres grading 0.4% copper.
However, Winu's 741 metres grading 0.4% copper and 0.5 grams per tonne gold is also highly promising, given the significant gold credits that are implied.
Of significance is the fact that both 'best width' intersections were at a relatively shallow depth of approximately 60 metres, a level that is extremely amenable to low-cost production from open pit mining.
Hot Chili's position is thus highly favourable.
There is one further comparison that also backs up this assumption.
Gold and copper explorer Alkane Resources (ASX:ALK) released drill results on 9 September from its Boda Prospect within the Northern Molong Porphyry Project (NSW). The company ended the day up 27% on significant volume the back of those results, and it has continued to rise since.
Interestingly, ALK's porphyry drill result of a 550m intercept from a 220m down-hole, is about 50% less width and 20% less grade than Hot Chili's last drill result.
It's fair to say there's plenty of blue sky ahead for Hot Chili and its Cortadera exploration.
What's coming
Hot Chili's share price has increased more than four-fold in 2019, but with further results to come, it could go even higher.
It has now released three record results in a row and should further results continue to prove successful, we may be comparing the projects' of peers such as SolGold, Rio and Alkane to Hot Chili, not the other way around.
Certainly, with some serious institutional backing behind it, it is well placed to take the lead as a premier ASX-listed copper developer.
---