HMX Hit Giant Copper Moly Intersections – Follow Up Drilling Shortly
PUBLISHED: 29-09-2014 21:29 p.m.
Hammer Metals (ASX:HMX) has just made some truly significant intersections of copper, molybdenum and rhenium from its flagship asset, Kalman. HMX's Kalman sits in the star studded Queensland Mt Isa mining region. With latest intersections like 62m at 0.65% molybdenum and 11.4g/t rhenium, which equates to a copper equivalent of 62m at 4.3%, HMX have hit their highest grade molybdenum yet. This drilling work has found a new, near surface copper-gold zone located outside the current resource model – it looks like HMX's Kalman inferred 30 million tonne resource at 1.3% copper equivalent might be getting a lot bigger. Kalman appears to be open just about everywhere – HMX is planning follow up drilling right now. The recent drilling has enhanced the potential for open pit mining at Kalman – continued results like this keep improving the economics of extracting minerals here. To add to this, the latest drilling result at HMX's Overlander North Project struck a notable 75 metres at 1.33% copper – the best result yet here. This result indicates that the mineralised zone appears to be more consistent in grade and thicker with depth... The Overlander Project is yet another Inferred Resource that HMX have – 1,157,000 tonnes at 1.2% Cu. A downhole EM survey is due to start shortly at Overlander. Cannington, the world's biggest silver mine, controlled by BHP, is on one side of HMX's ground, and Glencore's Mt Isa copper mine, the biggest underground mine the world has ever seen on the other. And it's not just BHP and Glencore... there are also mining heavyweights Chinalco, CuDeco, Chinova, MMG and CopperChem all with a swarm of huge deposits around HMX. HMX also has the potential to define a large IOCG system west of Kalman, and copper-gold targets with high grade zinc around the Mt Morgan mineral field. HMX have mining assets at every stage of the exploration cycle, which should ensure a long lifespan and an ideal ramp up towards becoming a mid-tier producer. Little HMX is currently capped at just $11.5M. There is more high impact drilling coming up for HMX, so these latest results could be just the beginning of quite a ride for HMX investors. We particularly like HMX for its high grade rhenium resource – there are precious few ASX juniors with material exposure to this metal.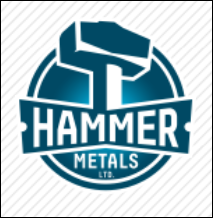 It's been a few months since we first wrote about HMX, an explorer we have invested in with exposure to molybdenum, copper, gold and rhenium (one of the rarest elements in the Earth's crust, and used to make jet engines). It's all in great detail in this article: Junior Explorer Wedged Between Majors in Famous Aussie Mining Region . HMX have sprawling ground in a curiously underexplored 1950km 2 section of Queensland's Mt Isa mineral province, one of the heaviest metal generating regions on the planet. With recent drilling results added to an already imposing existing resource, HMX's current low market cap may not stay that way for long. Assay results from recently completed reverse circulation drilling at Kalman featured the highest grade moly hit to date at Kalman: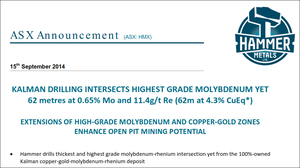 Two holes were drilled in the Kalman area to infill a poorly tested section of the upper part of the main ore and test for potential strike extensions at the northern end of the deposit. Results from the infill hole included 62 metres at 0.65% molybdenum, 11.4g/t rhenium, 0.16% copper, 0.07g/t gold and 1.5g/t silver, for an equivalent of 4.3% copper. That intersection included 7 metres at 3.44% molybdenum, 57g/t rhenium, along with copper, gold and silver, for a 21.8% copper equivalent from 206 metres. These hits were among multiple other broad, high grade intersections. The results certainly reinforced the robustness of the Kalman deposit. You can see for yourself in the image below that Kalman is very heavily mineralised... and given drill spacing to date has been quite wide, there is potential for a whole lot more metal to be confirmed.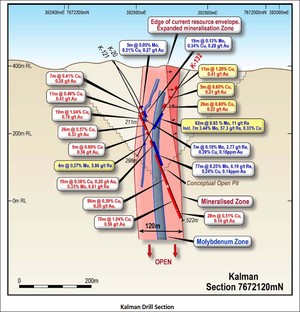 HMX also recently reported on drill results at Overlander...
Overlander – A Flagship Asset in its Own Right?
HMX's Overlander project is prospective for both shear-hosted copper at the North and South areas, as well as IOCG mineralisation at the East and West prospects. The latest results, released a few days after the assays from Kalman, were in fact the best copper results ever from Overlander: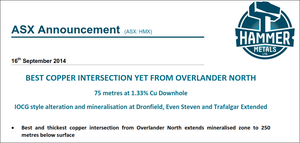 An interval of 75 metres at 1.33% copper and 667ppm cobalt from 176 metres was returned.
This hit included 28 metres at 1.91% copper and 16 metres at 1.92% copper with 947 ppm cobalt from 226 metres. Drilling at HMX's Trackside and Rainbow Ridge prospects at the Dronfield Iron Oxide Copper-Gold project also returned copper sulphide intercept of 1 metre at 11.8% copper and 2.95g/t gold. Along with the very high grade copper and gold came silver, molybdenum, and uranium, which are key geochemical indicators of IOCG mineralisation. Drilling results from earlier in the year included 117 metres at 0.35% copper from 43 metres, amongst a number of other strong intercepts:

The North and South copper deposits alone hold and inferred resource of well over 1 million tonnes of copper at 1.2% – at a 0.7% Cu cut off grade. Below you can again see a multitude of thick, high grade intersections at Overlander: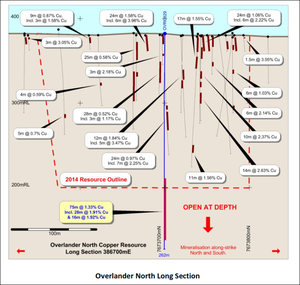 Overlander is a substantial asset – we have seen similar projects supporting a market cap of over $10 million on their own.
Our Track Record
Regular readers of our sites will be familiar with our long-standing interest in high potential stocks. To note just a few:
The past performance of these products are not and should not be taken as an indication of future performance. Caution should be exercised in assessing past performance. These products, like all other financial products, are subject to market forces and unpredictable events that may adversely affect future performance.
HMX have one of the largest land positions, in Australia's biggest mining province, wedged between two of the world's most prolific mines.
All from an explorer with a market cap that camouflages it's sprawling, high grade mineral assets. The blue on the map below are HMX tenements, the yellow spots are all the mineral deposits in the region: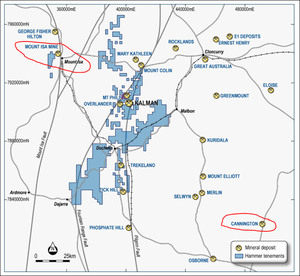 HMX's goal is to build a central mining hub at Kalman – the JORC inferred resource we described above. HMX plan to feed Kalman by surrounding smaller mines, developed from multiple satellite deposits. These mini-me's will feed into the central hub, likely at a high margin, as they are all within trucking distance. The goal is to develop this central hub into a low cost, high margin, multi-mine operation. HMX is a baby elephant if ever we've seen one – It might seem like a small company, but its deposits at and around Kalman are not. At the same time, HMX is a high risk investment – it's still early days for the company and they are some time away from production. HMX's Kalman's resource itemised comes to 165,000 tonnes of copper, 274,000 ounces of gold, 25,000 tonnes of molybdenum and 2.1 million ounces of rhenium. Rhenium is so rare and valuable that it is sometimes mined by hand from inside live volcanoes. At $3.5 million per tonne, it's worth the effort. Paul Adams, head of research at DJ Carmichaels is also onto the HMX story, and has forecast a 28c price target – a 100% gain from current levels: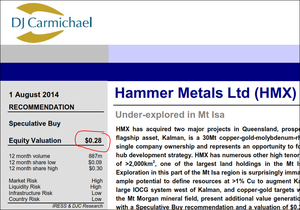 Analyst reports like these provide a good insight to the company, but they aren't the only bits of information we go on when making an investment decision. Mr Adam's report also undertakes a thorough peer comparison – compared to similar peers, HMX is significantly undervalued on an enterprise value per tonne of contained copper basis. Below you can see explorers such as KGL Resources, Syndicated Minerals and Cazaly Resources valued at multiples of HMX: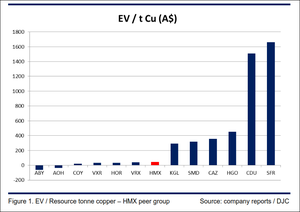 The average enterprise value per contained tonne of copper for explorers in HMX's peer group is $156... That's more than triple the valuation currently given to HMX, with a metric of just $43. On this basis HMX's 155,000 tonnes of contained copper equivalent should have an enterprise value of $18.75 million, which implies a market cap of around $20 million, or 28c per share. This is how DJ Carmichael arrived at its valuation for HMX. And this doesn't even ascribe any upside to HMX's very sizeable exploration potential. At the same time, this isn't a guarantee that HMX will ever reach 28c per share – an analysis of peers doesn't not always equate to the true market value.
Big Miner in a Small Miners Body
The size, number and quality of HMX's deposits aren't normally seen contained within a market cap under $20 million. Kalman, Overlander and the surrounding satellite deposits lie on HMX tenements that cover almost 2,000 km 2 in Mt Isa region, sandwiched between massive mines owned by global mining houses like BHP and Glencore. As seen below there are a major operations controlled by MMG, Copperchem, Chinova, Chinalco and CuDeCo on the immediate vicinity: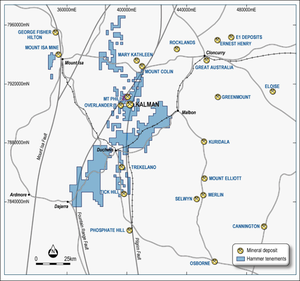 HMX ground sprawls across several significant regional structures, including 45 kilometres of strike along the Pilgrim Fault. At Kalman, HMX are aiming to develop a large and low cost open pit, similar to the nearby Ernst Henry mine owned by Glencore as shown below: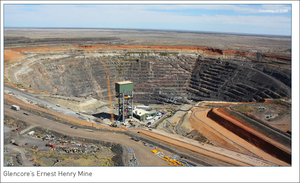 As we mentioned earlier, surrounding this major operation would be multiple smaller open pits, all within trucking distance and all utilising the same central infrastructure and processing facilities... A hive of mining activity, co-ordinated by the nucleus at Kalman. HMX's "exploration pyramid" shows multiple proven resources, multiple high grade intersections, and at least a dozen geotechnical anomalies yet to be drilled: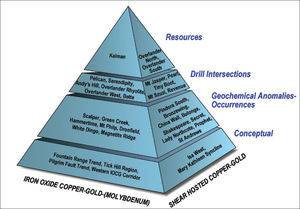 With assets at every stage of the exploration cycle, HMX have the right ground for growth. Kalman itself is well advanced in terms of exploration, with an existing inferred resource of over 30 million tonnes at 1.3% copper equivalent: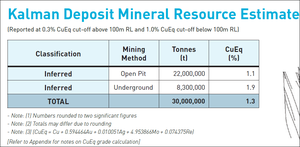 This copper equivalent is comprised of 165,000 tonnes of contained copper, 25,000 tonnes of molybdenum, 274,000 ounces of gold and 2.1 million ounces of rhenium: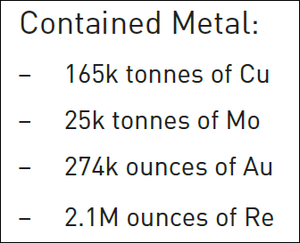 HMX have the plan all mapped out, and a management team capable of executing the strategy. The proposed open pit at Kalman could look something like this, a veritable metal factory: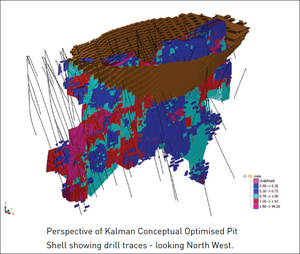 Kalman is a mighty big unit, but it looks like it could get much bigger. Those big deal exploration results we covered above have been hitting investor's screens over the last week or two, and the herd is starting to stir. It's not surprising with copper equivalent hits of 62 metres at 4.3% at Kalman, and 75 metres at 1.33% copper at Overlander. HMX is also well funded with cash reserves of around $1.5M, with another $1M due from the sale of its Mt Philp iron ore project likely on its way early in the New Year.
With these latest drill hits, HMX have really begun to demand market attention
HMX have thick, high grade, multi-metal intercepts from already substantial deposits that are within kicking distance of two of the planet's biggest mines... We particularly like HMX for its high grade rhenium resource – it's hard to find an ASX junior with exposure to this metal. Should rhenium prices boom again to $12 million per tonne, every man and his horse may be chasing HMX stock. Of course, HMX remains a high risk speculative investment – they are still a mineral explorer at this stage and subject to commodity prices out of their control. HMX have a flagship asset that you might see from a company triple the size, and there is plenty more high impact drilling in the near future. HMX's vision of a central mining hub surrounded by smaller deposits, coming together to form a sprawling but cohesive operation is starting to emerge.
---