High Grade Zinc and Graphite Results Mark PSM's South Korean Ascent
PUBLISHED: 31-05-2017 09:47 a.m.
Peninsula Mines (ASX: PSM) is exploring for a diverse suite of minerals and metals in one of the most opportune locations possible: East Asia.
In case you haven't heard, East Asian growth has remained resilient in the face global economic uncertainty and the outlook is expected to remain positive in the next few years.
Growth is being driven by robust domestic demand and a gradual recovery in the global economy and commodity prices.
It is a trend that could work in PSM's favour as it looks to prove up its South Korean zinc-silver and graphite projects in particular.
PSM's projects are all located within South Korea, a country with excellent infrastructure supplemented by a positive development and operational framework.
Whilst South Korea has a dynamic economy and is the epicentre of the lithium ion battery market, its minerals are generally sourced from outside this much underexplored country.
This gives PSM a first mover advantage and an opportunity to develop a mining and processing hub on the end-user's doorstep – think Samsung, Hyundai and LG, who all require lithium-ion batteries, and would like to source the raw materials locally.
PSM has a strong foundation in the country having previously secured Government funding for drilling via Korean Resources Corporation (KORES) and access to end-users for offtake and partnerships.
Although it should be noted here that PSM is still an early stage play. Investors considering this stock should bear this in mind and seek professional financial advice before making an investment decision.
PSM has recently had key tenements granted, received "exceptional" soil and rock chip sampling results, and is now on track for a speedy drill targeting campaign, aimed at putting meat on the bones of its Ubeong zinc-silver project in South Korea.
In fact just last week, PSM released promising results from surface rock chip sampling conducted at Ubeong, collected from the historical Chilbo mine workings.
The company reported notable returns across a broad range of samples including 48.8% zinc, 958 grams per tonne silver, 4.9 grams per tonne gold and copper grading 2.74%.
These outstanding results were received from samples taken from surface , with visible sulphides and no evidence of surface enrichment.
The area is also along-strike from an existing producing zinc (and silver-lead) underground mine, indicating a realistic chance that drilling would replicate the surface grades.
Promisingly, PSM also found evidence of a second style of copper-gold mineralisation where copper as chalcopyrite is associated with massive pyrrhotite, a magnetic sulphide.
Not only is PSM progressing its aspirational zinc-silver intentions, it also possesses a graphite project to potentially complement its plans of serving up the raw materials needed for the battery-powered sci-fi future to become a full-blown reality.
Recently, PSM released high-grade channel sampling intersections from five trenches sampled at its Yongwon graphite project in South Korea.
The high-grade graphitic unit at Yongwon had previously been sampled across five, historical KORES trenches in the exposed portion of the unit along a 120 metre exposed strike length at surface.
The electromagnetic surveys indicated a much greater strike length of more than 400 metres and down dip extensions of between 200 metres and 300 metres, and previous, excellent, metallurgical results indicate potential to produce a high-purity 97% total graphite concentrate (TGC), which are very encouraging signs for the company.
Furthermore, ongoing advanced metallurgical test work at its second key flake graphite project, the Daewon Graphite Project, has also produced encouraging initial results from nine new metallurgical samples collected, totalling more than 50 kilograms with a combined weighted average analysis grade of 9% graphite in-situ.
With a market capitalisation of only $11MN and priced at $0.022 per share, PSM's diversified play, in a growing energy powerhouse, could be a worthwhile consideration, especially as it is exploring for commodities on the doorstep of the end-user industries that are fuelling the new energy efficient world.
We update you on: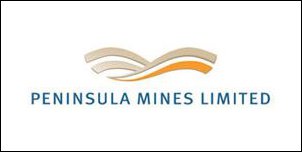 Peninsula Mines

Peninsula Mines (ASX:PSM) has collated a closely-knit set of projects in South Korea, in order to grab a commercial slice of the energy-storage cake, currently being baked in international commodity markets.
There is always an element of risk when it comes to commodities, but it does help when the commodities are close to surface, close to infrastructure (with potential to be on the lower side of the cost spectrum), and possibly most crucially, the exploration sites are close to final end-user markets.
Commodities such as graphite, lithium, zinc and cobalt, have all felt strong surges in end-user demand from the likes of Tesla and Panasonic — companies that either buy stacks of batteries (Tesla) or battery manufacturers themselves (Panasonic).
Much of that demand is coming from South Korea.
If we factor in the expected demand for metals such as lithium, cobalt and zinc over the coming decade, the supply-side picture is lagging way behind, which could mean higher prices for years to come.
When we last updated you on PSM in the article, PSM Adds Zinc Assets to its South Korean Metals Portfolio , the company had done just what the title suggested: it added zinc to its growing list of South Korean projects.
PSM has already released positive results from this project.
High-grade zinc and other metals
Although PSM has only recently focused on zinc in South Korea, already there are some minor milestones that have already been reached.
Take a look at the some of the recent rockchip results from historical surface workings at Chilbo on the Ubeong Zinc-Silver Project:

These initial readings are not the full finished article — PSM hopes to complete soil sampling and geophysics to define drilling targets over the coming months, but we think this initial salvo at Ubeong is a rather good start for the company and its shareholders.
However, this is a speculative stock and investors should approach their investment in this company with caution and seek professional financial advice.
Have a look at the magnetic maps below, for a reminder of the Ubeong Project's location, next to an operating zinc mine, and the Chilbo high-grade zinc-silver target that they have focused on to date...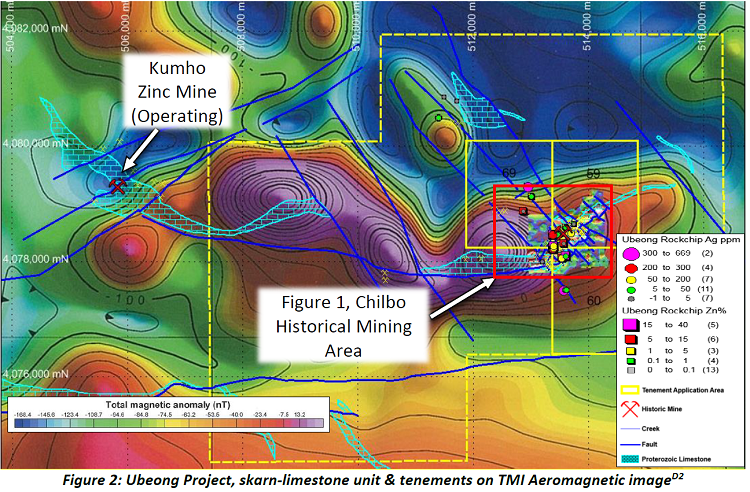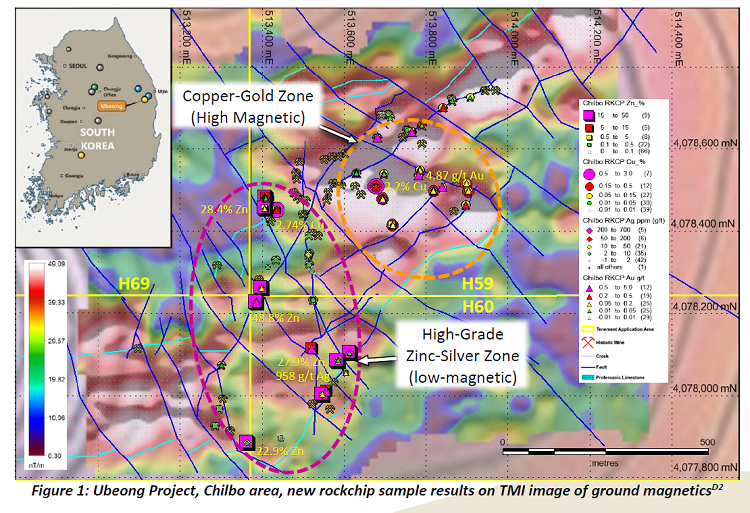 Despite the early-stage nature of Ubeong, PSM announced exceptional zinc and silver grades within a zoned mineralised skarn system, with lead, copper and gold, from surface rock-chip sampling of 70 mapped surface workings and outcrops.
These new results include up to 48.8% Zn and up to 958 g/t Ag, 27.9% Zn, 13.85% Pb in a "Zinc-Silver Zone", and up to 2.2% Cu and up to 4.87 g/t Au in a separate "Copper-Gold Zone"
In effect, PSM has options to move into a mixture of high-value commodities (or focus on a single commodity) including zinc, copper, lead, gold, silver and even lithium, given its extensive portfolio.
The results of systematic rock-chip sampling of the Chilbo workings have highlighted exceptional zinc and silver grades. A further bonus comes in the form of seeing elevated copper and gold associated with magnetic pyrrhotite, a separate target type within this extensively mineralised skarn.
Systematic soil sampling has also been completed, in conjunction with detailed IP and EM geophysics planned to be completed by Q2 2017.
If this latest explorational salvo is successful, it could define substantial drilling targets for high-grade sulphide mineralisation.
Background to the Ubeong Zinc-Silver Project
PSM has secured three granted tenements and multiple tenement applications over the eastern 10 km strike length of a highly prospective limestone-skarn unit that includes the historical Chilbo mine workings and adjoins the operating Kumho Zinc Mine.
The high-grade zinc-silver mineralisation identified in the Chilbo workings area occurs towards the eastern end of the limestone skarn-unit, associated with an extensively faulted zone that has offset the unit and is interpreted to have acted as a conduit for mineralisation.
The name of the game for PSM at Ubeong is to define drilling targets for high-grade sulphide mineralisation as quickly and effectively as possible, in order to start drilling and potentially make a significant discovery before the end of the year, which could really pique investor interest.
PSM's other commercial commodity — Graphite
With its metals intentions progressing nicely, PSM's other focus in South Korea is graphite.
The Yongwon Graphite Project serves as PSM's flagship graphite project, which has delivered excellent metallurgical results to date, with over 97% TGC concentrate measured in early lab tests.
High-grade channel-sampling results from the Yongwon Graphite Project include intersections of 13.8m @ 11.7% total Graphitic Carbon ("TGC") and 12.7m @ 10.8% TGC: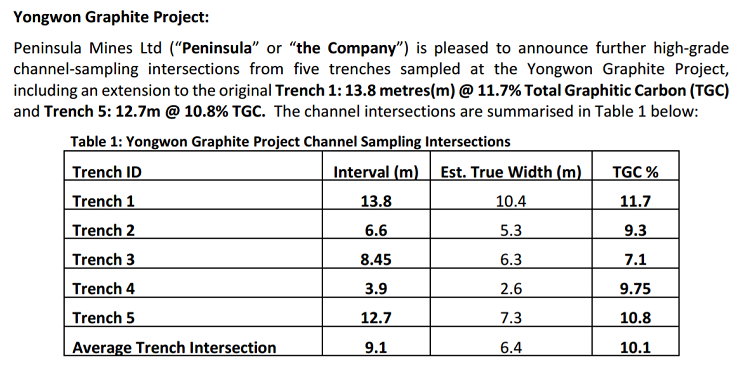 Here are the latest, at surface, channel sampling intersections as released by PSM for the Yongwon Project, shown overlaying the electromagnetics – highlighting continuity below the surface: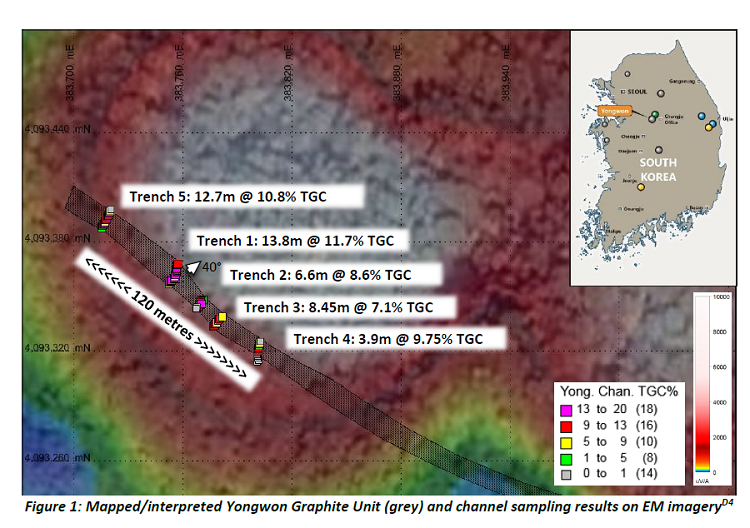 Previously, the Yongwon Graphite Project has delivered excellent metallurgical results including 97% graphite concentrate grades as well as the high-grade channel-sampling results.
The next step PSM is planning is a 1,100m drilling programme with sampling and assaying to follow thereafter.
Access approval from the Chungju Local Government is required to allow access for this programme, with the objective of defining an Indicated Resource that may then be subjected to initial economic development studies.
The drilling is directly supported by Korean government, KORES, funding, which helps to alleviate capital expenditure at Yongwon.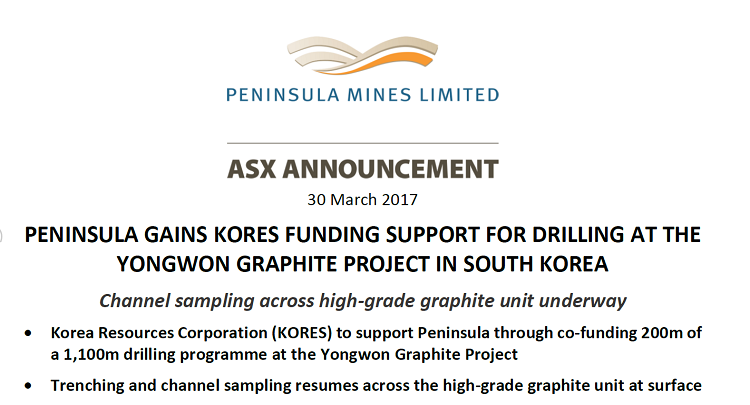 In addition, according to PSM, advanced metallurgical test work is now underway at PSM's second key flake-graphite project in South Korea, the Daewon Graphite Project.
Previous petrography identified that graphite samples from the Daewon Graphite Project occurs as "regularly disseminated, highly oriented graphite flakes including some large (>180 micron) flakes, hosted within an amphibole-plagioclase doleritic or mafic sandstone unit".
Preliminary flotation testing of samples from the Daewon Graphite Project, at NAGROM laboratories in Perth, has been encouraging.
Nine, new, metallurgical samples, totalling >50 kilograms (kg) were collected from trenches and outcrops of the Daewon graphitic unit and sent to Perth for further detailed metallurgical testing. The samples have now been aggregated to form a >50kg composite at a weighted average analysis grade of 9% TGC.
From a visual sample perspective, check out below – flotation of PSM's graphite sample, targeting a concentrate grade of > 95% TGC: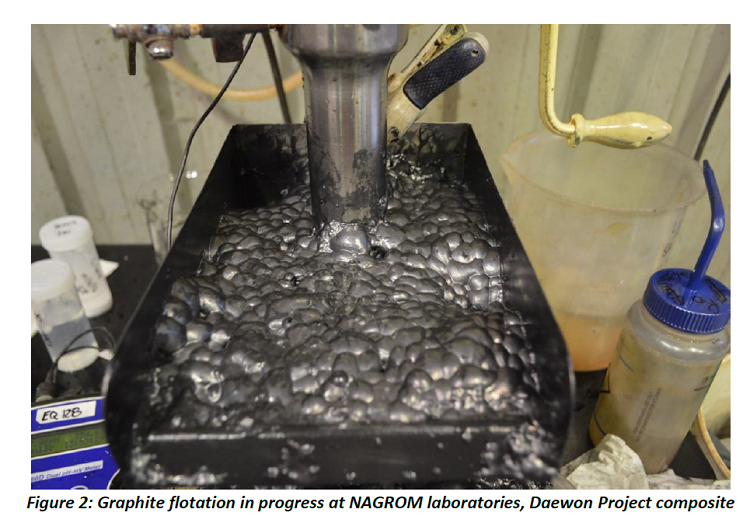 As you can see, PSM is continually putting forward strong graphite exploration updates which underscores the excellent location it has found itself in.
PSM's goal here is to collate a bulky resource over time and commercialise it appropriately close to final end-user demand i.e. South Korean tech companies such as LG and Samsung.
Straightforward development and strong funding could see PSM make good on its Asian potential
PSM is walking the path of small-scale-explorer aiming to evolve into a mid-cap producer. It now has a neat mix of metals and graphite assets in its project portfolio — all of which are making gradual but definitive progress.
Having neatly arranged a bag of multi-faceted metals assets in South Korea, PSM is doing exactly what every $11MN-capped ASX-minnow should — make hasty progress with its array of metals projects in-time for a demand spurt from steelmakers and battery manufacturers.
Global macroeconomics and geo-politics have combined to give metals prices of all sorts and varieties a significant shot in the arm over the past 18 months.
The emergence of high-tech industries related to power storage has most definitely put the cat amongst the pigeons in the world of commodities.
Of course, commodity prices do fluctuate and caution should be applied to any investment decision here. Seek professional financial advice before choosing to invest.
Dozens of companies are scampering into the field to discover supplies of the elements expected to reshape modern manufacturing and industry.
However, it's the small-capped minnows such as PSM that could potentially deliver the most outstanding returns, although it's still early days and there is a lot more exploration to do.
PSM has a dual-pronged route to commercialisation. Its zinc/silver with copper/gold play coincides nicely with a metals recovery trend that's going from strength to strength, and is further helped by potential for low-cost development across all its projects.
If we then add PSM's graphite aspirations, it's clear that PSM is focused on the most valuable commodities, at an incredibly opportune time, and at the biggest juncture of global supply and demand in Asia.
With factors moving into duck-formation for PSM, now could be a time to consider this multi-commodity play.
---