HDY's Nelly Vanadium Mine Independently Verified as High Grade
PUBLISHED: 29-08-2018 09:12 a.m.
In the last two months, Hardey Resources Ltd (ASX:HDY) has laid the foundations for company transforming acquisitions that would potentially provide it with exposure to one of the best performing commodities on the market today – vanadium, as well as positioning it in diversified geographic regions with ready access to key markets.
It is fair to say that all signs currently point north for the group, given these transactions have provided it with a portfolio of vanadium assets in highly prospective areas.
Of course, the vanadium price is going from strength to strength, recently hitting a 13 year high and having a 'rising tide lifts all boats' impact on stocks exposed to the commodity.
As HDY closes out the last two months of intense corporate activity where it has been involved in completing due diligence and receiving geological reports on the assets it proposes to purchase, it would appear that all systems are go.
Only last week shareholders approved the acquisitions of Nelly Vanadium Pty Ltd (NVPL) and Vanadium Mining Pty Ltd (VanMin) at an EGM.
This is a potentially game changing development for the group given that NPVL owns the highly prospective Nelly Vanadium Mine (NVM) in San Luis province, Argentina, while VanMin has six high-quality vanadium projects across Queensland and Northern Territory.
In Australia, the next phase of the exploration program for the Queensland and Northern Territory projects is to determine if there is sufficient historic data to potentially model a JORC (2012) compliant inferred vanadium pentoxide resource.
Given the close proximity to large resources and producing vanadium mines, it would appear that there is a strong likelihood of success in terms of bringing one or some of the six assets into production.
Of course it is early stages and there is a lot of work to do, so investors should seek professional financial advice if considering this stock for their portfolio.
HDY has been awaiting the outcome of a report by SRK Consulting before developing a plan to progress an application to reactivate the mining licence for NVM.
Once the mining licence is reactivated, which management has noted appears fairly straightforward in the mining friendly country, the company will develop an exploration program, as well as a strategy to sell ore that is currently stockpiled at the site.
So for more on the company that's hard to keep up with let's see the implications of the SRK news.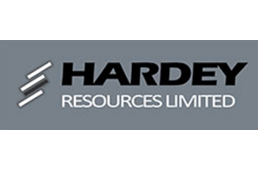 Hardey Resources

Hardey Resources' (ASX:HDY) potentially market moving news has now come to hand with SRK Consulting releasing an extremely promising report regarding the prospects for NVM.
We first alerted you to the SRK report in our sister publication Next Small Cap, in the article HDY to Complete Queensland and NT Vanadium Acquisitions. In this article we covered how shareholders approved the acquisitions of Nelly Vanadium Pty Ltd (NVPL) and Vanadium Mining Pty Ltd (VanMin) at an EGM held late last week.
The acquisitions give HDY one highly prospective vanadium mine in Argentina and six high quality vanadium projects spanning Queensland and the Northern Territory.
Vanadium is becoming a highly significant commodity in the new energy movement and the following video explains why:
When you take that into account SRK's report is significant in itself.
Why so important?
The SRK report represents another box ticked by HDY, a company that continues to impress with its expediency in relation to financing, identification of valuable assets, completion of due diligence and most recently the completion of a geological report at NVM.
After reviewing all relevant evidence, SRK Consulting, with input from Condor Prospecting, concluded NVM is likely a medium-size, high-grade vanadium deposit.
SRK confirmed that historic operators only extracted a minor portion of the mineralised central vein, while the average grade from channel sampling was 0.8% up to 1.9% V2O5 – one of the highest globally . SRK confirmed that the NVM deposit comprises a mineralised trend of at least 1 kilometre with an incremental four quartz-rich hydrothermal polymetallic veins with relatively high contents of vanadium, lead, zinc and copper.
The individual vein dimensions are up to 5.5 metres in width and range between 12 metres and 40 metres in depth, although the latter remains subject to further verification.
Minimum of 10 mineralised stockpiles
SRK noted that there were at least 10 highly mineralised stockpiles around historic working areas.
These are a potential source of early cash flow for HDY, and as such will form an important part of the initial exploration strategy.
Having reviewed the report in depth, HDY will now be fully implementing SRK Consulting's recommendation to expedite a high-level exploration program, as the core objective is to re-open NVM.
HDY said that confirmation from SRK Consulting that there are potentially four untapped, highly mineralised veins at Nelly Vanadium Mine and ten historic stockpiles, reflects the project's significant potential upside.
HDY's Board has accepted all SRK Consulting's recommendations to expedite a high-level exploration program, with re-opening the mine as soon as possible the core priority.
Before digging a little deeper into NVM, it would pay to look at the project's location and reflect on all of those tailwinds that are providing momentum for the company's near to medium-term prospects.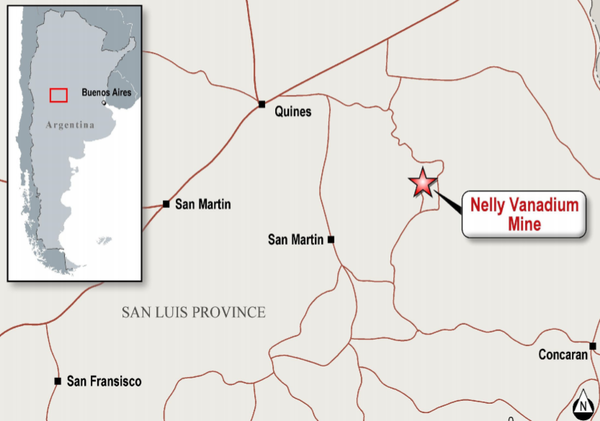 Argentina has a strong history of being supportive towards the mining industry and there is nothing to suggest this is likely to change, indicating that management's confidence regarding the approval for reactivation of mining is not ill-founded.
Under Argentina's laws it is a simple process to reactivate the mine and would potentially take less than 12-months for production to recommence, provided the company is able to define an economically viable mineral resource or ore reserve under the JORC Code (2012) and if the renewal process is expedited.
Proximity to vanadium hungry European markets
Furthermore, one aspect that hasn't been given a lot of attention is the mine's proximity to European markets.
Vanadium is used extensively in many European countries where heavy industrial construction is a key economic driver.
Just as everything from food crops to fertilisers can be competitively imported into the European continent, as well as destinations such as Spain and Portugal, the comparatively lower costs of transport could potentially work in HDY's favour.
Of course, the other metric which will come into play as the company works towards the establishment of a resource and completion of feasibility studies is the commodity price.
The rally that commenced in 2016 remains in full swing as indicated in the following chart - in fact there was a key milestone recently where the price surpassed the 2008 highs for the first time.
It is some 13 years since the commodity has traded in the vicinity of US$19 per pound.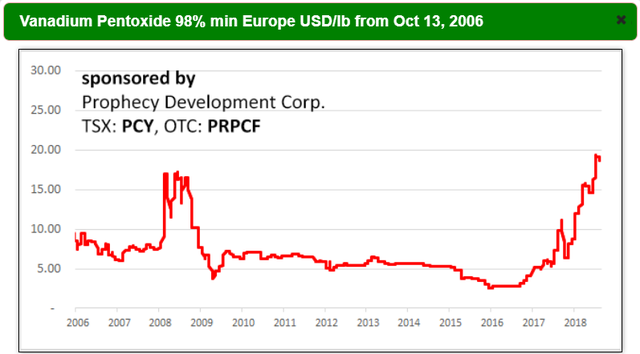 Of course commodity prices do fluctuate and caution should be applied to any investment decision here and not be based on prices alone. Seek professional financial advice before choosing to invest.
Share price gaining traction on high volumes
With the planets starting to align, it looks as though there has been no other way but up for HDY's share price as it doubled between June and August.
As the chart below indicates, last Friday was the sixth occasion in the last six months where the company's share price has surged up towards the .06 cents mark, and a break above that could be seen as surpassing a psychological barrier. It is also worth noting that the volumes traded on Friday were the second highest in the last six months.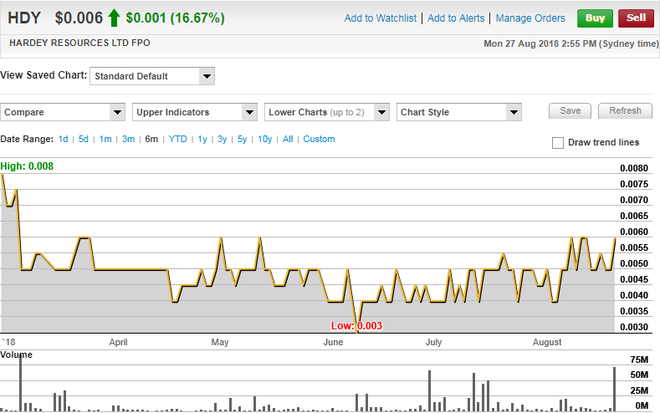 The past performance of this product is not and should not be taken as an indication of future performance. Caution should be exercised in assessing past performance. This product, like all other financial products, is subject to market forces and unpredictable events that may adversely affect future performance.
Finding peer comparisons
SRK determined that the NVM deposit could not be clearly classified within one of the four main world-class vanadium mineralised system types.
It is defined as hydrothermal vanadium and base metal veins where the upper zone is enriched by oxidation during weathering.
In geological terms, the post-mineralisation enrichment resulted in widespread oxidised minerals such as malachite, azurite and wulfenite, accompanied by some primary sulphides such as pyrite and galena.
Hence, the main vanadium minerals recognised to date are vanadinite and descloizite.
To provide some insights on how NVM might scale and rank relative to certain global peers, where there is significantly more data, SRK provided a brief overview of mines in Brazil, Argentina and Utah.
Maracás, Bahía, Brazil is the largest operating vanadium mine in South America and comparable to the world-class deposits.
Pandora, Utah where vanadium production recommenced this year has size and grade potentially comparable to NVM at an approximate order-of-magnitude level.
Amarillo Grande (Ivana), Río Negro, Argentina was also put forward as a point of comparison as it is similar in size to Maracás and low in vanadium content.
Uranium is the main output, with vanadium as a by-product.

To illustrate NVM's potential upside, SRK noted important details in the table above, in particular key grades and V2O5 mineral resources for the three selected global peers.
If incremental exploration work can verify key inputs (continuity of ore, grade) and dimensions, especially length and depth of the mineralised trend, then NVM may likely rank as having a medium sized deposit, similar to or greater than Pandora.
Although it has a long way to go to be able to emulate Pandora's success so investors should seek professional financial advice for more information if considering this stock for their portfolio.
What's next for HDY
With the acquisition of the Nelly mine approved and just days away from being completed, HDY can now move quickly to prove the worth and viability of its projects.
It will now progress its application to reactive the mining licence for NVM and will bulk sample stockpiles to determine their viability as a direct shipping ore product.
It HDY can do this, cash flows won't be too far away and the already rapid stream of news flow coming from the company may likely turn into a torrent.
Watch this space.
---