GPR Looking to Prove Up Cambodia's 'Garden of Eden'
PUBLISHED: 23-09-2015 09:42 a.m.
When it comes to metals exploration, striking a good deposit can be as much about luck as it is about exploration.
But what if there was a way to improve your chances of 'striking it lucky'?
An ASX listed company we first covered in July has done just that.
Geopacific Resources (ASX:GPR) has managed to improve its chances of discovering high-grade copper and gold at its Kou Sa Project in Cambodia.
The company's success rate in hitting mineralisation in their drill holes to date is over 85%.
Fine tuning it's Induced Polarisation (IP) geophysics programme has enabled GPR to achieve unprecedented strike rates in drilling.
The company has two diamond drill rigs and one RC drill rig going strong on site right now, and impressive results are flowing steadily.
This activity is expected to continue over the coming months, as it firms up existing prospects, and identifies and opens up previously underexplored areas.
The best part of all, GPR is fully funded for the better part of 12 months of exploration to target a maiden resource and scoping study – owing to a funding injection of $23M
Yet currently GPR is capped at just $35M.
Following the recent injection of funds, 70% of the stock is held by resource specialist funds. The stock is effectively off-market and rarely traded.
Top 20 shareholders at GPR hold 85% of the shares, including senior management and directors – so the folk in charge are leveraged to company success here
This tightly held ownership means the stock could move quickly on significant exploration results as the company moves to defining its maiden JORC resource and completing a scoping study.
GPR is on track to become a trailblazer in copper/gold exploration by opening Cambodia's first ever metals mine.
At the same time, it's still early days at the Kou Sa Project, and like all emerging explorers, GPR remains a speculative stock.
Continuing our coverage of: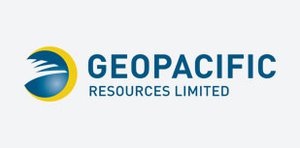 From current humble levels, Geopacific Resources (ASX:GPR) is treading the same path as Sandfire (ASX:SFR) in its bid to become a significant ASX-listed copper/gold producer.
Sandfire is currently capped at $900M – GPR has the potential to go that far – and that's the prize GPR's long term investors have their eyes on. However there is simply no guarantee GPR will grow to this size. Investors should seek professional advice before choosing to invest in this stock.
Our first article on the company, Fully-Funded ASX Explorer Following in Sandfire's Footsteps covered all the essential details. In this article, we continue our coverage of this intriguing explorer operating in Cambodia.
As the company moves swiftly toward a maiden JORC resource, regular drilling updates are providing investors with plenty to go over.
Dominic Piper, Editor of Paydirt Magazine, is quoted on GPR's strategy and project development in the current economic environment:
"GPR's strategy has clearly been adapted to fit the current climate. The days of long exploration plays, big resource numbers and large capex projects are over for now. Instead, both investors and financiers are looking for projects with low capital requirements at start up. Getting into production and creating cash flow are much more important than building large resources which will cost too much to develop.
Keeping momentum in a project's development is vital at this time in the cycle. As the development pipeline continues to dry up, those companies who are doing low-cost exploration will find themselves ahead of the curve when the cycle does turn and investors are looking for development projects. At this stage, companies such as GPR may be at a premium."
That's a strong tick of approval of GPR's strategy at the Kou Sa Project in Cambodia.
And there is a lot to like about the project – it's looking like GPR can get higher copper and gold recoveries than Sandfire's flagship Degrussa deposit, at a lower cost of production, with much lower capital expenditure to get there.
With exploration ongoing, GPR is targeting an initial economic resource of around 140,000 tonnes of contained copper in early 2016.
Recapping this $35M-capped explorer
GPR is exploring for copper and gold in Cambodia, focusing on the Kou Sa project in the north of the country, near Laos and Thailand.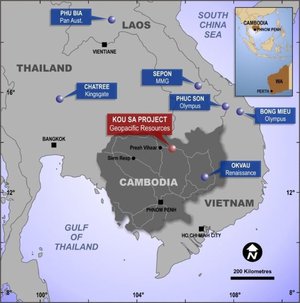 The project is a joint venture between GPR (85%) and the Royal Group (15%) – a Cambodian conglomerate with the local knowledge and connections to see this project through to production (it has JV's in Cambodia with ANZ, Toll and Siemens).
Cambodia is the fastest growing economy in South East Asia with GDP growth at over 10%. Half of the 15 million population is under 25, dynamic and driven to succeed. It's a stable country with significant untapped minerals potential and a pro-development government.
With accessible infrastructure, GPR's project is just a three-hour drive from the major international airport at Siem Reap, has a major bitumen highway running through the tenement with hydroelectric power from the national grid available this year.
GPR is well located with road, rail and port infrastructure being assessed in the scoping study, to establish the best way to get their concentrate to market in future.
GPR has put itself in a solid position to optimise exploration drilling
Using a straightforward geophysics 'sensing' technique, GPR geologists are picking up a strong correlation between geophysics imagery conducted before drilling, and actual copper/gold mineralisation struck by the drill bit.
Geophysics is part and parcel of every explorer's schedule, but what's different about GPR is that the correlations it is seeing at its Project in Cambodia are high compared to what other explorers typically encounter.
What this means is that GPR can avoid drilling dozens of meaningless holes and instead has greater confidence to discover mineralisation at almost every drilling location suggested by its geophysics sensing technique.
Dubbed the ' silver bullet ' in identifying good drilling locations, this technique has helped GPR to 'strike it lucky' on numerous occasions at its Kou Sa copper/gold project in Cambodia.
A promising plot of land is no good without ample funding however, and on this front GPR has outperformed its peers.
Take a look at this video Kou Sa – Kicking Goals Towards Production where GPR's Managing Director, Ron Heeks delves into the details.
GPR's highest potential prospects are Prospects 150 & 160
Currently GPR has a number of prospects it's looking at, with " Prospects 150 and 160 " the most advanced.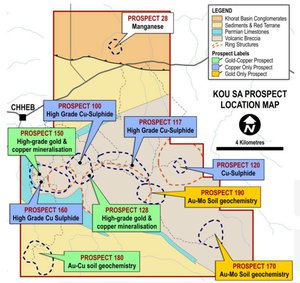 At Prospect 150, the main target of exploration to date, has had several very high grade results achieved while drilling – including a hit of 24m at 11.48 g/t Au and 1.33% copper for 8.47% copper equivalent from 4m.
This hit forms part of a potential 'feeder zone' to the main mineralisation – a sign there could be a lot more gold and copper here than first thought.
GPR has directed much of its focus on Prospects 150 and 160, and expects both to feature prominently in its Scoping Study.
While Prospect 150 may be the leader of the pack, it's by no means the only string in GPR's bow. Prospect 160 is thought to be a replication of the Prospect 150. A rig moved to start infill drilling at Prospect 160 at the end of last week – so we are expecting more results soon.
GPR's exploration momentum growing post capital raise
The $23M in funding secured by GPR is already being deployed for further drilling and exploration.
First and foremost, as we previously forecast, GPR has ramped up its aggressive drilling programme by hauling in two additional diamond drilling rigs. The goal is to complete its drilling programme as quickly as possible to enable a maiden JORC resource to be defined and simultaneously complete a scoping study.
The first step is to test the targets identified by IP geophysics mapping and then initiate infill drilling to prove up a resource.
The good news is that infill drilling as already begun at Prospects 150 and 160 – Kou Sa's most advanced prospects. As we mentioned earlier, a potential 'feeder zone' at Prospect 150 was identified in the latest batch of results, which included 24m @ 11.48/t Au and 1.33% Cu for 8.47% Cu equivalent.
The company published these results just last week:

Continued strong mineralisation abounds here.
This IP geophysics map of the prospect areas highlights recent drilling and indicates the potential scale of the project – areas in red and white are priority targets: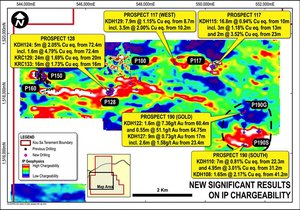 GPR is clearly drilling in all the right places as indicated by the red areas showing high chargeability. These results serve to validate GPR's uniquely successful IP geophysics programme and likely means future exploration will become increasingly straightforward.
GPR's other prospects have produced the following intercepts:

We should see more and more drill results from GPR flow over the coming weeks and months, keeping investors focused on the company.
With three drilling rigs operating 24 hours per day, GPR also has a backlog of samples which are a top priority.
As a part of this, GPR is kicking hard to define its maiden JORC resource and finish its Scoping Study simultaneously in order to progress the Kou Sa project and head into production.
With funding in the bag, GPR is now moving full steam ahead
GPR has secured $23M from specialist resource funds RCF and Tembo Capital as part of a capital raising earlier this year.
With a significant raising complete, GPR essentially has two major shareholders: RCF with 42% and Tembo with 25%.
As 70% of shares are held by specialist resource funds who want to see the Kou Sa project through to production, this effectively means GPR shares are tightly held.
Both RCF and Tembo have long-term ambitions and dedicated management to ensure the Kou Sa project delivers on its potential.
With Top 20 holders securing 85% of all GPR shares, essentially just the remaining 15% of stock is available on market, so opportunities to enter the stock are limited – and once the company defines its maiden JORC resource, it could be even harder... by that stage the company may be valued a lot more than the current price...
At the same time, there are risks involved in stocks like GPR, and there is no guarantee GPR will get the Kou Sa Project into production – its still in the early stages.
GPR is trailblazing in Cambodia with benefits on the horizon
GPR Managing Director Ron Heeks has previously stated that GPR is working closely with Cambodian authorities like the Cambodian Electricity Commission and Cambodian Development Commission.
GPR is also an executive member of industry body the Cambodian Association for Mining and Exploration Companies ( CAMEC ) and is taking a direct role in advising the Ministry to assist in formulating sustainable, formal mining legislation.
Entering an emerging market at ground-floor level, GPR is in a fortunate position.
They can play a role in creating an ideal base for the fledgling mining industry in Cambodia, by working directly with Cambodian authorities and industry bodies such as CAMEC. They essentially have the chance to help mould Cambodia's mining industry from the ground up.
Earlier this year, a Cambodian delegation visited Western Australia on a fact-finding mission – gathering information about the WA Mining industry to help them build a solid framework for mining in Cambodia.
It's worth noting that GPR has already invested political capital in Cambodia with ongoing social programmes, local charity work, infrastructure projects and even a not-for-profit micro-lending scheme, all set up to help local communities in proximity to the Kou Sa project.
Operating in such virgin territory has its challenges, but can also offer big rewards.
With GPR now fully funded and exploration planned out to achieve a future production goal, the opportunities are evident.
---