Gold Resurgence: OGX Stuns Market with Mine Purchase
PUBLISHED: 26-02-2014 13:51 p.m.
Gold is coming back. And our favourite $10 M market cap gold explorer just keeps going from strength to strength. OGX have churned out one positive market announcement after another – and to cap off a flurry of recent activity, OGX stunned the market with the purchase of Sertão – a fully permitted mine 28km from their project. No one saw that coming. Previous owners had a working mine with incredibly cheap cash costs – back in 2004 they were producing for just US$71 / oz. The mine boasts grid power and completed earthworks. Just the place for OGX to construct a cheap gravity gold circuit to process their high grade Cascavel ore and get it to market. This Cascavel ore has been found to give over 90% recovery using a gravity circuit, and Cascavel already has all the permits required to extract ore now. As well as using Sertão as a place to process the high grade Cascavel ore, the Sertão mine still has the potential for even more gold . Previous owners just mined the easy stuff – the soft rock, stopping when things got too hard. Previous drill holes indicate 'mineralised zones' with grades of 119 grams/tonne yet to be extracted. And the previous owners won't let go of Sertão completely – they still want a piece of the upside potential, signing a royalty agreement on any gold OGX can produce from Sertão. As well as some solid infrastructure, all the approvals are in place to start producing sweet bullions at Sertão. OGX have also been working away on the same Faina Goldfields Project and just made a major new discovery – a polymetal target which could prove to be something special . The gold at Cascavel just keeps getting better and better – gravity recoveries at over 90% and recent bulk sampling boasting multiple high grade gold shoots – grading between 24 and 39 grams/tonne. All signs are pointing towards commercial gold at Cascavel and an early production start for OGX – very soon it seems commercial quantities of bullion might be produced by OGX. And with a recent upturn in the gold price, the market is feeling a little more upbeat for gold explorers. Let's see what the coming months bring! Our original report "Lead Geologist Quits Mining Super-Major to Start Own Company After Uncovering Once-in-a-Lifetime Gold Project" goes into great detail outlining why we invested in OGX.

As well as the recent mine purchase, there has been a steady stream of news flow and positive signs for OGX at its flagship Cascavel Project (70% owned by OGX) with a major new polymetal discovery – Tinteiro – on the doorstep of Cascavel. So right now, OGX are at a pivotal point in their short history – in addition to having Cascavel permitted to mine ore from underground, and now owning a fully permitted Mining Lease only 28kms down the road – with their next exploration campaign they intend to:
Define an initial resource at Cascavel;
Generate stockpiles of high-grade gold, and;
Complete a scoping study of the possibility of continuing underground development and either toll treating ore, or constructing a modest gravity plant on site at Sertão.
OGX is in the process of finalising a $4 million cash injection , consisting of a share placement (completed) and a rights issue to existing shareholders. In the event that OGX decide to put a gravity plant on site at Cascavel – they could start production via a low cost gravity gold project. Renowned Analyst and Stockbroking heavyweight Warwick Grigor from Canaccord Genuity has speculated a 300,000 tonnes pa operation costing as low as US $10 million could recover up to 50,000 oz pa . This could result in a cash cost of under US $500/oz . An excellent result even given the current state of the gold price.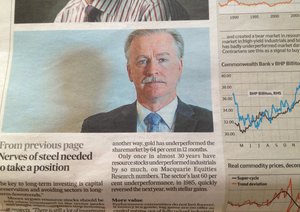 High profile support – Warwick Grigor, as seen in the Australian Financial Review
Once this initial plant is up and running OGX should be able to expand to a much larger operation – with the associated increase in profit!
OGX stuns the market with Mine Purchase
With OGX's projects tracking along according to plan, this week the company stunned the market with the purchase of the Sertão Gold mine and another mining lease from Australian mid-tier gold producer, Troy Resources (ASX:TRY).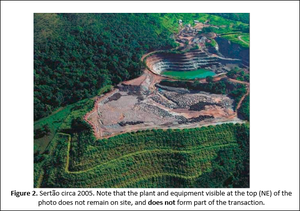 With Cascavel progressing to plan – why did they purchase these assets, and what makes Sertão such a valuable asset for Orinoco? Well, Sertão was Troy's first gold mine in Brazil, and produced over 250,000 ounces of gold at almost 25g/t – at one time it boasted one of the lowest cash costs in the world. In the March 2004 quarter Troy reported that the mine produced 18,472 oz of gold at a cash cost of only $71/oz! We think that one of the key attractions for OGX was that Troy only mined the oxide zone (the soft rock) at Sertão but stopped when they hit the fresh rock . OGX says this is what happened at their Cascavel project 250 years ago when the Portuguese mined the soft rock and stopped when they hit the hard rock – leaving behind the Cascavel Project that is today producing excellent exploration results. Could the mineralisation left behind at Sertão in the hard rock also host significant gold mineralisation? Historic drilling indicates that it could! One of the holes drilled by Troy intersected the 'mineralised zone' over 600m down dip from the old pit (about 250m below the surface) with grades of 119 g/t of gold.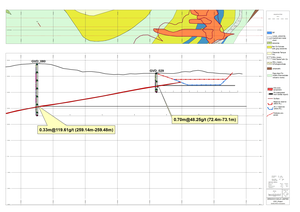 The Next Mining Boom 's view is that Sertão has the real potential to become a second site of potential resources and then possibly production for OGX in the near term. As it is an existing mine, Sertão already has a fully permitted Mining Lease – enabling OGX to make quick progress on any potential. However, for OGX, Sertão has the real and immediate advantage of being the perfect site to construct a gravity gold circuit to process Cascavel ore. We already know that:
Cascavel ore has excellent, > 90%, gravity recoveries;
Cascavel is fully permitted to extract ore from underground development;
Cascavel has multiple high grade gold shoots grading between 24 and 30 g/t .
The Sertão site is just 28km from Cascavel, and already has grid power connected and earthworks completed – remember that Troy have previously operated a mill on site. It appears to be a logical move to put in place a gravity plant to process the Cascavel ore – and maybe in the not too distant future to process any ore that is discovered at Sertão itself . Troy and OGX have agreed a royalty on the first 180,000 ounces of gold produced from Sertão – a clear indication that both companies believe in the remaining potential of the mine – based on past drilling results. Also keep in mind that OGX have also recently teamed up with Aussie neighbours in Brazil, Cleveland Mining (ASX:CDG) who can start toll treating the OGX gold – more on that below. For OGX this means they don't have to immediately build their own processing facilities on site – saving a pile of cash and months of time .
Our Track Record
Regular readers of our sites will be familiar with our long-standing interest in reporting on high potential stocks that we uncover. To note just a few:
The past performance of these products are not and should not be taken as an indication of future performance. Caution should be exercised in assessing past performance. These products, like all other financial products, are subject to market forces and unpredictable events that may adversely affect future performance.
OGX – the Talk of Analyst Town
A number of well-respected analysts have caught on to the early stage potential of OGX. Canaccord Genuity in particular travelled to the OGX exploration projects in Brazil, and in the follow up, released a note showing genuine excitement for the company:

It's pretty hard to get Canaccord as excited as that. Canaccord have a very healthy reputation – author of the above coverage, renowned Analyst Warwick Grigor, recently called Kimberly Diamonds (ASX:KDL) upon listing – before it multi-bagged 4 times over: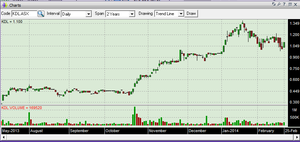 The past performance of this products are not and should not be taken as an indication of future performance. Caution should be exercised in assessing past performance. This product, like all other financial products, is subject to market forces and unpredictable events that may adversely affect future performance. We can see why Mr Grigor was so impressed by OGX – as the Canaccord team managed to go down into the mine and chip this gold straight off the rock: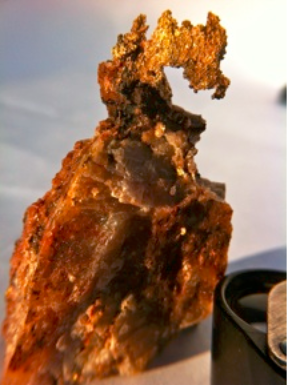 Not sure if this sample they pinched made it back through Australian Customs
The high grade visible gold that can be witnessed truly is spectacular. In fact, one of the members of The Next Mining Boom has also been over to OGX's ground and witnessed the gold first hand. Here is another picture from Canaccord's field trip: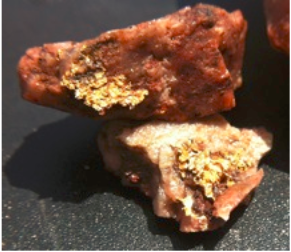 The concept of 'low cost' gold producer starts to make even more sense when visible gold can be so easily chipped off the rock surface like this!
High Grades Found in Bulk Sample
Early in 2014 , OGX edged one step further to becoming a gold producer, by releasing the first stage of their bulk sampling results. For those new to mining, bulk sampling basically takes a large chunk of the mineralised rock, selected to be representative of the ore body. OGX have gone down this path as they are sitting on "nuggetty" gold – pencil thin drilling is just not enough in gold like this – the chance to miss a massive cluster of gold is too high. From their 31 tonnes of bulk samples, the results were quite impressive. Of the three different material types that were tested, one 9.8 tonne sample of representative rock had an average gold grade of 8.5 g/tonne – a very high result given that it was from an area already mined by the Portuguese. This result reinforces OGX's confidence in their mine location and validates the high grade nature of the project. Interestingly and very importantly – the sample consisting only of material from a high grade shoot returned a grade of 24 g/t . It is specifically this material that OGX have said they wish to focus on in their underground development.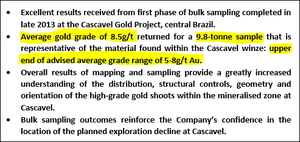 To get a glimpse of some of the gold that these bulk samples contained, just take a look at these gold bars: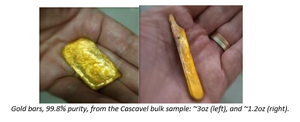 Gold recoveries of 94% – from a gravity circuit
Another OGX result came in late last year – impressive recoveries from a gravity circuit. Even using a coarse grind of 1mm (trust me, this is coarse for gold mining), they achieved a gold recovery of 94% from a simple gravity circuit.

Why is this important? Well it means OGX are further trimming down both capital and operating costs. Applying gravity only to the extraction of the gold is much simpler and cheaper than a circuit requiring cyanide. Since this announcement, OGX have made strong moves to minimise processing costs – either toll treating with CDG – or using their own facility at the recently acquired Sertão mine – in any case it appears that OGX are very keen to fast track gold production in the most economical way possible. It doesn't cost much to get a simple gravity circuit up and running. Another Aussie junior the Next Mining Boom has covered – Cleveland Mining ASX:CDG , installed a gravity circuit up the road from OGX for a few million dollars . OGX has a strong advantage in that it won't be necessary to prove up a large resource before making the decision to mine – it only needs enough gold to justify and underpin an investment for just a few million dollars . Quite an advantage, when compared to other low grade gold projects where initial capital expenditure is often upwards of $100 M .
Cash Saving Toll Treatment Agreement Signed
As mentioned earlier, in addition to the Sertão option for siting a plant, OGX recently announced a 'toll treatment' agreement with CDG. CDG will process material mined from OGX's project, which is within trucking distance – only approximately 120 km away.

This is a win-win situation for both OGX and CDG. CDG can establish a good positive cash flow and OGX are saving big dollars and time, by not having to establish its own processing facilities on site. With this move, OGX can fast track their understanding of the size of the resource at Cascavel, using cheap processing from a neighbour and then evaluating the quality of the material. A smart move by management and a tick in our book to get some early cash flow. We also wouldn't be surprised one day to see the two company's get together in a more formal sense – that is, we see OGX as a takeover target or the potential of a merger between CDG and OGX at some time down the track. To us, a deal would make sense – depending on the conditions of course. But for now, a toll treating agreement is a great deal for both camps.
Not Just Gold – a New Poly Metal Target for OGX
OGX's silver results have certainly given the market an interesting ride since the company's existence. The first assay of 17.6m at 40oz per tonne silver back in May 2013 sent the market in to a frenzy, within the space of a few weeks the OGX share price rose almost 60% – hitting a high of around 39c . Subsequent drill holes from the same program were a little less exciting – although they showed wide spread silver mineralisation. However in October 2013, OGX announced further high grade gold and silver was intercepted . OGX are still confident that they will a high grade silver resource around the Cascavel project, however from the geological interpretation, it seems OGX may well have a much bigger target on their hands – a potential IOCG system. This poly metal target is now referred to as Tinteiro.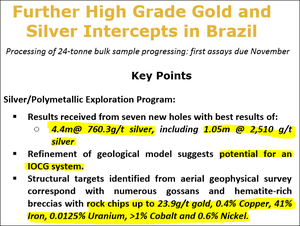 IOCG stands for 'iron oxide copper gold' – for more info on IOCG deposits, check out The Next Small Cap report on CXO , who are targeting these deposits in outback Australia. Whilst very early days at Tinteiro, there does exist high potential, the OGX head geologist and Warwick Grigor from Canaccord both agree:

It's not often that you get geophysical targets coinciding with structural targets coinciding with geochemical targets – anomalies measured in grams per tonne – not in parts per billion! All of which correlate with high grade silver (plus copper) in drill holes on the edge of the system. Not that long ago you would have seen companies listing on targets that don't have this level of prospectivity... yet here OGX are – under valued at a $10 M market cap, on track to produce and with blue sky poly metal potential. The Next Mining Boom will be watching the exploration of this poly metal target closely.
What's Next for OGX?
OGX is in the process of finalising a $4m raising , consisting of a share placement (completed) and a rights issue to existing shareholders. These funds will be used to advance the Cascavel Project towards a maiden JORC resource, specifically:
Development of an exploration decline into the mineralised zone and infill drilling;
Commencement of a Scoping Study, and;
Making the final retention payment on the Cascavel and Tinteiro Projects.
In addition to the steps above, OGX will soon look forward to early cash flow from OGX's toll treating agreement with CDG. The Next Mining Boom will be watching OGX for the following near term catalysts:
Definition of a maiden resource at Cascavel;
Potential definition of a maiden resource at Sertão;
Toll treat, or save for a small gravity plant, the high grade stockpiles sitting at the surface at Cascavel (from the planned exploration decline);
Exploration success at Cascavel – the exploration decline will prove exactly how many high grade shoots there are in the area being explored at Cascavel, and;
Exploration success at Tinteiro – either in the key targets identified by OGX or in the high grade silver.
To stay updated with all the OGX updates as they come to hand, like OGX on Facebook or follow them on Twitter .
---