Freshly Funded Ram on Track to Start Drilling
PUBLISHED: 11-04-2017 11:07 a.m.
Zinc prices have been on a persistent trend higher since the end of 2015, and this trend continues to roll on as we keep track of Ram Resources (ASX:RMR), a freshly-funded zinc explorer that has every intention of scooping itself a burly zinc Resource over the coming months.
In fact, a maiden drilling programme is on track for RMR to deliver an expanded JORC Resource within months.
The news hot off the press is that RMR is now funded to the tune of $3.5 million , in order to capture a zinc Resource at its Keel Zinc Project, and then move onto commercialising it on world markets screaming out for high-grade base metals supply.
This imminent maiden drill programme is aimed at expanding the initial Resource estimate.
RMR has identified a large zinc mineralisation system, with a high grade zone. It is this system that will be tested during the maiden drill.
The company is also looking to generate new exploration targets as it leaps towards expanding its JORC.
However, the company is in its early stages and investors considering this stock for their portfolio should seek professional financial advice for further information.
As all mining investors know, obtaining a JORC Resource is more of a gradual collation exercise, as if compiling a scrapbook — rather than a binary checkpoint whereby a Resource materialises overnight.
For RMR, its Resource-building mission in Ireland is progressing nicely, now with plentiful ammunition on board to successfully slalom its way through the explorational checkpoints all explorers encounter when scouting for high-grade ore.
Something that looks a bit like this: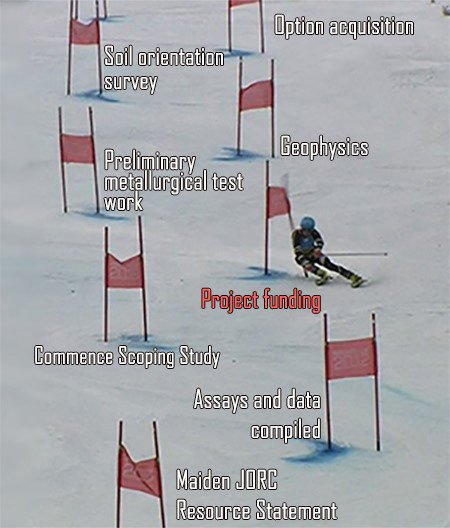 As we speak, RMR is actualising its own set agenda in Ireland.
With the expectation that RMR is set to start its Scoping Study by June 2017, leading to the establishment of an expanded JORC Resource in September, the next few months should be rife with news.
So, without further do, we catch up with: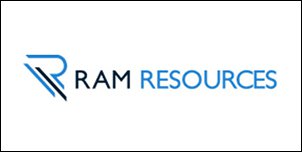 Ram Resources

Ram Resources (ASX:RMR) is turning out to be a rather diligent small-cap explorer, operating in the metals wonderland otherwise known as Ireland.
We first wrote about RMR in March 2017, in our article, 'Zinc Supplies Shrivelling as ASX Explorer Fast Tracks JORC Resource' .
At the time, RMR had picked up an alluring option for a prospective zinc project in Ireland, and was considering making a firm commitment to developing the Keel Zinc Project all the way through to production.
The great news is that RMR is now funded to the tune of $3.5 million in order to progress Keel...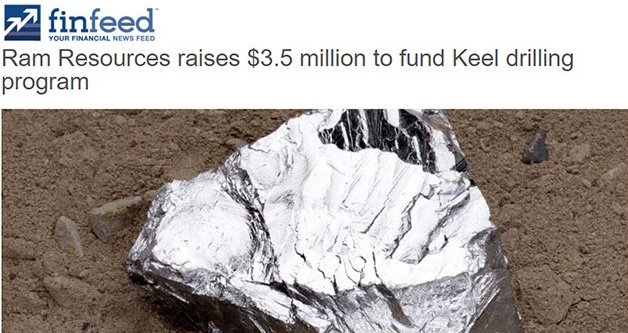 Made public only last month, RMR added $3.5 million to its exploration war-chest by issuing 70 million ordinary shares at 5c. The funds will be released progressively; with one tranche already received, and the other due later this month.
All the funds are expected to be deployed at exploration; and facilitating RMR's slalom to commercialisation. In other words, RMR will be conducting several Resource drilling programmes, looking for additional extensions to known areas of mineralisation and hopefully, shifting increasingly more ore from the Inferred to Indicated to Measured categories.
RMR's drilling will also be overlaid with modern geophysics which is likely to assist in all of its objectives i.e. firming up knowledge of existing resources, but also, helping RMR expand its horizons in the area.
If we look around Keel, and Ireland as a whole — it's clear that RMR's local area is one of the most metals-rich zones in the world
Keel sits close to mines and existing metals projects that are considered 'world-class' by mining analysts.
Since 1960 Ireland has had a string of significant zinc-lead discoveries with an estimated 14 million tonnes of zinc metal being found, ranking it first in terms of Zinc discoveries per square km, and second in the world for lead discovered per square km.
The Keel Zinc Project is situated in County Longford, south of Longford Town in Ireland. RMR's project area, covering 66 km 2 , is comprised of two Prospecting Leases P185 and P186.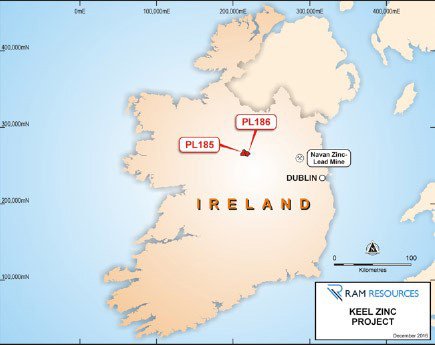 RMR's tenements are surrounded by agricultural land without any difficult heritage or greenfield areas to be worried about. Also, RMR's operational space is poorly drained pasture and minor forestry land. Again, this negates any tricky permitting issues and de-risks the Keel Project to some extent.
Both tenements have been held by major mining companies since the 1960s, including Prospect Rio Tinto Finance & Exploration Plc (1963-2001) and Lundin Mining (2006-2012).
Historical diamond drilling by Rio Tinto, Boliden Group, Lundin Mining and others has delineated two main mineralised horizons more than 1km in length. Zinc, lead and silver grades from annual reports are high grade sitting within the Keel Fault system.
Ireland has widespread carbonate succession known as favourable hosts for Zinc deposits. The main area of carbonate occurs in the world class ore field of the Central Ireland Basin mineral province. The Keel Zinc Project sits within this central Ireland Basin. The Central Ireland Basin is dominantly formed by Navan Group Beds and shallow water carbonates.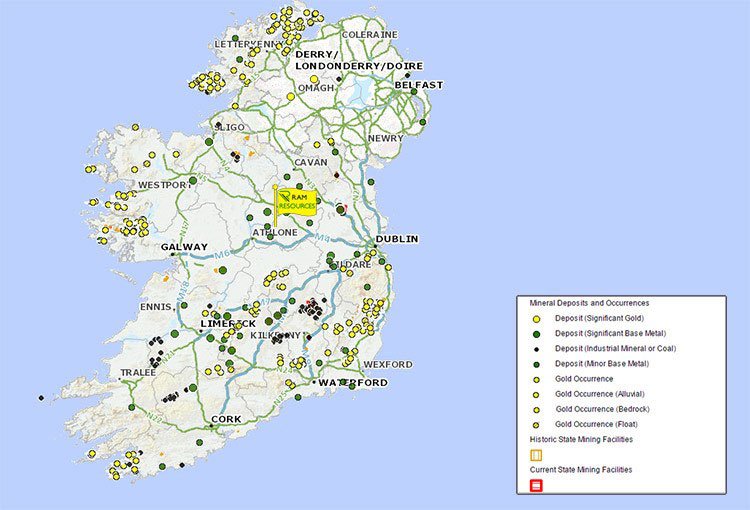 Less than 100km away from RMR, is the Tara Underground Mine with over 100 million tonnes of production already recorded. Ireland is one of the largest exporters of zinc concentrate to Europe and beyond and is considered to be in top 10 regions for total zinc production annually, according to the Fraser Institute.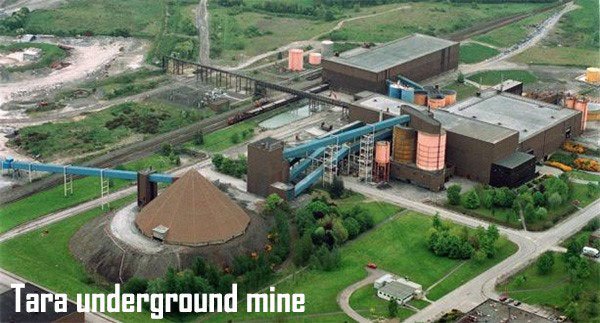 RMR's two prospects (PL 185 and PL186) that make up the Keel Zinc Project, are located close to the centre of Ireland, and with plentiful export options as and when RMR gets to the economic viability side of things.
As part of the deal to acquire Keel, RMR also inherits over 40,000m of available drill data, from historic drilling campaigns. This data will provide great insights about where exactly to deploy RMR's drill-bits and Resource drilling.
With this data being worked on and interpreted by RMR, we hope to see RMR's drilling deliver something tangible over the coming months as its maiden drilling programme moves into action.
Of course, nothing is guaranteed here, and this company is still in the early stages of exploration, so investors should take a cautious approach when considering this stock for their portfolio.
Let's run through some of the acquisition highlights and look into RMR's project jewel on the Emerald Isle
RMR chose to exercise its option to acquire Keel after running through formal due diligence procedures over the past few weeks . With the option now exercised, there is no going back.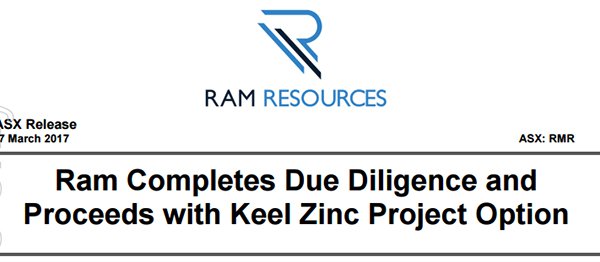 RMR has two prospecting licenses (PL 185 & PL 186) with which to progress its zinc intentions in Ireland. In tandem, the licenses cover around 66km2 with the potential for zinc, lead and silver mineralisation.
The main target, Keel Prospect, consists of two main mineralised horizons more than 1km in length. The acquisition sees RMR given immediate access to an extensive historic exploration database to fast-track expansion of the JORC Resource in 2017 including more than 257 drill holes completed by Rio Tinto, Boliden Group and Lundin Mining between 1963 and 2012.
Previous development work includes completion of a production scale development shaft (5m x 5m to a depth of 175m) and approximately 40,000m of drilling within the region.
The initial Resource-count look like this (for now):
As you can see, the extent to which RMR understands its underlying geology is growing month by month. RMR is working with over 200 drill holes, over 250 occurrences of high-grade zinc >2% Zn and has over 40,000m of existing data to chew through.
This is a great early sign because it means RMR is highly likely to improve upon its current JORC classification, simply by re-evaluating existing data, without additional drilling even being done. With additional drilling and resource expansion, RMR could potentially build-up a significant portfolio of metals with zinc at the forefront.
Here is RMR's estimate of Keel's zinc resource, charted: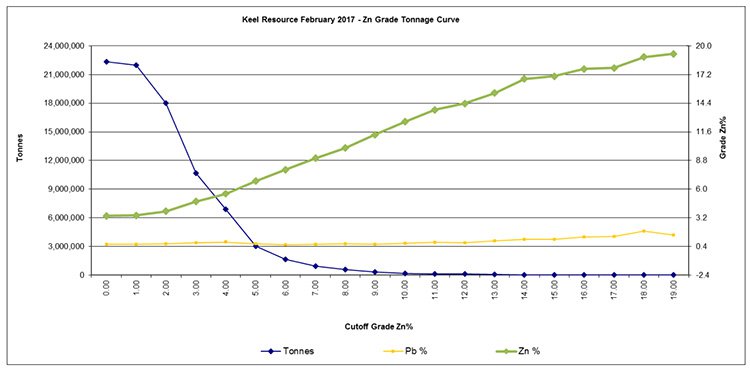 The first area of interest is the Keel shaft, which has several prospects pooled together within a small area (as shown by blue dots in the chart below):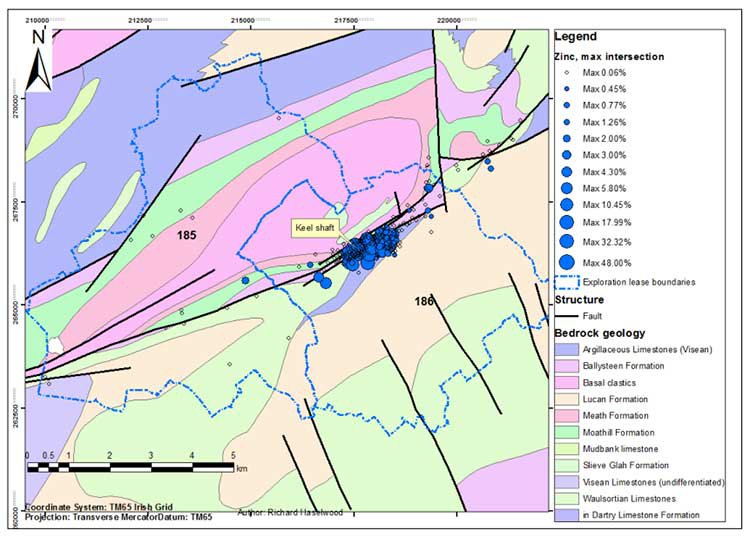 We'll be watching RMR's news flow with a keen eye over the coming weeks, as these and other targets are drilled and verified by RMR's exploration.
Assuming RMR delivers ample high-grade zinc from Keel — what's the potential upside?
From a market viability perspective, RMR is ideally placed to leverage a metals recovery, underpinned by a resurgence in global industrial and manufacturing activity. Since the end of 2015, broad commodity prices have been on a recovery path, and some resource commodities in particular, have stood more than others.
As an example; lithium, zinc, cobalt and iron ore have probably set the quickest pace in terms of raw price increases. Take a look at zinc prices over the past 18 months: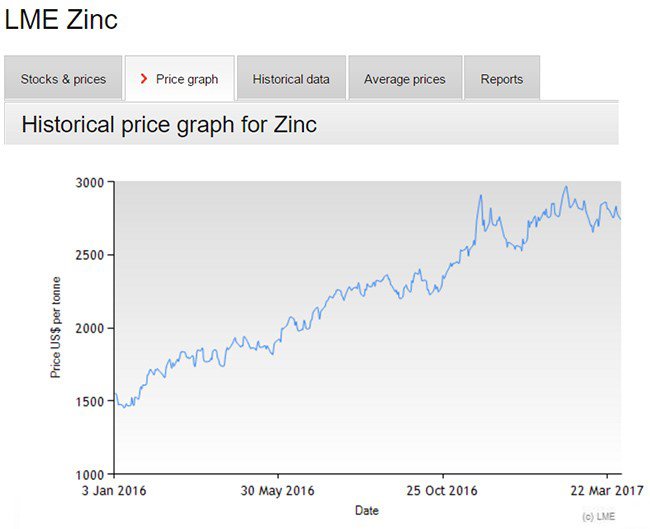 It should be noted here that commodity prices do fluctuate and caution should be applied to any investment decision and not be based on spot prices alone. Seek professional financial advice before choosing to invest.
For RMR to be walking into this kind of market environment, is extremely confidence-inspiring at this embryonic stage of RMR's development...
...and likely to be a huge factor when RMR initiates its Scoping Study and conducts economic viability assessments later this year.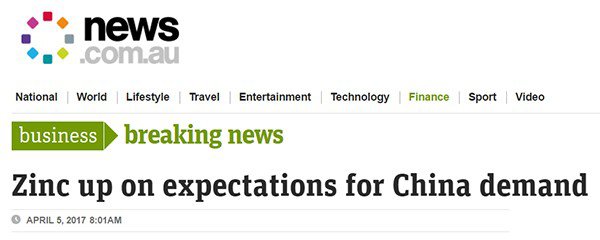 Furthermore, according to a report by Research and Markets, zinc prices are forecast to grow at CAGR of 4% between 2017 and 2021 — that's a rather sweet caveat for RMR to have in its back pocket as it ventures out into the field, collating high-grade zinc deposits into its overall metals portfolio.
Which brings us nicely onto RMR's other metals assets, this time close to home in Australia
That's right. RMR has portfolio options in Western Australia. In similar vein to its zinc ambitions, RMR also secured an 80% stake in the Kimberley West Project.

RMR announced it had secured an option to acquire an 80% interest in the West Kimberley Project last year, and now, has pulled the trigger on exercising this option.
Kimberley West is located 95km north-east of Derby and consists of two tenements, E04/1972 and E04/2314 (both now granted) which cover the north-west extension of the Ruin Dolerite, which hosts Buxton Resources Double Magic nickel sulphide discovery.
Here is RMR's footprint mapped out: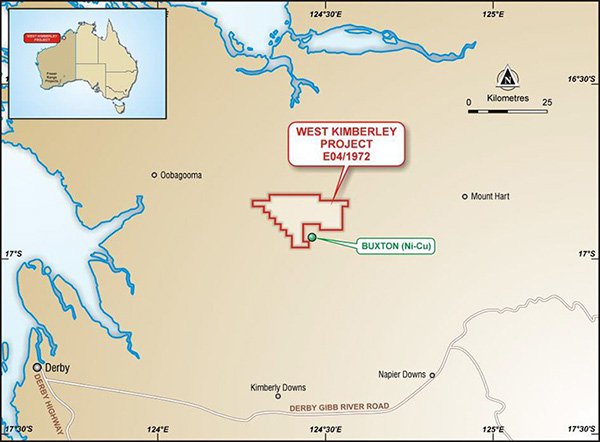 Setting a course for commercialisation
For a small-cap resources company worth just $11 million and priced at $0.05 per share, RMR is most definitely a Resources junior, with an alluring set of assets now being progressed as part of a concerted explorational effort that includes over $3 million in capex funding.
With a string of projects in both Australia and abroad, RMR's most important near-term goal is to complete its maiden drilling programme and publishing an expanded and updated JORC Statement as soon as possible.
As we mentioned in our previous article , RMR's current rate of progress could see it deliver a newly-expanded JORC Resource before the end of 2017.
All Resources investors should already know, the balance of risk in small-cap companies is often skewed and volatile, but by the same token, such parameters generate the possibility of outlandish returns mythologised in investment chat-room folklore. In other words, "swinging for the fences, hitting a home run, and reeling in a hundred-bagger" — in colloquial parlance.
In the interim, RMR has exercised its Keel option with the support of additional funding and a slew of positive exploration data. The next stop for RMR is to substantiate all the high expectations attached to Keel with solid drilling and geophysics results. These should be forthcoming over the coming months which adds the news-flow catalysts required to advance any stock.
Here is an outline of the timing, so grab your calendars and set those reminders: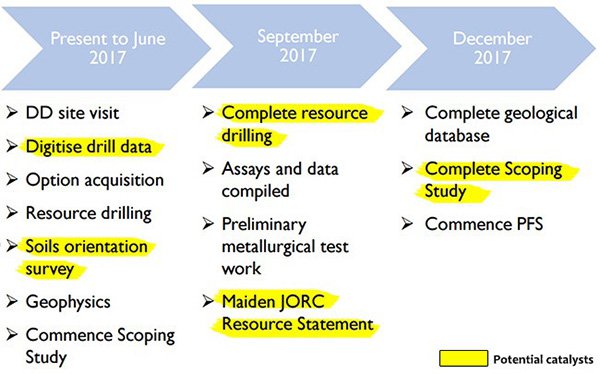 The next immediate steps include digesting the reams of historical data from previous exploration and completing its resource estimate and Scoping Study. RMR's strong management and technical team has access to ample cash and a war chest of historical exploration data that could be leveraged into a shortcut to higher zinc resources, higher zinc grades and an earlier move into production.
The zinc mining space has seen a shortage of mine developments or advanced projects in the pipeline for quite a while. Not only that, but the Keel project has never been exposed to 3D modelling or any modern exploration methods; this again adds credence to the idea that RMR may do what Rio Tinto,Boliden and Lundin could not — prove up an economically viable zinc Resource worthy of world markets.
RMR expects to start a Scoping Study by September Quarter 2017 followed by the establishment of a new JORC Resource Statement in December Quarter 2017 with a view to completing the Scoping Study and commencing a Prefeasibility Study (PFS) by the end of 2017.
There has been a dearth of zinc exploration or additional zinc supply to world markets for over 5 years. In parallel, the Tesla-led lithium-powered energy revolution, combined with resurgent demand for steel and industrial production, has reinvigorated the economic prospects of previously uneconomic zinc projects...
...and catapulted junior explorers like RMR into the crosshairs of opportunistic small-cap investors, ready to make a buck from a metals resurgence that's going global.
---