Exploring for Gold Amongst Giants in Africa
PUBLISHED: 18-07-2019 10:10 a.m.
Today's ASX junior is exploring in western Mali — a region that hosts the world's third largest gold endowment.
Surrounded by world class multi-million ounce gold mines, the company's land package is in an excellent geological and structural location, covering a significant strike extent over two highly prospective and proven structures.
These structures are the Senegal-Mali Shear Zone (SMSZ) and the Main Transcurrent Zone (MTZ) and they host some of the world's largest and best known gold producers.
Capped at $37 billion, Barrick Gold Corp (TSE:ABX) is a major player on the scene, while the $105 billion AngloGold Ashanti (JSE:ANG) is also mining gold here.
Other billion-dollar companies with mines in the area include B2Gold (TSE:BTO), Endeavour Mining (TSE:EDV), Iamgold (TSE:IMG) and Resolute Mining (ASX:RSG).
That being said, this is a region that still remains largely underexplored.
Previous exploration has taken place on the company's landholding — delivering highly encouraging results — yet this exploration was not systematic and many targets remain undrilled, leaving some real opportunities for today's explorer.
Armed with an extensive geological database with multiple high priority drill-ready targets, drilling is now underway.
In fact, the first phase of assay results are just in from a recently completed shallow RC drilling program. These initial assay results highlight significant multiple lodes of mineralisation — a solid endorsement of the prospectivity of the wider project area.
This all comes amidst a recent surge in the gold price that has seen it hit a six-year high of US$1443 per ounce, and it isn't showing any signs of abating.
Commodity analysts at Bloomberg Intelligence suggest that the fundamentals point to brighter days ahead for gold prices and that a breakout is imminent.
From a macro perspective, that bodes well for today's ASX explorer, while a series of potential catalysts are due over coming months as drilling results roll in and exploration progresses.
Headed by a management team with extensive African mining experience, the company has recently raised capital and will convert all outstanding debt to equity at a substantial premium to the current share price, which leaves the company essentially trading at its shell value.
With a market capitalisation of less than $3 million, it appears that the considerable exploration upside potential is yet to be recognised by the market, despite drilling being underway and this week's reporting of high grade gold being identified in new gold zones.
Introducing,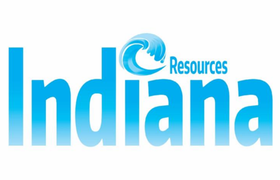 Indiana Resources Ltd
ASX:IDA
Share Price: 2.4 cents
Market Capitalisation: $2.84 million
Here's what I like about Indiana Resources: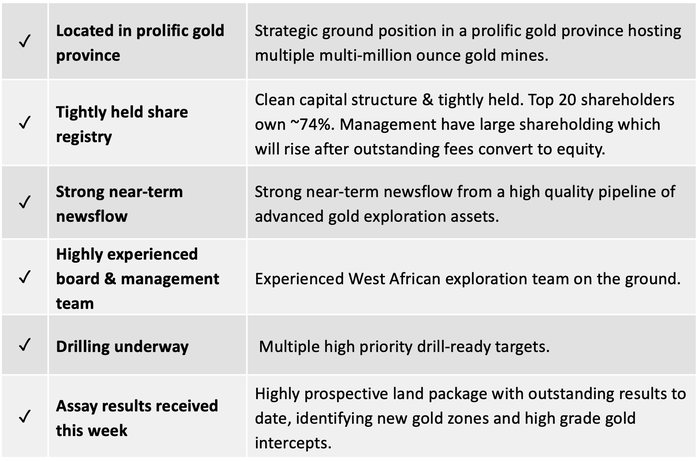 Gold-focused Australian exploration company, Indiana Resources (ASX:IDA) has secured a highly prospective land package in Mali and is looking to aggressively grow its portfolio.
IDA also has a significant development asset in the Ntaka Hill Nickel Sulphide deposit in south-eastern Tanzania. While I'll summarise what's happening at that asset shortly, the focus of today's article is on the company's core gold projects in Mali.
West Mali Project
IDA's activities are currently focused on its prospective gold exploration licences in West Mali, in the prolifically gold mineralised Kenieba Province, located approximately 550 kilometres west of the capital city of Bamako.
This province hosts multiple operating gold mines, along with a number of gold development and exploration projects. One of those is IDA's project, the West Mali Gold Project that comprises multiple exploration licences covering 363km2 of high prospective ground.
The company, through its subsidiary Mukuyu Resources has been exploring in Mali since 2013. At that time it was fortunate to have some in-roads and connections to acquire privately held ground in Mali, which is said to be hard to come by in that country.
IDA first started its activities in the region by acquiring the Koussikoto Ouest and Keineko Nord tenements from one of their current major shareholders, Peter Anderton — who was one of the team responsible for the original discovery of the renowned Riversdale coal assets in Mozambique and remains a major supportive IDA shareholder.
Soon after, IDA consolidated nearby ground, adding the Koussikoto, Kossanto West and the Saboussire licences to the mix.
It's this package of licences that comprise IDA's West Mali Project in the well-endowed Kenieba Province of western Mali, as mapped out below.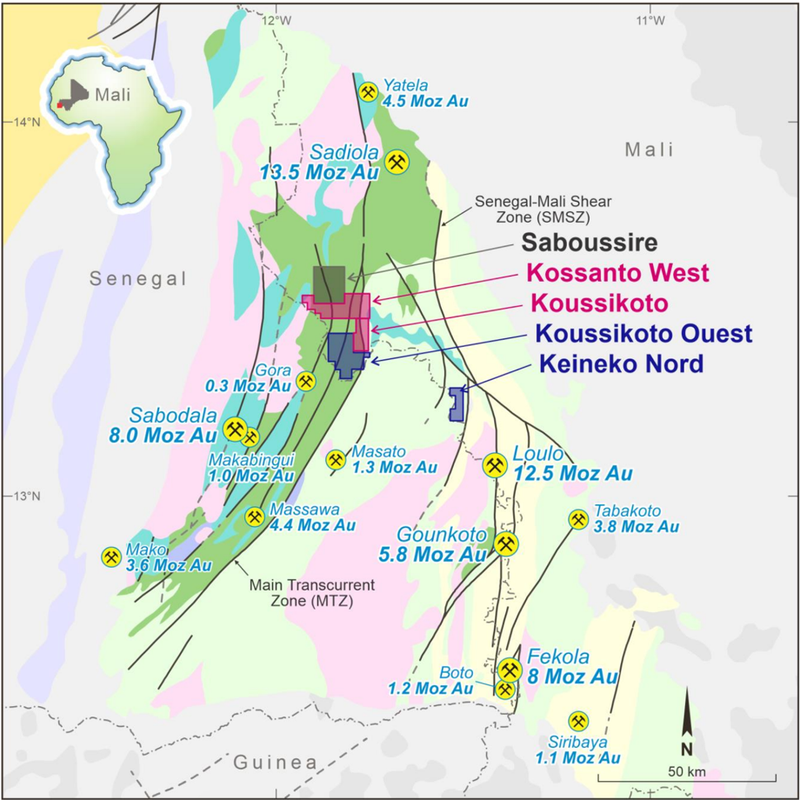 You can see the two highly prospective and proven structures — the Senegal-Mali Shear Zone (SMSZ) and the Main Transcurrent Zone (MTZ) — one going from Mali into Senegal and the other more or less straddles the Senegal-Mali border. These are interpreted to be the major structures controlling mineralisation in Western Mali and Eastern Senegal.
All up, IDA has managed to consolidate quite a decent land package, especially in the well-regarded West Mali region.
The land package has experienced minimal modern exploration to date hence preserving the exploration opportunity and IDA stand ready to commence a systematic exploration program.
The company's immediate focus is on Koussikoto Ouest, where high grade gold was identified in new zones, as announced to the ASX earlier this week. Before I explain these results, I want to highlight the impressive nearology of the company's landholdings.
Kenieba Province, Mali — A Golden Location
Indiana's project is situated in a highly prospective area which includes world class discoveries and mines with multi-million ounce production profiles.
The company's licences cover a significant strike extent of the highly prospective and proven SMSZ and MTZ structures, which host some of the world's largest and most profitable gold producers.
As can be seen in the above map, the region hosts a number of multi-million ounce gold projects including:
- Randgold Resources' Loulo-Gounkoto operation (12.5Moz + 5.88Moz);
- Anglogold Ashanti and Iamgold's Sadiola Gold Mine (13.5Moz);
- Teranga Gold's Sabodala Gold Mine (8Moz);
- B2Gold's Fekola Mine (8Moz); and
- Resolute Mining's Syama Gold Mine.
Headlines such as this hint at the potential on offer...

As explained in the article below, "As major mining companies and juniors alike take notice of some of the massive finds in the Senegal Mali Fault Zone, merger and acquisition (M&A) activity is beginning to heat up in the region".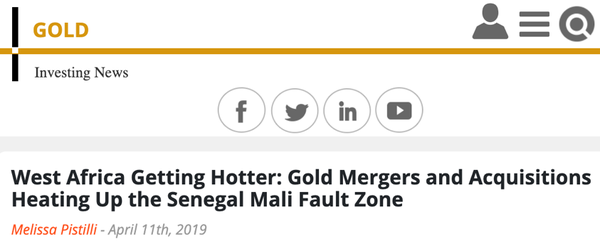 At the smaller end of the market there's Oklo Resources (ASX:OKU) which is at a similar stage in relation to IDA and with similar results to date, yet is capitalised significantly higher, at $46 million compared to IDA's sub-$3 million.
The region continues to attract explorers. Of note is African Gold (ASX:A1G) — a vehicle controlled by Steve Parsons, Evan Cranston and Tolga Kumova — which has just acquired a land package in Mali.
This is a country that is a well-managed, long-standing, globally significant gold mining jurisdiction and most importantly, it is where Tier-1 deposits can be found.
These structures are part of West Africa's extensive Birimian Greenstone belts that span Côte d'Ivoire, Burkina Faso, Ghana, Guinea, Mali, Niger, and Senegal.
IDA's West Mali Project covers an extensive strike over the SMSZ and MTZ structures — the number one reason that these licences are so promising. For some context, the region is similar geologically to Western Australia and therefore involves similar exploration techniques.
New zones of high grade gold at Koussikoto Ouest Licence
Earlier this week, IDA announced that it had identified high grade gold in new zones at its West Mali Gold Project.
The new zones were identified from the first phase of assays from its recently completed shallow RC drilling programme at Koussikoto Ouest License.
Koussikoto Ouest is located at the southern end of its West Mali Gold Project and within the highly prospective and proven MTZ structure, which hosts multiple world class deposits.
The 1,740 metre RC drilling program comprised 24 holes, and so far IDA has received results for 16 of the 24 holes which included:

Results for the remaining 8 holes are expected shortly.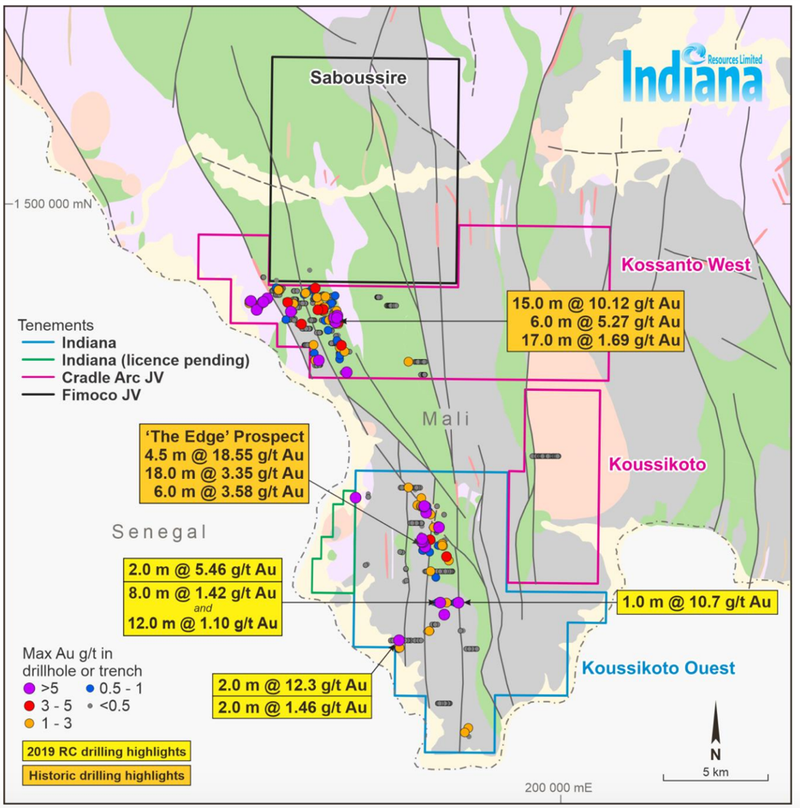 This program at Koussikoto Ouest is testing high priority soil geochemistry anomalies and following up significant drill intercepts from 2018 drill program (including 8m @ 3.37g/t Au from 12m and 5m @ 4.86 g/t 2 Au from 12m) and historic drilling.
Anomalies A1 to A10 were identified during a recently completed review of historic soil geochemistry data. These anomalies range up to 5,000 metres in length, with only A1 ('The Edge') having been previously drill-tested (recent and existing results can be seen on the map below).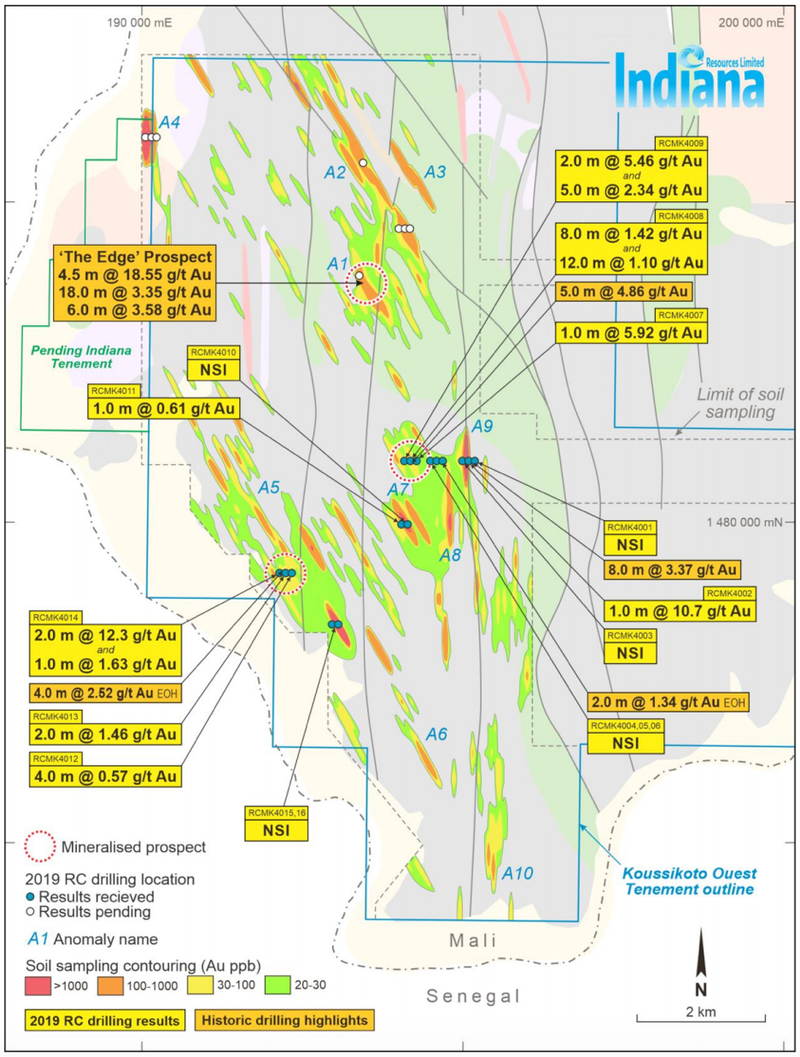 These assay result have identified two new significant zones of mineralisation at anomalies A5 and A7 North.
The following cross sections provide greater detail on Anomaly A5 and A7.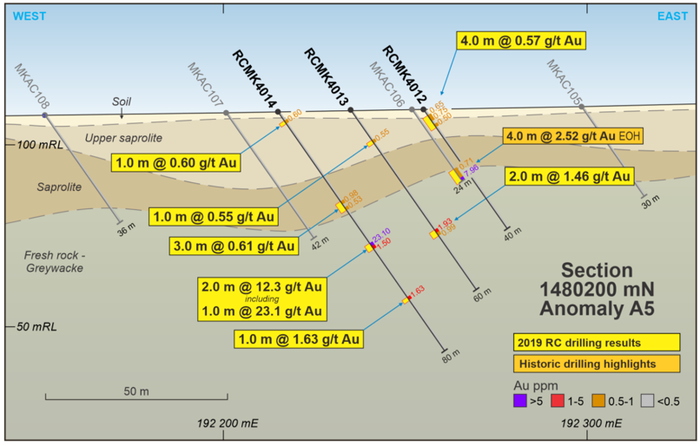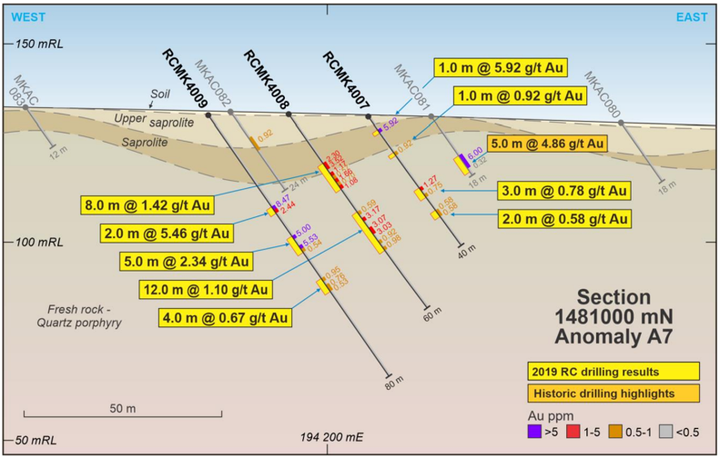 Highlighting the promising nature of these results and their significance in shaping future exploration activity, IDA's Chair, Bronwyn Barnes said, "These initial results are a solid endorsement of the prospectivity of the West Mali Gold Project area. We look forward to receiving the results for the remaining holes and the soil geochemistry program. This will enable our team to review existing data combined with the new data sets and design follow up exploration activity."
The following Finfeed.com article discuses those results: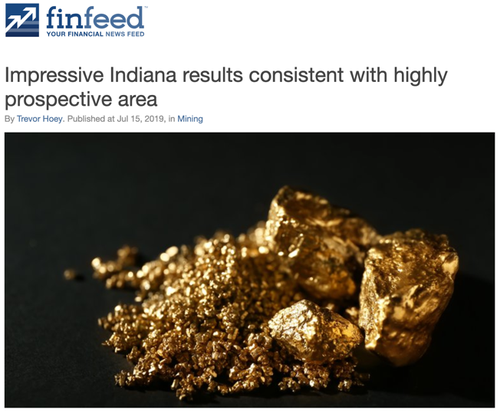 Tanzania - Ntaka Hill Nickel Sulphide deposit
Significant exploration and project study work has been previously carried out at IDA's Ntaka Hill Nickel Sulphide deposit in south-eastern Tanzania.
The open pit nickel sulphide resource has 356,000 tonnes of contained nickel. Interestingly, nickel has been on a bit of a run in recent years, while there's also been a large scarcity and search for nickel sulphide projects.
However, Ntaka Hill was unfortunately caught up in the Tanzanian government's change in the mining code and regulation, including a crackdown on foreign investment.
Fortunately, the situation for exploration companies in Tanzania looks to be improving with a bit of clarity around the mining code. Some companies — including Strandline Resources who have been granted their mining licence.
Prior to that debacle, the company was capitalised in the region of $30-$35 million, reflecting the quality of the project.
And while this project is not the main focus now, IDA continues to hold discussions with the Tanzanian government to seek a resolution on tenure.
Political issue aside, Ntaka Hill remains a high quality asset that's had around US$60 million worth of investment poured into it from the previous JV partners, MMG and also Fig Tree. There has also been significant corporate interest in the asset, so once the tenure situation is resolved, the project will be revisited.
Well-funded for exploration
In late June, IDA announced the successful completion of a share placement, bringing onboard a number of new, high quality sophisticated and professional investors, and raising $300,000 (before costs) at $0.024 per share.
The successful completion of the placement positioned IDA to proceed with the next stage of the equity raising which is currently underway — a rights issue to existing shareholders to raise up to $1.3 million (before costs) via a one for every two non-renounceable entitlements offer at the same price of $0.024 per share.
This is part of a recapitalisation of the company. Originally there was $300,000 in debt. This will be converted to equity at 6.0 cents, so it's a significant premium to IDA's current share price and also the price of the entitlements issue.
This cap raise is expected to leave the company debt free as at 8 August — the day of the general meeting.
Strong Management Team
Company directors Bronwyn Barnes, Robert Adam and Steven Zaninovich, will also be upping their holding, with their directors' fees (c. $100,000) converting to equity in lieu of cash for the period ending 30 June 2019, pending shareholder approval.
This management team comes with extensive African experience. Non-executive chair Bronwyn Barnes is also a non-executive director of ASX and London-listed MOD Resources which has a project in Botswana and is the subject of an acquisition bid by the $1.1 billion capped Sandfire Resources.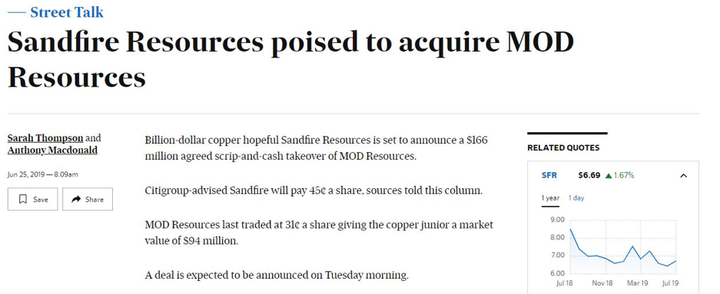 Barnes has had an extensive career in the resources sector, having worked with companies ranging from Western Mining Corporation and BHP to emerging juniors in directorship, executive leadership, and operational roles.
Non-executive director Bob Adam has 40 years of experience in the resources industry, having a proven record of achievement in project development, management and operational improvement. He has worked extensively in West Africa with a demonstrable record of success. Bob has particular experience in Guinea and Tanzania, so is driving a lot of the Tanzanian discussions.
Steven Zaninovich also comes with extensive experience in Mali and is also a non-executive director of Canyon Resources which has multiple African projects. Steven was previously Chief Operating Officer at Gryphon Minerals, which was successfully sold to Teranga Gold in a US$63 million transaction in 2016.
The company is currently interviewing a number of people in its process to elect a new managing director, each having extensive experience in Africa and in particular, developing exploration stage gold projects.
A final word
IDA has an extensive geological database with multiple high priority drill-ready targets.
This highly prospective land package in a proven region that hosts Tier 1 deposits, such as Anglogold Ashanti/Iamgold's Sadiola (13.1Moz) and Randgold Resources' Loulo (12.5Moz).
With a recently completed 1,700m RC drilling program and first assays already in from the Koussikoto Ouest licence, expect strong near-term newsflow from IDA's high quality pipeline of advanced gold exploration assets.
Other soil geo-chem results from the adjacent tenements will flow in and feed through the second phase of the results (another 8 holes) due in the next few weeks. All this will culminate in the next drill program to delineate and test some high priority targets which is expected in October, following the wet season.
We can also expect newsflow out of Tanzania as discussions with the Tanzanian government progress and IDA gain further clarity around its projects there.
With plenty of newsflow on the way, this in one with plenty of upside potential that's worth keeping an eye on.
---