EUR is Drilling Right Now: Updated Resource Due in Coming Weeks
PUBLISHED: 02-11-2016 10:12 a.m.
European Lithium (ASX:EUR) holds an advanced lithium resource in Europe – and is one stock for investors to consider who are looking for leverage to the lithium theme, with an already well advanced resource.
EUR's JORC compliant resource in Austria currently stands at 3.7 mt inferred at 1.5% Li 2 O at a 0.75% Li 2 O cut off, and the company is looking to expand this considerably over the coming weeks.
EUR's current aim is to increase this resource by drilling and extending its "Zone 1" resource via the drilling of four deep diamond holes, between 340m and 500m in depth, for a total of 1,760m.
From there it is also conducting exploration in "Zone 2" – by drilling nine holes between 150-250m in depth, for a total of 1,750m. This exploratory drilling gives plenty of blue sky appeal for EUR.
At the same time, like all speculative mining stocks, there is no guarantee an investment will turn out successful. Seek professional financial advice before investing.
Importantly, the short timelines between exploration activity and the imminent increase in resource should provide management with a strong guide regarding its decision to mine.
These will be vital catalysts for this stock, and with a healthy cash balance, EUR may be one to keep an eye on over the coming weeks as drilling results start coming through: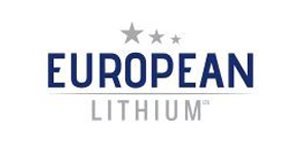 European Lithium
ASX:EUR
FWB: PF8
European Lithium Ltd (ASX:EUR; FWB: PF8) recently re-listed on the ASX via a reverse take over of Payne's Find Gold.
Following a $6M capital raise, it remains well funded to progress with its exploration and fast track production over the near term, and likely get it all the way to a Pre-Feasibility Study by mid next year.
In order to garner more interest closer to where its resource lies, EUR has listed on the Frankfurt Stock Exchange, under the stock code "PF8", which will no doubt raise its profile in Europe and assist with market liquidity.
As can be seen below, mainland Europe is one of the hottest regions for large scale lithium projects, arguably driven by the size and quality of the resources, as well as close proximity to industrial markets where demand for lithium and associated by-products is particularly strong.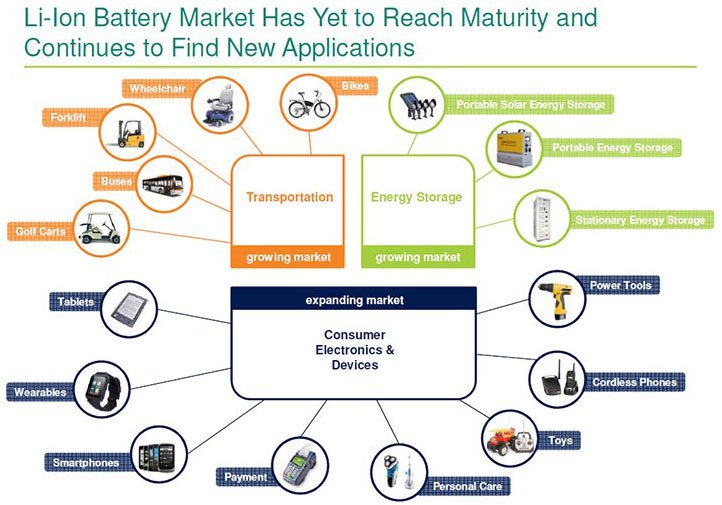 As highlighted towards the end of September in the Next Mining Boom ( The Surge in Euro Battery Plants Begins: ASX Stock in the Box Seat for Lithium Supply ), EUR is an advanced stage explorer/emerging producer of lithium, ideally located in Austria where it has the capacity to supply burgeoning industrial centres in Germany, as well as EV battery gigafactories which are being considered in nearby regions.
A series of new battery plants have been announced for production in Europe, and it is these kinds of lithium buyers that EUR will be talking to as it considers offtake partners.
As we mentioned above, EUR's Wolfsberg project isn't a drill and hope greenfield operation, it has an established inferred resource of 3.7 million tonnes grading 1.5% lithium oxide which is in the process of being reclassified to meet JORC 2012 reporting standards.
EUR has made significant progress in terms of achieving an upgraded resource model, and we would expect this to be announced in the coming days given previous timelines given by the company.
EUR recently completed a program of twin hole drilling and repeat channel sampling to verify the original resource data provided by Minerex (the discoverer of the Wolfsberg project). Drill holes have been logged and core and channel samples are being assayed by ALS, and these results have the potential to drive further interest in the stock.
There is also the potential for further catalysts in the first quarter of 2017 given current drilling of the established resource at Zone 1 and the potential to uncover new mineralisation in Zone 2 where a drilling permit has been received to immediately commence exploration work.
The following outlines the company's key objectives that underpin its surface exploration program with the map demonstrating the likelihood of adjacent mineralisation in zone.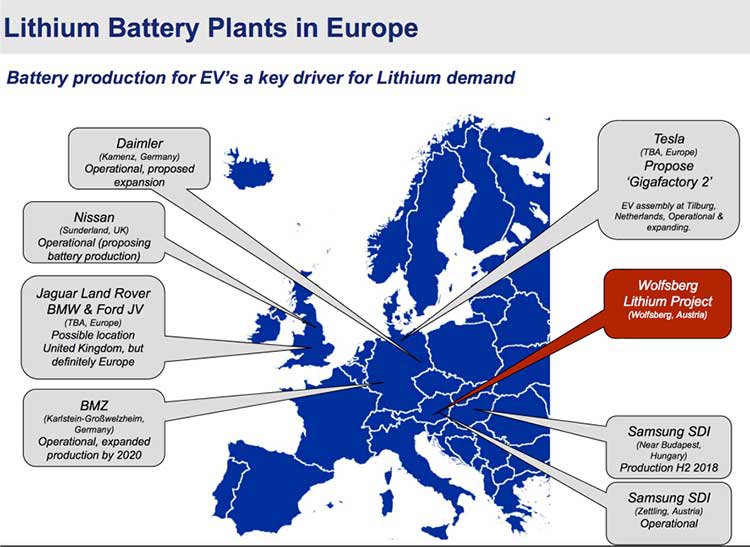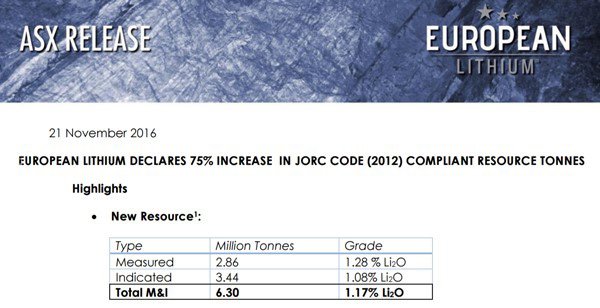 Zone 2 holds blue sky appeal – how big could EUR's resource get?
EUR has good reason to believe that drilling in Zone 2 will yield commercial quantities of lithium.
Not only is there a sound geological basis for postulating the presence of lithium bearing mineralisation, the chief geologist (Dr Richard God) from the engineering company, Minerex which discovered the Wolfsberg project holds that view and he is now EUR's geological advisor.
It is his interpretation that the pegmatite veins extend down dip to unknown depths, noting one of Minerex's boreholes extended to 450 metres down dip intersecting pegmatite veins. God is of the view that pegmatites were intruded into the host rocks and that the anticline was formed by a later folding event.
In such a situation, the presence of lithium bearing veins would be expected to continue into the southern limb of the anticline (Zone 2). Providing further support is the fact that in 2012 surface mapping identified many lithium bearing pegmatite boulders exposed on surface on the southern limb, and limited drilling intersected lithium bearing pegmatite veins and proved the geological interpretation.
However, this is still a relatively early stage mining project, with a number of hurdles to jump through before the company is generating revenue. Invest with caution and keep your own personal circumstances and risk profile in mind if considering an investment.
Watch this space
As can be seen from the following timeline, the all-important Pre-Feasibility Study will be finished as early as the first half of 2017 and by the first half of 2018 the company will be in a position to sign off on the project, potentially bringing production from this project to market quicker than many of its peers.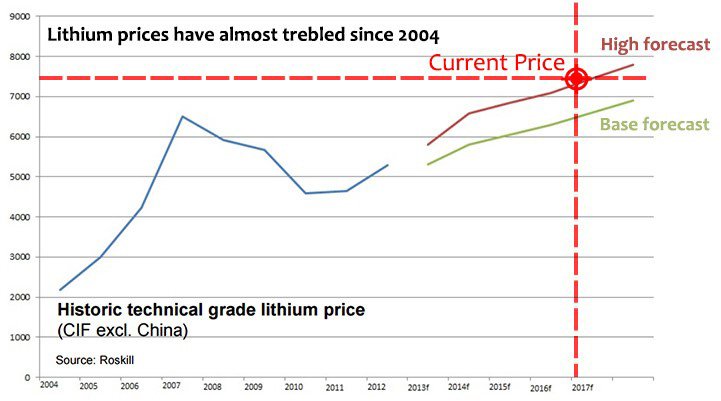 Consequently, EUR shapes up as a news driven story.
While the company is only in its infancy as a listed entity, it has an established asset with a proven resource and the potential for a relatively quick expansion of that resource, suggesting it could be valued more in line with relatively advanced players in the sector.
If considering an investment, it's worth reminding again that this is a speculative mining stock, and success is no guarantee.
We will be watching EUR closely over the coming days and weeks, and with a bigger lithium resource to its name, it may be in line for a re-rate, thus catching up to its larger lithium peers...
---