Drilling Underway for AON: Hunting Mammoth IOCG Targets
PUBLISHED: 02-10-2014 09:18 a.m.
Apollo Minerals (ASX:AON) could be days away from finding a Prominent Hill style IOCG deposit. They are in the midst of RC and diamond drilling with results due any day now at AON's Mars Aurora project. At the EagleHawk project, drilling is ongoing. In total, a number of IOCG targets are being probed with a drill bit – a mixture of RC and diamond drilling. Following the current program, targets will be refined and exploration will continue – whilst a discovery hole now would be great, finding an IOCG target can take years of exploration. AON's team is experienced in this field and has been involved in multiple IOCG discoveries. AON also just completed one drilling campaign with High Power Exploration – the company billionaire backer and international financier Robert Friedland has a big hand in. Following on from a 140 km 2 IP survey – the largest conducted in Australia, the recent drilling campaign with targets generated by this technology further confirms the IOCG potential of AON's JV with High Power Exploration – the geological complex here appears similar to the Prominent Hill Complex. An IOCG system exists at Prominent Hill so in theory something similar could exist within AON and High Power's project. Follow up targets are being assessed right now. All three projects, Mars Aurora, EagleHawk and Commonwealth are all wrapped into AON's "Titan Base Minerals Project", and any IOCG discovery could potentially be a company maker for AON. We are now awaiting the next release of drill results – set to stream through in the coming weeks. And they are still capped at less than $12M...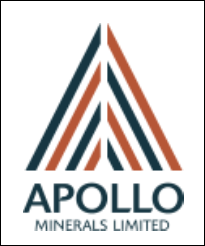 The Next Mining Boom first took a long-term investment position in AON back in August 2014 when we published our first article – Drilling Results in Days: Billionaire Backer Hunting Mammoth IOCG Deposits with Tiny Explorer . That article goes into great detail about AON's plan of attack to find Australia's next mammoth IOCG deposit within its huge 1,500km2 land holdings in The Gawler Craton, a prime bit of real estate within South Australia's world class IOCG belt: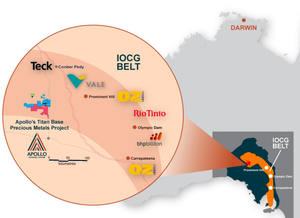 The Gawler Craton is a mining mecca – it holds 70% of Australia's economic copper resources, and holds 4 out of 10 of the largest deposits in the world. IOCG deposits in South Australia have a reputation for being monsters in size. Olympic Dam is the 4 th largest copper resource in the world, Prominent Hill is slated to pump out 100,000 tonnes of copper a year and over 100,000 oz of gold a year, and Carrapateena is valued at over $1 BN... Needless to say if AON can strike it big, there could be a lot of upside... especially given AON is capped at just $12M right now. Of course, there is always the possibility that they don't find anything at all – that's the nature of high risk minerals exploration... The Prominent Hill IOCG discovery took dozens of drill holes, and was whittled down from 20 targets. AON has only just tested the top 200m depth, with 4 holes only with High Power Exploration. More, deeper drill holes will be required to confirm anything substantial. To discover a large IOCG deposit takes perseverance, patience and methodical drilling. AON should be able to speak from experience on this – they have over 80 years of exploration expertise – Chris Anderson was involved in the $1BN Carrapateena discovery mentioned above, and Eric Finlayson is an ex-head of global exploration for Rio Tinto – these guys have found big IOCG deposits before, we are hoping they can repeat their success with AON. In amongst the resource rich region of the Gawler Craton, AON has a project called the 'Titan Project'. The Titan project is split into three mini-projects, each subject to slightly different ownership structures – Eaglehawk, Commonwealth Hill and Mars Aurora Tank. Each one of them has compelling gravity signals and geochemistry, plus a long list of IOCG drill targets: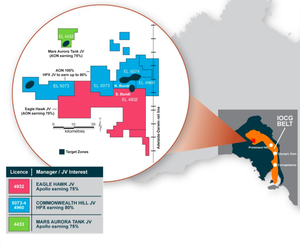 Eaglehawk is a 75% earn in for AON, same with Mars Aurora Tank. Commonwealth Hill is a JV with a firm called High Powered Exploration (HPX) which is indirectly controlled by Robert Friedland – the $1.1BN net worth mining entrepreneur who has discovered some of the world's biggest and most valuable mines. HPX and AON have confirmed IOCG potential at Commonwealth Hill, and now AON is furiously drilling in an effort to uncover further IOCG mineralisation at Eaglehawk and Mars Aurora. Right now AON is testing another 6 out of the dozens of targets within their ground – it's early days in their exploration efforts, and further drilling is still to come – this is Round 1 of many. AON has prudently kicked off with cheaper, shallow drilling – 200-250m to test the tip of large anomalies. Further drilling will be deeper. The areas they are exploring are known for large IOCG systems, with deep cover – Olympic Dam and Carrapateena sit under roughly 450 to 500m of cover. Compared to that, one advantage for AON is that their ground lies under cover of 50 to 150m. Any discoveries could be much cheaper to mine. In his latest report , esteemed Paterson's Analyst Simon Tonkin recently allocated a price target of 9c-18c, should AON manage to discover something big – that's an 800% gain from today's levels: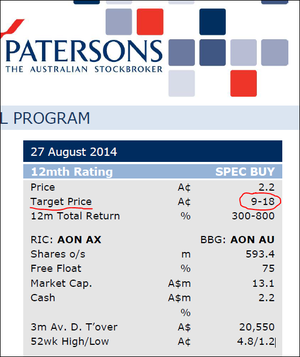 This is an extreme upside case, based on AON's ground being extremely valuable via the identification of a large commercial resource. It might not have anything like that, and AON's shares would never hit anywhere near these levels. But just in case you can't see that price target, here it is up close:

Note again that this is a very ambitious price target – entirely dependent on AON finding something valuable in the ground – this is high risk exploration, and it may not happen! In the next section, let's zoom into each part of AON's wider Titan project and run you through what's happening on the ground...
Our Track Record
Regular readers of our sites will be familiar with our long-standing interest in high potential stocks. To note just a few:
The past performance of these products are not and should not be taken as an indication of future performance. Caution should be exercised in assessing past performance. These products, like all other financial products, are subject to market forces and unpredictable events that may adversely affect future performance.
Drilling results soon at Mars Aurora Tank – a Prominent Hill look-a-like?
AON's Mars Aurora Tank Gold-Copper Project is the little green one at the top in the picture below, the mysterious dark blob is the IOCG target of interest: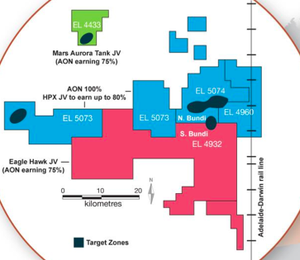 AON is earning a 75% interest in this project in a JV with Marmota – and the geological model bears a striking similarity to Prominent Hill, a nearby IOCG deposit which OZ Minerals are planning to extract 100,000 tonnes of copper and 115,000 oz of gold a year: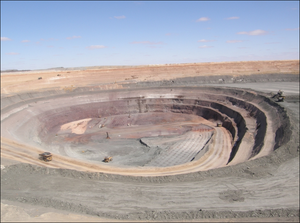 Here's the similarities between Prominent Hill and Mars Aurora Tank geological models: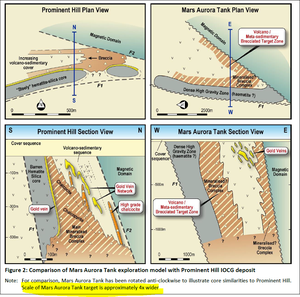 This is just a good guess though – the only way to find out what Mars Aurora Tank has below the ground is to drill. And that's exactly what AON is doing :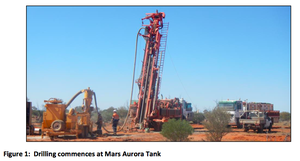 Right now AON is drilling two holes at Mars Aurora Tank to test the potential IOCG resource it's identified there.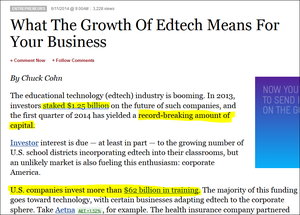 Here's a cross section of the two holes showing the targets AON is hunting: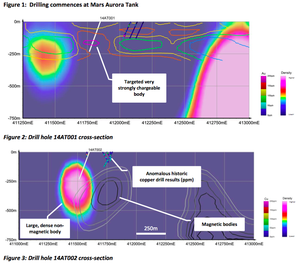 We are anticipating first assay results from the drilling programme any day now – we should soon have a better idea what lies below at Mars Aurora Tank.
Drilling now at Eaglehawk
As part of the same campaign, AON are also drilling on the Eaglehawk project where it's earning a 75% interest in a JV with Mincor. New targets have been identified at Eaglehawk using geophysical modelling and a review of historical drilling data. These new targets represent an 18km2 extension to the Bundi South IOCG target , a 'kilometres' wide gravity anomaly that sits within the Eaglehawk JV.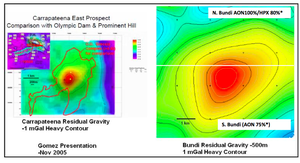 In the picture above, Bundi South is the big red eye on the right and you can see a line running through it – that represents the boundary between AON's Eaglehawk JV and the Commonwealth Hill project. There's also a handy gravity map of the Carrapateena on the left, an enormous IOCG deposit that is valued at $1BN... looking at the gravity contours, it looks uncannily like the Bundi prospect AON is exploring right now. Only AON's version is much bigger... AON will be putting quite a few holes into this ground, specifically in these high priority targets of interest: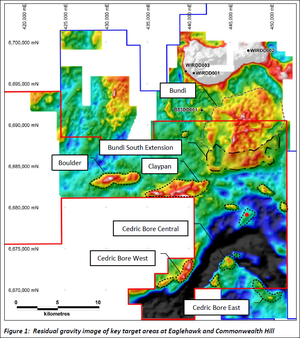 To start with, one hole will be drilled into each of the above targets to test for signs of alteration and IOCG mineralisation. After that, follow up drilling will take place at the targets that return encouraging drill results. At the Claypan target, AON will be drilling below rocks that look like this: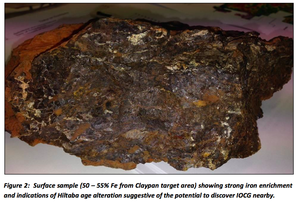 The above rock was picked up from the ground and contains 50-55% Fe – highly indicative of IOCG potential down below... Overall, this drilling programme at Eaglehawk JV is aimed at furthering AON's understanding of the Bundi South IOCG prospect and widening the area it's exploring for IOCG mineralisation.
We expect AON to complete drilling very soon at Eaglehawk
So that's two drilling programmes for AON, one at Mars Aurora Tank and at Eaglehawk – it's all been wrapped into a 2,300m RC and diamond drill campaign. That's lots of ground being covered and lots of results just on the horizon. It is just the start for AON, who are testing several targets and will then follow up those with encouraging results. Remember, AON has three projects in the Gawler Craton on the boil and, last but not least, in our round up of this company's action is Commonwealth Hill where IOCG potential has been confirmed...
Sniffing out an IOCG at Commonwealth Hill
So let's finish where all this work began – AON's Commonwealth Hill JV with High Powered Exploration (HPX). It breaks down like this. High Power Exploration is earning up to an 80% interest in the project by spending $3.4M in return for bringing its very advanced exploration techniques and technology to bear. IOCG deposits are found at depth and HPX has found new ways to find them much faster than the usual methods. High Power Exploration chose AON's ground to enter into after reviewing 1,500 projects worldwide. HPX used their Typhoon system to quickly generate a number of drilling targets at Commonwealth Hill. This was one of the largest IP surveys conducted in Australia, covering an area of 140 km 2 . The maiden drilling programme there, totalling 906m, has now been completed and the results were encouraging:

HPX drilled four holes into the Wirrida Intrusive Complex – an anomaly covering many kilometres within the Commonwealth Hill JV. You can see Wirrida and the targets HPX generated here :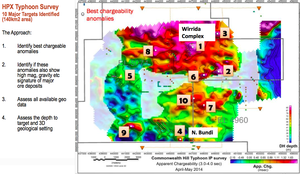 The HPX drilling intersected anomalous iron, copper, gold and silver from drilled alteration and fracture zones. These results confirm AON's greater Titan Base Metals Project has the potential to host a significant Iron-Oxide-Copper-Gold (IOCG) deposit. Signs of an IOCG at Commonwealth Hill are clear now for AON – there is copper in the area and gold – the question to be answered is the grade of the material. Follow up targets are being planned now. These drilling results indicate that the Wirrida Intrusive Complex may be an analogue to the White Hill Intrusive Complex, which sits adjacent to the massive Prominent Hill IOCG deposit 100km to the east of Commonwealth Hill. There is another comparison that's helpful too – BHP's little known but very large Wirrda Well IOCG deposit that sits 20km south of BHP Billiton's monstrous Olympic Dam IOCG mine, circled in white below: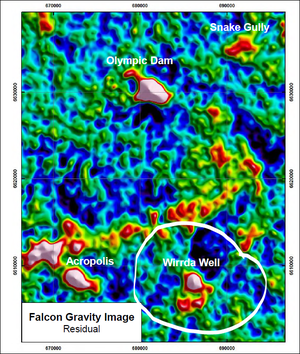 The basic rock types and alteration patterns at AON's Wirrida target appear similar to those found at BHP's Wirrda Well IOCG deposit. Here's a drill core from HPX's drilling at Commonwealth Hill: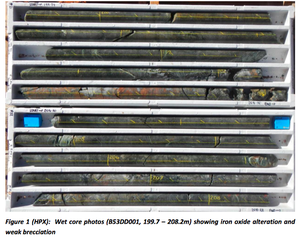 And now here's a drill core from BHP's Wirrda Well IOCG deposit – this hole intersected large portions of 1% copper – that's an IOCG deposit: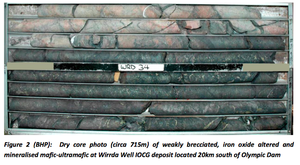 Both drill cores have brecciated rocks (fragments of minerals mashed together) with iron oxide alterations. We're not geologists at The Next Mining Boom , but looking at those two samples side by side shows us that AON and HPX may be onto something at Commonwealth Hill. BHP drilled dozens of holes in order to find the Wirrda Well IOCG deposit: 26 diamond holes between 1980 and 1990, plus 25 more diamond holes between 2008 and 2012. AON has only drilled 5 to 10 holes over several prospects. We are hoping AON can replicate a discovery like BHP's, but it will take further drilling and perseverance. The only way to find out is to keep drilling and exploring.
Drilling, drilling everywhere
So right now we've got signs of IOCG mineralisation confirmed at AON's Commonwealth Hill JV, drill results soon at Mars Aurora Tank and drilling underway at Eaglehawk. Fingers crossed AON can confirm encouraging IOCG signs at these two projects. At Commonwealth Hill we're waiting to see what AON and HPX do next. Very likely they will extend their drilling programme now that IOCG style mineralisation has been confirmed – perhaps some deeper drilling and with a bit of luck we could see something even bigger confirmed... It's early days for AON, and whilst as AON investors ourselves it would be great to see a discovery hole right now, it may not happen immediately. Discovering an IOCG deposit can take a lot of hard work and perseverance. What AON do have right now is a long list of drill targets in a world class region, an experienced exploration team and the right ground. Plus multiple drilling results to flow in the coming weeks...
---