Construction in Full Swing at BKY's Uranium Mine
PUBLISHED: 02-06-2017 10:22 a.m.
Dual-listed uranium developer, Berkeley Energia (ASX | LSE: BKY), has been busy advancing its Salamanca mine since we last caught up with the company in February this year.
Located in a historic mining region in western Spain, three hours' drive from Madrid, BKY's wholly owned Salamanca mine is the only major uranium mine in the world currently under construction.
With operating costs at $US15/lb and upfront capital at US$100 million, Salamanca has the potential to be profitable at any point in the uranium cycle. First production at Salamanca is expected in 2018, which happens to coincide with the anticipated growing demand factors for uranium.
BKY's objective is to establish Salamanca as one of the world's lowest cost uranium producers, supplying long-term customers throughout the European Union. Coincidentally, the European Union currently has no domestic uranium supply, and over 60% is imported from Russia, Kazakhstan and Niger, and welcomes the emergence of BKY's new mine.
If BKY continues on its current path, very little may be standing in its way as it moves forward at haste and with purpose, with all work on track for completion as planned.
The land acquisition process is almost complete, following the acquisition of a further 100 hectares and major equipment has now been ordered and is being fabricated.
Importantly, the £115M / $200M AUD capped BKY has entered into a preliminary agreement with Asturiana de Zinc SAU, a Glencore company, to supply local reagent from 2018 to 2021 substantially below the cost estimated in the Definitive Feasibility Study (DFS).
The deal comes at a time when sentiment for uranium is shifting: pricing has held strong since December last year and US utilities have begun to re-contract uranium supply.
The Salamanca uranium project hosts a combined 82.6Mt with 89.3 Mlbs U3O8 and is in a strong position to meet future supply requirements.
Yet BKY remains a speculative stock at this stage and has some work to do before it achieves its aim, so take a cautious approach if considering BKY for your portfolio.
Perhaps the biggest news on the macro scene comes out of Japan, which has had 25 reactor restart applications, five of which have been approved with the balance currently being processed.
At the end of last quarter, BKY was in a strong financial position, with US$29.2M in cash, and is considering a range of financing options whilst remaining focussed on minimising dilution in order to protect the equity value of its shareholders.
With the initial construction stage now progressing well, including advanced road deviation, completed equipment procurement, and final proposals coming in from multiple experienced mining contractors, BKY is well and truly on course to become one of the world's largest uranium producers.
Catching up with: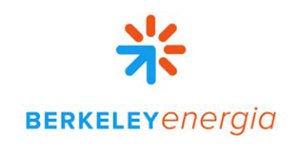 Berkeley Energia
ASX:BKY, LSE:BKY
Before we get into the specifics of Berkeley Energia's (LSE | ASX:BKY) latest construction activities, let's take a closer look at this company and at the magnitude of what it's hoping to achieve.
BKY is a high-impact, low carbon emission focused company which has been shortlisted for the UK Stock Market Awards' Investor Relations Team of the Year Award.
As we've already touched upon, at the core of BKY's long-term strategy is its aim to emerge as one of the lowest cost uranium producers on the globe, reliably supplying the world's leading utilities with fuel for base load clean energy from the heart of the European Union.
The following graphic indicates where BKY currently stands in contrast to its peers: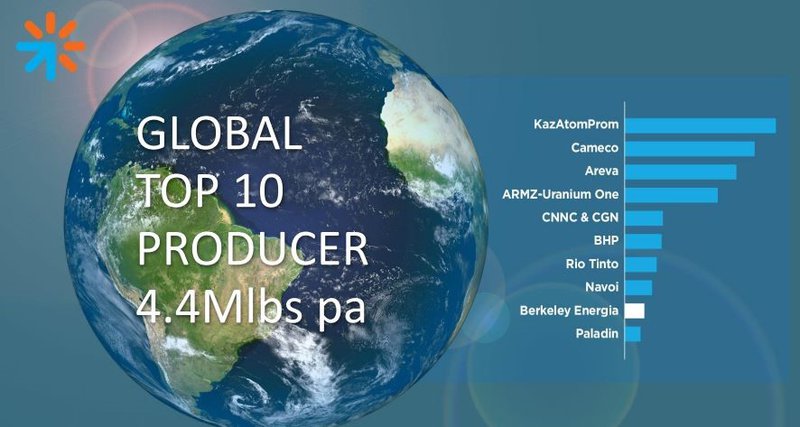 Sentiment towards the uranium market has remained positive in 2017, and is expected to continue over the next four years as the uranium supply coverage of around 350 US and European nuclear facilities is forecast to fall to between 20%-30% of annual requirements.
As you can see, there is a lot of upside for a company with the only uranium mine in construction in the world.
Once in production, the Salamanca mine will be one of the biggest producers in the world, supplying over four million pounds of uranium concentrate a year — equivalent to 10% of the EU's total requirement.
And if predictions for future uranium demand materialise – a Cantor Fitzgerald report posits that oversupply will end by 2020 and that the next decade will see a major supply deficit for the next decade – Salamanca may become a key producer.
An independent study published in July 2016 by MDM Engineering (part of AMEC Foster Wheeler Group) reported that the Salamanca project has a net present value of over US$530 million and will be producing the aforementioned 4.4 million pounds of uranium per annum at cash costs of US$15.39 per pound.
This would propel BKY into the top ten global producers of uranium — and at one of the world's lowest costs. Moreover, BKY's estimated low production costs means that even if the uranium market remains, BKY will still able to generate strong returns at its Salamanca project.
You can watch Paul Atherly, BKY's managing director, talking at length about these low costs — and about BKY's strategy in relation to the future of uranium — here.
Here are the company's official DFS metrics, which make this sturdy combination of low operating cost and low capital cost — and the potential for a considerable return on capital — crystal clear.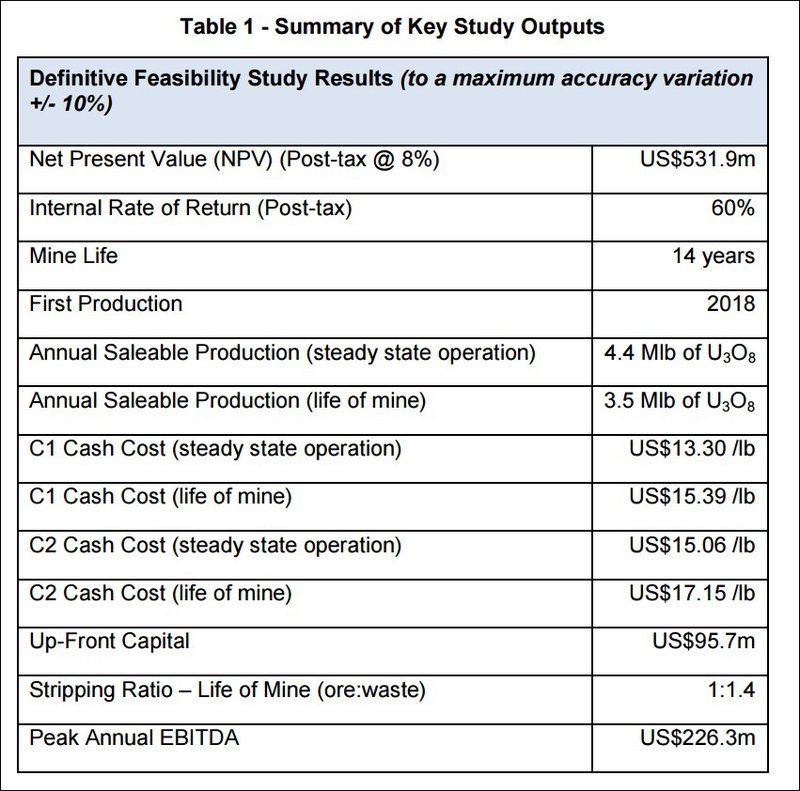 Given all of this, what is currently happening at Salamanca, and how far away is BKY from the next phase of its operation?
Construction advancing like a bull to a red flag at Salamanca
With US$30M under its belt from last year's oversubscribed capital raising , BKY has commenced construction of its initial infrastructure on schedule.
With over 600 hectares acquired or leased to date under the land acquisition program and only a few remaining to be acquired, construction is progressing steadily. Road deviation is advancing, and the new road will be ready for use in this European summer.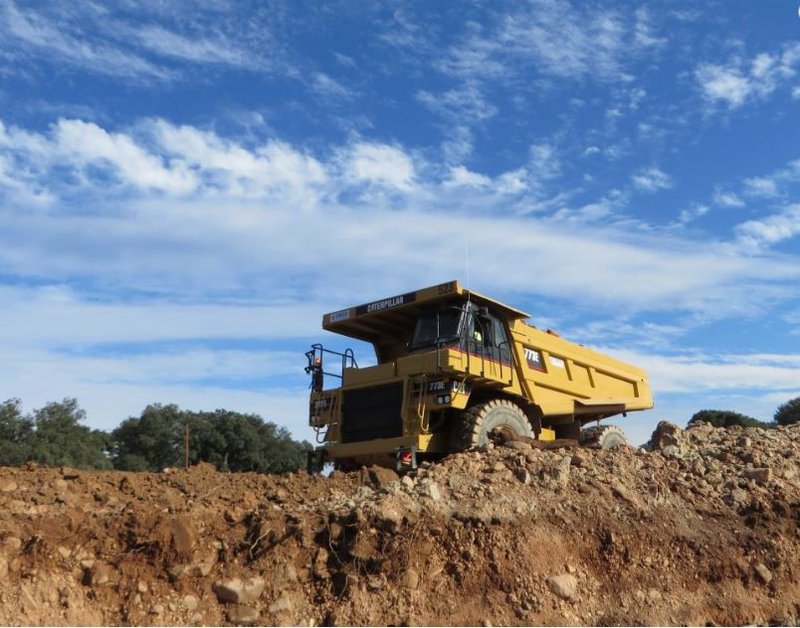 Equipment has been procured for the electrical power line, and the upgrade to the existing line will commence once the road construction is complete. The crushing circuit, screens, feeders and ancillary equipment are currently being fabricated by established equipment suppliers, Sandvik in Finland and Vibramech in South Africa.
BKY is showing that it is developing a strong track-record of cost-optimisation — the order of the first major items for the crushing circuit, placed in December last year, was more than 20% below estimates from the DFS.
BKY has also entered into a preliminary agreement with Asturiana de Zinc SAU, a Glencore company, to supply locally sourced reagent from 2018 to 2021, at a cost substantially below that which is estimated in the DFS. These reagent costs represent approximately 30% of overall process operating costs.
Reforestation work involving the planting of 30,000 young oak trees has also now begun.
All of this rings with a distinct sense of anticipation. As BKY advances onward with this initial construction phase, it edges closer to its next expected target: to start producing in late 2018 — at which point, a large number of European and US utilities will commence re-contracting for their medium to long-term supply.
In fact there is a list of anticipatory events that will tick off as BKY moves forward: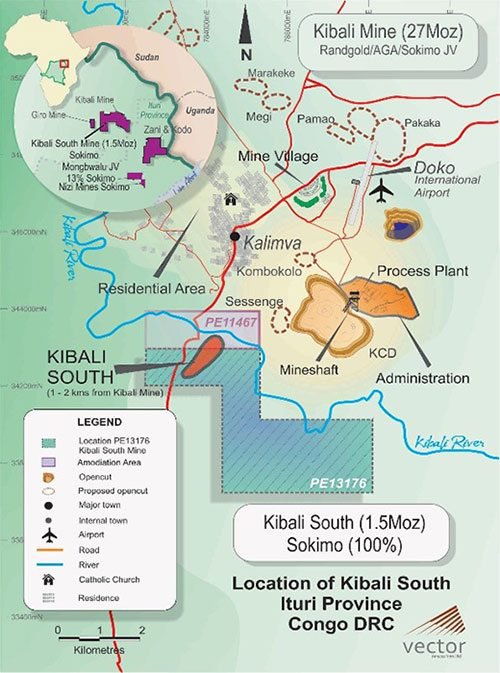 Speaking of anticipation...
EU support sweetens the deal
BKY has won support from the EU regulator for its Salamanca project as it signed off the company's first uranium supply deal.
The Euratom Supply Agency, the governing body for all nuclear fuel transactions within the EU, said that it welcomes the development of BKY's uranium mining project, believing that it will significantly contribute to the security of natural uranium supply for the community.
In November 2016, BKY entered into a sales agreement with Curzon Resources Limited, formerly known as Interalloys Trading Limited, a privately funded commodity trading company, for a total of two million pounds of uranium over a five-year period, with potential to increase to a total of three million pounds.
The highlight of the deal is the price being paid — at US$43.78 per pound, it's almost double the current spot price, and provides a healthy gross margin on production costs of US$15 per pound.
BKY is also in discussion with other potential offtakers regarding contracts with similar terms to those outlined in the Interalloys agreement, with pricing at or around long-term benchmark levels for term contracts.
However there is still some way to go before BKY enters production and anything can happen in this time. If considering BKY for your portfolio seek professional financial advice.
The setting
We've already noted some of the hefty benefits of BKY's potential ability to provide uranium smack-bang in the heart of post-industrial Europe.
But it's also important to look at the kind of economic climate that exists in this part of the world, and how BKY's Salamanca mine will be impacting the local community.
Firstly, Spain itself provides BKY with a very solid foundation. It's a country with excellent infrastructure and a reputation for dependability, allowing BKY to bypass the potential problems that tend to emerge in significantly uranium-producing, politically sensitive regions such as Kazakhstan, Niger and Namibia — countries which the EU currently relies on for almost 60% of its uranium supply.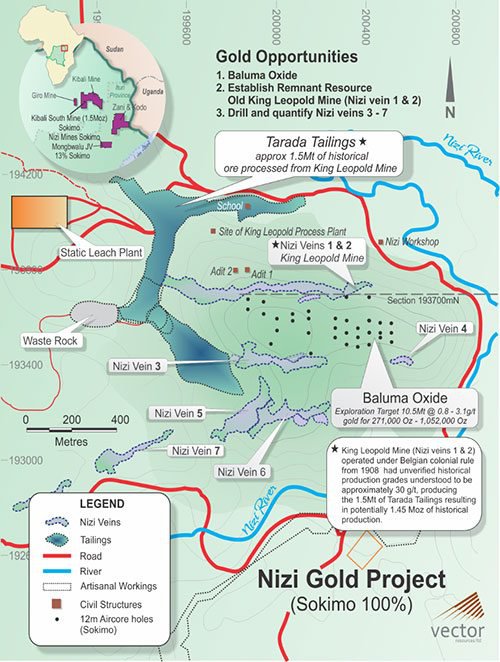 As we've pointed out, at full production, Salamanca will be Europe's largest uranium producer, accounting for 10% of the total requirement, and will be essential to the EU's security of supply.
Another key reason for the EU's support is the fact that BKY's project will be rejuvenating a community suffering from lack of investment and badly hit by long-term employment, especially among its youth.
Last year, over 25,000 people left the Castilla y León region, and many village houses stand empty. The Salamanca mine is expected to reinvigorate the depressed economy in this region, creating 454 jobs once in full production, and an additional 2295 jobs indirectly over time.
Skills training programs commenced last year and will continue throughout the current construction phase to prepare locals for these jobs that will be created. Local businesses are being prioritised and the local municipalities and communities will be fully supported throughout the life of the mine.
Uranium's blazing future
With its chequered history, uranium is a commodity that's been left behind in recent times, and low demand and high supply have meant that uranium prices have continued to steadily deflate in recent years.
However, with existing supply contracting coming to an end, more reactors coming on board, and new demand emerging from highly populated economies like China, India and Russia, with these countries seeking to dramatically increase their nuclear power capabilities, a much brighter outlook is expected for uranium investors.
Here's Paul Atherley again, this time discussing the commercial potential currently available in the uranium market, and how BKY's cost-minimisation plays perfectly into it:
The window in which uranium prices remain low could very well be rapidly narrowing.
Momentum is picking up on the restart of Japan's nuclear units, 61 new reactors are under construction around the world, and another 149 new reactors are planned.
Major American and European nuclear reactors are coming off supply in 2017 and 2018, and will be looking for long-term contracts.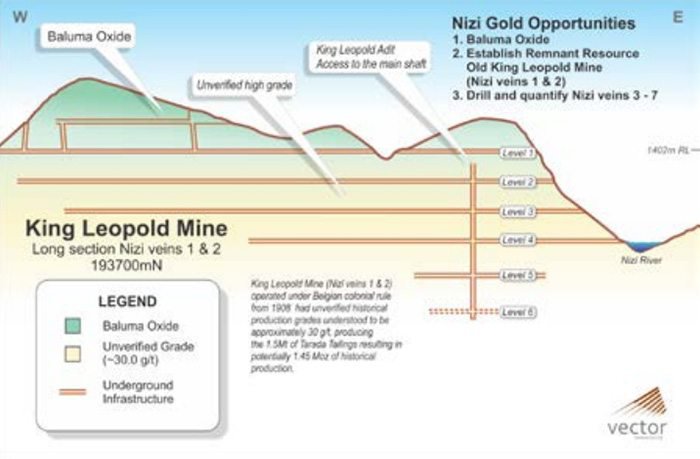 While the 2011 Fukushima disaster devastated uranium by putting nuclear energy on hold and sending pre-Fukushima uranium prices of $70 per pound crashing to $20 per pound, where it remains on the spot market, uranium sentiment is being steadily revived.
This is a contention shared by analysts at Cantor Fitzgerald, who last year predicted that a "violent increase" in uranium prices was on the way.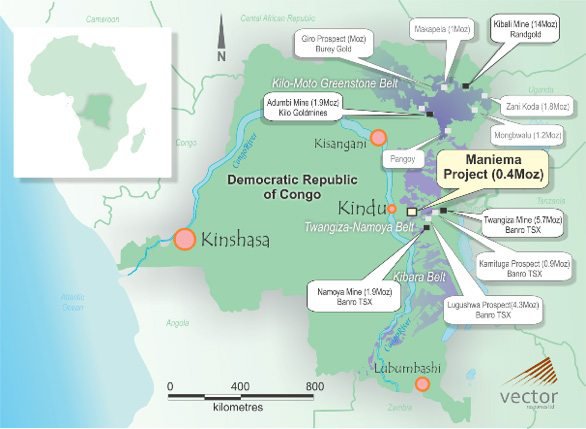 Of course commodity prices do fluctuate and caution should be applied to any investment decision here and not be based on spot prices alone. Seek professional financial advice before choosing to invest.
Global uranium consumption is projected to grow at an average annual rate of 4.8% from 2015 to a total of 97,900 tonnes of uranium in 2020.
One of the major factors underpinning this growth is the need for a reliable source of low-carbon baseload power to help meet a projected 50% increase in electricity demand over the next 20 years.
Nuclear energy plays a critical role in a carbon-free energy market.
In 2014, the United Nations Intergovernmental Panel on Climate Change found that nuclear power has the lowest lifecycle emissions of any electric generating technology, except for wind energy. Nuclear provides a "baseload" that solar and wind energy cannot because they vary with the weather.
So, what does this so-called "nuclear Renaissance" mean for BKY?
With first production at the Salamanca uranium mine expected towards the end of 2018, BKY's timing could scarcely be more salient. BKY will start producing at the same time European and US utilities are forced to re-contract, and just as China ramps up its nuclear power generation capacity.
And once the Salamanca mine is fully operational, BKY could produce enough uranium to supply the equivalent of the UK's total power requirements for more than four years.
If BKY continues to do what it's been doing at Salamanca, it will be able to produce uranium at a low cost at precisely the time market demands significantly increase.
---