Thomson Resources
(ASX:TMZ)
Silver Exploration
| Our Entry Price $ | Current Price $ | Current Return | Highest Price $ | Highest Return |
| --- | --- | --- | --- | --- |
| $ 0.098 | $ 0.125 | 28% | $ 0.140 | 43% |
Overview
Thomson Resources (ASX:TMZ) is set to acquire 100% interest in the Webbs Silver Project and Conrad Silver Project in the New England Fold belt in NSW.
Due diligence on these potentially transformational silver assets will be completed in January, with the acquisition set to be completed in the first months of 2021.
Webbs is one of Australia's highest grade undeveloped silver asset, while a previous owner has demonstrated an in ground value of almost one billion dollars at Conrad.
Combined, this company is acquiring over 30 million ounces of silver equivalent resources.
The company is aiming to start aggressively expanding its silver resource base over the coming months, both organically and via acquisitions.
Thomson also has complementary gold assets in NSW and Queensland that it is undertaking extensive rolling drilling programs that build on previous high grade results.
This gold drilling programme provides a significant number of near term catalysts.
Why we have invested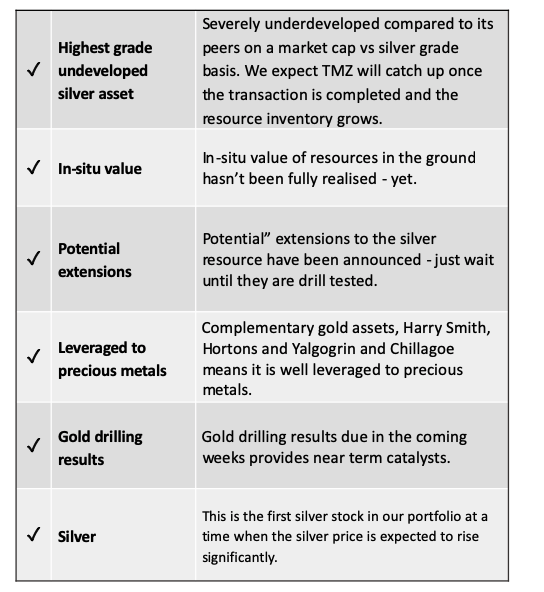 Our Latest Articles on Thomson Resources