Thomson Resources
(ASX:TMZ)
Silver Exploration
| Our Entry Price $ | Current Price $ | Current Return | Highest Price $ | Highest Return |
| --- | --- | --- | --- | --- |
| $ 0.098 | $ 0.110 | 12% | $ 0.255 | 160% |
Overview
Thomson Resources (ASX:TMZ) is set to acquire 100% interest in the Webbs Silver Project and Conrad Silver Project in the New England Fold belt in NSW.
Due diligence on these potentially transformational silver assets has been completed, and the company will proceed to completion of both silver projects. TMZ shall now proceed to call an EGM of Thomson shareholders, which is targeted for mid-March 2021.
Webbs is one of Australia's highest grade undeveloped silver asset, while a previous owner has demonstrated an in ground value of almost one billion dollars at Conrad.
Thomson has also entered into a binding and exclusive Term Sheet with White Rock Minerals Ltd, with the joint venture agreement potentially seeing Thomson Resources taking a majority stake in the Mt Carrington gold-silver project.
Thomson provides arguably the best silver exposure of any microcap on the ASX and its key assets account for a resource of approximately 34 million ounce silver, situated in close proximity to the 23 million ounce Mt Carrington resource.
The company is aiming to start aggressively expanding its silver resource base over the coming months, both organically and via acquisitions.
Thomson also has complementary gold assets in NSW and Queensland that it is undertaking extensive rolling drilling programs that build on previous high grade results.
This gold drilling programme provides a significant number of near term catalysts.
Why we have invested
Highest grade underdeveloped silver asset

Severely underdeveloped compared to its peers on a market cap vs silver grade basis. We expect TMZ will catch up once the transaction is completed and the resource inventory grows.

In-situ value

In-situ value of resources in the ground hasn't been fully realised – yet.

Potential extensions

Potential extensions to the silver resource have been announced – just wait until they are drill tested.

Leveraged to precious metals

Complementary gold assets, Harry Smith, Hortons and Yalgogrin and Chillagoe means it is well leveraged to precious metals.

Gold drilling results

Gold drilling results due in the coming weeks provides near term catalysts.

Silver

This is the first silver stock in our portfolio at a time when the silver price is expected to rise significantly.
Our Latest Articles on Thomson Resources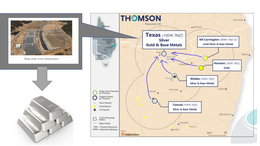 TMZ Eyes 100 Million oz. Silver Equivalent Resource Base
Mar 5, 2021
Since mid-November 2020, Thomson Resources (ASX: TMZ) has been on an aggressive expansion strategy and yesterday added a further project to its arsenal: The Texas Silver Project in Queensland. Just today, the company announced it has entered into a binding Mine Sale Agreement with MRV Metals Pty Ltd to acquire the Texas Silver Project in Southern Queensland.