MNC (LCL) Strike 350m Gold Intercept from Surface – The Start of a Regional Gold Play?
PUBLISHED: 26-11-2019 09:55 a.m.
There appears to be something brewing in the hills of Colombia, with Metminco Ltd "MNC" (ASX:LCL) confirming an impressive gold interval from the surface on its first diamond hole.
MNC (soon to be renamed Los Cerros) just struck a 350m wide zone of gold mineralisation from surface carrying an average uncut grade of 0.57 g/tonne over this extensive interval.
This was the first diamond hole ever drilled into its Chuscal Gold Target, and it won't be the last.
The drill rig is rapidly re-locating to follow up hole locations right now, with results to continue.
Chuscal sits in the Mid-Cauca Porphyry Belt of Colombia, part of the Quinchia Gold Project, and this could be the start of a larger regional gold play emerging.
It's worth comparing MNC's results to Alkane Resources (ASX: ALK), which, just a couple of months ago, hit an intercept of 502m at 0.48 grams per tonne gold at the Boda Prospect within the Northern Molong Porphyry Project in New South Wales.
On the back of that result, Alkane's shares hit a high of 48.5 cents, up 26%. ALK's share price has continued to rise since that September find and now sits at 61 cents, with a market cap of $309 million.
Whilst ALK struck a longer interval, it was of a lower grade. And, Alkane's results were delivered from 211 metres below surface.
MNC's result was from the surface. This means it's likely going to be much cheaper for MNC to prove up a resource if Chuscal keeps putting up those kinds of drill results from surface.
MNC is capped at just $16M right now, a fraction of ALK's $309M.
Could MNC soon start to catch up to ALK given results are going to continue to come in from here?
The Quinchia Gold Project, part of the Quinchia Portfolio, is located within the same structural trend as the Marmato Gold Mine and the La Colosa gold project which hosts gold resources of 14 million and 29 million ounces respectively.
The Quinchia Portfolio covers 10,542Ha consisting of granted titles and applications and includes deposits and targets such as Miraflores, Chuscal, Dosquebradas and Tesorito.
Approximately 40,000m of drilling has occurred at Quinchia and includes an established 877koz Resource and 457koz Reserve at Miraflores.
Metminco's results aren't out of place here. Certainly, Sandfire Resources (ASX:SFR) would feel justified with its 15% stake in the company. The mining giant was confident of the prospectivity of these projects and in the abilities of Metminco's highly experienced management team and it looks like their confidence could pay off.
Drilling at Chuscal will provide vital information for Metminco as it moves forward.
A third drill hole is underway, with results due in mid-December, just a few short weeks from now.
These excellent results follow Metminco's drill success last year at the nearby Tesorito porphyry discovery.
Results at Tesorito including a best result of 253.1m @ 1.01 g/t Au from surface, including a higher grade zone of 64m @ 1.67 g/t Au4.
All results combined could put Metminco in enviable porphyry identifying territory.
It should be noted that Tesorito is right next door to Metminco's Miraflores gold project, where it has already established a reserve of 457,000 ounces of gold and 385,000 ounces of silver.
Metminco is certainly making its mark in this Colombia region and it is still early days.
With that in mind, let's take an in-depth look at its latest results.
Catching up with...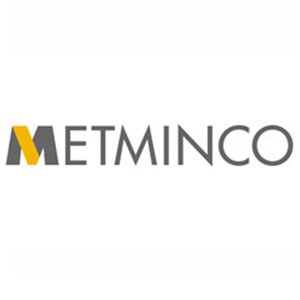 Los Cerros Limited
ASX:LCL
Share Price: 0.097
Market Capitalisation: $16.15M
Here's why I like Metminco...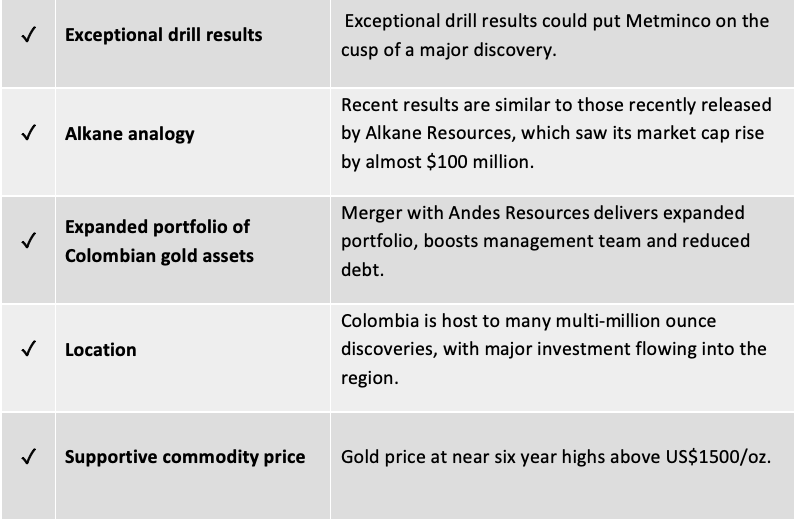 It has been under a month since we last caught up with Metminco Limited (ASX:MNC) in the article Metminco Now Drilling Amongst Multi-Million Oz Gold Discoveries.
And what a month it has been. Since the release of that article, MNC has climbed as high as 50%.
In our previous article we noted how Metminco was operating in a region that is host to multi-million-ounce gold discoveries and how it now has a significant position in the Quinchia and Andes gold districts of the Mid-Cauca gold and copper-gold belt in Colombia.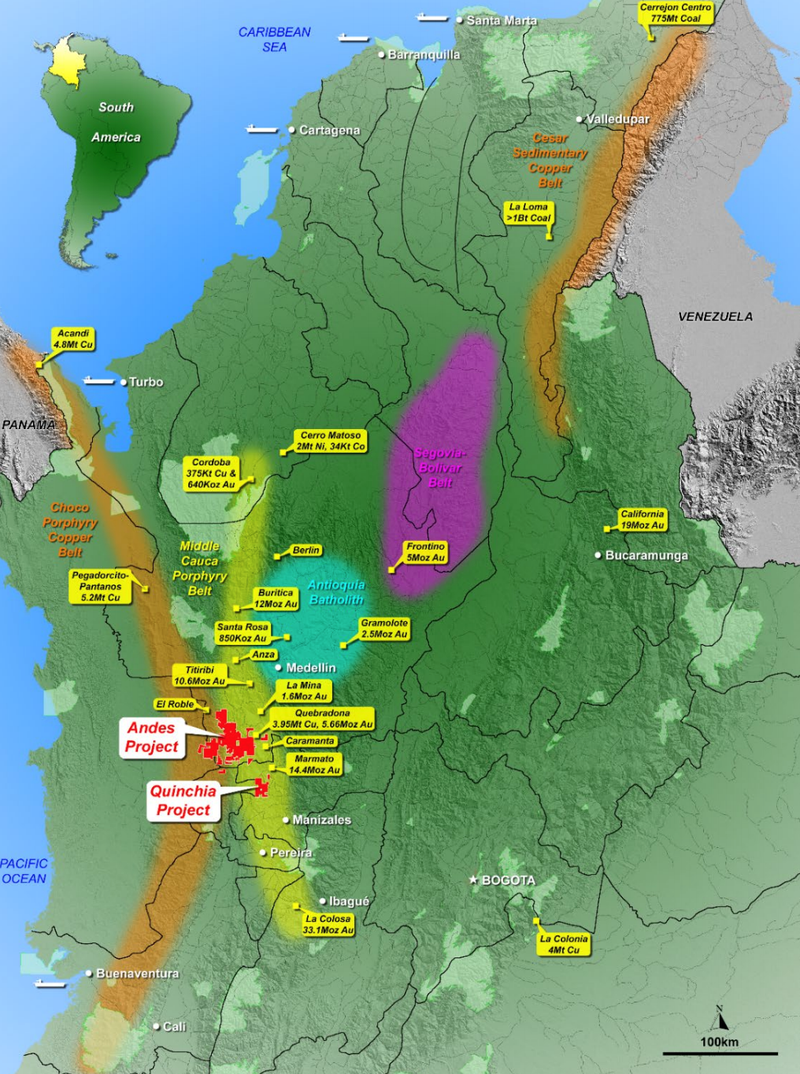 Just to reiterate, this region plays host to the world's top three largest gold producers, Newmont Gold Corp. (NYSE: NEM), Barrick Gold Corp. (NYSE:GOLD), and AngloGold Ashanti Limited (JSE:ANG | ASX:AGG | NYSE:AU).
Each of these companies has poured funds into developing the region, and along with the likes of IAMGOLD (TSE:IMG), Continental Gold Inc. (TSX:CNL), and legendary mining investor Eric Sprott, have made significant gold discoveries. These include the 30 Moz La Colosa, the 30 Moz Nuevo Chaquiro, the 12.2 Moz Titiribi, and the 12.4 Moz Marmato deposits.
As far as Metminco is concerned it holds one of the largest portfolios of gold-copper exploration assets in the Cauca Valley following the acquisition of Andes Resources. This acquisition brought together Metminco's existing Quinchia Gold Project, including its advanced Miraflores gold project, its Chuscal joint venture (JV) with AngloGold Ashanti and other surrounding prospects, with Andes' extensive gold-silver-copper tenement holding — the Andes Project.
Of course, today it is all about Metminco's latest results.
Metminco impresses with first up results
Metminco Limited, soon to be renamed Los Cerros Limited, has had immediate success at its Chuscal Gold Target.
The company has intersected an impressive 350 metre wide zone of gold mineralisation from surface in the first diamond hole ever drilled into this target.
The hole continued to a depth of 452 metres.
Here is a look at the results, which speak for themselves and have brought the company under the spotlight as an extremely undervalued emerging gold play with extensive exploration upside.
The results included:

As indicated above, a number of intervals with higher grade gold and silver were intersected within the broader 350 metre zone, but the depths tell the story.
Note the higher grade gold (Au) intersected at and below the 222 metres mark.
There is also a significant increase in silver (Ag) mineralisation below 320 metres.
Further results due shortly
Assays for a second hole are imminent. The geological features of the second hole have also been encouraging with porphyry style characteristics noted around 260 metres.
A third hole is due to be completed by the end of November and should provide investors with further assay results by mid-December.
Strong results would see Metminco finish the year strongly and set itself up for a big 2020.
The success at Chuscal has far-reaching implications, particularly in light of its potential benefits for the broader Quinchia Project.
Metminco's managing director Jason Stirbinskis said, "This is a remarkably strong result on our first hole given the extent of the mineralisation encountered from surface, and it has proven very illuminating, greatly improving our understanding of the geology.
"After outstanding drill success last year at the nearby Tesorito porphyry discovery, including a best result of 253 metres at 1 g/t gold from surface, including a higher grade zone of 64 metres at 1.67 g/t gold, and now hitting this wide interval at Chuscal, we believe we are in enviable porphyry territory.
''It remains early days into drilling at Chuscal, but this first intersection has certainly provided very strong encouragement about what Chuscal could be when one considers the sheer scale of the gold anomaly at surface, the impressive widths of mineralisation encountered and its location in the heart of the Mid-Cauca belt, which is already host to several multi-million ounce porphyry and epithermal deposits.
''When compared to other global porphyry systems and recent discoveries, this early result reaffirms our view that our Quinchia Project and Chuscal in particular, have great potential".
The project is located in prime territory as indicated in the following map which shows multi-million ounce projects to the north and south.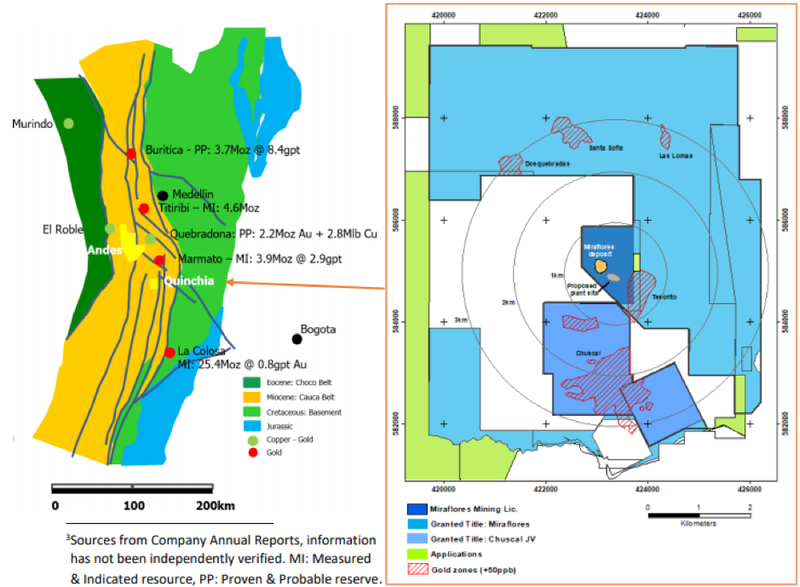 Importantly, the Chuscal target is situated in close proximity to Metminco's discoveries.
It is only two kilometres from the group's Miraflores deposit where a mineral resource of 877,000 ounces at 2.8 g/t gold and an ore reserve of 457,000 gold ounces at 3.3 g/t gold have been defined.
Further, Chuscal is only one kilometre from the Tesorito prospect which as outlined by Stirbinskis has already demonstrated its porphyry characteristics with mineralisation encountered across broad intersections.
Given their close proximity, Metminco believes they may form the cornerstone assets for a multi-mine district with a central processing facility.
The extensive near surface mineralisation which would lend itself to low-cost open pit mining, combined with the use of a central processing plant would make for a particularly economical project in terms of development costs and ongoing production costs.
At Chuscal, the near surface, high-grade epithermal vein population overprinting the porphyry mineralisation is of particular interest given the potential to create wide mineralised zones with internal, higher grade zones.
While Metminco has 100% ownership of Miraflores and Tesorito, it is earning a 51% interest in Chuscal from AngloGold Ashanti Columbia SA.
Promising early signs from second hole
The second hole (CHDDH002) was recently completed for a total depth of 412 metres.
The primary objective of the drill hole is to test the eastern end of the large surface geochemical anomaly and pass underneath the historic Guayacanes workings to investigate the core of the diorite zone as mapped on surface.
After passing through the diorite, the hole intersected an extension of the breccia zones mapped in CHDDH001.
The second half of CHDDH002 is of most interest as it passes under old workings and should intercept several of the ''horsetail'' structures as indicated by the red lines below.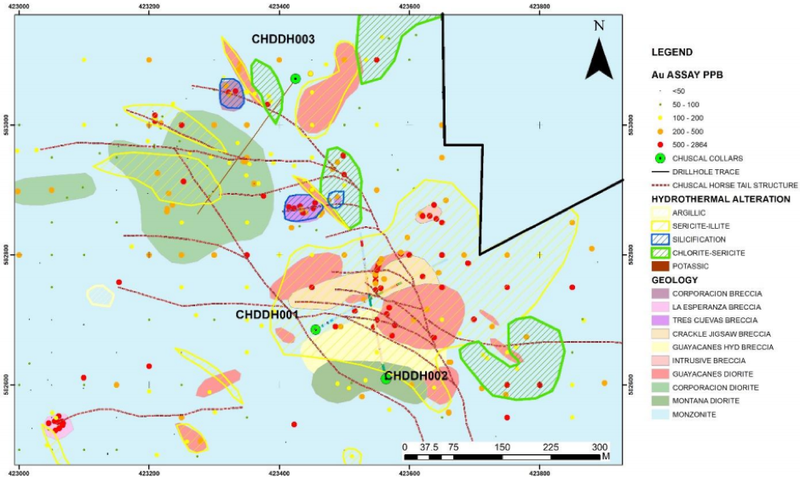 Stirbiskis acknowledged that the company only had quick visual logs to date, but he did say, ''We note that we entered a zone of considerable potassic alteration characterised by magnetite and secondary biotite alteration around 260 metres down hole.
''Both of these alteration minerals are indicative of higher temperatures associated with porphyry style mineralisation.
''We were also very encouraged to intercept a number of zones of increased veining between 120 metres – 240 metres, 290 metres – 300 metres, 320 metres – 340 metres and again between 360 metres and 390 metres.
''These coincided with where the structural model predicted them to occur.
''We expect assay results for the hole to be available within 2 to 3 weeks."
The rig has now begun drilling the third hole (CHDDH003).
This hole lies 500 metres north-northwest of CHDDH002 and will test the Corporacion diorite on the north-west end of the gold soil anomaly and is orientated to intercept several of the inferred "horsetail" structures.
The 350 metre hole is expected to take the remainder of November with results due mid-December.
Metminco's social conscience
The company is certainly buoyed by these results, however it knows its success wouldn't be possible without proper community engagement.
This outlook led the company to open a local business called Quinchips — a key component of its Corporate Social Responsibility (CSR) work program, co-sponsored by the Australian Government through the Australian Embassy - Colombia.
Quinchips is a manufacturer and distributer of plantain chips, a popular snack in Colombia. It is staffed and managed entirely by women who were previously either artisanal miners or the partners of artisanal miners from the Miraflores area in Quinchia.
Metminco's Managing Director, Jason Stirbinskis commented: "We are planning for success in Colombia, and with that comes our commitment to positive community engagement and setting the right foundations for the establishment of a long term mining business that benefits the local community."
You can read more about the venture in the following Finfeed article: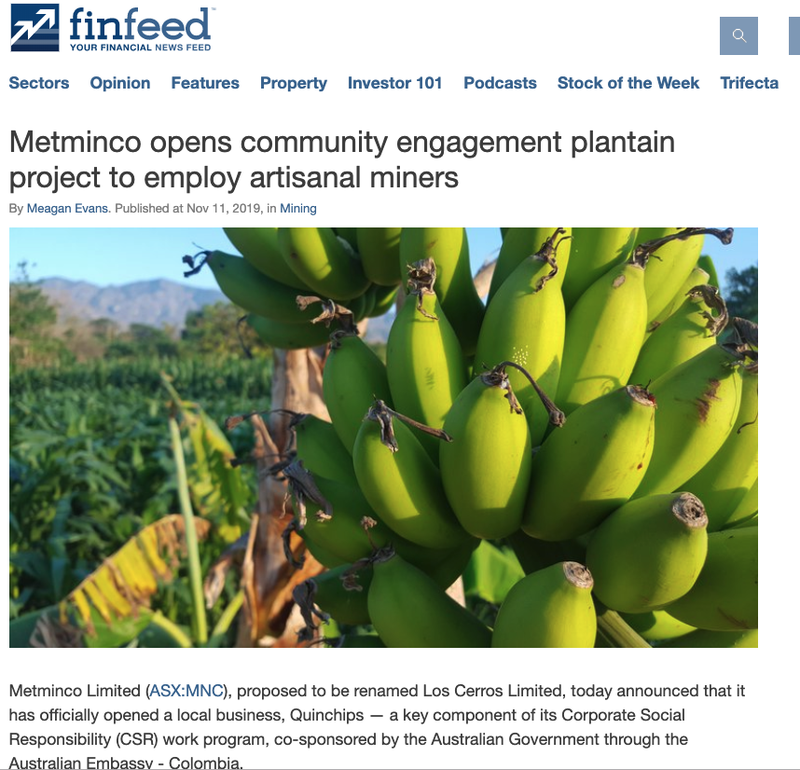 This is an important venture for Metminco as it looks to create a positive difference in the local community.
The final word
Could Metminco follow in Alkane's footsteps?
Its results are similar, so it will be interesting to see what the end of the year brings as we find out what drill holes two and three hold.
Certainly, results so far are impressive.
If it is able up back up these initial results, it may not be too long before a small ASX junior gold explorer doesn't look out of place amongst some of the biggest gold producers in the world.
---