BLK Keep Extending Mine Life: Edging Closer to First Gold Pour
PUBLISHED: 09-02-2016 11:05 a.m.
For sports fans, it's been a big, positive couple of months in Australia.
Our cricket team dominated the Australian summer series, the Australian Open continued its fine attendance record and great tennis matches...
And junior Aussie explorers have continued to post encouraging results.
This time it's Blackham Resources' (ASX:BLK) turn.
BLK's highlights reel over the summer period now seems longer than the hot shots reel concocted by Channel 7 at this summer's tennis.
Following on from a transformational 2015 for BLK, the last few weeks have seen the stock surging to fresh highs. Since a low point in December 2014, BLK has been up as high as 870%, and as high as 160% since we first broke the story to our readers in the article ASX Junior to Unleash 100koz pa Gold Machine: Funding Now Secured back in May of 2015: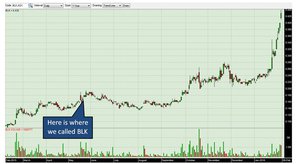 The past performance of this product is not and should not be taken as an indication of future performance. Caution should be exercised in assessing past performance. This product, like all other financial products, is subject to market forces and unpredictable events that may adversely affect future performance.
When we last looked at BLK they had just secured $7 million in funding and were on the cusp of completing their Definitive Feasibility Study (DFS).
Since then, they have put the money to good use. In fact, BLK's Matilda Gold Project in Western Australia is waltzing along.
The Matilda Project is in the middle of a well-endowed, gold-producing region, and some time back BLK stumped up for the mothballed Wiluna gold plant, giving it immediate potential production capacity of 100,000 ounces of gold per year.
This is all based on how much high grade ore BLK can produce through Matilda.
Before we go too far though, it's worth reminding that BLK is a speculative stock, and success is no guarantee here – caution is always recommended when considering an investment.
As a result of further drilling, BLK has managed to boost its resource to 12.9 million tonnes @ 1.8 grams per tonne for 724,000 ounces of gold,
whilst significantly adding to the confidence of its estimates – with 61% now in the measured and indicated resources category.
BLK has several plays in motion.
Just before the New Year broke, BLK released results from drilling of its Williamson deposit, part of the Matilda Gold Project.
The recently completed programme of 22 RC holes extended the new shallow high-grade zone of oxide mineralisation along the Western Flank of Williamson. This newly discovered oxide lode extends into the Pre-Feasibility Study (PFS) pit design, which is likely to improve the pit's economics.
It's not the only good news out of Matilda, where the jumbucks are getting jollier.
In the very latest results received from Matilda, the recently completed programme of four Reverse Core (RC) holes for 524m and 20 Diamond Drill (DD) holes for 2290m is expected to both expand and add further confidence to the free-milling, open pit ore reserves.
Meanwhile in another Galaxy, actually in BLK's Galaxy gold deposit, results from the recent resource definition and Definitive Feasibility Study (DFS) drilling activities, has shown that the resource has been re-estimated to allow fast-tracked ore production.
DFS metallurgical test work has confirmed the free milling nature of the Galaxy ore with recoveries up to 96%.
And the base load Matilda ore will be supplemented with high grade quartz reefs from Galaxy for an estimated average feed grade of 2.8g/t.
Galaxy is just 13km from BLK's 100% owned Wiluna gold plant.
When considering the sum parts, the recently published PFS confirms Galaxy's high-grade resource from surface will be another attractive feed for Wiluna.
Everything BLK is currently doing points to Wiluna, with the recommissioning of the Plant, expected mid-2016 – just a few months away now.
BLK seems to be racking up the highlights lately, so without further ado, let's go into a deeper exploration of BLK's activities over the past month...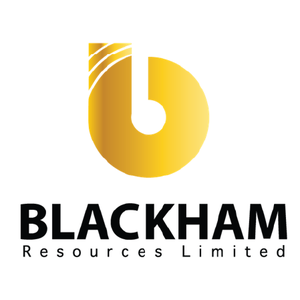 The pleasing news for Blackham Resources (ASX:BLK) investors over the past few months, is that its steady, positive news flow has provided strong momentum for the company. We have followed the BLK story every step of the way in the last half of 2015, and you can dig into our recent previous articles here:
With further news expected, particularly as BLK gets set to recommission the Wiluna Plant, there is always potential for another re-rate in the near term.
Remember BLK hopes to put its Matilda Gold Project into production by mid-year, targeting initial production of approximately 100,000 ounces of gold per year.
BLK now has a gold resource of 45Mt @ 3.3 g/t for 4.7 million ounces, all located within a 20km radius of its 100% owned 1.3Mtpa plant.
In the past month, BLK has added significantly to its mine life. Let's have a look at how its most recent successes have come together.
Come a waltzing Matilda with me
As mentioned, the recently completed drilling programme of 4 RC holes for 524m and 20 DD holes for 2290m is expected to expand the free-milling, open pit ore reserves at BLK's Matilda Gold Project.
The diamond drilling programme was designed to provide geotechnical assessment of proposed pit walls and metallurgical samples of oxide, transitional and fresh rock from each of the proposed sub pits.
The Matilda Mine will provide base load ore for the recommissioning of the Wiluna plant and will be supplemented with high grade quartz reefs from Galaxy (we'll get to that shortly).
In its most recent news, BLK managed to boost its Matilda resource to 12.9 million tonnes @ 1.8 grams per tonne for 724,000 ounces of gold – up from a previous estimate of 12.5Mt @ 1.8g/t for 705,000 oz.
However, the proportion of this in the indicated and measured categories is now 61%, up from about 53%.
The higher proportion means BLK will have more confidence in its main deposit as it moves towards a Definitive Feasibility Study in the near-term and first production in the middle of the year.
BLK continue to find repeat lodes north and south of the Matilda M4 pit. As a result the planned open pit continues to grow.
It now looks like being over 2kms long and is still open to the north and south.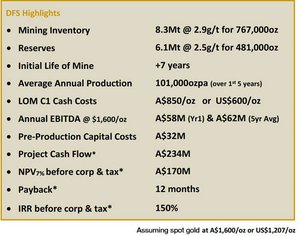 There could be more to come though, with BLK in the middle of a 4500m reverse circulation drilling program at Matilda in an attempt to find further repeating lodes, upgrade more inferred resources to higher categories and to extend the resource along the 7km of strike.
Here's an in-depth run down of the Matilda Mine:
High grade ore
The Matilda M10 orebody, located 1.5km south of the main Matilda Mining area, has a number of lodes including flat lying supergene, near vertical and antiform hinge, which is typical throughout.
Here's a cross section to give you a more visual indication.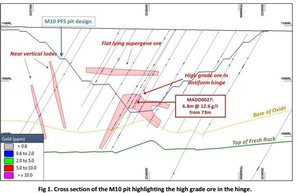 The M10 is actually a new pit, but it is a significant one because as you can see from the map above, the lodes all extend up plunge to surface.
These drill results highlight the high grade ore in the hinge of the M10 antiform: [email protected] g/t from 73m and [email protected]/t from 86m.
Since the PFS was finalised, previous drilling has also uncovered high grade ore in the near vertical lodes of the PFS pit design to the west.
That's good news and it is made even better by the DFS metallurgical testing which has confirmed very strong 98-99% recoveries.
All of this put together with higher processing recoveries and lower processing costs could increase the size of the M10 pit, which is expected to expand to the west.
Of course this expansion is speculative, the resource sizes are estimates, and this is a speculative mining stock. Success is no guarantee, especially when investing in fluctuating commodities where project economics can rapidly change.
Now let's have a look at the other pits, just to give you a sense of how consistent the reports of high grade are.
As you can see from the map below, the Matilda Mine has broad moderate grade ore zones with higher grade zones within M4, where the orebody continues to grow and includes a large 1.5km long open pit that continues along strike with the discovery of new repeating high grade lodes Iceberg 2, Scorches and Sixes.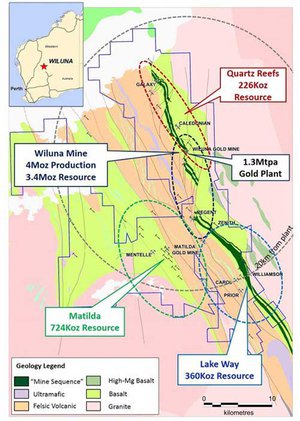 Source: Blackham Resources
Then there's the M3 and M1 pits.
M3 is expected to go deeper and as a result of recent drilling is also expected to merge into both the M4 and M1 pits, reducing the combined stripping ratio and improving the economics of the Matilda orebodies.
BLK is expecting even bigger news now that the Matilda Mine DFS drilling activities have been completed and a resource re-estimation is well advanced.
In fact BLK's mining engineers and consultants have begun re-designing the open pit designs for the DFS due to the expectation of expanded pit sizes.
If all comes to fruition, then the Matilda Mine will play an important role in providing base load oxide ore that will be used to recommission the Wiluna Gold Plant later this year.
Considering Wiluna has been bereft of base load oxide for many years, this puts BLK in a much better position over previous operators.
Matilda's other love child
At the Williamson deposit, which is also part of the Matilda Gold Project, high grade and broad mineralisation has been delivered.
BLK completed a programme of 22 RC holes which extended the new shallow high-grade zone of oxide mineralisation along the western flank ([email protected]/t Au from 49m & 3m @6.65 from 58m –WMRCOO41). This newly discovered oxide lode extends into the PFS pit design which could improve the pit's economics.
Not only that, but BLK now has far greater confidence with the free milling, open pit mining inventory prior to the recommissioning of Wiluna.
Williamson, situated in the Yilgarn region, is similar to the Thunderbox gold mine which was brought back to life in a $65 million redevelopment by Saracen Mineral Holdings...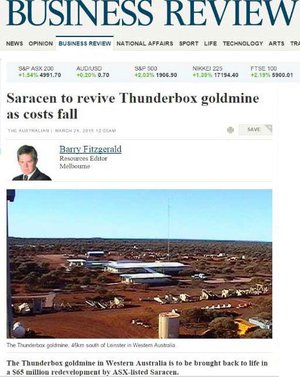 ... and it is also geologically similar to the $298M capped Gold Road Resources' Gruyere deposit.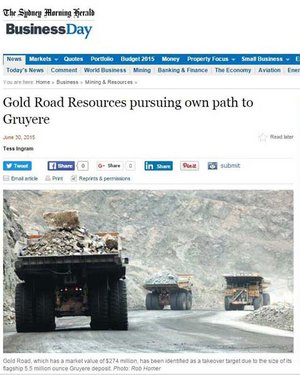 In fact Gold Road Resources has been the target of speculation recently with regard to its Gruyere deposit.
BLK is hoping to position itself the same way with its 4.7 million oz. gold resource and its location sandwiched between the $474M Metals X (ASX:MLX), the $1.935BN Northern Star (ASX:NST) and the aforementioned $558M Saracen (ASX:SAR).
Whilst the overall grade at Williamson is modest at [email protected]/t for 350,000oz, the large tonnage makes it an attractive exploration and development target for ensuring a sustainable base load mine plan for Wiluna.
Here's a plan of the latest drilling.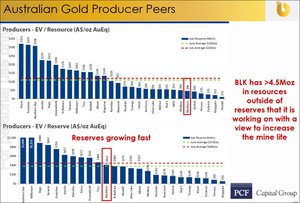 The map should give you a sense of the importance of Williamson in BLK's overall grand plan.
Williamson has several things going for it including a new oxide zone discovery and a broad gold mineralisation that extends the main lode deeper.
The Williamson DFS
The DFS metallurgy test work undertaken at Williamson has been pretty positive with initial oxide gravity results confirming 65%-71% gravity recoveries pf 98.3%-99.5% after 24 hours of leaching.
This is a monster jump from past feasibility work which saw a previous operator only recover 31%-65%. BLK's processing flowsheet for Wiluna will see the addition of a gravity circuit which could add significantly to total process recovery.
In a prior life the Williamson ore was processed through Wiluna without the benefit of a gravity circuit.
Further exploration
Through Williamson, BLK believes it has the first deposit in a potential mining centre at the historical Lake Way. You may remember Lake Way from a couple of years ago when Toro Energy received Federal environmental approval to exploit the Lake Way deposit. Toro's goal was to become the first to export uranium from WA.
For Williamson, Lake Way presents an extension opportunity.
The Williamson structure has 2.2km of known mineralisation and this extends in excess of 1.5km further south, with high grade historical air core intercepts including [email protected] g/t from 56m, [email protected]/t from 60m, [email protected]/t from 16m, [email protected]/t from 35m, and [email protected]/t from 16m. These intercepts will be the basis of follow up exploration by BLK, leading into the surrounding area which includes Lake Way.
It would seem BLK has a lot on its plate with the various Matilda deposits feeding into Wiluna Plant, but it has another ace up its sleeve – Galaxy.
In a galaxy not so far away...
Results from the recent resource definition and DFS drilling activities at BLK's Galaxy gold deposit, show that Galaxy forms part of the 15km long quartz reef structures that include the high grade Golden Age reef.

A recent PFS has confirmed Galaxy to have a high grade resource from surface.
Meanwhile BLK has completed a drill programme of 2 diamond drill holes for 232m as part of Galaxy's DFS phase.
Results showed consistent width and grade.
See results below.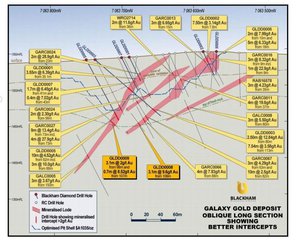 When looking further at the results, the free milling Galaxy ore has demonstrated DFS metallurgical recoveries of 93%-96% after gravity and 25 hours of leaching. This is consistent with the PFS test results which showed 96%.
PFS gravity recoveries were as high as 82% and demonstrated an ore body with a nuggetty nature.
In Caledonia (not the tropical island), which is located on a mining lease 5km north of Wiluna and connected by existing haul roads, it was found that this deposit is part of a system of high-grade quartz reef gold deposits extending northwest from Golden Age at the Wiluna Mining Centre to Gravity.
BLK completed a small maiden RC drill programme here aimed at replicating and extending historical RD data.
Most notably, mineralisation in the first drill hole was found to have encouraging width and grade.
The most significant results included:
4m @7.97 g/t from 57m
1m @5.82 g/t from 63m
1m @5.32 g/t from 77m
Living in the golden age
Later this year BLK plans to start mining both the Galaxy and Golden Age ore bodies as high grade feedstocks for Wiluna Plant.
Along the 15kms of Quartz reef prospects and old workings, only Golden Age has experienced significant drilling below 100m.
BLK is planning a further 2700m underground drill programme into the Golden Age orebody. Its aim is to extend the resource further east along stroke and therefore add further high grade ore into the mine plan.
In its maiden drill programme, BLK reported an average composite grade of 83g/t Au between the 900 to 1100m RLs. The middle portion of the deposit includes an extremely high grade intersection containing visible gold with assay results returning 5.1m @ 198g/t Au from 173m which includes 0.8m @ 1,148g/t Au from 177m.
Historically, the Golden Age orebody has produced 160,000oz @ 9g/t fully diluted.
In ore of gold
BLK has big ambitions and its current news flow suggests it is meeting its targets head on.
Expected results at its Matilda Project could significantly enhance the DFS mining study in the near term.
In fact, Matilda has built on recent exploration successes, including confirmation growing the M4, M10 and Galaxy pit sizes as well as identifying high grade ore in the base of its M10 pit.
Meanwhile, BLK could experience a price catalyst as ongoing drilling at its Golden Age and Galaxy prospects is expected to further grow the mine plan prior to production.
Of course, any price catalyst is merely speculation on our part – exercise caution if considering an investment here, and its always a good idea to seek out professional advice.
The Matilda Gold Project has produced over 4.3Moz over the last 120 years.
With 4.7Moz of resource left this is a very big project for the $86M-capped BLK.
With all of BLK's resources just 20km from its Wiluna Gold facility, Wiluna should benefit from major increases in potential feedstock as it gets set to be recommissioned by the middle of the year.
Meanwhile, the current AUD Gold Price of over $1,600/oz. is putting a lot of focus on Western Australian gold developers and producers as BLK moves rapidly towards production...
---