AXE Looks Downstream With 'Near-Perfect' Graphite
PUBLISHED: 18-04-2018 10:00 a.m.
When discussing the industries of the future we tend to get caught up in pie-in-the-sky ideas about how those technologies will shape the world for the better.
However, what we don't do is think about the literal building blocks of that technology.
Archer Exploration (ASX:AXE) is at the forefront of not one, but three, emerging tech trends in graphene and is shaping as a key supplier of the building blocks underpinning that tech development in Australia.
We've featured AXE before, focusing on its high-quality assets in South Australia as it attempts to become a key supplier of the graphene revolution.
In fact, its efforts so far have seen "a growing number of unsolicited approaches for participation in joint development projects..."
Just last month, the company announced that its existing collaboration agreement with The University of Adelaide, for the Australian Research Council Research Hub for Graphene Enabled Industry Transformation, has been redefined to develop and implement graphene and carbon-based materials for use in complex biosensing which can target applications in human health.
Early this month, AXE announced the findings of technical analysis undertaken at the world-class Australian Centre for Microscopy & Microanalysis at The University of Sydney, which found that the intrinsic physical properties of AXE's graphite is suitable for use in batteries and the production of graphene.
Further, the high quality of the graphite is maintained even after mechanical and chemical processing.
The results confirmed the structure of the Campoona graphite lattice closely matches the ideal theoretical crystalline structure for graphite, with samples consistently showing a high degree of crystallinity clearly visible in the electron microscope images.
Clearly, AXE is doing something right here.
Although it remains a speculative stock and investors should seek professional financial advice if considering this stock for their portfolio.
In this piece we'll go through the gameplan AXE has put together to capture more of the value chain, and take a closer look at the graphene-led future AXE is positioning itself to take advantage of.
Re-introducing:

Archer Materials Limited
ASX:AXE
The AXE gameplan goes downstream
The main game for AXE is its graphite assets in the Eyre Peninsula.
What characterizes AXE's graphite is that it's been continually found to be super-high quality through testing.
In fact, the University of Sydney recently inspected AXE's graphite and found that it was super-high quality at the atomic level, even when put through mechanical and chemical processing. You can read more about that in this Finfeed.com (a related entity of S3 Consortium) article.

In terms of volume, AXE is sitting on a total JORC resource of 8.55 million tonnes at 9%, for 770,800 tonnes of graphite.
But further work could potentially see the resource figure swell higher, with targets still to be tested by the drillbit.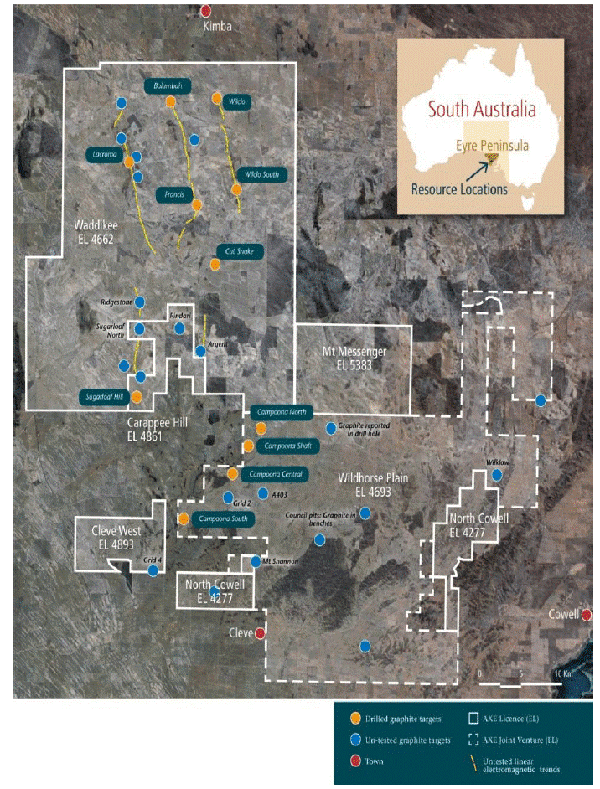 Its three biggest plays here are the Campoona, Sugarloaf, and Wilco South projects, with Campoona the most advanced of the assets.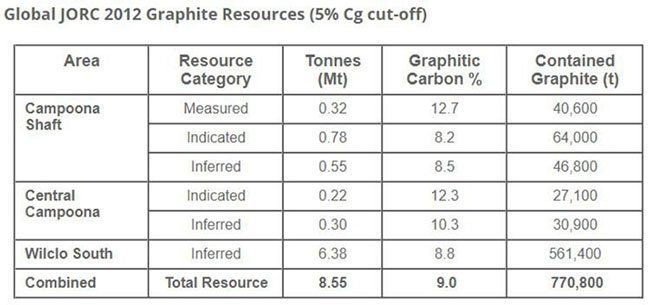 It also has copper, gold, and magnesia targets it's looking at in the background, with recent electromagnetic surveys going well.
But what intrigues us most about AXE isn't its upstream assets, but rather its moves in recent months into the downstream to unlock value along the whole chain.
The appointment of Dr. Mohammed Choucair late last year was a sign of intent from the company.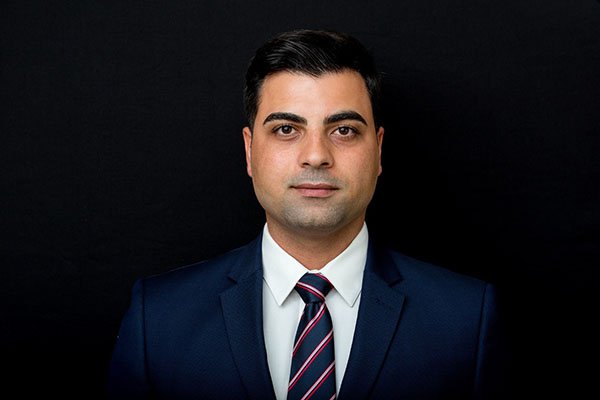 Dr. Choucair was the first person on the planet to directly synthesise graphene.
Here's a man who is involved on the cutting edge of graphene research, and would be across all the latest thinking in the sector.
Shortly after his appointment, AXE also announced that it was buying graphite and graphene marketplace Carbon Allotropes.

This acquisition is important for several reasons, not least of which was that it showed investors that AXE was moving well beyond the scope of just another junior miner.
Carbon Allotropes has been set up as a one-stop shop for everything graphite, graphene, and other carbon-related materials.
AXE has taken a strategic option for a slice of what it thinks will be an ever-increasing trade in these materials.
Not too many miners mine and sell their product... and own the marketplace as well.
It's a canny business, and it demonstrates AXE is thinking long and hard about the future, making the company more than your standard junior miner story.
An AXE frenzy
When a new CEO is appointed, it can go either one of two ways.
The first is to take their time to get their feet under the desk and take a softly-softly approach to management.
Or, they can start with a bang.
Dr. Choucair has taken the latter approach, doing deals left, right, and centre and starting with a bang.
You only need look at the company's latest updates for evidence of the work he's put in so far.
The highlights include:
Technical analysis undertaken by AXE and the University of Sydney has confirmed graphite from Campoona is structurally near-perfect down to atomic scale.

Collaboration with FlexeGRAPH (more on that below)

Collaboration agreement with UNSW

AXE has been in contact with over 100 potential offtake and investment partners for its graphite exploration activities.

It's pre-qualified over 150 new customers and collaborators for the Carbon Allotropes marketplace.

Collaboration between AXE and The University of Adelaide has been redefined.

Given Dr. Choucair has been in the chair for just over four months, that's some pretty good progress to date!
But, we should note that some of this progress includes early discussions only and are not guaranteed to come to fruition – and should not be the basis of an investment decision.
AXE has also refreshed its branding and website – which while not a big deal in itself, speaks to the new momentum the company has found since Dr. Choucair's appointment.
The company is now known as Archer and the website isn't your typical mining website:
Meanwhile on the upstream, it's moving forward with environmental approvals for its Eyre Peninsula Graphite Project – with a Community Consultation Plan also lodged with the SA government.
These are matter of approvals, but the approval of applications could give AXE a short-term boost – so canny investors are advised to keep their eyes on progress here.
What's more riveting, however, is the focus AXE has acquired.
The trinity
While outlining a big opportunity in next-gen manufacturing, AXE has focused its operations on three main opportunities:
Health
The health industry represents one of the huge industries of the future in Australia, and internationally.
Here, the generation of baby boomers is starting to move into retirement age – and with that comes more people accessing health services, which is expected to trigger a wave of investment into the sector.
Globally, health spending has been tipped to reach a staggering $8.7 trillion by 2020.
Graphene is playing a role in the growth of spending in the sector with new research starting to play around with the use of graphene in wearable devices – and even branching out to use graphene in drug delivery.
This is stuff on the cutting edge of medical research, and AXE is playing a role.
It has signed a partnership agreement with the University of Adelaide to develop biosensors, using graphene, which can do things like detect: cholesterol; blood glucose; pregnancy; infectious diseases and; drugs.

The global biosensor market is worth an estimated $16 billion to $27 billion by 2022 – so it's a good niche to plant your flag in.
Energy
Graphene has long been talked about for its potential in the energy sector, helping hasten the transition to a clean energy future.
It's been tipped to start to play an increasing role in energy storage and supercapacitors. These two technologies could provide the 'missing link' for clean energy production.
After all, renewables do continue to be intermittent in nature. If that energy could be stored in batteries (with graphene components), then it could well and truly be a game-changer.
Again, AXE has signaled its intent in this sector having signed Collaboration Agreements with FlexeGRAPH and UNSW.
AXE and FlexeGraph have agreed to jointly develop graphite and graphene-based advanced materials for the thermal management of EV batteries, internal combustion engines and high performance computing systems.
These two partners aim to translate products and patents relating to high volume and high value graphite-to-graphene development with the reliable energy segment of the market.
Through this strategic partnership, material will be prototyped using Campoona graphite and new products will be developed to be sold through the Carbon Allotropes marketplace providing an e-commerce pathway to market.
Here's Dr. Choucair with FlexeGRAPH founder and CTO Dr. Shannon Notley.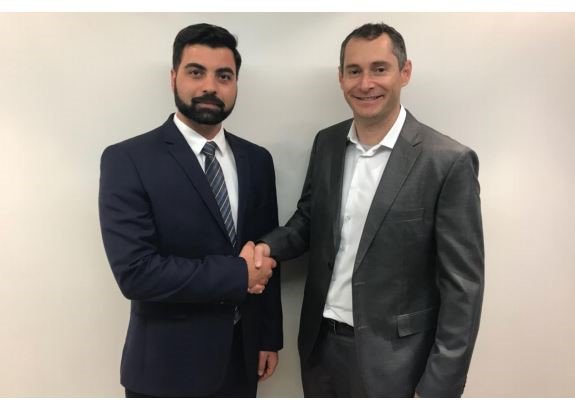 Importantly for AXE, FlexeGRAPH, which produces cooling fluids enhanced with nanomaterials, has connections to global markets in the chemical and automotive sectors.
A perfect fit for AXE's high quality graphite and graphene.
As for the UNSW, AXE will work with the university to develop its Campoona materials into lithium-ion batteries.
Quantum technologies
AXE is also aligned with research right on the bleeding edge of science – investigating the use of graphene in quantum applications.
Quantum is an emerging field of science looking at how to manipulate some of the properties of quantum mechanics to achieve all sorts of things – including a huge uplift in computer processing power.
This is all really early stage stuff of course, but graphene is being talked about as playing a role in this emerging field – and clearly AXE (and Dr. Choucair) think it's worth hitching their wagon to.
Given Dr. Choucair's deep involvement in the cutting edge of graphene research, we're willing to bet that there's a very, very good reason AXE is looking at quantum tech...
The AXE future
Most junior miners simply mine their chosen commodity, try to find an offtake partner and are reliant on drilling to provide investors opportunities to buy in.
What impresses us about AXE is that it's thinking about the long game and positioning itself as a key player in emerging industries.
Although it still has a way to go before being fully immersed in these industries, so investors should seek professional financial advice if considering this stock for their portfolio.
By playing both downstream and upstream, AXE is building a vertically integrated business right at the centre of some of the most exciting technological work of the future.
With mining approvals ongoing, it hasn't simply sat on its hands.
Instead, it's worked hard on the long-term viability of its business – putting in place the supporting infrastructure to support a longer play than your typical junior miner is able to demonstrate.
With Dr. Choucair's phone ringing hot from potential partners in both the upstream and downstream parts of the business, you wouldn't bet against there being plenty of news flow in the next quarter.
It's certainly one we'll be watching closely.
---