AXE Acquisition Could Lead to Vertically Integrated Graphite Operation
PUBLISHED: 08-11-2017 09:39 a.m.
Due to its ever-expanding list of applications, graphene is terraforming the world as we know it. It has uses in everything from industry to electronics to medicine, with graphene polymer batteries enabling electric vehicles (EVs) to travel at a range of 800 kilometres.
That's the approximate distance from Sydney to Melbourne, and could mean car users being able to go longer distances on one fill-up, than ever before.
Just last year, researchers from Rice University expanded the electricity-based capabilities finding that graphene can be used to convert carbon dioxide into liquid fuels .
Whilst graphene is a very modern invention, its big brother graphite has been around for centuries. Like graphene, graphite has myriad uses including for crucibles used in the steel industry, brake linings and in batteries: the lithium-ion battery utilizes roughly twice the amount of graphite than lithium carbonate.
It is no wonder then that several Australian explorers have entered the graphite/graphene exploration fray.
Archer Exploration (ASX:AXE) has spent the past two years preparing for the dawn of graphene as a mainstream product. AXE has four significant avenues of interest: graphite, copper and cobalt which constitute a large portion of the emerging EV and energy storage markets. It is also involved with magnesia used in the steel making, process but which may provide a path to near term cashflow.
However, with graphite now its major focus, AXE has taken significant steps towards vertically integrating its graphite operations and has just launched a Share Purchase Plan to raise $2.25 million, with cash to go towards helping meet these ambitions.
In its most significant news for some time on the graphite front, AXE has purchased 100% of Carbon Allotropes, an online graphite and graphene marketplace that sells graphite and graphene products to domestic and international customers.
The acquisition brings into focus AXE's Eyre Peninsula Graphite Project, consisting of three graphite deposits and 10 further prospects worthy of further evaluation.
AXE expects its long-awaited Eyre Peninsula mining lease to be granted by the end of the year, which will formally kick-off its graphite extraction and processing program.
Once the mining lease is granted, AXE plan to utilise its large graphite endowment to supply a constant stream of high-grade graphite/graphene to local offtake partners and global industry.
Of course there is much to occur before AXE is able to hit the market like this, so investors should seek professional financial advice for further information if considering this stock for their portfolio.
The acquisition of Allotropes is thus a natural extension of AXE's capabilities and will provide critical distribution capability including enhanced service offerings, cross-sell and up-sell opportunities, strengthened competitive position by combining distribution, production and supply and accelerated growth in the graphene and graphite spaces.
The acquisition will also strengthen AXE's management position, as AXE welcomes Carbon Alltropes' founder Dr Mohammed Choucair as its new CEO.
AXE is looking to bring its ambition into reality by hiring an award-winning chemist with global recognition, and someone who also happens to be one of the world's leading graphene specialists. Not just that, but AXE is acquiring this man's dedicated graphene development company and naming him as its CEO.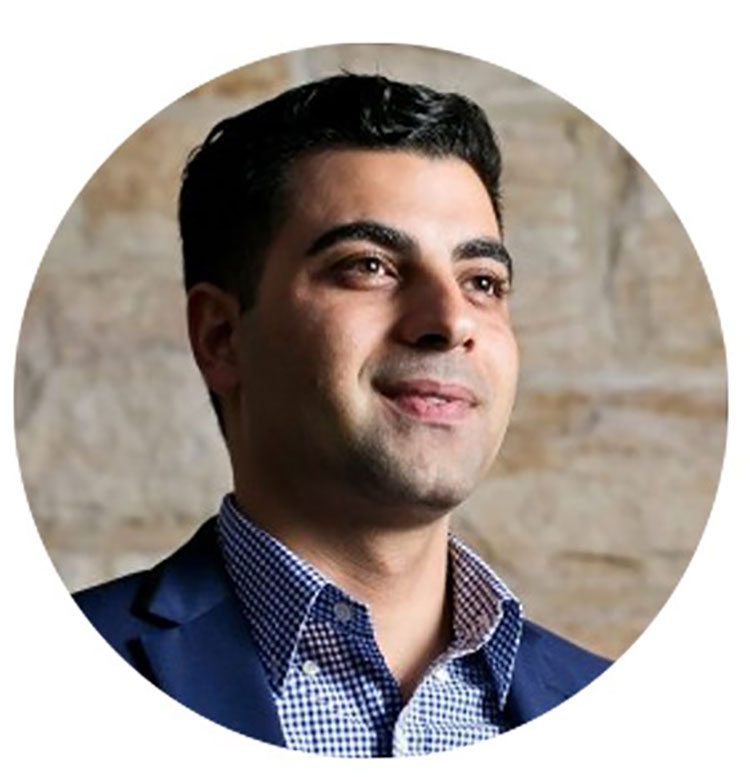 Dr Choucair is an award-winning PhD Chemist specialising in nanotechnology, engineering and materials science and under his guidance, AXE will prioritise its Eyre Peninsula Graphite Project and develop a high-margin graphene processing unit.
Checking in on:

Archer Materials Limited
ASX:AXE
When we first covered Archer Exploration (ASX:AXE) in 2015, its focus was predominantly on its magnesia, copper and cobalt prospects in South Australia.
Fast forward to today and it's clear that AXE is galvanising its forces for a shot at one of the biggest new industries on Earth: Graphene.
Before Graphene has had a chance to reach widespread use, powerhouses such as Apple are already conceiving graphene-infused ideas and patenting them hand over fist: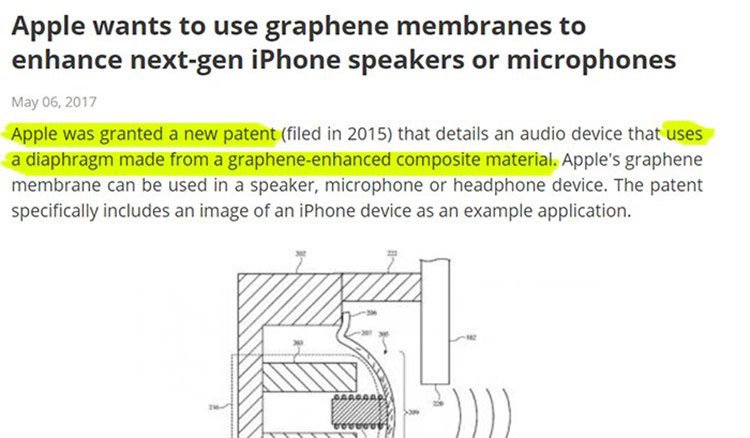 To make graphene commercially-viable, it's not a simple case of obtaining high-grade graphite and waiting for the cash to roll in. Far from it.
To produce high quality graphene, several complicated processing steps are required with many factors still relatively unknown due to the market infancy of end-user graphene products.
AXE looks like it may have simplified the process.
The Allotrope Acquisition
Working hand-in-hand, AXE and Carbon Allotropes will combine forces to take AXE's graphite endowment through the correct processing stages and towards graphene commercialisation.

With that as the end goal, AXE must first obtain the necessary permits to progress its prime graphite project — The Eyre Peninsula Graphite Project.
Late last year, AXE submitted an application for a Mining Lease at its Eyre Peninsula Graphite Project in South Australia. The applications are for the mining and processing of ultra-high-grade graphite and for the manufacture of graphene.
Crucially, this is the first application of its kind in Australia.
AXE is expecting to see its application granted by the end of the year, and for outright mining activities to commence shortly thereafter guided by new CEO Mohammed Choucair.
The money raised from the SPP will then go towards the integration of the Carbon Alltropes online marketplace with AXE's graphite business and further development of the Eye Peninsula Graphite Project, including the growth of AXE's graphite and graphene business among other things.
The SPP entitles eligible shareholders to purchase up to $15,000 of new fully paid ordinary shares at an issue price of 7.5 cents per share free of brokerage and commissions. Closing date is November 30.
Dr Mohammed Choucair is the first person in the world to directly synthesise graphene
When AXE went out searching for a graphene-market spearhead, it went straight for the top drawer. Dr Mohammad Choucair is currently the only man on Earth to have synthesised graphene from graphite bulk-powder. Currently, this is considered the Holy Grail of graphene research because it would allow a far more straight-forward method of production that would be insulated from supply shortages.
Digging out large flake graphite and converting it to graphene is expensive, but synthetic conversion creates more optionality. With Dr Choucair soon to be operating as AXE's CEO, it's likely that AXE will take a significant leap forward in its already-impressive graphene manufacturing capabilities.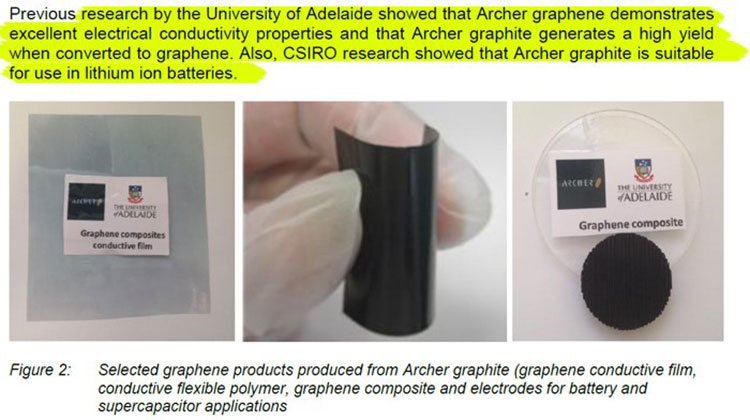 It is now an independently-confirmed fact that the graphene synthesised during Dr Choucair's PhD research improves the performance of lithium-ion batteries. This tech-breakthrough is significant and effectively places AXE as one of the first-movers in the graphene processing space.
It also remains a speculative stock, so investors should take all publicly available information into account and approach any investment decision in this stock with caution.
Now, let's recap AXE's graphite assets: in short the projects that could be feeding into AXE's proposed graphene/graphite processing facility.
AXE's graphite assets in full
In total, AXE has 2,154 km 2 of land under tenure on the Eyre Peninsula with 3 graphite deposits and 10 prospects identified to date.
AXE's Campoona resource is the Eyre Peninsula's largest graphite JORC resource with 8.55Mt at 9.0% Total Graphitic Carbon (TGC) for 770,800 tonnes of graphite .
Remember, high-grade graphite can often fetch in excess of $30,000 per tonne.
Here is AXE's complete list of prospects mapped out, with blue dots indicating untested targets and yellow dots indicating drilled targets.
AXE hasn't drilled all of its intended targets, but already, the A$10 million-capped explorer has a JORC Resource and high grade TGC graphite at multiple sites already drilled.
AXE is advancing Campoon Shaft and Wiclo South. Campoona Shaft is the most advanced, having submitted a draft mining lease in 2015.
The overall aim is to achieve open-pit mining of 140,000 tonnes of graphite ore and at least 10,500 tonnes of battery-grade graphite per year.
A detailed look at the projects that have the most commercial potential for AXE.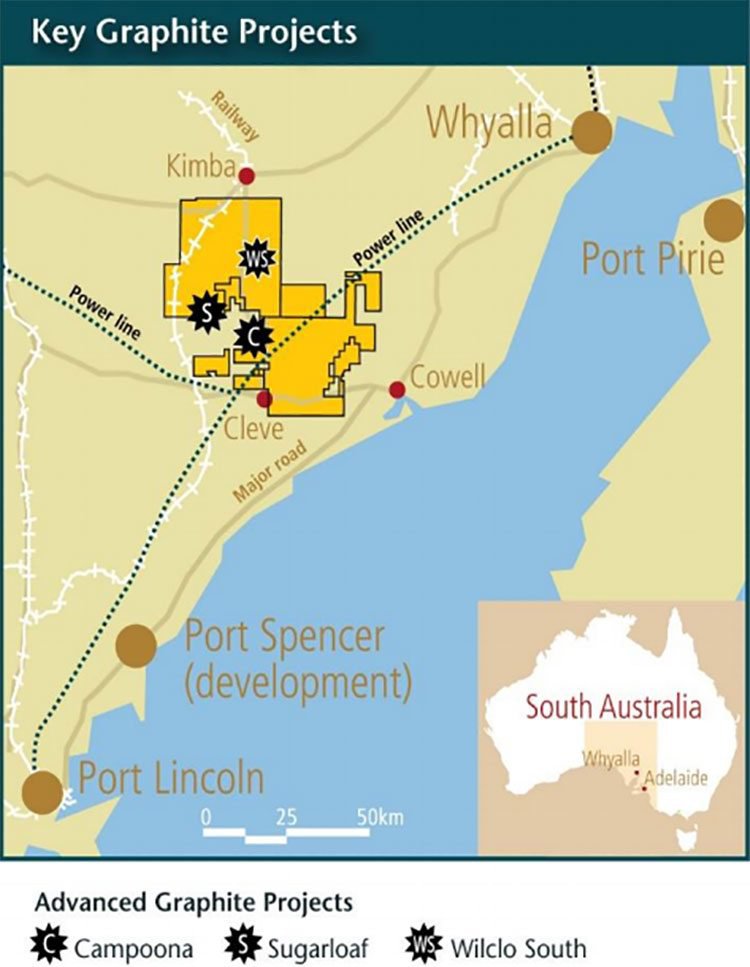 Campoona Shaft:
Campoona Shaft is a historically-active graphite mine, rediscovered and re-worked by AXE. Being the flagship project with most future this site will produce ultra-pure fine flake graphite with a mine life of 14 years with 10,000tpa.
Graphite samples from Campoona have been CSIRO tested and independently verified to perform to the same standard (and better) than synthetic graphite.
A great advantages for AXE is that the site is open at depth which means future exploration can be extended. Combined with the fact AXE is exploring at shallow depths, future exploration is likely to be cheap, fruitful and extendable if required.

The site has premium infrastructure including reticulated water, high-voltage power and excellent roads. All the components are there for initial production to begin in earnest.
Very few entities can achieve a 99%+ TGC product that's ready for sale from within the same site, as AXE is able to do. That is a significant competitive advantage that not will not only hold AXE shareholders in good stead, but will also send a clear signal to Chinese producers that the Australian mining boom is shifting from metals to graphite rather quickly.
Wilclo South
Last but not least, the Wilclo South project is AXE's large flake source with a JORC resource of 6.38Mt @ 8.8% Cg (5% Cg cut-off) and a mine life of 20 years .
The site could be explored further having had only 20% of its targets drilled, but AXE is prioritising towards other sites to expand its JORC resource.
AXE's latest Resource figures indicate a total amount of 8.55Mt @ 9% TGC for 770,800t.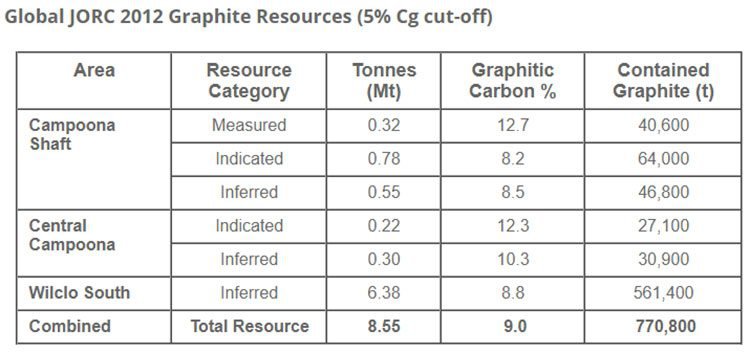 Leigh Creek
As mentioned earlier, AXE's focus hasn't all been on graphite. AXE also has a stake in a magnesia play at its Leigh Creek project. Magnesia is well sought after for steel making and could provide AXE with a path to near term cashflow.
The Leigh Creek Magnesia Project holds 48% of the world's cryptocrystalline resources. For those not in the know, cryptocrystalline magnesite is a unique mineral and accounts for just 7% of the world's total magnesite resources, however it has superior characteristics over the more common macrocrystalline magnesite.
Test work commissioned by the CSIRO at Leigh Creek, confirmed its magnesia can be processed to make a saleable product. This was confirmed when a bulk trial undertaken by a local kiln operator produced a saleable product.
AXE is now working with a potential customer who is currently using Leigh Creek magnesia in its steel operations, with the magnesia performing as expected.
Headlines such as this tell the magnesia story:

As Leigh Creek sits atop the global resource ladder, AXE is in a strong position to potentially make the market its own and capitalise on what looks to be a growing need.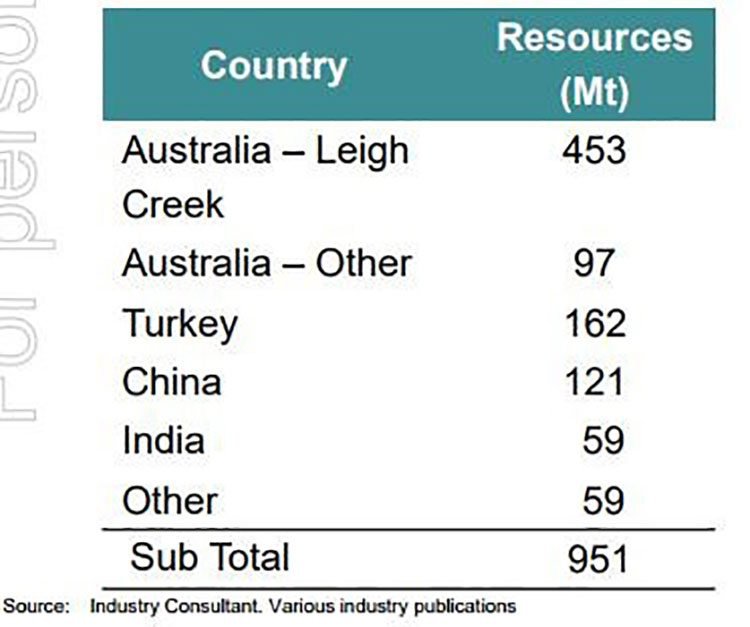 AXE is continuing discussions with kiln operators with the aim to snag a commercial toll treatment agreement in the near future.
Comparing the Aussie-based graphite peloton
Led in part by the CSIRO, and assisted by various universities, Australia is gradually becoming the epicentre of graphene research and development globally.
This works out well for AXE and the growing list of other Aussie graphene hopefuls. Let's take a look at how they stack up side-by-side...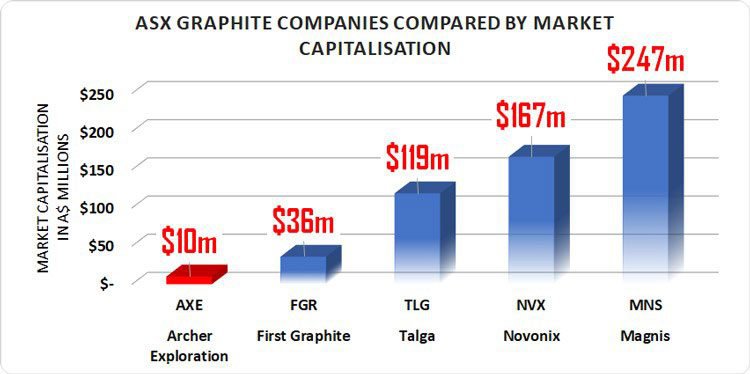 AXE constitutes the smallest of the graphite hopefuls, with a current market cap of A$10 million and priced at $0.07 per share. From a comparative perspective, AXE has significant peer-emulation potential as its strategy moves from theory to practise. In other words, this means that AXE has a strong chance of repeating what other resource companies have achieved, as it conducts technical work and progresses its range of projects.
If we now chart the same list of ASX-listed graphene developers — we can see their valuations (as measured by market capitalisation) steadily moved higher throughout this year, in parallel to their respective share prices to which market capitalisation is intrinsically linked to.
AXE hasn't seen the re-ratings experienced by Novonix and Talga, but over time, we think AXE stands a great chance of bulking up its market valuation much like its larger peers.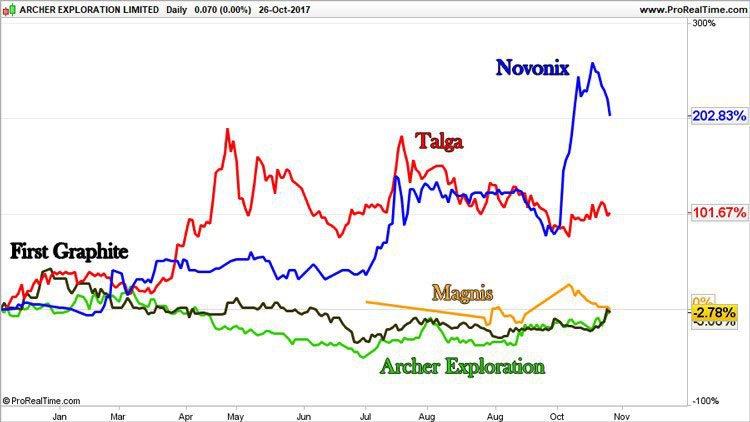 The past performance of this product is not and should not be taken as an indication of future performance. Caution should be exercised in assessing past performance. This product, like all other financial products, is subject to market forces and unpredictable events that may adversely affect future performance.
Miscellaneous assets
Not only is AXE attempting to commercialise graphite and graphene, it also has several other alluring Resource assets with which to wield its market presence. Take a look at AXE's cobalt and copper prospects, tabled below. With exploration at these prospects coming to the boil, we could well see AXE adding to its graphite endowment with other metals considered crucial for the ongoing energy-storage revolution.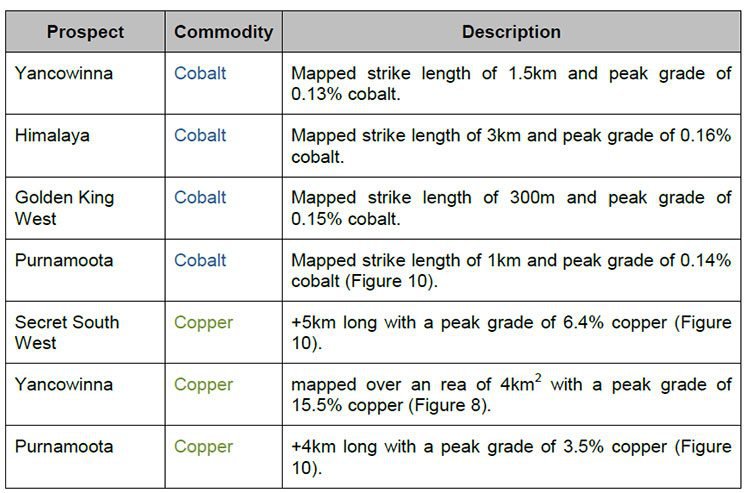 Wielding an AXE in tomorrow's world
AXE has an existing JORC resource, is close to receiving its all-important mining permit, and best of all, has several tricks up its sleeve to ensure operational supremacy over its peers.
AXE's metallurgical nous courtesy of its new CEO, will potentially craft a way of supplying what graphite end users want most — high TGC graphite that's usable for multiple purposes including lithium batteries.
On top of that, AXE has secured the world's latest magnesite resource and a handful of cobalt prospects — yet another commodity with growing applications in lithium-ion batteries and electric vehicles. Furthermore, AXE plans on taking the developmental lead and trailblazing new graphene applications, yet to be invented. Graphene is a new entrant to the world of materials which means many of its applications have yet to be developed.
If AXE's accolade-laden CEO can orchestrate innovative patents for AXE, it could mean AXE shifts into producing graphene products directly aimed at industrial manufacturers — yet another potential revenue driver.
However, at this stage what it can achieve is speculation and investors should seek professional financial advice if considering this stock for their portfolio.
As graphite and graphene permeate an increasing number of industries, explorers the world over are scrambling to lay claim to substantial reserves of this revalued mineral.
South Australia could help deliver Australia's next mining boom courtesy of its immense graphite deposits being actively prepared for intense production over the coming decade. Taken a step further, SA could become known the world over for its graphite/graphene, the same way WA became known for its metals.
AXE has hatched a plan to capitalise.
AXE's ability to produce high-grade graphite (and now graphene) from small-flake deposits is the real value driver because achieving this at viable cost has been a challenge — until now.
AXE could become the world's only boutique graphite producer given their ability to source varied types of graphite, and produce ultra-high-quality products all from the same project site. The final product can be specialised and brought up to whatever standard required by the end user.
AXE has effectively found a sweet spot whereby it can tap an abundant supply of varied graphite types as well as produce a high-end product with high market value.
All things considered, A$10million-capped AXE finds itself on the doorstep of transforming from a resourceful explorer into a vertically integrated boutique graphite player with a bright future in graphene-fueled resource innovation.
---