ASX Stock Purring into Action as Zinc Exploration Continues in Mt Isa
PUBLISHED: 01-12-2017 09:45 a.m.
Australia, a prime commodities supplier to the rest of the world, is experiencing a metals resurgence as a host of different metals march higher.
In light of this, Pursuit Minerals (ASX:PUR) is progressing two cornerstone zinc projects in Queensland. And it has been very busy in recent weeks with multiple exploration and operational updates.
PUR's Projects include Bluebush, which is believed to host the largest zone of zinc mineralisation (>100km 2 ) in Australia, and the nearby Paperbark Project.
Both are located in the highly productive Mt. Isa Super Basin, considered to be one of the premier metals provinces globally.
Another company in the Mt. Isa Super Basin is benefiting particularly well from its zinc project is New Century Resources (ASX:NCZ), a company currently capped at over half a billion dollars — $586 million to be precise.
NCZ is re-starting the Century Zinc Mine, which is just down the road from both of PUR's zinc exploration projects.
Both PUR's projects have the same SEDEX style mineralisation as that found at Century Mine too.
While NCZ is currently capped at $586M, PUR is capped at less than $10M... indicating there may be an opportunity for PUR to play catch up over the coming months.
However, it should be noted that PUR remains a speculative stock and investors should seek professional financial advice if considering this stock for their portfolio.
Recent drilling by PUR has defined the focal point of a potential large scale zinc system, and additional drilling could see PUR quickly unlock value — it may not take much to see PUR re-rate strongly.
PUR is exploring this region at a time when declining global production, falling supply and tightening supply in the zinc market are creating highly favourable conditions for aspiring zinc explorers.
PUR revealed that drilling at the JE Zone prospect at its Paperbark Project in north-west Queensland has intersected a new zinc mineral system.
Geological characteristics suggest the new JE Zone zinc mineralisation is similar in style to the JB Zone Mineral Resource, which is currently 10.4 million tonnes at 2.7% zinc, 0.2% lead, 1 gram per tonne silver at 1.5 percent zinc cut-off grade, and classified as Inferred (JORC 2012).
The results are highly significant and indicate a new zinc mineral system has been located.
Speaking of the JB zone, this week PUR released early stage assay results having intersected an interval of zinc-lead mineralisation from a down-hole depth of 271 metres.
The company reported high-grade zinc-lead mineralisation, with 252-253 metres returning 16.64% zinc and lead.
Samples from the JB Zone zinc-lead mineralisation have been submitted for dense media separation testing, to further investigate the potential to upgrade the zone's mineralisation and determine if a stand-alone project could be economically viable.
Since we last covered PUR, there's been considerable exploration afoot, and PUR has taken all possible steps to complete exploration targeting, in order to wade into assay results and Resource-building as soon as possible.
With PUR now building up its momentum in terms of obtaining a world class Resource, we think it may not be too long before we see PUR shares revalued accordingly.
Catching up with:

Pursuit Minerals
ASX:PUR
Having acquired three key prospects earlier this year, and raising over $6 million as part of a speedy capital raising and back door listing in June, Pursuit Minerals (ASX:PUR) jumped straight into exploration drilling and dissecting early assay results.
Take a look at the flurry of exploration activity as of late:

Source: Pursuit Minerals
Since kicking off its drilling at the Paperbark Project in mid-October, PUR is already putting forth assay results that indicate PUR could have its maiden Resource sooner than first thought: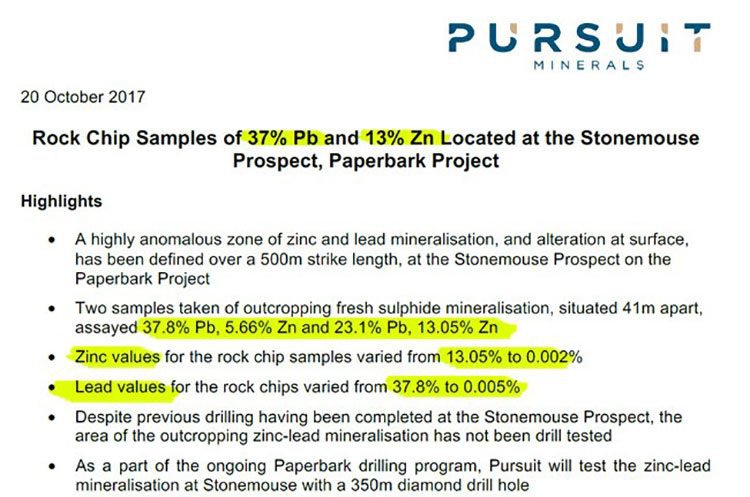 Source: Pursuit Minerals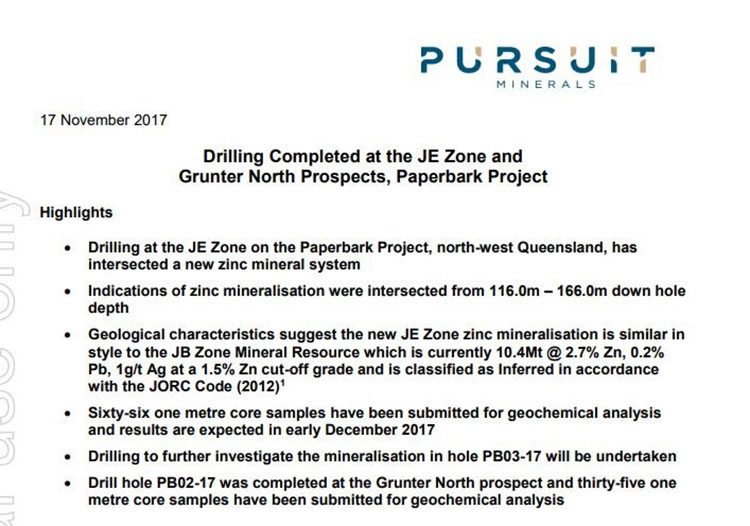 Source: Pursuit Minerals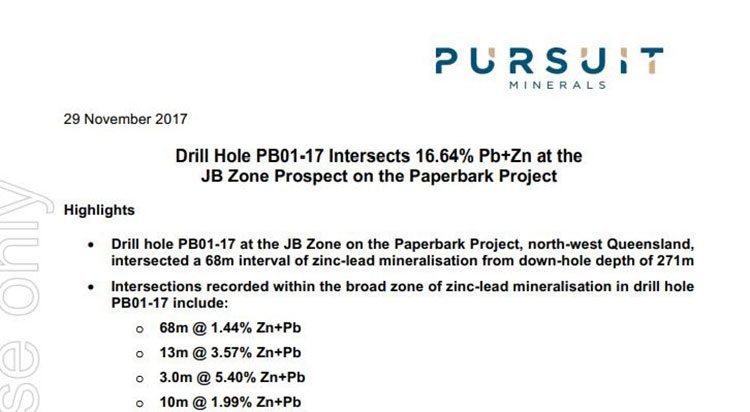 Source: Pursuit Minerals
As you can see, PUR has announced some strong figures, with these early results setting the stage of PUR to continue its strong start at Paperbark and Bluebush, so let's have a deeper look at what PUR is trying to commercialise.
Taking stock of Pursuit's arsenal
PUR has two prime projects, both in Northern Queensland, with which it hopes to raise its market valuation:
Bluebush Zinc Project
Paperbark Zinc and Copper Project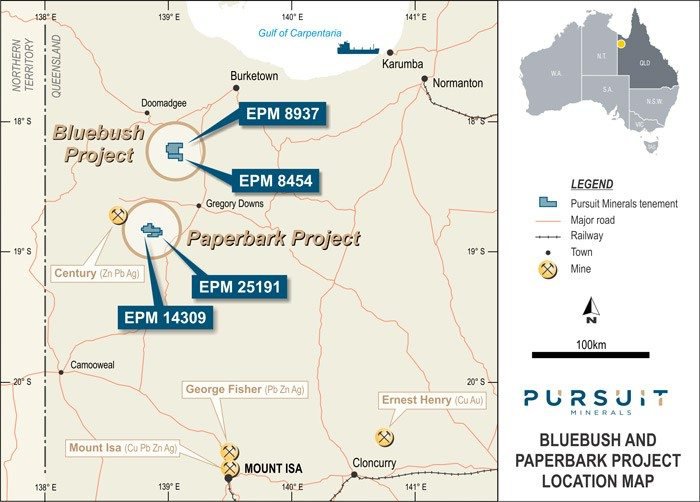 Source: Pursuit Minerals
As you can see, PUR's Bluebush and Paperbark Projects are located within close proximity to each other, and importantly, the projects lie close to existing metals Resources and good infrastructure links. Notably, within 100 kilometres is the world's most prolific zinc mine in history: The Century Mine, which serves as a processing facility.
Bluebush Zinc Project
Bluebush has been a hive of activity recently, with PUR recording early assay results indicating strong zinc mineralisation.
Geochemical tests conducted in late October 2017 indicated that PUR's drill holes intersect key geological units which means there's a high probability of PUR defining a bulky Resource at Bluebush, sometime in 2018.
Recent drilling at Bluebush has defined the north-west sector of the project as a region of higher grade zinc mineralisation within the overall Bluebush sub-basin.
The 2017 drilling programme achieved its objective of defining an area for follow up drilling and detailed work in 2018.
Follow up drilling will begin as soon as possible after the completion of the northern Australian summer wet season.
The five-hole 1482.2 metre drill program, has shown there is an area of enhanced grade SEDEX (sedimentary exhalative deposits) style zinc mineralisation in the northwest sector of the project area.
Geological and geochemical indications in holes BB03-17, BB04-17 and BB05-17 exhibit characteristics that suggest the project is on the periphery of a major zinc system.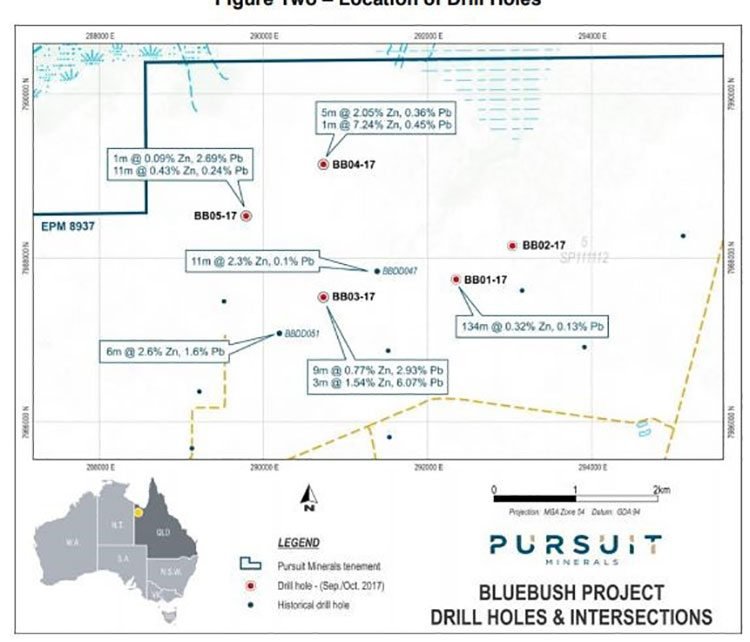 Source: Pursuit Minerals
Follow up drilling will now be completed in early 2018 in order to test the north-west sector for a globally significant zinc deposit.
The Bluebush Project is one of two key projects Pursuit recently purchased from Teck Australia, located within the Bluebush basin (which is classified as a second-order sub-basin analogous to the sedimentary basin at the Century Zinc Mine).
The reason this analogy is important is because PUR happens to be revelling in the same SEDEX-style zinc mineralisation as the $435 million-capped New Century Resources (ASX: NCZ) is currently enjoying (and capitalising on).
One of PUR's biggest advantages is its location to neighbouring explorers/developers.
Probably the biggest 'nearology' factor is the Century mine — a record-breaking mine discovered in the 1990s, but now closed due to poor production rates.
PUR hopes to re-tap this region given the amount of metals mineralisation known to be present there.
Yet it is early stages here and investors should seek professional financial advice for further information if considering this stock for their portfolio.
To give you a better idea of scale, Bluebush happens to be sitting on top of the largest sediment-hosted deposit in the Mt. Isa Province with more than 120 square kilometres of known mineralisation greater than 1% zinc.
The Mt. Isa 'super basin' now contains six major zinc-lead SEDEX deposits and one world-class copper deposit — rather positive factors for PUR as it goes out in the field with shovel in hand.
Comparable deposits nearby
Just across the border in the Northern Territories, Rox Resources (ASX:RXL) has recently defined a zinc Mineral Resource grading 12.7% zinc and lead with an estimated 7.4Mt of contained metal.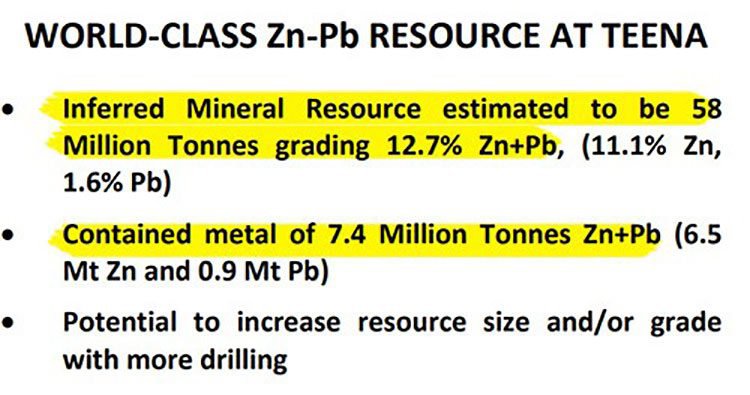 Source: Pursuit Minerals
This nearby Resource is significant, not only because it indicates PUR could soon define a Resource of its own, but also because of the JV partner assisting Rox Resources is the same company from which PUR acquired its tenements.
Teck Resources and RXL are advancing the Teena Project in NT and given its geological similarities to Bluebush, PUR has a decent shot at emulating this type of project progress.
The other project in PUR's crosshairs is Paperbark...
Also in Queensland and also within a stone's throw from the Century mine — PUR's Paperbark Project is a neat supplement to Bluebush.
Currently, PUR estimates indicate Paperbark as a JB Prospect with a JORC Inferred Mineral Resource of 10Mt at 3% lead and zinc . Paperbark also presents PUR with some decent copper targets as well, which may also add to PUR's resource arsenal depending on drilling results over the coming months.
Take a closer look at Paperbark, with prospect areas indicated in purple and planned drill holes in red: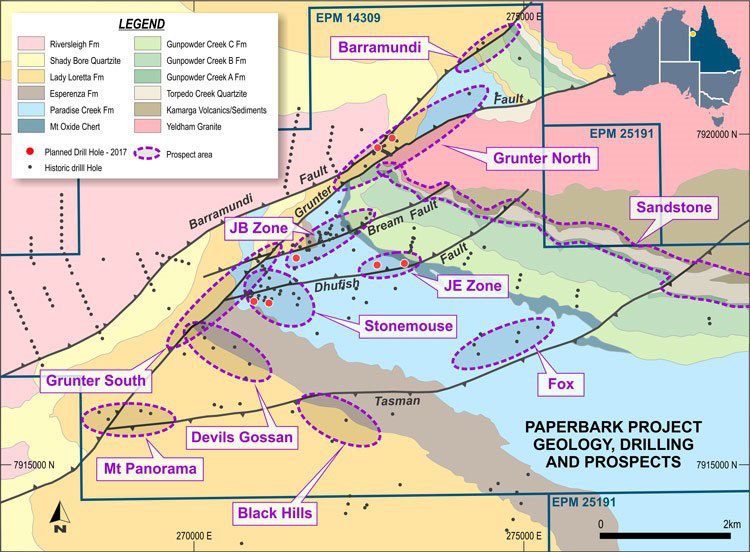 Source: Pursuit Minerals
For a more detailed snapshot of Paperbark (including the all-important assay results already available) take a look at the cross-section view of Paperbark, illustrated below: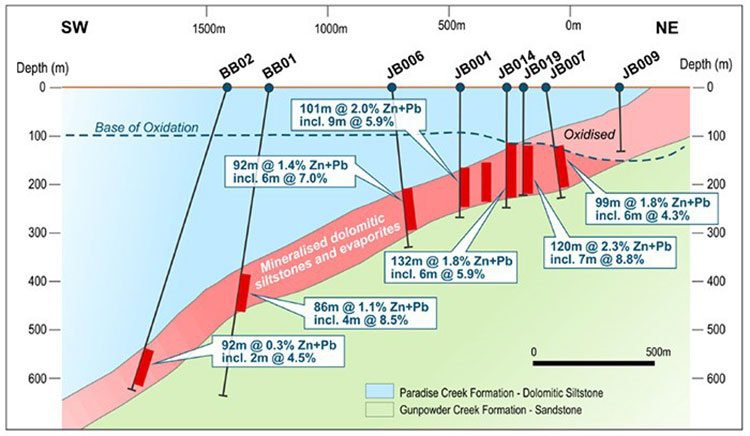 Source: Pursuit Minerals
Despite the 'early-doors' status of Paperbark, PUR already has some rather amenable recovery stats to back up its Resource-building activities. As it stands, PUR is able to achieve a 94.8% recovery rate from the ore it has available at Paperbark, thereby creating the possibility that PUR can raise its overall grade from 3% zinc to 15% zinc through heavy media-separation techniques.
PUR moved one step closer to this possibility after releasing drilling results from the JE Zone and Grunter North prospects at Paperbark which has intersected a new zinc mineral system.
Geological characteristics suggest the new JE Zone zinc mineralisation is similar in style to the JB Zone Mineral Resource, which is currently 10.4 million tonnes at 2.7 percent zinc, 0.2 percent lead, 1 gram per tonne silver at 1.5 percent zinc cut-off grade, and classified as Inferred (JORC 2012).
That's a strong number.
Significantly, drill hole PB03-17 intersected strongly weathered rocks with iron oxides after sulphides and locally abundant zinc sulphides (sphalerite), from a depth of 116.0 metres to the end of the hole at 166.0 metres (downhole depth), whilst hole PB03-17 was drilled to test the highest amplitude lead and zinc soil geochemical anomaly recorded to date on the Paperbark Project.
The assays from PB03-17 are now starting to come in.
Early stage assay results have intersected a 68 metre interval of zinc-lead mineralisation from a down-hole depth of 271 metres. The company reported high-grade zinc-lead mineralisation, with 252-253 metres returning 16.64% zinc and lead.
Other intersections from this particular hole have included:
13m at 3.57% zinc and lead
3m at 5.40% zinc and lead
10m at 1.99% zinc and lead
The following table gives a full summary of current assays.
Source: Pursuit Minerals
There have been 66 one-metre core samples submitted for geochemical analysis and results are expected in early December. Drilling to further investigate the mineralisation in hole PB03-17 will also be undertaken.
Results so far suggest that the JE mineralisation zone has significant size potential, which augers well for PUR as it continues its campaign.
The Dark Horse in PUR's stable
One interesting prospect that PUR has in its stable is the Stonemouse Prospect, within the grounds of the Paperbark Project.
Stonemouse is a +500m zone of lead and zinc at surface, including "exceptional grades at surface" in the region of 37.8% lead and 13.05% zinc.
Further good cheer comes in the form of previous exploration with Stonemouse having been unable to tap the main mineralised zone. What this effectively means is that PUR has snaffled a small virgin plot of highly-mineralised ground, which could very well net PUR a strong addition to its overall Indicated Resource at Paperbark.
Take a look at the detail underpinning Stonemouse — PUR will be drilling two more holes, to test for the depth and extent of known lead and zinc outcrops: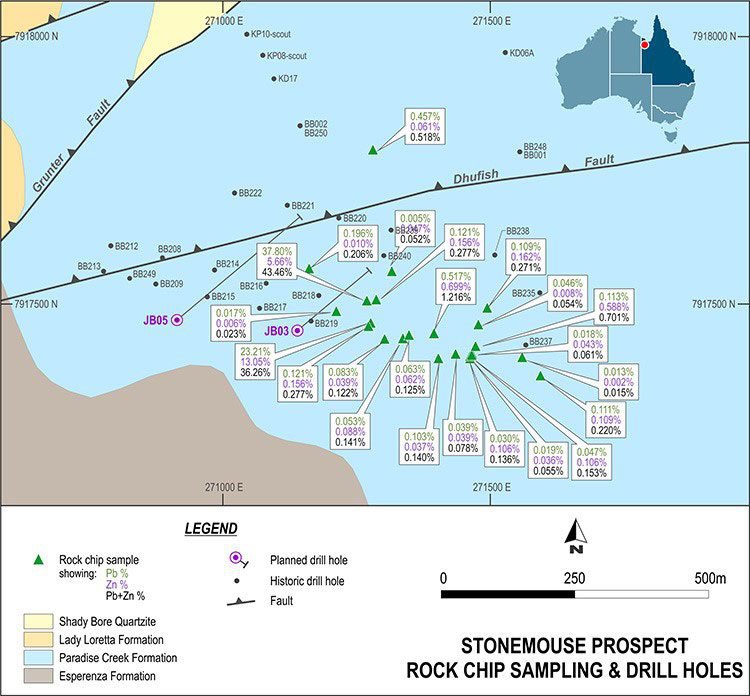 Source: Pursuit Minerals
Take a look at PUR's most recent investor update regarding Stonemouse: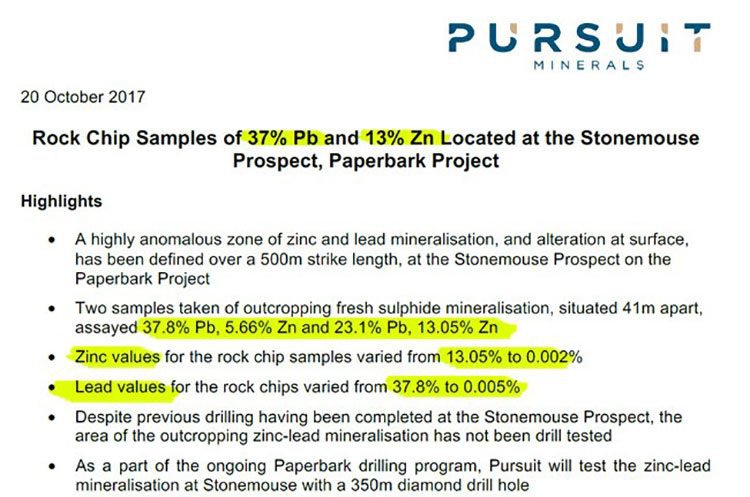 Source: Pursuit Minerals
Zinc Market Timing
Metals have been making a rather prolific name for themselves in the commodities space in recent months, and one metal in particular, is well on its way to hitting the supply buffers in the foreseeable future.
Take a look at global zinc stockpiles in recent years — dwindling like a candle in the wind on the back of a steel-building resurgence globally: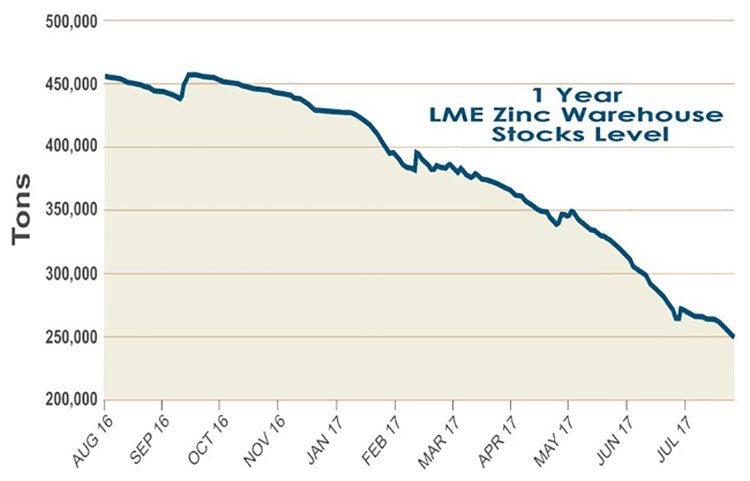 Source: Pursuit Minerals
Meanwhile, the level of demand is also beginning to peak as prices rise back towards historical range-highs: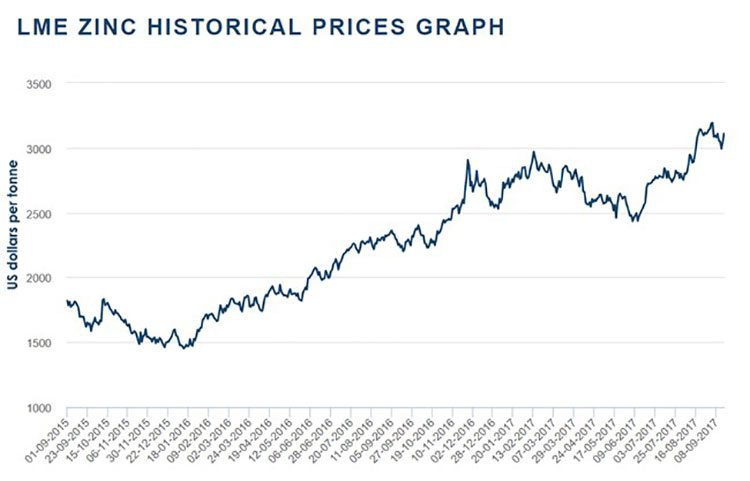 Source: Pursuit Minerals
The past performance of this product is not and should not be taken as an indication of future performance. Caution should be exercised in assessing past performance. This product, like all other financial products, is subject to market forces and unpredictable events that may adversely affect future performance.
The zinc market is currently undergoing a squeeze on both sides of the demand and supply argument.
For starters, zinc supplies continue dwindling due to several large mines closing while new supplies are always slow to bring online and commercialise. Ireland probably bears this out most.
Traditionally the epicentre of metals mining, Irish miners and processors have been retreating from the zinc market due to waning prices and a huge backlog of inventories. However, this backlog is now slowly being depleted, while there have been no new significant zinc deposits discovered since the 1990s.
Back then, the newly-developed Century mine was producing around 5% of the world's total supply, and as we've already mentioned, the Century mine is located very close to PUR's projects.
With Irish producers dropping like flies, and with inventories waning, this leaves the demand-side...
Zinc demand has remained stable despite the cyclical nature of zinc prices that can rise as high as $2.00 per lb, but can also fall to as low as $0.50c per lb. The key to weathering the cyclical market changes is to be a low-cost producer... and it seems PUR is moving exactly in this direction.
Steel-building is growing again which is important because zinc remains a key industrial metal used to galvanise steel and is used in many industrial applications that are closely related to manufacturing.
According to PUR's own marketing material, it wants to capitalise on the 'value capture window' created by the cyclical nature of zinc. We like the sound of that.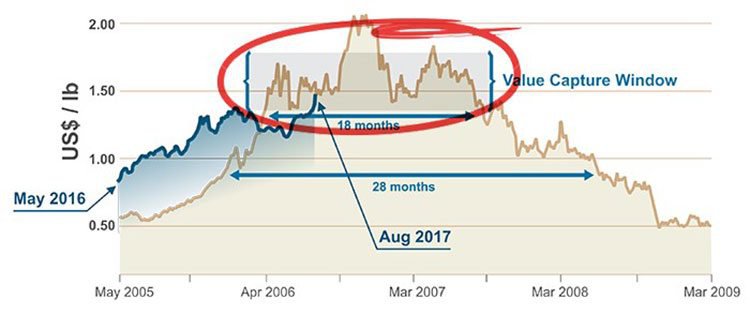 Source: Pursuit Minerals
Much like other metals including gold, silver or copper, zinc is cyclical in how its demand/supply balance translates into market prices.
The important aspect for PUR is that it is entering zinc exploration at just the right time — 12-18 months away from a potential peak in zinc pricing which currently stands at around $3,000 per tonne ($1.36/lb).
Of course it should be noted that commodity prices do fluctuate and caution should be applied to any investment decision here and not be based on spot prices alone. Seek professional financial advice before choosing to invest.
If the current zinc price is around $3000 per tonne, or $1.36/lb, which means zinc prices could still appreciate some more, up to the historical sweet-spot around $1.50-2.00/lb.
This makes up the value capture window which PUR wants to capitalise on, and why PUR made such rapid moves to get itself listed with plenty of exploration cash on hand to ensure the company is ready to reap what it sows.
With all this in mind, what's the macro picture for PUR?
Set against this backdrop, PUR is actively pursuing a means of inserting itself into the middle of this supply-demand gap. It's on the hunt for a world-class zinc resource that major producers would covet, given the chance.
PUR's flagship project is being developed for the very first time after being overlooked for many years by dividend-obsessed majors that were focused elsewhere.
PUR's ground could therefore be viewed as highly valuable and bears a high level of commercial potential — especially given PUR's market cap is currently less than $10 million.
For the very first time, PUR is aiming to develop Bluebush and Paperbark Projects will into production-ready world-class resources, and it's all happening in a region already famed for high-grade bulky metals resources.
Purring into action in the zinc market
The market for zinc (just like many others) is all about timing.
As it stands, PUR is uniquely placed for a shot at the zinc market. Having obtained ample funding and plucking three high-potential projects from mining major Teck, PUR is now purring into action.
Armed with strong exploration results and a concerted drilling program spread across two prime projects — we think PUR stands a good chance of proving up the resource it needs.
Even before PUR obtains its JORC Resource, there's also potential to offload its existing mined ore, given the fairly solid grades already received from relatively shallow depths.
PUR represents a prudent way of backing the metals resurgence currently being seen in several different metals, including zinc. It has selected the largest area of zinc mineralisation in Australia in which to acquire its basket of projects and is already drilling to hasten exploration efforts and assay results.
This all adds up to PUR providing steady news-flow over the coming months, which has potential to include near-term share price catalysts.
---