ASX Junior to Unleash 100koz pa Gold Machine: Funding Now Secured
PUBLISHED: 21-05-2015 11:17 a.m.
We had been watching this company for the last few years as it steadily amassed its gold resources in outback Western Australia...
The only thing missing was how they would fund the upfront capital costs.
That's all just changed with the company revealing a $38.5M funding deal – enough to take this company through to production.
With a 100% owned resource of 4.7 million ounces, and a 100,000 oz./year plant waiting in the wings, first production is all set for early next year.
All in sustaining costs are between AUD$1,000 – $1,100/oz. – providing a comfortable margin of approximately AUD $450/oz. at today's gold price. Of course, the gold price does fluctuate, so exact margins will depend on the price once the company is in production.
This ASX listed explorer is graduating to 'producer' status, and we have made an investment.
Over an initial four year period, this company estimates it can earn A$155M
And pay back its capex within nine months...
This is a low cost, near term production opportunity that feeds itself – and large exploration targets in the area mean there's scope for the project to extend far into the future.
Based on current cash flow projections, this company should be profitable within 12 months, earning hundreds of millions of dollars in free cash flow.
The company also has an imminent catalyst – in the coming weeks it will gain exposure to nickel drilling in the Fraser Range – the epicentre of nickel exploration in Australia.
It's spending nothing for this nickel drilling – it's entirely free carried by another junior that regular readers may be familiar with...
Allow us to introduce the latest long-term addition to our portfolio: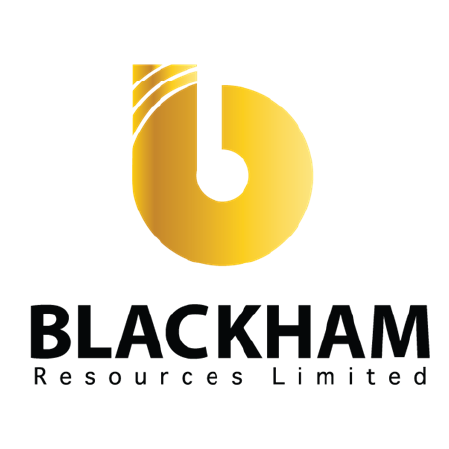 Blackham Resources

Blackham Resources Ltd (ASX:BLK) is currently capped at around $30M and gunning to get the Matilda Gold Project into production by Q2 of 2016.
The Matilda Project is essentially a clutch of high grade gold resources in the north of Western Australia arranged around the Wiluna Gold Plant.
100% owned by BLK and with an estimated replacement value of $150M, the Wiluna Gold Plant is currently in care and maintenance having closed down in June 2013.
This plant will be brought back to production and used to process the ores mined by BLK for immediate sale. This is a low risk, free milling process – crush, grind, gravity, and CIL.
There are a lot of moving parts to BLK's gold story, and in this article The Next Mining Boom will run you through every aspect, including:
What analysts are saying about BLK
Full details of BLK's Matilda Gold Project
The details of the recent funding deal which will drive BLK into gold production
The Matilda Mine and BLK's collection of resources
BLK's exploration drilling
The project's high margin economics
The reactivation of BLK's 100% owned Wiluna Gold Plant
More on BLK's leverage to imminent Fraser Range nickel drilling – an added bonus to the story.
So, let's hop to it, starting with what the analysts are saying...
Analysts commentary on BLK
A number of financial analysts have covered BLK, and you can read each ones full analysis of the company by clicking on the price targets below.
Paradigm Securities analyst Barry Dawes ran the numbers on BLK in February this year placing a price target of $1.57 once in production – that would be a gain of over 850%: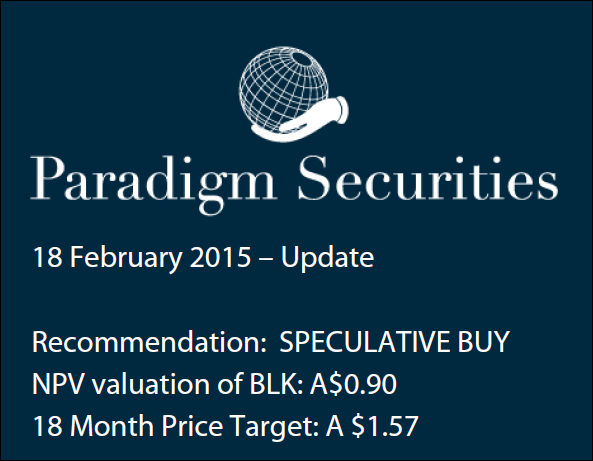 Remember that this price target is based on a number of assumptions – which may not come true. This price target alone should not be the basis of an investment in BLK.
Meanwhile BW Equities analyst Chris Bain arrived at a price target of $0.40 – that would be a gain of over 140%: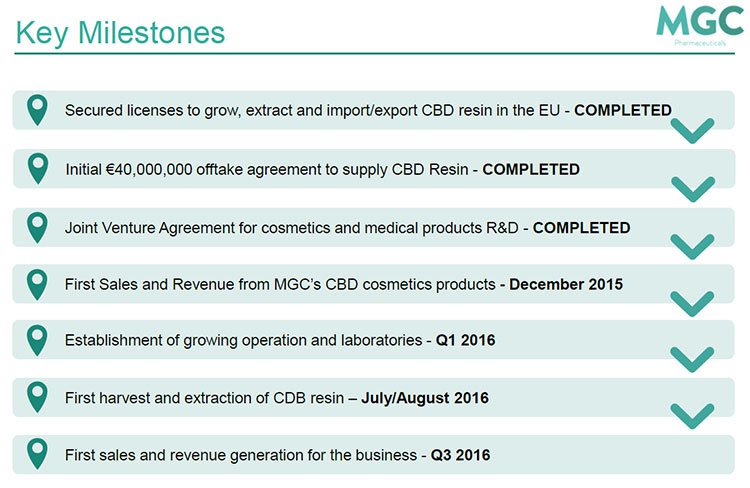 Like other analysts, BW Equities can make assumptions that prove to be incorrect, and we always do our own research and make up our own mind when it comes to investing.
BW Equities also note a recent gold deal which could get BLK investors pondering. In February 2015 a bidding war was ignited between Metals X and Northern Star for Tanami Gold's Central Tanami Project: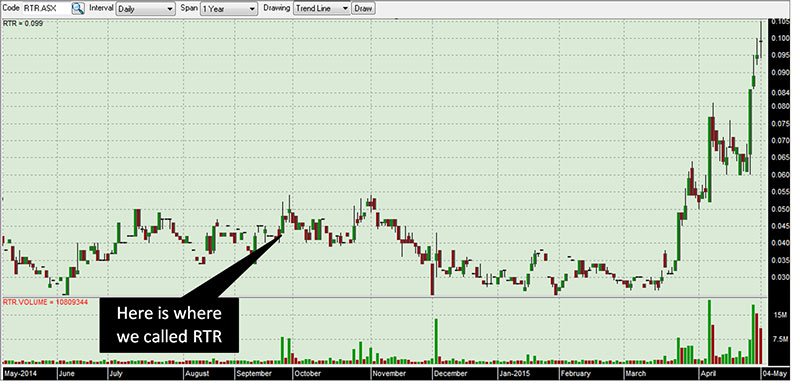 Northern Star looks to have won out, valuing Tanami at $40/resource ounce for an initial 25% stake. Using a direct comparative value of BLK's 4.7Moz resource inventory would value BLK at $143M...
Also of note is Excelsior Gold, currently capped at $41M – or $33/resource ounce – considering Excelsior's total resource of 1.38Moz, BLK would comparatively be valued at $154M...
Now that BLK have secured financing for their capital costs, we are hoping the market will soon understand the true potential of BLK's imminent gold production.
$38.5M financing deal confirmed
BLK MD Bryan Dixson recently spoke to PPR Media about BLK's transformational financing deal, you can hear it straight from him by watching this video:
The $38.5M AUD funding package will be supplied by Orion Mine Finance, a mining focused investment business with approximately USD$1.8BN funds under management.
The funding package comprises the following:
A $2.5M private placement
A $6M initial loan
A further $30M once the DFS have been completed – this is expected to be finalised in November
Full details of the deal can be read here . The main takeaway is that BLK can now fund its production plans, and the stage is set for this to happen over the coming year.
As this story spreads and investors cotton onto the pending first gold pour, we anticipate BLK should steadily increase in value.
BLK's Matilda Gold Project
The Matilda Gold Project is located in the Northern Yilgarn region of Western Australia – part of the Yilgarn Craton that has produced 70% of Australia's historical gold production.
This is a place of ancient rock formations holding some of Australia's largest resources of nickel, iron ore, copper, lead, zinc, uranium – and of course, gold.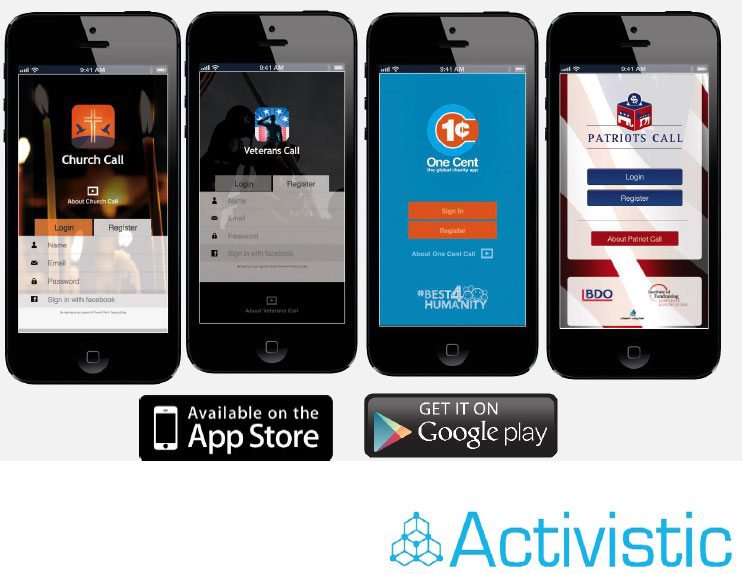 In the picture above, you can see BLK's Matilda Gold Project at the top, and then surrounding it, just in the immediate area, are five solid sized gold projects including Northern Star's 6.5 Moz Jundee mine and Goldfield's Agnew, Lawlers and Darlot Mines to the south.
These mines and their gold resources are part of a regional endowment of 40Moz
Zooming in, BLK's Matilda Gold Project area itself is well endowed with 8.7Moz including 4Moz resource available for production: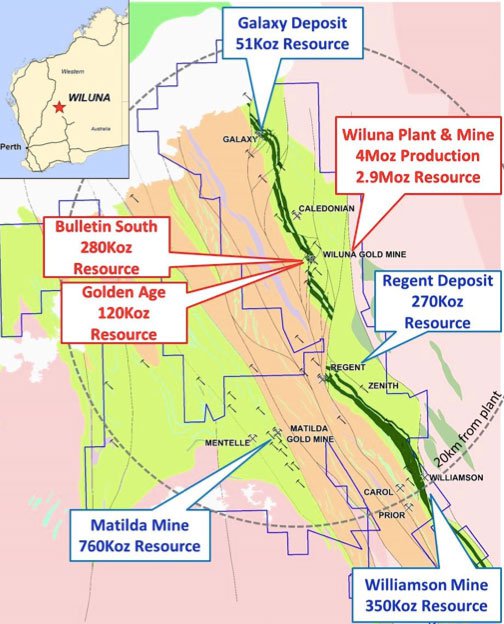 As you can see in the image above, Matilda's 44Mt @3.3g/t for 4.7M oz. resources (45% indicated resource level) are spread within a 20km radius of the Wiluna Gold Plant, all accessible through haulage roads.
BLK's Matilda Project covers over 780km2 of highly prospective ground, so there's plenty of room to grow.
The idea is pretty simple – BLK will get the plant back online by Q2 next year and feed it with gold ore mined from the surrounding resource areas.
They will also conduct further exploration to uncover additional mill feed in the surrounding region.
Our Track Record
Did you see our Next Mining Boom article on European Metals Holdings (ASX:EMH) Electric Cars Need This: ASX Junior's Billion Tonne Potential ?
EMH has been up as high as 250% since we first released our article: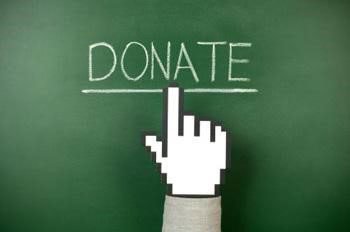 Source: Etrade Australia
The past performance of this product is not and should not be taken as an indication of future performance. Caution should be exercised in assessing past performance. This product, like all other financial products, is subject to market forces and unpredictable events that may adversely affect future performance.
12 months from start to profitability
BLK's 100% owned Wiluna Gold Plant has some impressive facts and figures about it...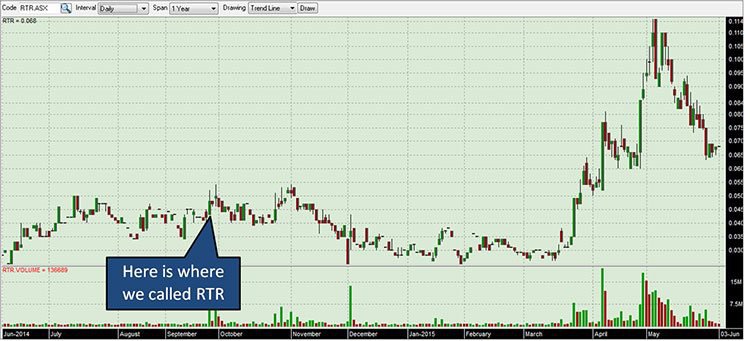 It's got a 1.3Mtpa capacity that can churn out 100,000ozpa.
There's a gas power station connected to a gas pipeline with diesel backups in place
Permitted bore fields give it a reliable water supply – this is very valuable in desert country and one of the biggest boxes to be ticked with most Australian mines
Its 350-person village can accommodate BLK's workforce, who can fly in and fly out on its sealed airstrip.
Existing haul roads linking the pits to the plant
In fact the replacement value of the mill, infrastructure and mine development is estimated at well over $150M AUD.
Remember this is 100% owned by BLK, currently capped at just $30M...
Perhaps the most impressive thing about the Wiluna Gold Plant is it's already built and with a bit of maintenance, it will be ready to go.
The plant was shut down in 2013 and mothballed into care and maintenance, waiting for a company like BLK to come along and reactivate it.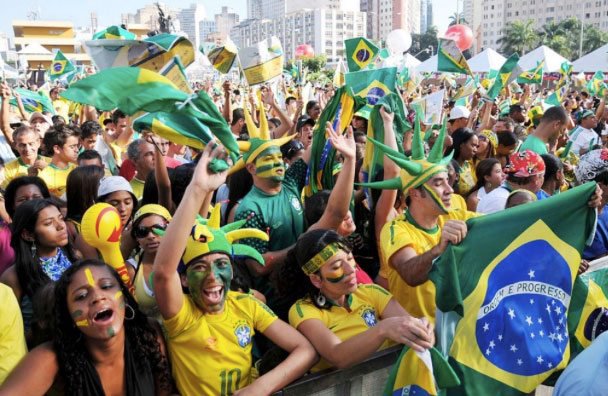 The Wiluna Gold Plant has two processing circuits – a 550,000tpa underground mill and a 750,000tpa oxide mill. Combined, these mills can handle 1.3Mtpa of ore, and BLK plans to feed it through ores from the Matilda mine and resources in the surrounding areas.
BLK reckons it can pay back its capex within nine months of operation – after that, it's all cash flow into its coffers.
The first stage of production will be soft free milling, using the existing resources at Matilda of 13Mt @ 1.8g/t for 760,000oz, with additional gold ores coming from the high grade reefs.
This will allow BLK to pursue its goal of 100,000oz per annum – however the production from the Wiluna Gold Plant can be increased further if BLK are successful in increasing the milled grade profile.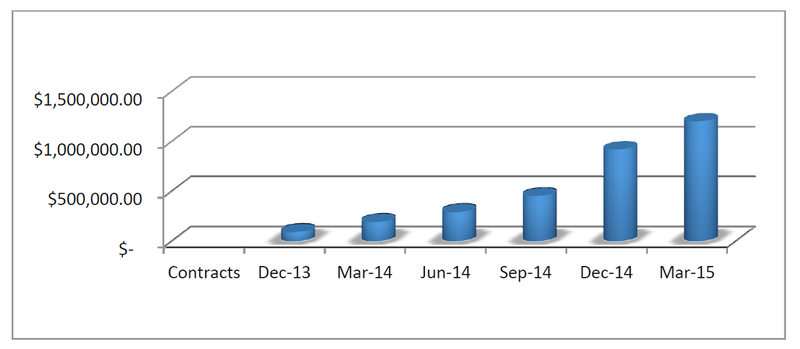 Most approvals and licenses are in place, so BLK expects mining starting at Matilda and Golden Age (GA) in Q1 and the plant up commissioned by Q2 of 2016.
This is a true turnkey operation – BLK can mine and process its own ore into high purity gold ore bars using the Wiluna Gold Plant, prior to refining into LME grade 99.99% bars at the Perth Mint...
Economics show cheap production for Matilda
So with a big resource area of gold and a processing plant strategically located in the project's heart, BLK is in an enviable position. It is able to dig up, process, and then sell its gold in a local loop few other gold companies can match.
Equally impressive are the project's economics – starting with the capex to make it happen:

For $33M – now secured with the recent funding deal, BLK can bring the Matilda mine into production, reactivate its Wiluna Gold Plant, and continue exploring the surrounding resources.
Free cash flow is estimated at A$162M over the initial four years of the Matilda Gold Project's mining and processing life, with payback on capital expenditure projected within just nine months.
And because the resources are easy to access and can be processed in a low cost facility, all in all sustaining costs are estimated at between $A1,000 – 1,100 an ounce.
Here you can see BLK's cash flow plan over the next 4 years – with planned multi-million dollar profitability within 12 months from start of production: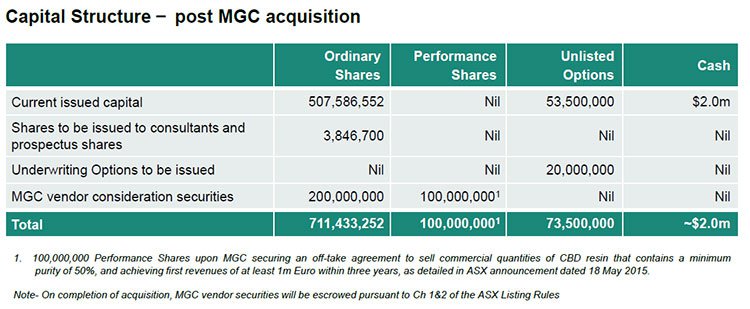 Now that the capital financing is secured, BLK should move fast over the coming months to make this a reality.
BLK's first production – from the Matilda Mine
The first resource BLK will bring into production is the Matilda Mine , which has JORC inferred and indicated resources of 13.8Mt @ 1.8g/t for 760,000oz.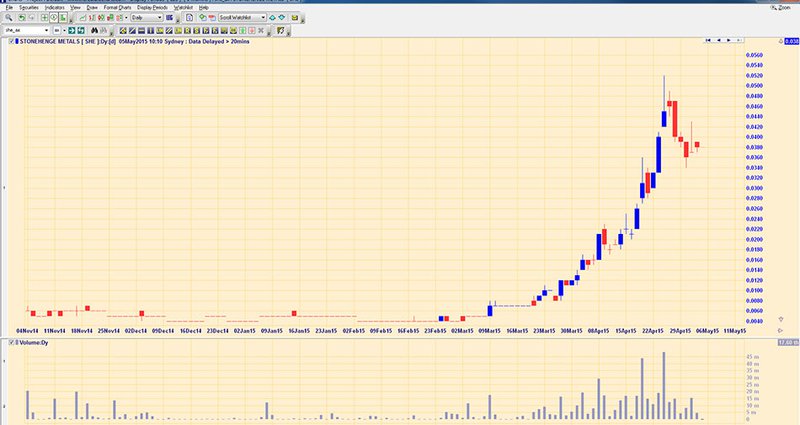 Matilda itself is a historic mine and covers 10km of strike along the highly prospective Coles Shear. It's had past production of 2.2Mt @ 2.6 g/t gold for 181,000oz of gold.
BLK's plan is to reactivate the open cut mine, dig deeper, and create new zones of mineralization to target through exploration to keep the Wiluna Plant churning out gold.
Our Track Record
Did you see our Next Small Cap article on Carnavale Resources (ASX:CAV) Drill Results in Weeks: Tiny ASX Explorer with Multi Million Ounce Target ?
CAV has been up as high as 130% since we first released our article: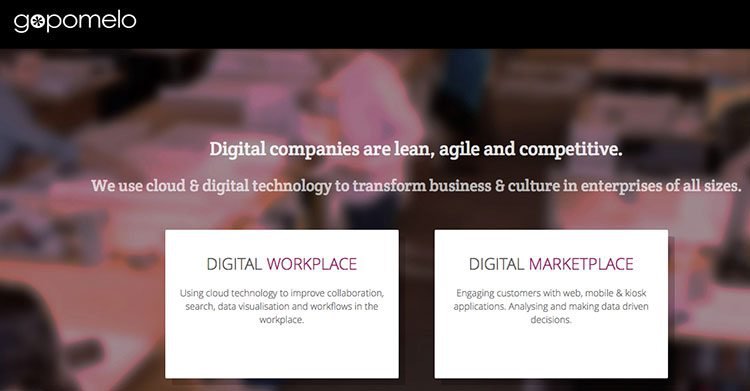 Source: Etrade Australia
The past performance of this product is not and should not be taken as an indication of future performance. Caution should be exercised in assessing past performance. This product, like all other financial products, is subject to market forces and unpredictable events that may adversely affect future performance.
Drilling down – Matilda gets bigger
To boost Matilda, BLK has been conducting widespread drilling and positive results are flowing in which could lead to a significant re-rating of its resource size.
The gold at Matilda is contained within an area of the 10km Matilda project zone covering 1.8km of strike, open in all directions, which BLK plans to mine using open cut methods:
The main area is called the M1 Zone, which has high-grade mineralisation available to mine right at the pit floor. This will be tackled first – but BLK is also working to extend its resources and mineral inventory.
BLK's recent drilling has discovered further mineralisation along the M4 shear, and three prominent lodes called Iceberg 1, Iceberg 2 and Scorchers identified.
Significant gold mineralisation at shallow depths now extends over 1.8kms of strike.
Success at the Iceberg 1 and Iceberg 2 lodes would likely to extend the M4 pit further to the north, and the grade in these zones appears to be getting better at depth.
And a new potential gold lode has just been found that could extend Matilda even further.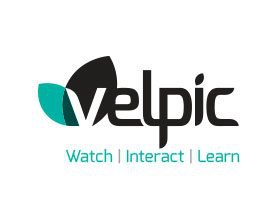 This new zone of mineralisation is called Scorchers, and could hold a potential new gold lode with best drilling results of 8m @ 5.60 g/t from 49m – higher than the average soft free milled targets already established at Matilda.
The Scorcher Zone offers the opportunity to link up the M1, M3 and M4 sub-pits and get a big, long open cut resource area going.
All of the new results from drilling are being analysed by BLK right now, and very soon we could see the mine's resources grow in size from the current 13Mt @ 1.8g/t for 760,000oz. This resource upgrade is due in the coming weeks.
And like we said before, Matilda is just the start...
As you can see in the table below, Matilda is the first of many resources at the Matilda Gold Project that BLK can bring online and feed to the Wiluna Gold Plant: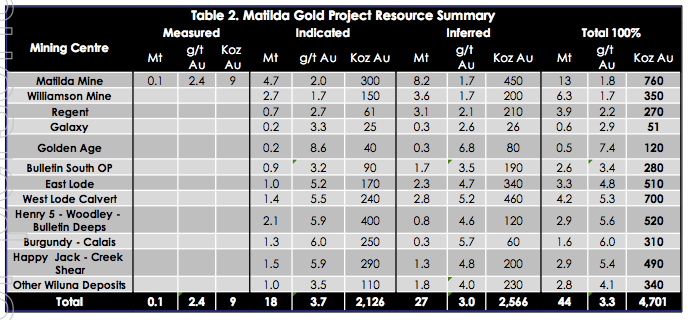 Also on BLK's radar are high-grade quartz reef deposits, contained at the Republic, Golden Age, Republic, Brothers, Galaxy and Caledonia deposits.
The old timers discovered gold in these reefs in the 1890's and BLK is going back to target these high grade opportunities which have had very little attention in the last 20 years.
Here is the Golden Age target area laid out in cross section view – it's open in most directions:

These reef systems offer BLK potentially large, easy to access gold resources that can be tapped later on, further enhancing the prospectivity and mine life of the project.
In addition to Matilda, BLK is also focused on developing two further significant resources – The Williamson Mine and the Bulletin Deposit. These are both part of the Wiluna Mine Sequence that extends from Matilda.
The Williamson/LakeWay area covers 6km of strike 26km to the east of Matilda with multiple mineralised structures. It has JORC indicated and inferred resources of over 6Mt @ 1.9 g/t for 350,000oz of gold and an exploration target of 300koz – 930koz.
The Williamson open pit was last operated by Agincourt and produced around 668,000 tonnes @ 1.98 g/t gold for a total of 42,000oz – again BLK own this 100%.
Meanwhile, the Bulletin Deposit which was last mined as an open pit in 1993, is also hosted within the Wiluna Mine sequence, and is all BLK's.
Current Bulletin JORC Inferred and Indicated resources total 2.6 Mt @ 3.4 g/t gold for 280,000oz.
Both offer BLK a next step for base load feed for the Wiluna Plant on top of the Matilda Mine ore.
Combined, these resources give BLK an additional mineral inventory of 5Mt @ 2.8g/t.
Historically the Matilda Gold Project has produced over 4Moz. BLK with its large resources and priority exploration targets aiming is to extend the life of the project from the initial four years to 10 or more which would see it produce another 1Moz going forward.
All in all, BLK have built up a pyramid of golden opportunities, from green field exploration plays, right up to confirm mineral inventories – plenty of gold to feed to their mill:

So that's BLK's gold story – now let's take a look at what else they have up their sleeves...
BLK's Fraser Range nickel play – free carried drilling in weeks
BLK has an active nickel play on right now, in the Fraser Range of WA.
Regular readers should be very familiar with the Fraser Range – it's the site of the famous Nova and Bollinger nickel discoveries that catapulted Sirius Resources from 5 cents to $5 over a few heady months:

The past performance of this product is not and should not be taken as an indication of future performance. Caution should be exercised in assessing past performance. This product, like all other financial products, is subject to market forces and unpredictable events that may adversely affect future performance.
BLK has been an early mover in the region, looking for its own Nova or Bollinger – and it's got an interest in the Zanthus Project, which sits 20kms south east of Nova.
Rumble Resources (ASX:RTR) is earning up to 75% of the Zanthus Project from BLK.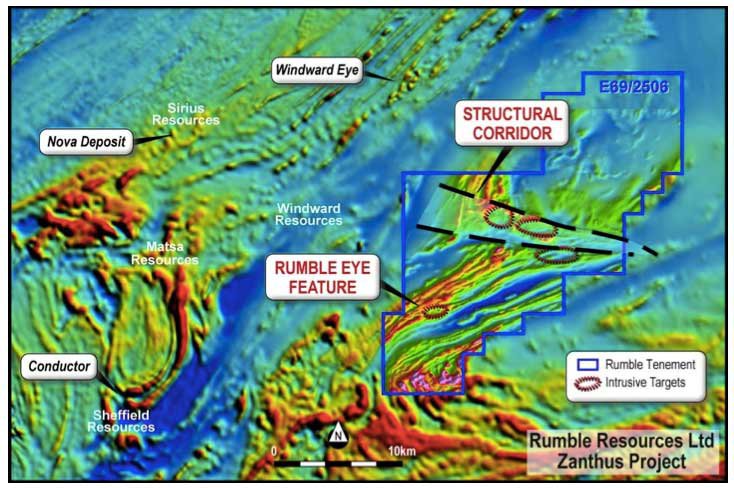 RTR will be drilling for nickel here in the coming weeks, and BLK is free carried for this activity – so it's got exposure to any successful hits, without having to make financial commitments to the project.
Regular readers may be familiar with RTR – Since we first covered the company in the article So You Think Sirius Is Big? $5M ASX Explorer Drilling in Weeks , RTR has risen as high as 160%: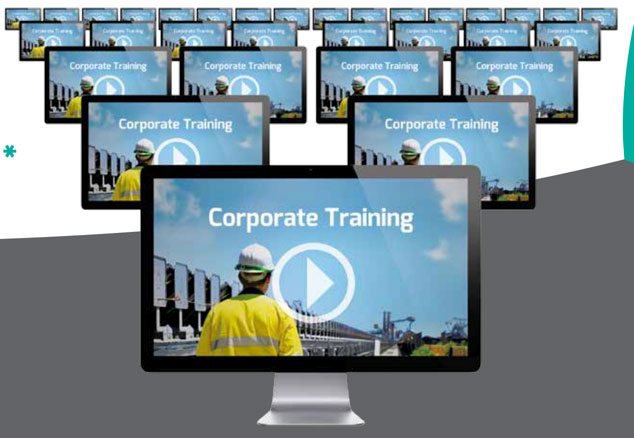 Source: Etrade Australia
The past performance of this product is not and should not be taken as an indication of future performance. Caution should be exercised in assessing past performance. This product, like all other financial products, is subject to market forces and unpredictable events that may adversely affect future performance.
While BLK is focussed on transforming into a gold producer at Matilda, RTR is doing the heavy lifting at Zanthus, earning up to a 75% stake in the play by conducting extensive exploration to identify potential large nickel resources.
RTR plans to drill 5 conductors within the Zanthus Eye feature in the coming weeks. BLK is free carried.
BLK are paying nothing for this exploration, however still retain a 25% stake in any upside...
At a wider scale, BLK and RTR have worked up a structural corridor of magnetic intrusive bodies on the northern end of Zanthus, and a large bedrock conductor holding an eye feature to the south – essentially a huge magnetic bullseye.
And recent Electro Magnetic (EM) survey at this site has identified a large bedrock conductor which extends into the eye feature – the usual signs of a potential nickel sulphide deposit...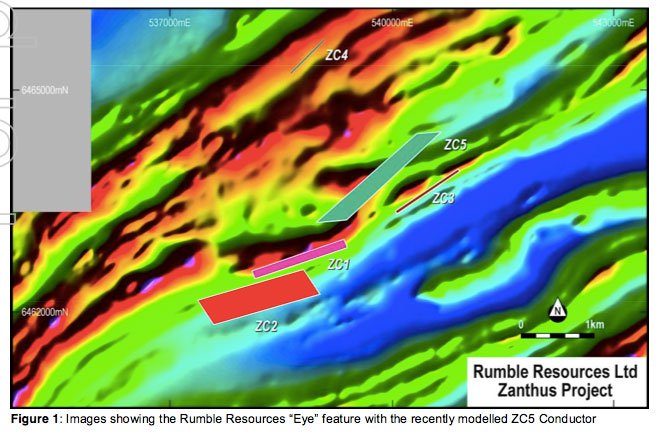 BLK and RTR's high-impact drilling programme will test the bedrock conductor to see what's there.
Five reverse circulation (RC) holes will be sunk across the eye feature for 1,200m, targeting nickel sulphides in late May.
The companies are also planning a tenement wide gravity survey that will see established targets scanned with high powered ground EM and the rest of the acreage scanned too. The goal is to further define the existing targets and hopefully find a few new ones.
Particular attention will be paid to the structural corridor, which could hold multiple potential nickel hits...
While nickel is not BLK's main play, it is a promising one, humming away in the background with RTR paying for the exploration.
All BLK has to do is wait and see what the drill bit turns up in the coming weeks – its 25% stake of a big potential nickel prospect could bring a valuable asset into its orbit...
Coming up next for BLK
Now that a financing deal has been confirmed by BLK, its all systems go.
BLK will continue to grow its mine life whilst moving through feasibility to production.
As BLK draw closer to production, we are anticipating the company to steadily rise in value.
Any big nickel hits by RTR in the coming weeks would likely have an impact on the value of BLK also.
A Definitive Feasibility Study in November 2015 at Matilda will see the major funding hit BLK's bank account, and given the plant is essentially ready and waiting to go, first production is expected in Q2, 2016.
In the meantime, we expect to see more drilling results from the work at Matilda's new zones of mineralisation, Icebergs 1 and 2 and Scorchers – and wait on a potential upgrade to the mine's available resources, which should happen in the coming weeks.
BLK is also planning further drill programmes into Golden Age, Republic, Galaxy and Caledonia high grade reefs, any one of which could dramatically increase the viability of BLK's Project.
At The Next Mining Boom we reckon BLK is in a solid position – it can mine, process and sell its own gold with a large project that ticks most of the boxes and has large production and a clear path to cash flow.
Its near term production is very attractive to us, as are the high margin economics – and the blue sky of exploration to keep feeding the beast with new gold ores offers additional long term potential.
---