ASX Gold Junior On Fast Track to WA Production
PUBLISHED: 03-12-2019 09:48 a.m.
A promising junior explorer is rapidly progressing towards developing gold production after announcing impressive drilling results at its 100% owned Marymia Gold Project in Western Australia.
This explorer/developer has announced new shallow, high grade gold intersections from drilling at both its Mareast and Mars prospects about 300km north east of Meekatharra in the mid west region of WA.
The latest thick and high-grade interceptions are from shallow depth, further highlighting the resource expansion potential of the Trident-Marwest-Mareast gold corridor, that already contains the very high-grade, greater than 8 g/t, Trident gold resource.
Impressive drilling results merely preceded more good news, when the company announced on 21 November it had entered into a strategic partnership framework agreement with a listed Chinese company that proposes to provide project financing estimated at A$70 million.
This company's non-binding term sheet is with China's Nonferrous Metal Industry's Foreign Engineering and Construction Co Ltd (NFC). The conditional engineering, procurement and construction (EPC) contract facilitates developing the Marymia Gold Project into a significant, high grade, stand alone gold mining operation.
Who is this fast moving gold explorer/developer?
Introducing...

Market capitalisation: $98.6
Share price: $0.150
The Vango investment case: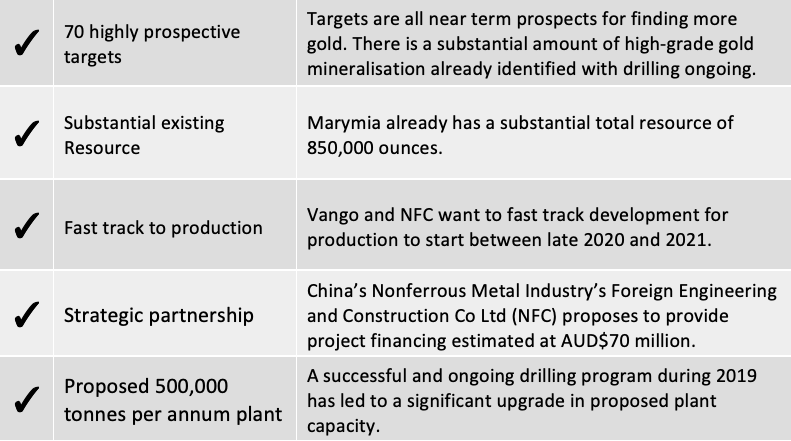 Vango: The overall play
Vango Mining executive chairman Bruce McInnes says the company's geology team, led by chief exploration geologist Jon Dugdale, has located up to six mineralised corridors between four and five kilometres long at its 100% owned Marymia Gold Project — all of which represent potential major gold targets.
It is a world class, high grade gold deposit largely untested at depth: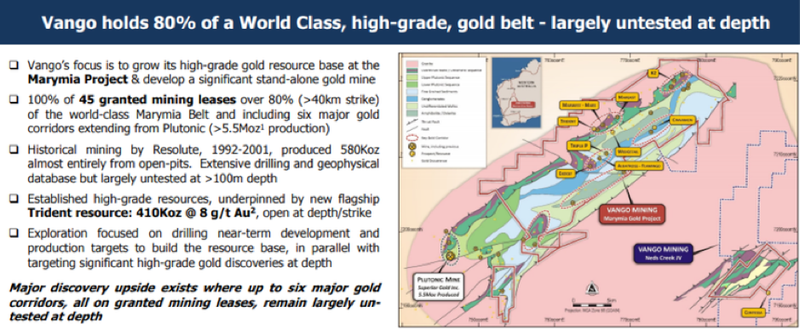 The team has reviewed and rated more than 70 targets within the 40km x 10km project area, all with potential to find more gold.
The following map illustrates the project area.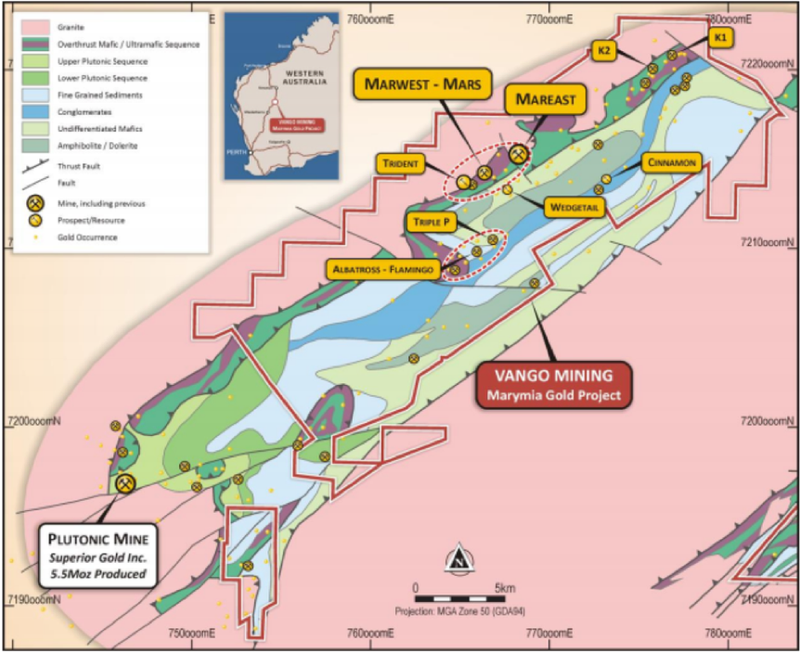 "So, that (the large number of potential gold targets) in itself, is a huge advantage to our company," McInnes says. "We're are aiming to find more gold at a low cost per ounce using precision drill targeting.
"We're working to upgrade the total Marymia resource, and drilling over the past four or five months has prioritised increasing the total overall resource base."
Here is McInnes speaking about the overall project a few months ago:
Speaking with Next Mining Boom, McInnes says NFC (China's Nonferrous Metal Industry's Foreign Engineering and Construction Co Ltd) acknowledges and understands the potential at Marymia, which already has a total resource of 850,000 ounces.
McInnes also says he has enjoyed a mutually strong and rewarding personal relationship with the chairman of NFC's manufacturing division, which culminated in the agreement.
"It's not by accident that this agreement has taken place," he says. "We've been working on it for some time."
Exceptional intersections
The company recently announced an exceptional intersection from only 50m below surface at its Mareast deposit, part of the Trident-Marwest-Mareast high-grade gold corridor, including:
10m @ 22.6 g/t Au from 50m including 6m @ 33.3 g/t Au (> 1 Oz/t) in VMERC0025, that extend this shallow, very high-grade, zone to the northeast, open at depth.
In addition, intersections from the nearby Mars deposit have also extended this shallow, high-grade, zone to the southwest, potentially linking with the Marwest deposit and Trident, 2km to the southwest. The key new intersections at Mars are:
15 metres at 4.15 grams a tonne gold from 34 metres, including 9 metres at 6.62 grams a tonne gold, including 1 metre at 17.9 grams a tonne gold in VMWRC0013.
8 metres at 4.40 grams a tonne gold from 68 metres, including 6 metres at 5.60 grams a tonne gold, including 2 metres at 13.8 grams a tonne gold in VMWRC0011.
16 metres at 2.06 grams a tonne gold from 21 metres, including 6 metres at 3.62 grams a tonne gold in VMWRC0015.
Other very high-grade intersections by Vango from the Mars prospect have included 9m @ 12.7 g/t Au from 54m including 3m @ 30.6 g/t Au from 56m in VMWRC0002, and previous intersections include 13m @ 10.0 g/t Au from 60m including 7m @ 15.2 g/t Au in MWRC0096 (see cross section below).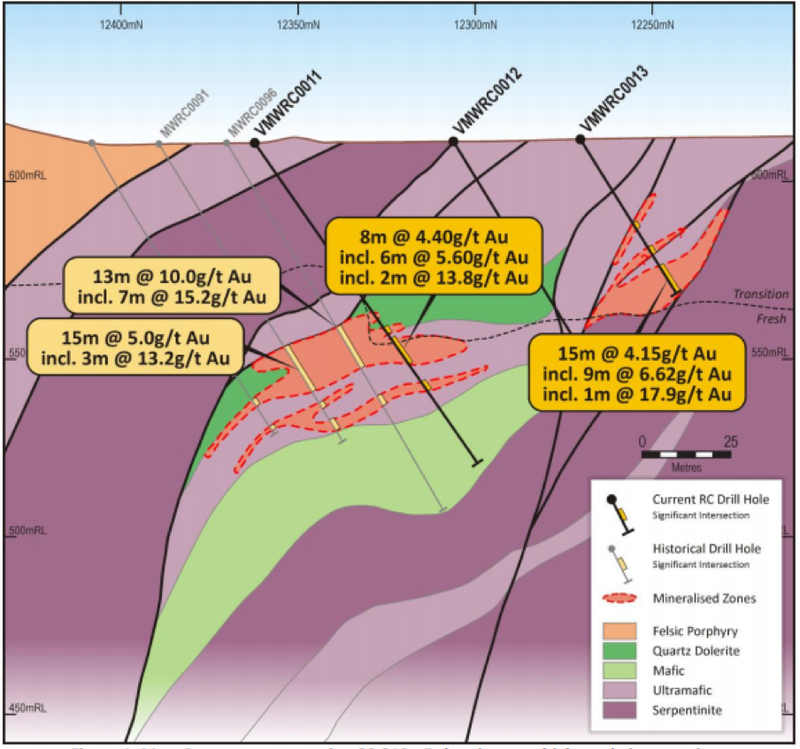 The Mars deposit is located at the north-eastern end of the 2km Trident-Marwest zone. It sits within the 5km structural/mineralisation gold corridor that continues from the very high grade Trident resource through the Marwest/Mars prospects to the Mareast prospect.
The new thick and high-grade intersections from Mareast and Mars are at shallow and potentially open pit depth in the oxide-to-transition zone, immediately north-east of the previously mined Mareast and Marwest open pits respectively.
Both Mareast and Mars offer potential for early high-grade open pit production in a proposed future mining operation at the Marymia Project
Vango plans to confirm new open pit resource estimates for Mars and Mareast, and it will make assessments regarding further drilling requirements in order to delineate these resources.
The new resources will be added to the Marymia Project's existing resource inventory (the high grade Trident Mineral Resource) along with other new, high grade, underground resource estimates planned to be defined via the company's targeted ongoing drilling programs.
This drilling will target Triple P - Zone B, Albatross-Flamingo and other areas, with the aim of delivering a significant upgrade to the resource base for the proposed stand-alone Marymia Gold Project.
Huge potential
McInnes says results from Vango's 2019 exploration season indicates that the Marymia Gold Project potentially hosts a substantial amount of high-grade gold mineralisation.
"Our Marymia Gold Project is a particularly dynamic area to be involved in, given that we're really only just scratching the surface of what is potentially a world class, large scale, high grade gold project" he says.
"The latest drilling results aren't surprising; they're actually confirming what we believed.
"If you look at the one kilometre long zone that's been defined around Trident and project it to these open pit areas, then the potential upside is anywhere between 410,000 ounces or four or five times that amount.
"It's a projection, but the thickness and grades are showing us that it's consistent. And, if anything, there are higher grades in the northeast.
"It's an exciting journey we're on just in terms of one corridor. But we have another four or five corridors identified.
"The potential upside to the company's resource base is quite huge.
"We have potentially one of the largest undeveloped gold assets left in Australia. And it's untapped. It's just been lying there.
"We haven't even drilled below 200 metres. If you look at the Plutonic Gold Mine (about 180 km north-east of Meekatharra), it's down to 600 metres."
The Plutonic Gold Mine has produced about 5.5 million ounces of gold to date.
"Who knows how much gold exists at depths of 600 metres or a kilometre?" McInnes says. "Up to now, we're just tapping the surface."
McInnes says drilling will continue at the Triple P- Zone B asset, under a previous old open pit mine, where previous intersections including 4m @ 9.48 g/t Au from 177m including 1m @ 25.0 g/t Au in Vango hole VPPPRC00051, and 7m @ 15.7 g/t Au from 144m including 3m @ 28.1 g/t Au in previous hole PMDD00021, indicate similar grades and thicknesses to the very high-grade Trident deposit.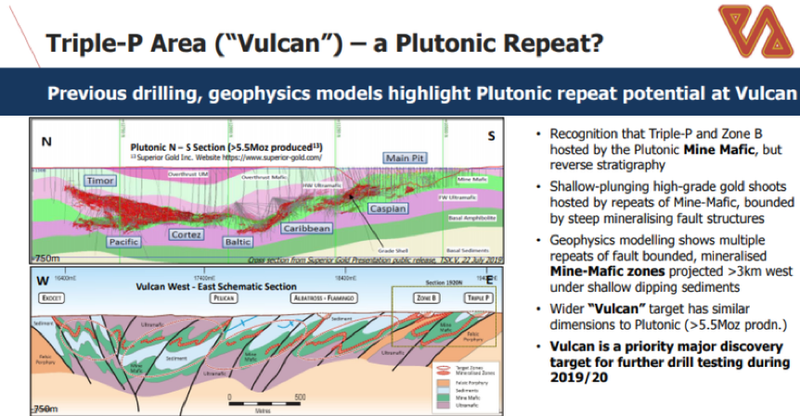 Triple-P is part of another large mineralised gold corridor that potentially links with other previous open pit mines at Albatross-Flamingo and Exocet across a >3km zone, now termed "Vulcan".
The geological structure of the Vulcan corridor is quite similar to Plutonic and historical data reveals there's potentially a lot more gold underneath the previous pits and the target zone may even extend to the north to link with the Trident-Marwest-Mareast corridor – see below.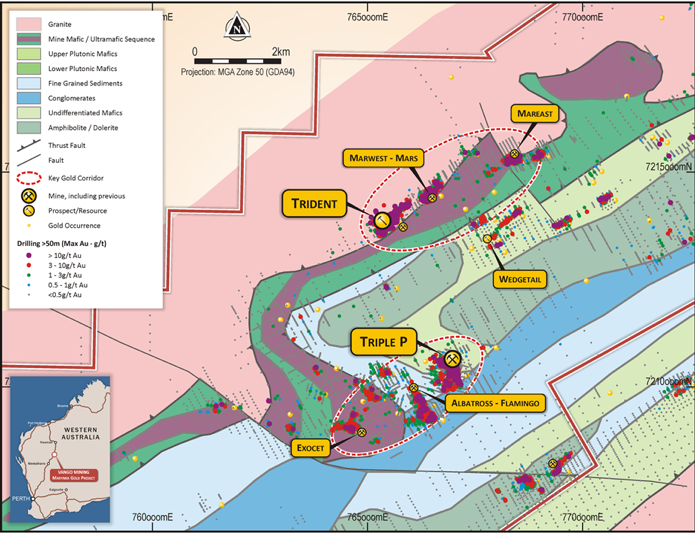 The NFC agreement
NFC is one of China's leading construction and engineering groups, which builds, owns and operates base metal mines, processing plants and smelters around the world.
NFC is listed on the Shenzhen Stock Exchange and is based in Beijing.
A delighted McInnes describes the Vango agreement with NFC as a "huge piece in the jigsaw puzzle we've been building over four years".
"The NFC deal sets up our banker," he says. "It's massive.
"It actually creates the cornerstone funding for our company. I don't know any other company of our size that can do a deal that puts the sort of financing we have in place, which includes no repayments until we're in production.
"The agreement is intended to provide finance for our infrastructure, plant, equipment, excavators and other capital commitments."
You can read more about the agreement in the following Finfeed article: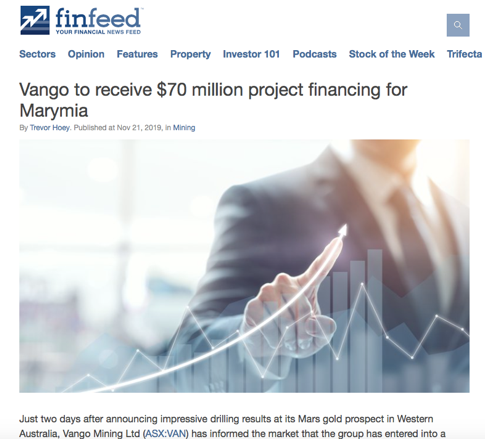 Under the terms of the agreement, NFC will assign a work team to the Marymia Gold Project site within 30 days of signing the agreement to carry out a site inspection and to assess the scope of work to be undertaken.
Vango will provide NFC with detailed information in relation to the Marymia Gold Project, which includes, but is not limited to, any geological, location and resource data, and other detailed deliverables required for the project to reach its future operational objectives.
Subject to a successful completion of the site inspection and a positive assessment of its outcomes, NFC proposes to undertake engineering design, equipment purchase and project construction and delivery of the Marymia Project via an EPC contract model.
Both parties would execute the formal EPC contract separately, subject to the mutual agreement of material terms and conditions.
Road to production
McInnes says Vango and NFC want to fast track development and target production to start between late 2020 and 2021.
He says the plan is to start two underground mines plus open pits around the same time, so production can continue if it is constrained by ground conditions at one of the underground sites.
"We're looking to have two underground start-ups, plus the open pits," McInnes says.
A successful drilling program during 2019 has led the company to significantly upgrade its targeted plant capacity.
He says the company is looking to complete a feasibility study into a 500,000 tonne per annum plant that can be upgraded to a 750,000 tonne per annum plant for relatively low incremental cost.
McInnes explains: "If we go back 12 months, we were only looking at a 100,000 to 250,000 tonne per annum plant because of the limited number of known resource areas. We were looking at building a small modular type plant, where we could upscale as things developed.
"The drilling program we entered into earlier this year has told us that the potential is a lot bigger than we first anticipated. So we slowed down the mine planning, although advanced, and the definitive size of the plant until we knew what we were dealing with."
UNDERVALUED
McInnes is proud of what Vango has achieved since acquiring the entire asset in 2016.
He says the company's market capitalisation has risen from about $1.3 million four years ago to almost $100 million today.
"That's a pretty significant achievement," McInnes says.
But it's nowhere significant enough to satisfy his outlook going forward.
"We're targeting a market cap of between $300 million to $500 million in the near term," he says. "I believe moving to mining production and continuing to drill high-grade ounces will do that."
Vango's share price began rising from 12 cents in March, 2019 to a 12 month high of 22.5 cents on August 23, 2019. However, a retreating share price to 15 cents on November 28 can, at least, be partially attributed to profit taking in line with a declining gold price and matches the price of the recent capital raising.
Perhaps the latest impressive drilling results combined with a strategic agreement with NFC are the catalysts to push the share price higher.
McInnes certainly hopes so, as he firmly believes the share price is way undervalued at 15 cents.
"The share price in no way reflects the massive upside potential we're proving up every time we drill a hole in the ground," he says. "A share price at 15 cents simply reflects a reported resource base of 850,000 ounces."
Skilled team
Bruce McInnes is an experienced and successful executive. His business interests encompass the mining, finance, accounting and agricultural sectors.
"One of the things I'm good at is putting the right people in the right spot," he says. "To take this company from $100 million to $500 million is going to take people."
Experienced resource executive and mining engineer Andrew Stocks has just been appointed managing director of Vango from January 2020 to the delight of McInnes.
"I think Andrew is going to be a fantastic fit because of his experience with the Plutonic Gold Mine," McInnes says. "Plutonic was a huge open pit mine. Andrew was materially responsible for developing an underground mine to successfully operate with the continuity of the open pit mine.
"Andrew likes to start things, get them going and see them into full production. He sees the full potential in our assets."
Current managing director Sean Zhou will continue to play an active role in the company as deputy chairman and non‐executive director.
Zhou has expertise in funds management, project management and investment banking, with a particular focus on infrastructure investment in the Asia Pacific region.
Vango executive director Dr Carol Zhang is an associate professor of science and technology, lecturing in logistic management.
Dr Zhang has a broad range of experience in senior management consultancy. The company relies on her skills and experience on the path to becoming a producer.
McInnes says: "I've surrounded myself with first rate people. Moving forward, there will be ongoing appointments as the company grows and as we see necessary."
Why to consider investing in Vango Mining
Skilled and experienced directors and senior management are vital to the success of any company. Vango has a skilled and diversified board backed by an experienced exploration and mine development management team.
Vango has entered into strategic partnership framework agreement with NFC, a Chinese company that proposes to provide project financing estimated at AU$70 million.
The company continues to announce high-grade interceptions at shallow depth, further highlighting the resource expansion potential of the Trident-Marwest-Mareast gold corridor.
Vango has an established high-grade resource in Western Australian gold territory. Vango assets are close to multi-million ounce mines.
The share price may be undervalued considering the company's assets, drilling results and long term potential.
---