ASX explorer potentially sitting on a billion dollars of this rare wonder metal…
PUBLISHED: 17-02-2014 12:52 p.m.
Since we first uncovered Cradle Resources (ASX:CXX), the news flow has not let up.
The Next Mining Boom first brought you the CXX story in our original report Rare Ingredient in "Super Steel" – Tiny ASX Explorer has Just Found Enough to Become the 4th Largest Global Supplier . This report details all the facts on CXX and the Niobium investment proposition.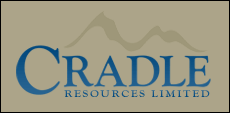 Since the report was released, CXX has risen as high as 50%.
The past performance of this product is not and should not be taken as an indication of future performance. Caution should be exercised in assessing past performance. This product, like all other financial products, is subject to market forces and unpredictable events that may adversely affect future performance.
CXX are now moving fast developing and defining their highly prospective Niobium resource .
Niobium is a rare wonder metal that makes steel stronger AND lighter. Needless to say this mysterious metal is in high demand as a commodity to watch.
The Niobium market is a closed shop – just three major producers reap continual profits from the world's demand of this very useful metal.
CXX are aiming to disrupt this market by producing their own Niobium and taking a profitable slice of the market.
CXX currently own 50% of the Panda Hill Project in Tanzania – with management control. They also have the option to buy the rest of the Project before 2017.
In less than a month since our first report, we have been bombarded with high impact, positive news flow, on an almost weekly basis – the chief piece of news is the positive Scoping Study results . Following the release of the Scoping Study, Paterson's Analyst Simon Tonkin has outlined a target 100% gain from the current CXX share price :

Although this price prediction was made by a professional who analyses stocks all day, we should mention that it of course is no guarantee that this price target will be met.
Scoping Study Results
In late January 2014, the CXX's Scoping Study results for the Panda Hill Project were released, one further step completed on the pathway to Niobium production. Details of the Base case and Staged case are as follows:

In summary, the independent Scoping Study concluded that CXX have on their hands:
Low upfront capital costs for base case – US $185 M – 19% lower than CXX's original estimates;
Attractive Staged option available – this would see production ramping up from 1 Mtpa to 2.3 Mtpa, reducing upfront capital costs to US $125 M – but still maintain similar economics over the life of the mine;
Substantial cash flow can be generated at current Niobium prices – Niobium fetches about US $40/kg on the market, and CXX are looking at cash costs of only US $16.67/kg – that's an impressive 58% below the Niobium selling price ;
Payback less than three years for the base case , and 4.5 years for the Staged Case – not a lot when the life of the mine in both scenarios is over 25 years;
Open cut mine – with a relatively shallow strip ratio of only 0.37 to 1 – this means it's easier and cheaper to dig up;
Potential remains to improve economics further – In the following months, optimisation will be undertaken on the mine, particularly in relation to mine scheduling and reagent use.
In addition to the Scoping Study, CXX are still eyeing off potential for expanding the resource size – through further exploration activities within the project.
Our Track Record
Regular readers of our sites will be familiar with our long-standing interest in reporting on high potential stocks that we uncover. To note just a few:
The past performance of these products are not and should not be taken as an indication of future performance. Caution should be exercised in assessing past performance. These products, like all other financial products, are subject to market forces and unpredictable events that may adversely affect future performance.
Niobium Grade – Positive Results
It's worth highlighting the recent metallurgy testing undertaken on the weathered material at Panda Hill.
The maximum potential niobium recovery at a 55% Nb2O5 grade is between 75% and 82% – compared to the fresh ore average of 88%. Existing Nb producers – there are only 3 of them – recover about 50 to 60% overall – so CXX's results are in line with the big producers .

What's Next for CXX?
Over the course of 2014, CXX will continue along the path to becoming the fourth major player in the Niobium industry. The year will see them move to ' Definitive Feasibility Study ' mode (DFS), and will give regular updates along the way.
One thing that will be necessary during this time is an equity raising.
CXX have spent the last couple of weeks in Africa at the Indaba mining conference – and some serious networking was undertaken. It now appears likely that the whole equity raising will be undertaken by London based funds specialising in emerging resource projects.
These funds are likely to be strategic cornerstone investors and 'sticky money'. F
ollowing this raise, The Next Mining Boom sees potential for significant price appreciation – as CXX starts ticking all the boxes on the path to becoming a Niobium producer. To stay updated with all the CXX updates as they come to hand, like CXX on Facebook or follow them on Twitter .
---