AGR's Phosphate Resource Set to Deliver Value Uplift?
PUBLISHED: 09-11-2016 10:28 a.m.
Just last month, we brought you an intriguing agribusiness enabler.
Since then this company has been busy inserting itself into the southern Brazilian agriculture sector in a bid to capitalise on the growing demand for phosphate fertiliser in the expanding agriculture sector in Brazil.
Phosphate is one of the three key fertilizer elements that promote growth and energy supply to living organisms.
In the south of Brazil where Aguia Resources (ASX:AGR)'s phosphate resource sits, there are no new phosphate mines planned or under development, and the regional agricultural industry is 100% reliant on phosphate imports...
AGR has a sustained cost advantage to local fertilizer blenders of more than $50/tonne compared to imports – making this company's mine development of strategic importance to the region's economy.
Lately, AGR hasn't been shy in moving forward.
The news so far is – so far, so good.
AGR is now fully funded through to completing its BFS and has recently begun infill drilling at its flagship Três Estradas phosphate project.
AGR is conducting 6000 metres of Diamond Drilling and 3500 metres of reverse circulation drilling, which is designed to convert the existing Inferred Resource to a Measured and Indicated resource at Três Estradas.
This drilling will de-risk the project and confirm AGR's economic projections, and could deliver significant value uplift.
A recent heavily subscribed $8.5M placement gives AGR sufficient working capital to fund extensive works and complete its BFS.
The placement was undertaken at a share price of 10 cents, and with AGR currently trading below that at around 9 cents, investors currently have the opportunity to buy AGR stock at a cheaper price than the institutions just came in at.
Of course this doesn't mean an investment will prove successful. This is still an early stage play and investors should seek professional financial advice if considering this stock for their portfolio.
Brazil is one of the world's most significant food producers, currently ranked as the number 1 producing nation for over a dozen different commodities sold in international markets.
But as we pointed out above, in southern Brazil where AGR is located, farmers are 100% reliant on phosphate imports from as far away as North Africa.
AGR's opportunity lies in the fact that by developing a local supply source of phosphate that can be delivered to farmers in the south of Brazil for a lower cost than the current imports, the company could potentially manufacture a strong business on the back of current inefficiencies and the prospect of food demand continuing to explode around the globe.
The way to do that is by obtaining phosphate, or Phosrock, and supplying it initially to the southern Brazilian agribusiness industry that's all about growing more food to feed a growing world population.
There is still some way to go, but AGR has done everything in its power to position itself as a boutique phosphate producer within a stone throw from huge agribusiness operations in Brazil.
There are several catalysts to come including the completion of drilling in Q1 2017 and imminent results as well as testing priority exploration targets adjacent to Três Estradas.
The program will also provide sufficient material to be shipped to Eriez Flotation Division in Pennsylvania, where a pilot plant test will be performed in order to finalise the design of a commercial scale plant for the site.
As long as AGR can secure a strong Resource and demonstrate solid exploration progress, we think it could be generating strong operating margins over the coming years given its unique market strategy and operational advantages.
Without further ado, we catch up with: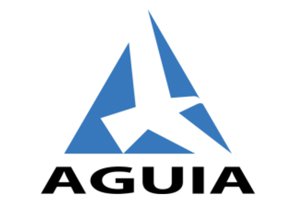 Aguia Resources
ASX:AGR
Aguia Resources (ASX:AGR) is a $40M capped company that could potentially raise its market standing and valuation in the coming months.
We first came across AGR last month, at which point we published an article detailing this company's market strategy .
Since we last checked in on AGR, the company has advanced development of its flagship Três Estradas phosphate asset located in the state of Rio Grande do Sul in Southern Brazil.
AGR has finalised its PEA optimisation study and is now progressing with a Bankable Feasibility Study (BFS) with which to attract further funding and move towards monetising its phosphate strategy as soon as possible.
In a nutshell, AGR wants to cosy up to existing Brazilian farmers by supplying them with Phosrock, the upstream feedstock used to produce SSP (Single Super Phosphate) and also a calcite by-product.
If all goes to plan, AGR will be able to produce its phosphate concentrate at >US$50/t cheaper on logistics costs than any foreign competitors because selling its product locally to Brazilians will mean AGR can avoid costly shipping costs, and tax duties imposed by the Brazilian government.
The unfortunate reality is that to have any hope of producing enough food to feed a rapidly growing world population, farmers must increase yields and expand production.
In other words, grow more crops from existing farms and bring new arable land into production using modern farming methods.
Phosphate, one of the three key fertiliser elements that promotes growth and yields is therefore a necessity.
However, the phosphate needs of southern Brazilian farmers are currently being met entirely through imported products that are typically well above current spot prices.
What if AGR could find a way to produce phosphate at lower cost, and equally importantly, what if AGR's production site was within a short distance of the final point of sale?
It would seem both 'ifs' have been firmly answered as part of AGR's exploration, and hopefully will be officially answered in the upcoming release of AGR's BFS.
DJ Carmichael analysts Michael Eidne and Paul Adams weighed in on the stock last month saying that recent key strategic changes positively impacted project economics and increased the NPV of the project by 48% from US$207M to US$307M.

The pair have retained a speculative buy on AGR with a $0.82 p/share valuation and a $0.41 near term price target – which is over 340% above AGR's current share price...
However, it should be remembered that analyst price targets are no guarantee to eventuate, and are based on a number of assumptions which may not happen. Apply caution when investing in speculative mining stocks.
With that in mind let's take another look at AGR's current resource to see where we stand today.
AGR's Flagship
AGR's flagship project is the Três Estradas Project in southern Brazil, mapped out below for your convenience.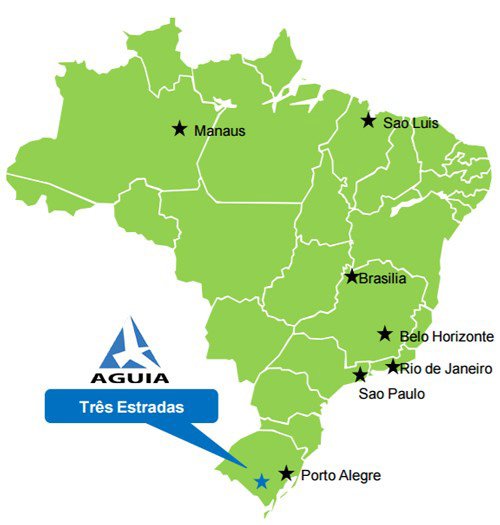 The Três Estradas project contains a 74.7Mt phosphate resource with grades averaging 4.13% P 2 O 5 , broken down as follows:
745Mt Measured @ 4.42% P 2 O 5 ;
07Mt Indicated @ 4.75% P 2 O 5 ;
9Mt Inferred @ 3.97% P 2 O 5 .
Based on an early prefeasibility study, the proposed mine life at AGR's Três Estradas is 14 years, which of course could expand further upon more resource updates.
That's a good start with AGR planning on adding more resources to the Measured and Indicated categories over the coming months – which could provide significant value uplift.
Previous metallurgical testing has shown strong early results, and AGR's recovery rate is also ticking up as it gets to grips with its resource: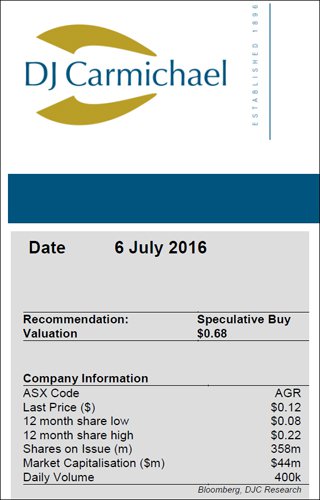 As you can see, AGR's recovery rate has jumped from 65% in 2015 to over 84% in 2016.
With a 74.7Mt JORC compliant phosphate resource, AGR is focused on moving towards production as quickly as possible, and a BFS is now being advanced .
However, we should point out that this is a speculative mining stock and an investment in the company has no guarantee of being successful despite its projections. Only invest what you can afford to lose – especially in the small cap end of the market.
One of the best parts of AGR's strategy is that 100% of its planned production will be sold locally within 400km of its project site
This effectively means AGR has much less to worry about in terms of transport, storage and additional expenses related to global operations.
Far from it, AGR wants to be a compact agribusiness enabler and southern Brazil is a perfect spot to pursue high margins in combination with a straightforward development schedule with a good quality phosphate resource in a market eager for local supply.
Agriculture plays a key role in Brazil's economy, with 20% of its GDP in 2015 derived from agriculture, with exports now totalling US$175BN.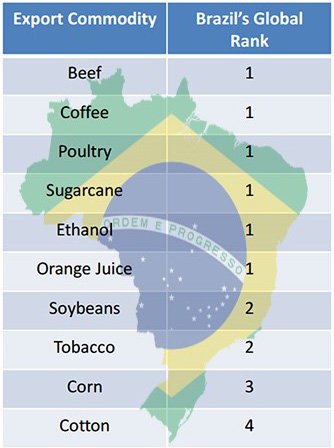 At present Brazil is the 3rd largest consumer of fertilizer in the world, but only accounts for 4% of global fertilizer production, which brings us to the role AGR could play in Brazilian agriculture.
While Brazil exports US$175BN in agriculture, and is ranked number 1 in the world for exports of beef, poultry, and sugarcane, the country simply does not produce enough phosphate nationally to meet domestic demand, and has to import 65% of its phosphate from overseas which leads to higher production costs, supply shortages and uncertain supply lines.
AGR could solve this problem for Brazil's farmers, and ensure it reaps the benefits of rapidly growing global agribusiness industry.
And what an industry it is turning out to be...
Food security is one of the most important macro themes for the coming decades
The world's population is continuing to grow at a steady rate that doesn't look like slowing anytime soon – and the world's population is consuming more energy intensive food too.
At the same time, arable land for farming is dwindling. Brazil remains the world's leader in arable land availability, but because of its intense farming activities, its farmers are already requiring increasing amounts of phosphate to keep their production levels steady.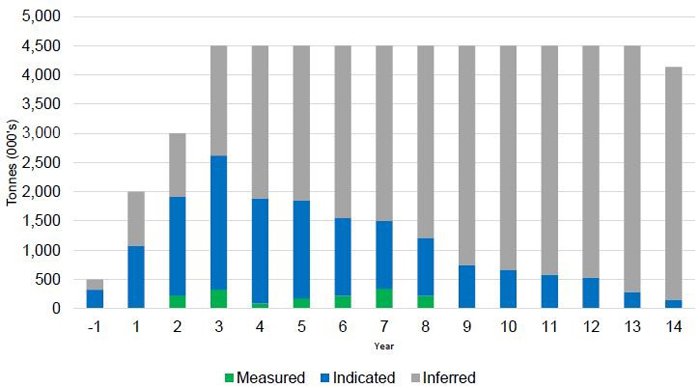 Soil fertilisers are helping to bridge the gap by making soil more productive and are already used in the production of up to 60% of the food we eat today.
That number can only grow as the world's population expands while the amount of arable land stays constant.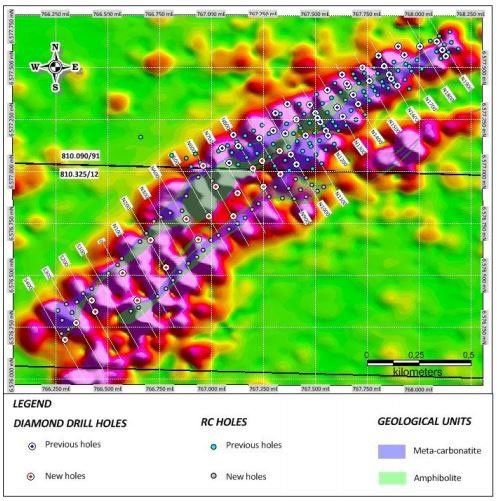 The relationship between population growth, arable land and the subsequent difficulty for food production is creating a perfect storm for near term phosphate producers such as AGR.
AGR is confident it can conduct enough drilling to set a 16 year mine life, as opposed to 14 — both positive signs that AGR will eventually become a fully-fledged producer.
Here is the planned path to production for AGR: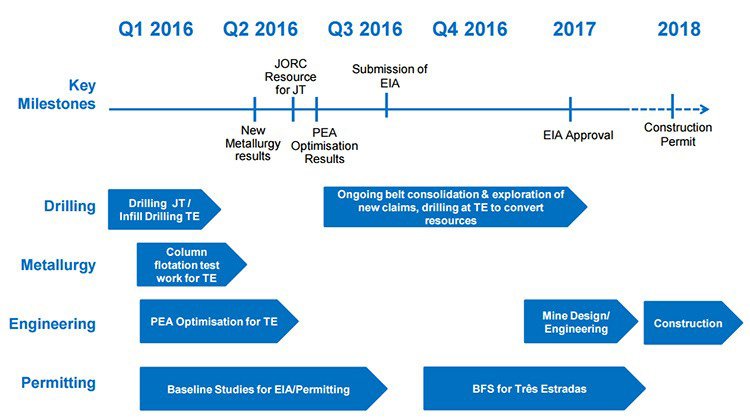 Funding Booster
For AGR, taking a seat at the agribusiness table won't necessarily be easy, but at least it has some financial muscle to help with the lifting.
First off, there are institutional investors backing this stock with Sulliden Mining Capital owning 19%. Furthermore, the world's largest mining fund — M&G — currently holds 6.6%.
With over 25% of AGR being held by large institutional funds, AGR has a great opportunity to make progress.
And if all that wasn't enough from funding standpoint, AGR's recent $8.5 million oversubscribed capital raising that sees AGR fully-funded through to completing its BFS — is the final caveat we were looking for.
This placement was conducted at 10 cents, and currently AGR is trading at around 9 cents. As we pointed out earlier this gives investors the opportunity to get in at a lower price than the last funding round from institutional investors.
AGR is well-funded, well-placed and making steady progress towards beefing up its Resource in Brazil.
We think these factors could well lead AGR to a higher valuation once investors wake up to the strong commercial factors fuelling the growth of agribusinesses globally.
However like all small cap stocks, there is no guarantee an investment in AGR will turn out successful. AGR is some time away from first cash flows. If considering for your portfolio, seek professional financial advice.
Let's see what's around the corner for AGR — and for its investors
With AGR, its Brazilian agribusiness mission is only just beginning now that it has secured the funding it needs to complete its BFS.
Once the BFS is complete, the mining plan and engineering will be defined and the stage set for AGR to move into the construction phase.
Whenever we consider an early stage mining company, we always ask whether there are any catalysts on the horizon that could provide a semblance of calm for jittery investors, and/or revaluation potential for the share price.
The estimates so far, indicate a strong resource is in the offing, and here are the upcoming catalysts in order of importance for you loyal Next Mining Boom readers.
BFS and Infill Drilling
As we've mentioned, the biggest potential for a re-rating comes from the ongoing BFS data collation and infill drilling that's ongoing now.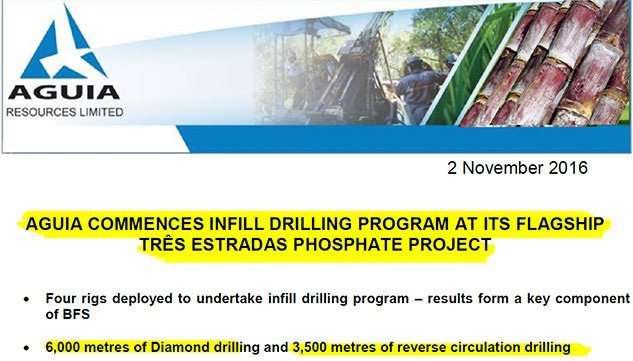 AGR's prime goal is to move as much of its Resource from the Inferred to Indicated categories to bulk up its project economics and attract the best possible funding package when it comes to building a mine.
With almost 10,000 metres of drilling underway now, we think AGR could well announce something market sensitive over the coming weeks, thereby bringing this stock to the attention of a much wider group of investors.
One side factor of interest is AGR's on-the-fly move into Calcite — a by-product from the phosrock that can also be sold to farmers.
Calcite can add a secondary revenue stream for AGR once Três Estradas moves into production, and thereby improves the chances of AGR securing an all-important offtake deal in future.
AGR is marching towards becoming a much-needed phosphate producer, in a place where farming is the lifeblood of its people.
Brazil is an agricultural juggernaut that will require increasing amounts of phosphate to maintain its global market position. This means AGR has the chance to ready its phosphate project over the coming 1-2 years to become a high-margin vendor of phosphate.
Despite being a small-cap and early-stage mining company, AGR has assembled a meticulous plan to generating strong agribusiness revenues on the back of a commodity that is likely to be grabbing ever more headlines over the coming decades.
The world's population is expanding at an unprecedented rate, while the world's people are developing an unprecedented taste for high-calorie diets — and the result is a strong opportunity to bridge what consumers want and what they can get — while hopefully making a few dollars for AGR investors.
---