Acquisition Complete: ASX Junior Set to Commence Tungsten Production
PUBLISHED: 15-05-2019 10:03 a.m.
Tungsten. It's Swedish for heavy stone. It's tough, strong and in heavy demand. And, now, one ASX junior is ready to capitalise on a positive macro environment that sees global tungsten markets returning to growth after years of oversupply and low prices.
Demand from defence, industrial, and oil and gas applications is on the rise. In fact, world demand is set to rise by 4.2% this year on the back of growth in construction, mining and manufacture, aerospace, machinery and metal products.
By 2025, the tungsten market is predicted to exceed $8.5 billion and grow by more than 8% per year.
Cutting tools, dyes, drills, weights and wear parts all require Tungsten and the Asia Pacific region will remain the dominant supplier.
For that reason, among several others, I am feeling pretty bullish about today's stock.
The company is putting the final ink on transaction documents for its 100% acquisition of Mt Carbine Quarries Pty Ltd, which owns and operates the world class Mt Carbine Quarry in Far North Queensland.
I'm not the only one who shares a positive sentiment, and with the company trading just 10% shy of its 12 month high, the finalisation of the contract could push its share price beyond that marker.
That company is diversified metals explorer, Speciality Metals (ASX:SEI), formally known as Carbine Tungsten.
Not only will SEI take possession of these highly prospective tungsten assets, it has also ratified a joint venture (JV) with Cronimet Asia Pte Ltd for the development of the Mt Carbine Tungsten Tailings Retreatment and Stockpile Projects.
Word has it that Cronimet, a subsidiary of privately owned Cronimet Holding GmbH with a worldwide network and operations in 50 countries, jumped at the opportunity to be involved with this tungsten project and add to its vast, global stable of mining and processing assets.
Production from the tailings retreatment is expected to commence during the December quarter of 2019. Suffice to say, it should be an exceptionally busy six months for SEI, with plenty of news to keep shareholders happy.
Significantly, the acquisition puts the company in a position to quickly commence tungsten concentrate production at the lower end of the production cost curve.
All the pieces are falling into place for SEI, so let's break down the details of the acquisition and why the timing is so good.
Catching up with...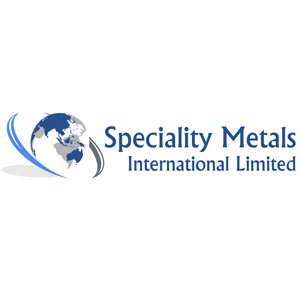 Speciality Metals

Market capitalisation: $16.6 million
Share price: $0.030
Why I like SEI...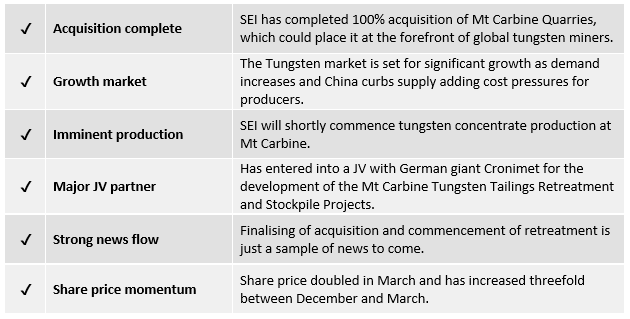 Game changing acquisition
It's been a long time coming.
For months Speciality Metals (ASX:SEI) has had its carbine scope trained on its prized target. Today SEI was able to pull the trigger on that target and it could significantly change the game for the company, which also has gold assets in NSW and an exploration program underway in Chile.
The target in question is Mt Carbine Quarries and by settlement on 28 June, SEI will own the world class project, along with all plant and equipment and mining leases ML4867 and ML 4919.
This is the lay of the land: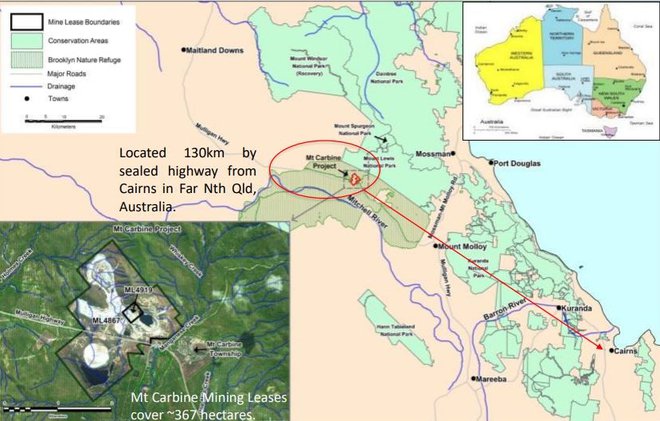 Several dominoes needed to fall into place before the acquisition could be finalised, including Foreign Investment Review Board (FIRB) approval and the completion of legal documentation.
That's all out of the way now, so it's full steam ahead for SEI, which has already commenced work on the refurbishment of the Mt Carbine Treatment Plant.
This is an important step as it brings into play its JV partner, Cronimet Asia Pte Ltd, in developing the Mt Carbine Tungsten Tailings Retreatment and Stockpile Projects. Production from the tailings retreatment is expected to commence during the December quarter of this year.
The JV with Cronimet is crucial and one which I believe could set up SEI as a major player in the tungsten space.
Cronimet assisted SEI in the development of its world class Mt Carbine Tungsten Project and in acquiring the Mt Carbine Quarries and Mining Leases. It provided a cash advance of US$3.5 million (~A$4.9 million) by way of an off-take agreement for delivery of tungsten concentrate from Mt Carbine.
You can read more about the deal in the following Finfeed article.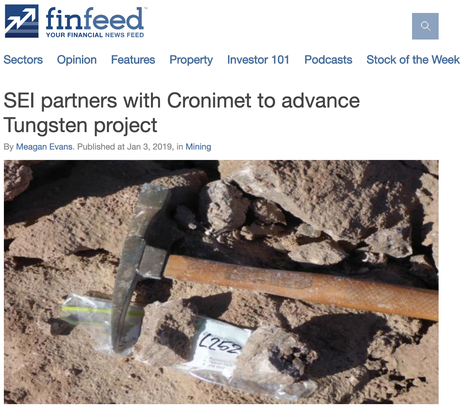 SEI and Cronimet are working together to recommission the Tailings Retreatment Plant with production to commence from the ~12 million tonnes of stockpiled material.
Cronimet is providing the technical expertise to assist with the refurbishment of the existing Tailings Retreatment Plant as well as sourcing the plant that's required to commence production from the stockpiled material.
Each hold a 50% stake, with SEI entitled to receive a 2.5% royalty on the gross revenue of the newly formed JV company.
The companies have taken a measured approach in completing their due diligence, with SEI executive chairman Russell Krause saying, "This transaction has been many months in the making and upon completion will enable our company to properly unlock the long-recognised value of the Mt Carbine Tungsten Project.
"The joint venture with Cronimet and the technical expertise which comes with it, will completely reposition Speciality Metals and project it to the forefront of tungsten miners globally.
"Over the past few months our team has worked closely and co-operatively with the Cronimet team and believe we are now in a position to shortly commence tungsten concentrate production at Mt Carbine at the lower-end of the production cost curve.
"I am very excited about the opportunity this arrangement brings and I am looking forward to a long and profitable relationship with Cronimet."
Details of the acquisition
SEI has purchased Mt Carbine Quarries for a total sum of $8 million, with a $250,000 refundable down payment due to be paid on 17 May, just a couple of days from now.
The acquisition is to be financed on a four step, fully underwritten basis:
Tranche 1 – Placement of 83,231,463 ordinary shares at $0.018 to raise A$1,498,166 to be completed on or about 16 May 2019;
Tranche 2 – Placement of 160,000,000 ordinary shares at $0.018 to raise A$2,880,000 subject to shareholder approval;
Entitlement Offer (Rights Issue) to all shareholders on a 1 for 5 basis at $0.018; and
Offtake Advance of US$3,500,000 to be paid by Cronimet. Note, this is payable once the shares under the Tranche 2 Placement have been issued.
The JV will also see two non-executive directors appointed to the SEI board post completion of the acquisition, namely Mr Oliver Kleinhempel, managing director of Cronimet Holding GmbH, and Mr Yeo Zhui Pei.
This expertise shouldn't be understated.
Kleinhempel is a managing director of Cronimet Holding GmbH and started his career at Outotec, a leading minerals and metals processing technology company, where he spent several years in Europe, South America and Southeast Asia on various assignments. Over the past eight years, Kleinhempel has held various executive management positions in the project development, finance and commodity trading sector, with a regional focus on Asia-Pacific.
Yeo Zhui Pei has been working at a leading system integrator in the telecommunications industry in South-East Asia and has held executive, management and supervisory roles. This has allowed him to gain a wide range of experience from project planning to resource management to commercial negotiations. Mr Yeo is also a director of a steel-product manufacturer, which could auger well for SEI in the future.
The two board appointees should add a great deal of weight to SEI as it looks to fast track operations at Mt Carbine.
Why Mt Carbine?
The growth of tungsten aside, Mt Carbine Quarry is in the right place, is fully permitted and has been an established business for over 20 years.
Not to mention, it provides SEI with substantial growth opportunities and an invaluable revenue stream.
Owning the leases was always integral to the successful development of SEI's Mt Carbine play. The Mt Carbine project covers ~367 hectares, and is located 130 kilometres by sealed highway from the port of Cairns.
The two key leases sit within SEI's Iron Duke prospect.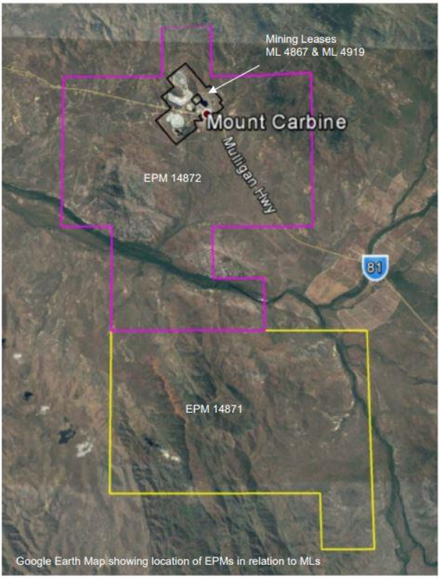 Mt Carbine has been around since the end of the 19th Century, and was a major tungsten producer in the past.
The good news for SEI is that the deposit is still relatively unexplored and there is considerable exploration potential for new tungsten mineralisation in the mining leases.
When it last operated between 1973 and 1987, the Mt Carbine mine produced exceptionally high grade concentrate and was in the lowest quartile of cost of production for global tungsten producers.
The resource is similar to several other large tungsten deposits around the world, including deposits in southern China, Spain and southern UK, in that it is low grade (the grade of the inferred hard-rock resource at Mt Carbine is 0.14%WO3 at a cut-off of 0.05% WO3, and comparable with other large tungsten deposits of a similar geological style).
A full run down of the intricacies of the grade and resource can be found on SEI's website.
To keep things simple and moving, we are going to concentrate on the here and now and that leads us to the fact SEI isn't wasting any time on its production aims.
US$3.5 million offtake agreement
As discussed, Cronimet will provide an offtake advance of US$3.5 million to Mt Carbine Retreatment (US$1.75 million) and Cronimet Australia (US$1.75 million).
Mt Carbine Retreatment and Cronimet Australia will each pay US$1.5 million (US$3.0 million in total) to SEI for the transfer of retreatment assets from SEI to the JV partners and as a rent pre-payment.
The endgame here is the development of the open pit and underground operations for production of tungsten concentrate from other parts of the mining leases.
Once the open pit operations commence, Cronimet is given a once off first right of refusal to enter into an exclusive offtake arrangement for all tungsten concentrate produced from the Mt Carbine open pit operations over its total mine life.
Work has already begun
Speciality Metals has commenced work on the refurbishment of the Mt Carbine Retreatment Plant and production is expected to commence in the first half of this year, just weeks from now.
The following provides a highlights reel and understanding of why this project is so important to SEI.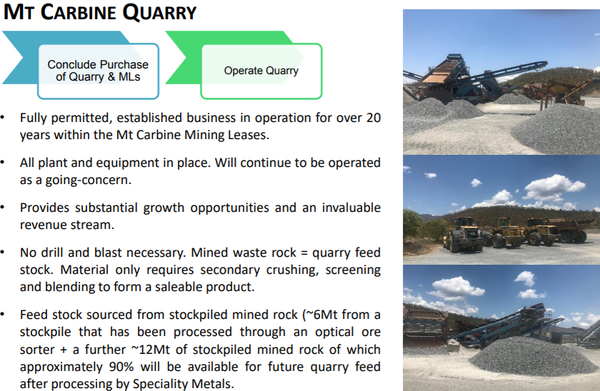 One of the company's former plant manager's will assist Cronimet's process engineer and metallurgist with on-site assessment. This is being completed to support a later redesign of the Retreatment Plant, in order to accommodate the latest reclaim technology.
It's a good time to be in tungsten
Whilst tungsten isn't one of the better known metals, it is certainly one of the better performing.
Looking at the overall market, shares in tungsten stocks have gained renewed support in the last 12 months with the share price of another emerging player, King Island Scheelite Ltd (ASX:KIS), having nearly doubled in price since May 2018.
The tungsten price did ease in the latter half of 2018, however the tide seems to have turned.
Industry analysts indicate that the supply/demand equation has now turned in favour of producers, so the timing couldn't be better for SEI.
Industry research group, Roskill noted last year that global tungsten markets were returning to growth following several years of oversupply and low prices.
In a 10 year outlook statement, Roskill said, "Tungsten market fundamentals have changed as demand from defence, industrial, and oil and gas applications has picked up, just as environmental policies in China have curbed supply and added cost pressures for producers."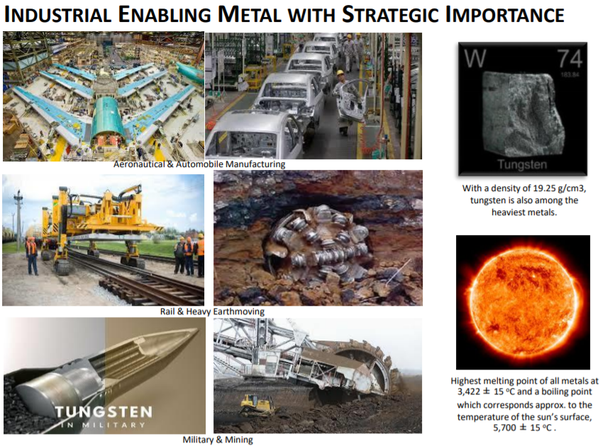 China is also a factor. As the largest producer of tungsten globally, China accounted for more than 80% of supply of tungsten concentrates in 2017.
However, tightened environmental restrictions in the country have impacted the supply of many metals mined. A second round of central environmental inspections across all China provinces within the next three years, could also result in either mine closures or the instigation of compliance demands that would up production costs.
If this occurs, and Chinese mines become economically unviable, tungsten would have to be sourced elsewhere. Here's an excellent article detailing the Chinese tungsten market.
This constrained supply, combined with demand increases, should theoretically drive up prices, another factor working in SEI's favour.
SEI is perfectly positioned to take advantage of these conditions because of its projected low-cost production, which is due to begin very shortly.
The final word
Completion of the Mt Carbine Quarries acquisition places SEI in a strong position to capitalise on the macro factors that are working in its favour. But SEI has more than just that going for it.
The company is taking hold of a project that could have a very long production life, with production set to begin shortly. Its partnership and $3.5 million offtake agreement with Cronimet — one of the world's biggest miners and raw materials service providers — will be crucial to this.
SEI has bided its time on this one. It has waited patiently, completed thorough due diligence and is now ready to strike while the iron is hot.
Given how advanced the project actually is, I would say that it shouldn't be too long before SEI makes its mark in the broader tungsten environment and potentially rewards shareholders for their own patience.
---