ABR Upgrades JORC Resource Whilst Progressing Talks with Offtake Partners
PUBLISHED: 22-02-2018 10:00 a.m.
American Pacific Borate & Lithium (ASX:ABR) is racing ahead exploring for two commodities that remain crucial to the surging energy-storage market. Yet having listed on the ASX barely six months ago, this ASX junior may not yet be on your radar.
With its efforts focused on its 100%-owned Fort Cady Borate and Lithium Project in southern California, ABR has already completed a confirmatory borate drilling programme, a Scoping Study, and proven a JORC-compliant Resource, which the company upgraded early this month.
Fort Cady is a highly rare and large colemanite deposit with substantial lithium potential, and is the largest known contained borate occurrence in the world that's not owned by the two major borate producers Rio Tinto and Eti Maden.
The company is primarily focused on borates, a decision that came down to economics as there are only a handful of companies progressing borates projects. Rio Tinto is one example, from which ABR can learn from and emulate.
ABR's focus is slightly different to that of its high market capped peers. It has a borate focus with a lithium by-product, as opposed to a lithium focus with a borate by-product. Its borates sit in mineralisation that is processed every day for the global borate market, which offers a large advantage.
Our last update on ABR came on 6 December 2017, with the article, ABR on Fast Track to Delivering Pilot Plant Test Program . At the time, the company had just announced that it had again intersected impressive borate mineralisation as well as highly consistent lithium levels at Fort Cady.
ABR reached a major milestone when, in December, it released a JORC Maiden Resource containing more than 10 million tonnes of boric acid with upside. The JORC resource supported the view that Fort Cady can supply sufficient borates from a mining operation well past 20 years.
Since then, the Resource has undergone a significant upgrade, with the latest showing an increase in tonnes and grades. We will get to the numbers shortly, but the Mineral Resource Estimate (MRE) increased by 27.4Mt from 93.0Mt to 120.4 Mt and by 0.2% B2O3 from 6.3% to 6.5% representing a 30% increase in tonnes and a 3% increase in B2O3 grade.
The average thickness of the zones intersected suggests that the proven strategy of solution mining that ABR has planned at Fort Cady will be successful. Recent test works on lithium recoveries supports the by-product strategy for lithium production too.
Although it is early stages and investors should seek professional financial advice if considering this stock for their portfolio.
Another benefit highlighted is that the project is ideally situated to supply the commodities to the big markets of the US and Asia.
This is particularly important as ABR makes steady progress on its pilot plant test work which is on track for completion in March, just weeks from now. Upgrades are being made that will be beneficial to the construction of the initial commercial scale operations. Key site appointments are also being filled in anticipation of the commencement of mining operations next year.
Discussions have progressed well with potential strategic partners with regard to construction support, project debt and equity financing and product offtake.
ABR will now be working towards the completion of its Definitive Feasibility Study (DFS) to be completed during the second half of 2018 on its path towards commercialisation.
All the latest from: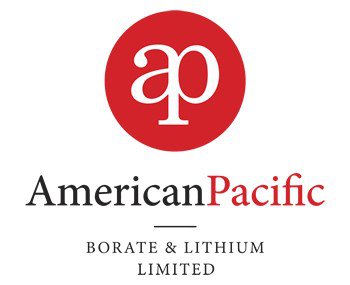 American Pacific Borate & Lithium Limited
ASX:ABR
American Pacific Borate & Lithium (ASX:ABR) is making considerable progress at its flagship Fort Cady Project in California. The game plan is to establish not one, but two, high-grade Resources to help pave the way for a brighter future built on rising demand for energy-storage solutions.
ABR is exploring for borates as well as for lithium, from the same location, in order to improve the economic viability of the project.
Here you can see the location of ABR's Fort Cady Borate and Lithium Project in southern California, USA: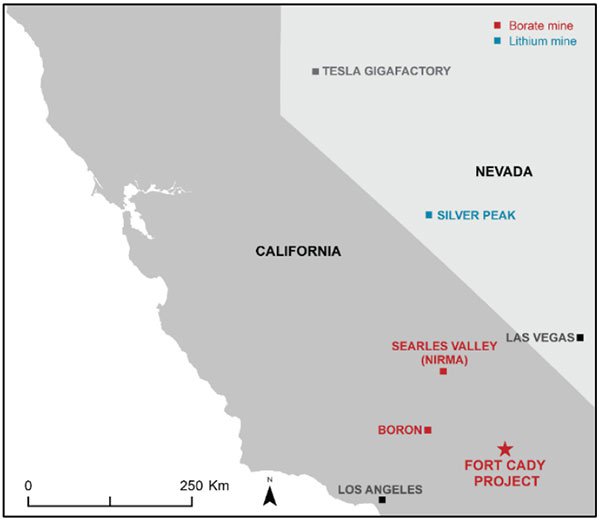 Fort Cady has a mining licence in California for commercial scale operations. This permit includes a full environmental impact assessment (EIA) and report. For some junior explorers obtaining an EIA could take years and years, but ABR already has this valuable report in place — a key factor as to why the company anticipate to be in production in 2019.
ABR Managing Director Anthony Hall recently sat down with finfeed.com for an interview where he provided a deeper understanding of ABR's trifecta of Resources and its Fort Cady Project economics.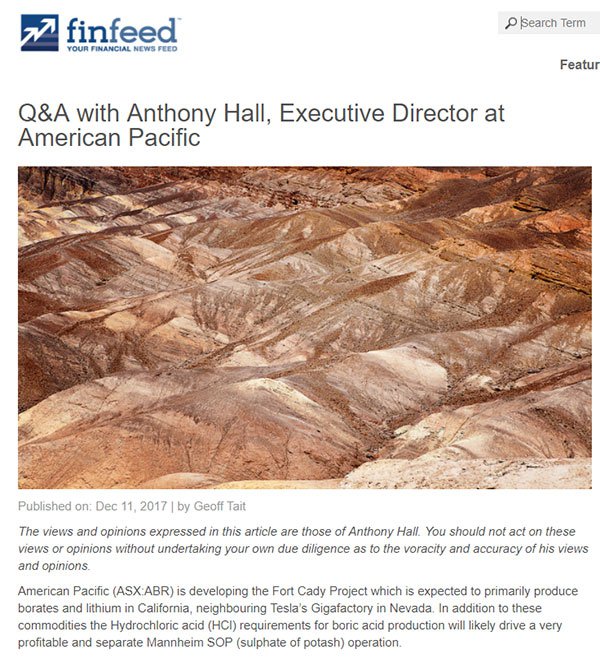 Hall makes an interesting comparison between ABR and US$15.5 billion Chilean chemical company Sociedad Química y Minera de Chile (NYSE:SQM).
While a fraction of the size, ABR can be compared to SQM in that it has a prime boric acid target (SQM has potash) with a likely cheap by-product — lithium. As SQM focuses on potash and also produces high-grade lithium from brines in South America, ABR plan to focus on boric acid and produce high-grade lithium from brines in the US.
ABR is focusing on boric acid production, but will end up with a waste stream that contains high concentrations of lithium too. ABR will further add to Fort Cady's viability by folding a Sulphate of Potash (SOP) — a premium soil fertiliser — element into its development plans.
The lithium and borates market heats up
In the case of borates and lithium, the major resources companies are paying attention.
Rio Tinto is considering a US$5 billion swoop for SQM's lithium business despite its project being in the early stages of development, while China's Sinochem is lurking in the background.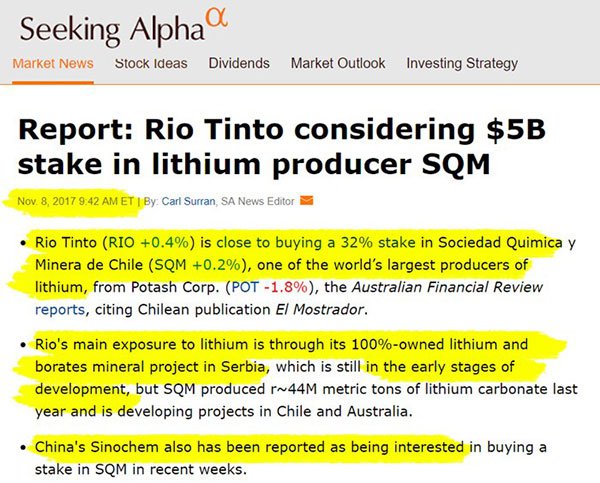 A look at recent (and future) growth estimates helps explain why...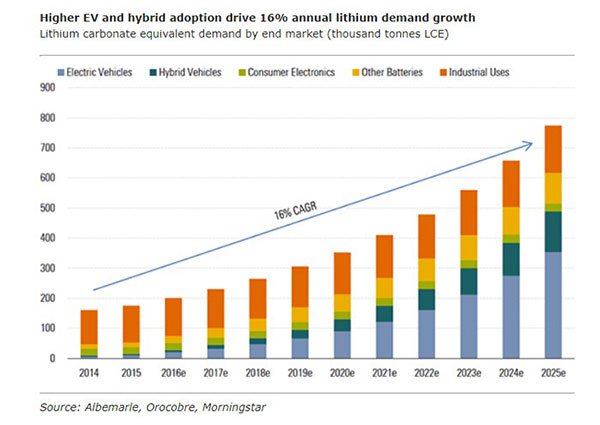 The surge of interest in energy storage has propelled lithium-ion battery demand. Although energy storage worldwide is still dominated by pumped storage (comprising 96% of all storage capacity,) lithium batteries are the fastest growing source of energy.

As we have suggested, ABR is looking to make quick inroads on this lithium boom.
Of course commodities do fluctuate and caution should be applied to any investment decision here and not be based on commodity rises alone. Seek professional financial advice before choosing to invest.
The third phase of ABR's lithium testworks were completed by Saskatchewan Research Council (SRC). This current round of testing involved a two-step leach process. Initially boron was leached from the colemanite at a higher pH reducing the overall acid consumption and impurities. After the initial step, the ore was again leached at a lower pH to extract Lithium from the ore. The aim was to reduce impurities associated with the production of Lithium and lower production costs.
JORC-compliant Resource upgraded
Supporting the company's view that it has a word-class borate-lithium project on its hands was its December 12 announcement of its maiden JORC-compliant Resource .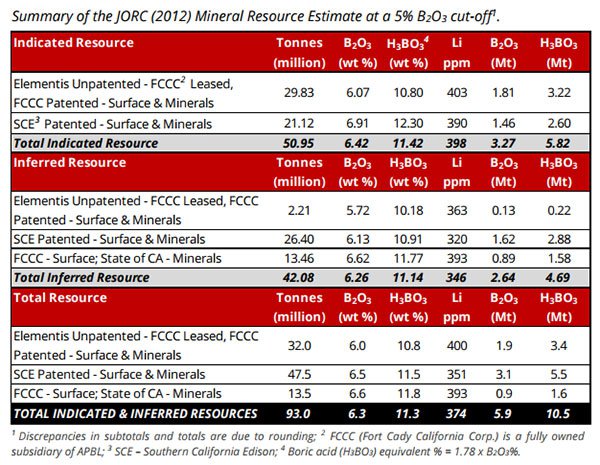 No less than 86% of ABR's total Resource is contained within its operating permits and ABR has the chance to expand its land-holding should it need to.
Therefore, ABR wasted no time in aiming for an upgraded JORC-compliant Mineral Resource Estimate during the first quarter of this year, which it has just delivered.
The upgraded numbers are good. It has now delivered a:
Total Resource of 120.4 million tonnes at 6.5% B2O3 (11.6% Boric Acid equivalent [H3BO3]) and 340 ppm Lithium (5% B2O3 cut-off) for 7.8 Mt contained B2O3 (13.9 Mt H3BO3)

Total Indicated Resource of 58.59 Mtat 6.59% B2O3 (11.71% H3BO3) and 367 ppm Lithium (5% B2O3cut-off grade) for 3.86 Mt contained B2O3 (6.86 Mt H3BO3)

Total Inferred Resource of 61.85Mtat 6.43% B2O3 (11.42% H3BO3) and 315 ppm Lithium (5% B2O3cut-off) for 3.98 Mt contained B2O3 (7.07 Mt H3BO3)

Further to this, the contained boric acid increased to 13.9Mt, which is a substantial increase in contained boric acid to nearly 14 million tonnes. And there appears to be even more upside.
CEO Michael Schlumpberger is buoyed by the Resource indicating that it should support a substantial multi-generation operation, operating in an environment that is ripe to take advantage of growing energy efficiency applications across a range of industries including solar, agriculture, energy generation and fibre glass insulation.
Boric acid Scoping Study
As announced on 27 December, ABR's boric acid Scoping Study indicates it's on track to achieving 246,000 tonnes per annum of boric acid production at a purity rate of 99.99%. Its assumptions were based on a 25-year mine life with 68% Indicated and 32% Inferred Mineral Resource Estimates to produce boric acid.
ABR want to produce boric acid in two stages.
Firstly, it is looking at building a processing plant, ancillary facilities and a mine wellfield will be developed to produce 82,000 tonnes per annum of boric acid, as part of Phase 1.
To capitalise on the larger JORC-certified borate Resource, ABR plans on gaining the necessary approvals and permits to expand the processing infrastructure and mine wellfield to produce approximately 245,000 tonnes per annum of boric acid, as part of Phase 2.
The plan is to transport boric acid in bulk to domestic consumers or to the ports in Los Angeles for export.
If ABR's ambitions weren't high enough, the company want to add a supplementary commodity element in tandem with the boric acid and lithium endowments. For now, ABR's best estimate is that it can develop a Sulphate of Potash (SOP) Project, producing 18,000 tonnes per annum of SOP in Phase 1, before moving up to 54,000 tonnes per annum of SOP during Phase 2.
This will be achieved with a Mannheim furnace that produces both SOP and by-product hydrochloric acid. HCl is the key input used in the make-up leaching solution that produces boric acid. Operating both boric acid and SOP facilities empowers ABR to expand its sales pipeline at an early stage and provides reams of optionality as to how ABR wants to proceed from a technical perspective.
Here are ABR's key financial metrics for Phase 2: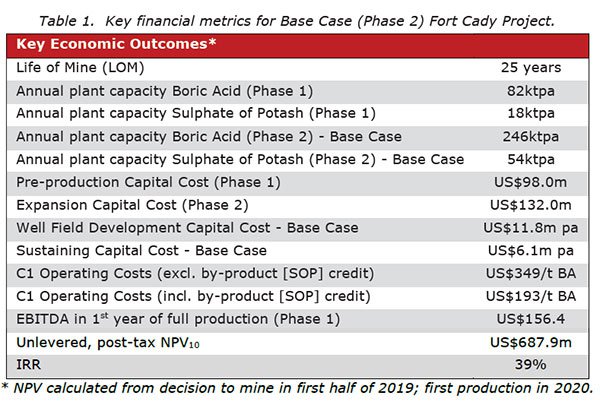 ABR will be in a position to complete secondary studies in the first half of 2018 focusing on lithium by-product production. Publication of these results later this year could be a seminal moment for ABR as its cost-effective market story starts to gain traction amongst miners and investors alike.
Confirmatory borate drilling completed
On January 15, ABR announced that it had completed its 14-hole confirmatory drill programme at Fort Cady.
The company drilled a total of 6800m to confirm the historical mineral estimate defined on the project during the early 1980s. Assay results have now been received from all drill holes completed.
Assay highlights include:
33.4m at 5.7% B2O3 (10.1% boric acid equivalent) and 342ppm lithium from 498.1m in drill hole 17FTCBL012, including 16.9m at 7.3% B2O3 (12.9% H3BO3) and 376ppm lithium from 511.2m.
30.5m @ 5.5% B2O3 (9.8% boric acid equivalent) and 332ppm lithium from 407.4m in drill hole 17FTCBL002, including 9.1m at 12.0% B2O3 (21.3% boric acid equivalent) and 346ppm lithium from 407.4m.
24.0m at 5.3% B2O3 (9.3% boric acid equivalent) and 429ppm lithium from 414.6m in drill hole, including 9.5m at 8.2% B2O3 (14.6% boric acid equivalent) and 381ppm lithium from 429.1m.
The final drill hole assays will be incorporated into the maiden JORC (2012) Mineral Resource Estimate of 93Mt at 6.3% B2O3 (11.3% boric acid equivalent) and 374ppm lithium as reported on 12 December 2017.
Significant drill hole intersections from the historically defined "+5% B2O3 solution mining zone" as defined by Duval Corp. in the early 1980s are summarised below: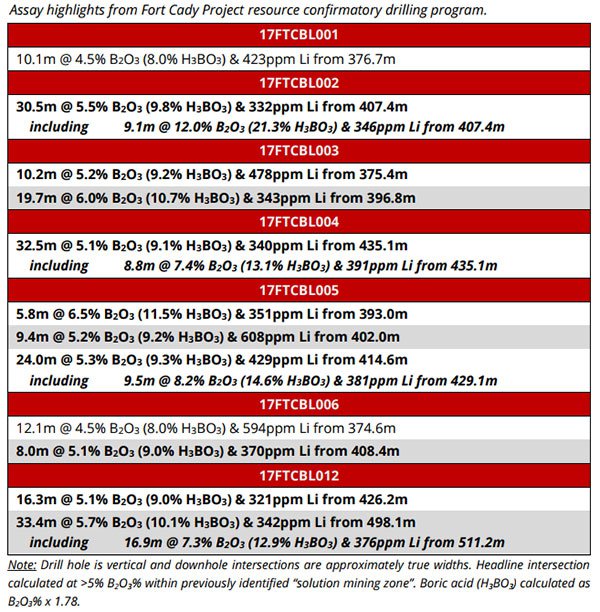 Lithium Brine Assay Results
Results have been received from the initial three holes completed as part of the regional drilling program assessing the potential of the Company's tenements for lithium-enriched brines for use in solution mining.
Elevated lithium concentrations up to 80ppm were obtained in ground waters collected from drill hole 17FTCLI003, approximately 500m north of the Fort Cady borate-lithium deposit. These results are similar in concentration to those previously obtained in ambient brines from within the deposit (90ppm Li). The company is encouraged that the ground waters with elevated lithium concentrations occur close to the proposed mining operation and will further evaluate the hydrogeological properties of the prospective aquifers.
Extensive thicknesses of unconsolidated sediments and high water inflows were problematic during drilling and sample recovery of the initial three holes. The company is analysing drilling performance logs and investigating the use of more advanced drilling techniques to improve isolation of prospective aquifers and sample quality. The company is also exploring the use of these aquifer systems to reduce brine related costs for its boric acid production.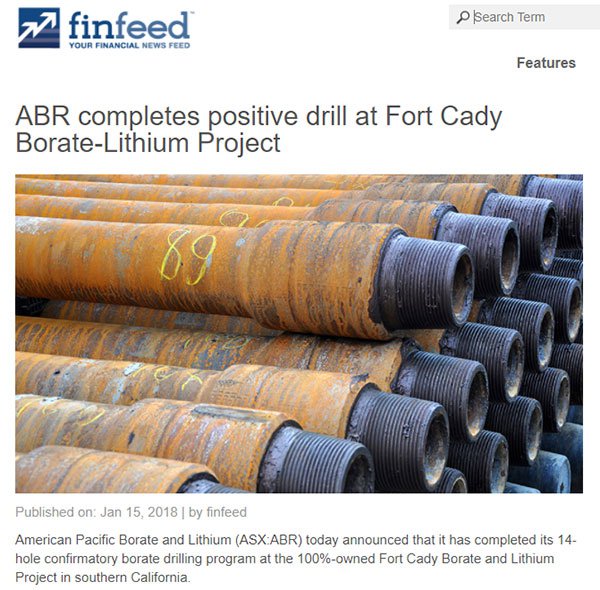 Alongside plans for Resource expansion, ABR's current work programme also comprises lithium brine drilling (a further three holes); planning and implementation of pilot-scale leaching test work programme; additional leaching test work on core samples to further refine borate and lithium leaching kinetics; and optimisation of scoping study on the Fort Cady Project, targeting release in the first quarter of the year.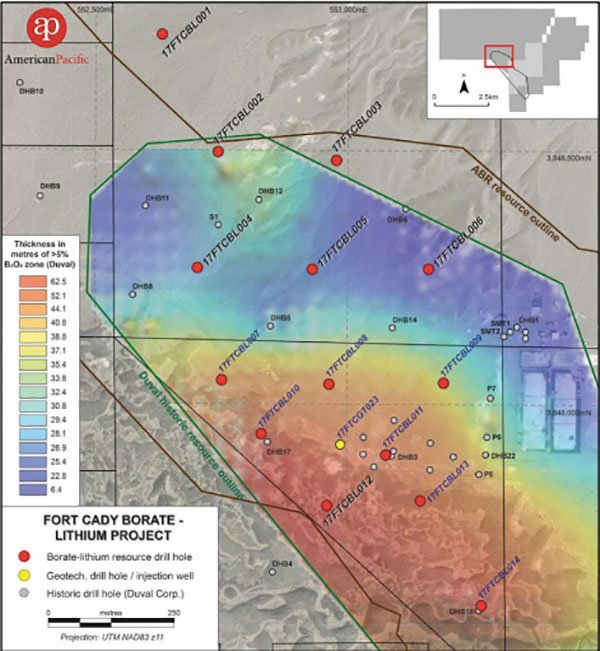 Knitting together an ideal trifecta of boric acid, lithium and SOP for the modern world
ABR is working to develop Fort Cady into a multi-asset project that is able to produce lithium, boric acid and SOP, with limited capital expenditure. The company finished 2017 strongly, by publishing a compelling Scoping Study for its flagship Fort Cady Project in California.
ABR intends to upgrade this existing Scoping Study in the first half of 2018 by clarifying how the foreseen lithium/borates angle can be best progressed and developed into an economically viable long-term mining project. It is targeting a lithium by-product recovery and process circuit and will commence work on a Definitive Feasibility Study, with a targeted completion date of late 2018.
The goal is to achieve steady state production of 246,000 tonnes per annum of boric acid and 54,000 tonnes per annum of SOP, which ABR wants to leverage to its advantage by producing hydrochloric acid for use in its intended boric acid solution mine.
Even with these initial targets, that could already be enough to send ABR's valuation higher.
However, it remains a speculative stock and investors should seek professional financial advice if considering this stock for their portfolio.
Over time, ABR's Fort Cady endowment could be expanded and further streamlined for economic viability. If you can imagine lithium prices also continuing their strong run up until now, then ABR will have a further tailwind also.
ABR's Fort Cady Project can quickly be advanced to construction ready status due to the large amount of historical drilling, downhole geophysics, metallurgical test work, pilot plant operations and feasibility studies completed since the 1980s.
With over 33 resource drill holes previously completed and used for historical mineral estimates, ABR is pushing hard on completing its DFS this year with the alluring borates/SOP element now included.
Boric acid and lithium carbonate are at the centre of the 'energy storage' revolution, and seeing historic price highs as a result.
These new-age commodities are showing a potential opening of new industries, sectors and products — and they all require lithium to become a reality.
As an overlooked junior, ABR is emulating existing industry giants such as SQM and Rio Tinto. And if exploration continues to go to plan, ABR stands a great chance of finding its commercial feet.
---