ABR on Fast Track to Delivering Pilot Plant Test Program
PUBLISHED: 06-12-2017 11:00 a.m.
Having secured high-potential lithium tenements close to Tesla's Nevada Gigafactory, American Pacific Borate & Lithium (ASX:ABR) is now working hard to develop its flagship Fort Cady Borate-Lithium Project.
With results flowing in, ABR is confident it can complete an initial Scoping Study in the current month and then prepare a Feasibility Study for the middle of 2018.
Its most recent results have come in the form of excellent boron recoveries, with initial test work on representative sample core from colemanite mineralisation containing 6.2% B 2 0 3 (11.0% H 3 B0 3 EQ) and 505ppm Lithium.
These are excellent numbers for a company that sees itself as being first and foremost a compelling boric acid project, with a lithium by-product side play.
That is not to downplay the lithium angle here. Lithium is important for ABR's overall connection with the Nevada landscape. However, it is the boric acid project that gives ABR a low capex target with potentially high margins.
That's why the results above and results from the recent confirmatory drill hole program are so important.
However, it should be noted that ABR remains a speculative stock and investors should seek professional financial advice if considering this stock for their portfolio.
The results from the confirmatory drill hole program, confirm borate mineralisation and continues the trend of identifying higher than anticipated lithium mineralisation within the borate-hosting formation.
Additional results from the drilling further confirm extensive borate and highly consistent lithium mineralisation.
60.6m @ 5.0% B2O3 (8.9% H3BO3*) & 431ppm Li from 386.9m in drill hole 17FTCBL009 incl. 15.9m @ 8.8% B2O3 (15.6% H3BO3) & 438ppm Li from 392.3m and 8.6m @ 6.7% B2O3 (11.8% H3BO3) & 396ppm Li from 432.6m
41.9m @ 5.1% B2O3 (9.0% H3BO3) & 499ppm Li from 427.9m in drill hole 17FTCBL010 incl. 14.4m @ 6.6% B2O3 (11.7% H3BO3) & 459ppm Li from 427.9m and 11.1m @ 6.2% B2O3 (11.0% H3BO3) & 519ppm Li from 446.4m
55.0m @ 5.1% B2O3 (9.0% H3BO3) & 422ppm Li from 433.7m in drill hole 17FTCBL013 incl. 11.7m @ 10.1% B2O3 (17.9% H3BO3) & 354ppm Li from 433.7m and 14.8m @ 6.0% B2O3 (10.7% H3BO3) & 427ppm Li from 449.0m
84.8m @ 5.1% B2O3 (9.0% H3BO3) & 399ppm Li from 425.0m in drill hole 17FTCBL014 incl. 11.5m @ 11.8% B2O3 (20.9% H3BO3) & 327ppm Li from 438.9m and 12.7m @ 10.3% B2O3 (18.3% H3BO3) & 463ppm Li from 455.3m
Ten of 14 confirmatory resource holes have now been completed, with lithium brine drilling ongoing.
ABR is aiming to produce a high-grade lithium operation from the Golden State, and further exemplify the commercial potential of its Fort Cady Project.
By integrating borates with lithium production, ABR could establish an early-mover position in the borates and lithium sectors.
As several price catalysts begin to come into view including a scoping and feasibility study, further assays and a separate brine exploration program, ABR could be setting itself up to benefit from the consumer-driven explosion in electronic goods powered by lithium batteries.
Time will tell for this junior Australian explorer which looks to have a lot of upside.
Updating you on: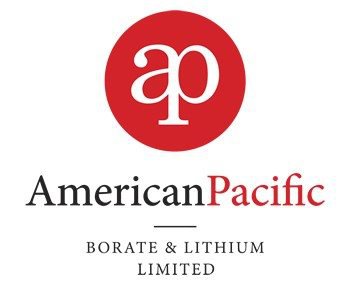 American Pacific Borate & Lithium Limited
ASX:ABR
Since listing on the ASX in late July of this year, American Pacific (ASX:ABR) has been up more than 80%.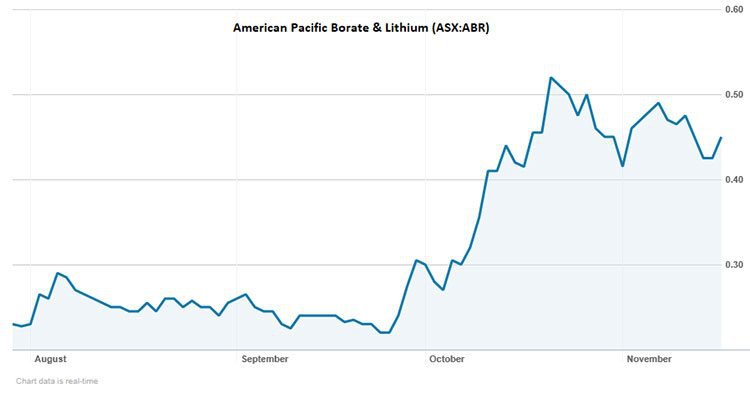 The past performance of this product is not and should not be taken as an indication of future performance. Caution should be exercised in assessing past performance. This product, like all other financial products, is subject to market forces and unpredictable events that may adversely affect future performance.
This rapid rise has come on the back of ABR's acquisition of historically-active ground in California.
Here's a look at the ground, ABR is now operating in: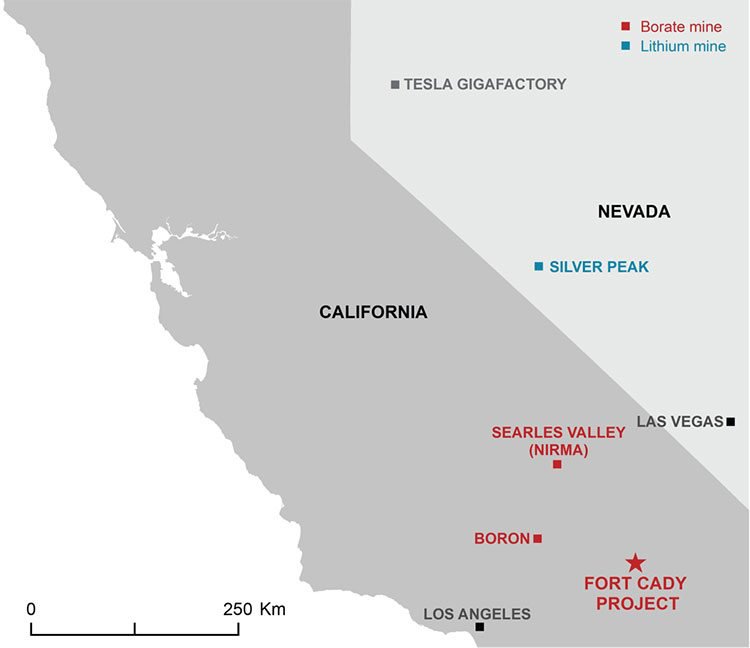 If you cast your minds back to our previous article AUZ to Emerge as Major Developer of Key Battery Technology Metals , you will recall that ABR's Californian location is adjacent to Nevada — a region made famous for being the epicentre of global lithium-ion battery production courtesy of Tesla.
It is the underlying geology and prudent drill-site selection that's responsible for American ABR's highly encouraging assay results and recoveries.
Before we come to those, let's have a quick look at ABR's main play, its boric acid project.
Scoping for Boric Acid
ABR has engaged two high-profile names in the industry to head up the technical analysis and reporting functions for its boric acid project. Engineering and environmental consulting company Barr Engineering Co. and mineral processing expert consultant Mike Rockandel have been brought in to manage ABR's mineral processing program.
Work to date has utilised the 33 historic drill holes, 17 production wells, pilot plant operations, laboratory-derived data and previous feasibility and engineering studies to evaluate commercial processing of colemanite ore with the goal of providing a process concept. As part of the work program, Barr Engineering and Rockandel will deliver flow sheets, mass balances, reagent consumption estimates, process plant operational cost estimates and capital expenditure estimates.
ABR recently released initial metallurgical testworks.
A total of five hydrochloric acid leach tests were performed on a five kilogram representative sample of core containing 6.2% B 2 0 3 (11.0% H 3 B0 3 EQ) and 505ppm Lithium. The six hour tests used different temperatures and different acid amounts to test recoveries of both lithium and boron. Test one that used a 50°C fluid and maintained a pH of 0.5 over the six hours delivered very pleasing results with 98.5% boron and 48.3% lithium recovery.
You can read more about the testing results in this Finfeed article: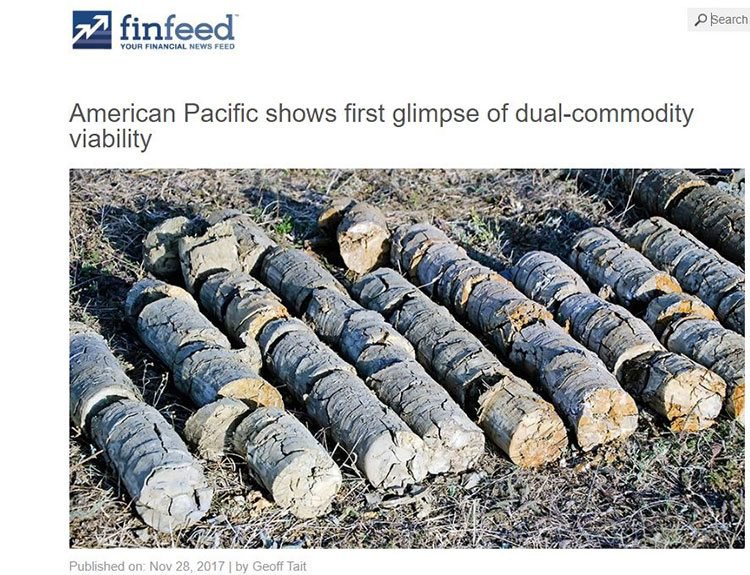 The initial testwork program appears to indicate excellent boron recovery is achievable at relatively low temperatures with modest acid consumption. It has also shown encouraging levels of lithium is recoverable from the colemanite formation as a by-product of boric acid production.
Additional lithium is potentially achievable through the addition of sub basin lithium enriched brines to the leaching process.
Finally, HCl requirements for boric acid production will likely drive a very profitable and separate Mannheim SOP (sulphate of potash) operation as Mannheim produces HCl as a by-product.
Last quarter Compass Minerals (NYSE:CMP), a NYSE-listed company and major producer of both borates and SOP for the ever growing agricultural industry, sold SOP for US$626 a short tonne or US$696 a metric tonne on an all in cost of production of around US$660 per tonne.
We believe ABR is targeting a significantly lower cost of production, which only adds to the uniqueness of this ASX listed North American project.
The latest results will enable the company to quickly prepare an initial test for pilot plant test works in early 2018.
The company has thus far received assay results from seven of the 14 drill holes: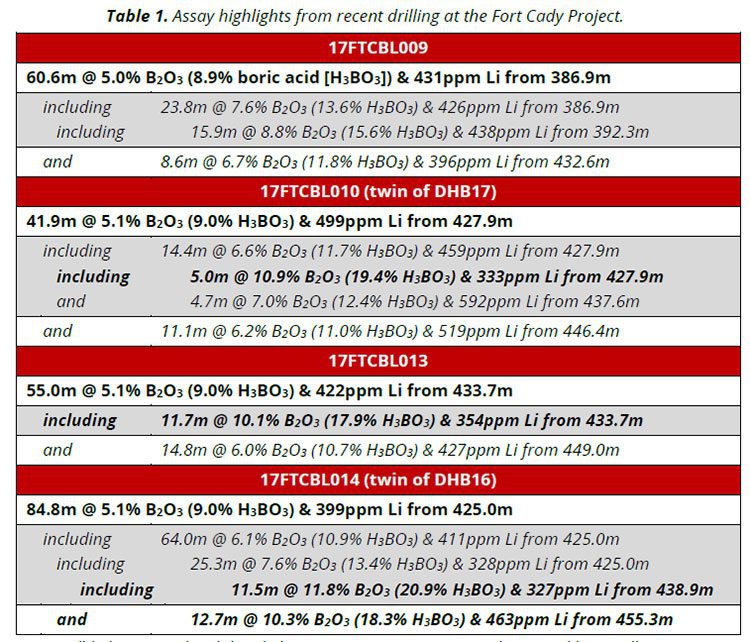 These additional drilling assay results further confirm the historical drilling at Fort Cady. In addition, ABR reports that "within the broader +5% B 2 O 3 mineralised zone, an upper high-grade interval is consistently being intersected which has diluted grades in excess of 10% B 2 O 3 ".
For the time being, ABR is permitted to produce around 90,000 tonnes per annum of boric acid from Fort Cady because it is basing its Scoping Study on feasibility studies and operational parameters used by previous owners to gain the aforementioned permits.
Having been in California for less than six months, ABR is adamant it can raise the previous estimate for peak production of boric acid significantly.
ABR is also evaluating scaling-up the production rate to be more in line with the broader potential that ABR believes the project holds.
Here's a glimpse of the potential upside: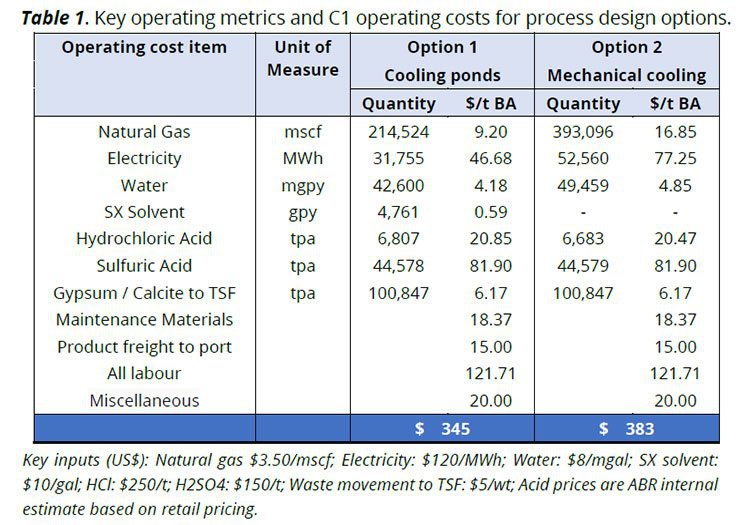 As you can see, ABR is targeting a cost of around $345-$383 per tonne for its boric acid production which is entirely made possible by preliminary process designs and operating estimates that indicate the necessary pre-conditions for high operating margins.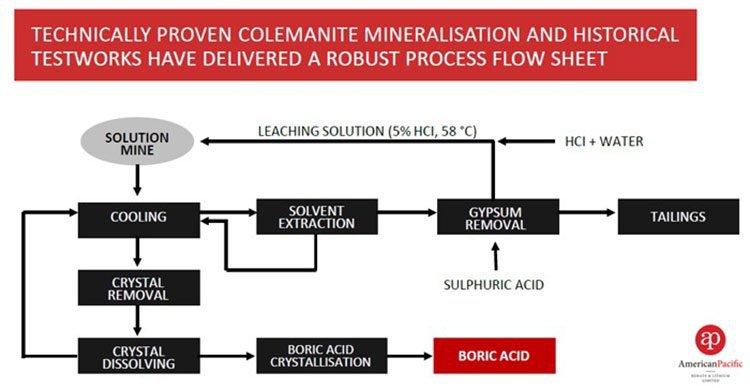 Meanwhile, North American boric acid is fetching between US$800 to US$1000 per tonne, according to Roskill, a global market research agency.
It should be noted that commodity prices do fluctuate and caution should be applied to any investment decision here and not be based on spot prices alone. Seek professional financial advice before choosing to invest.
Boric cost diversifier explained
The separation of boric acid from impurities will be performed by two-stage cooling crystallisation, either via cooling ponds or mechanical cooling. The process flow sheets for both options are very similar and it is envisaged the process design will consist of the following steps:

Source: American Pacific Borate and Lithium
The key highlight from ABR's intended methodology is that ABR's strategy intends to use very modest acid consumption which creates a host of positive externalities such as reducing production cost, reducing development time and reducing the strain on the environmental permitting hurdles.
Sulphuric acid (H2SO4) consumption is estimated at 0.55t per tonne of boric acid produced while the consumption of purchased hydrochloric acid ("HCl"; 35% strength) is 0.09t per tonne of boric acid produced. Total consumption of HCl during solution mining is estimated at 1.16t per tonne of boric acid however 94% is regenerated by reacting the less expensive reagent H2SO4 with calcium chloride (CaCl2).
The bottom line: the presence of boric acid at Fort Cady underpins ABR's chances for high operating margins once in production.
Then there is the lithium angle.
The lithium landscape
Given the rising demand for lithium, now seems a good time to make prudent lithium acquisitions. Rio Tinto (ASX:RIO) seems to agree: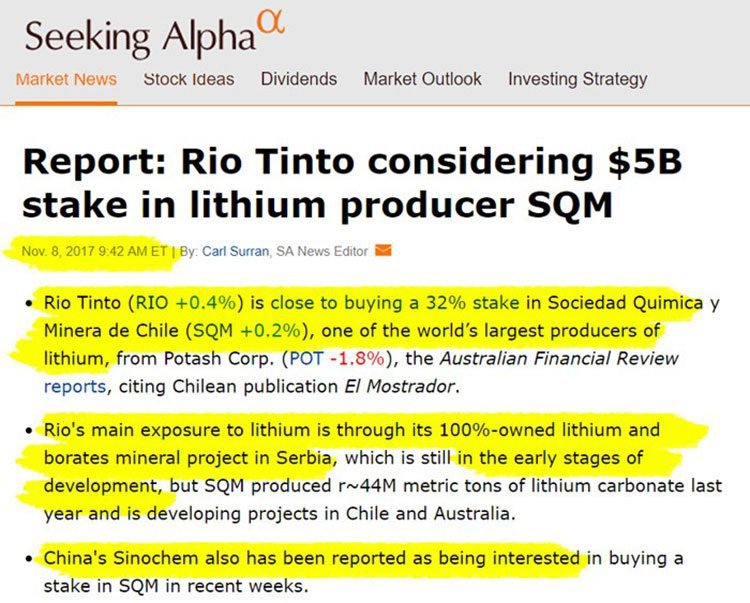 Rio Tinto is considering a US$5 billion swoop for SQM's lithium business despite its project being 'in the early stages of development', which has also attracted attention from China-based Sinochem.
This kind of lithium-market action indicates that lithium supplies are floundering while lithium demand seems to be on a direct path to ubiquity. Just check out the recent (and future) growth estimates: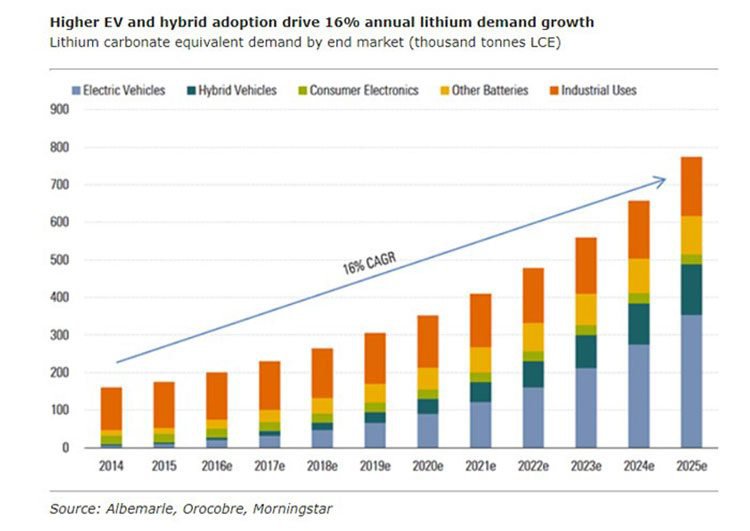 The surge of interest in energy storage has propelled lithium-ion batteries to a prominent place in the transformation of power grids into more flexible and responsive means of serving power to all. Although energy storage worldwide is still dominated by pumped storage (comprising 96% of all storage capacity), lithium batteries are the fastest growing source of energy, estimated to reach 15 GW by 2025 according to Albermarle.

With lithium going from strength to strength let's take a look at how ABR can capitalise
As already discussed, ABR's confirmatory drilling program has progressed during the past few months, with impressive results released in the past fortnight.
The assay results received thus far confirm the presence of an 'extensive zone of borate and lithium mineralisation' and a 'third deeper interval' with significant intersections.
All 14 drill holes in the current program are expected to be completed by the end of 2017.
Here's a look at the current site: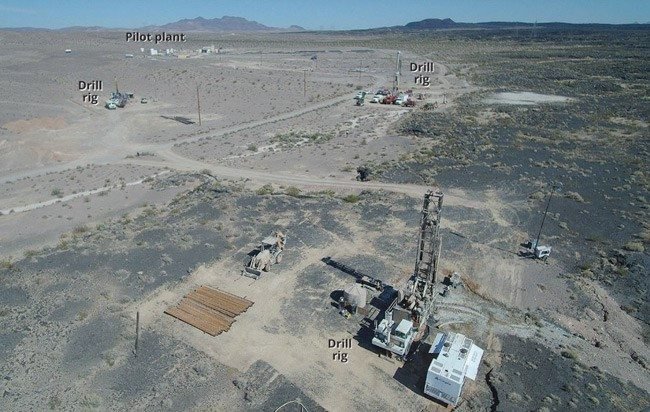 Source: American Pacific Borate and Lithium
ABR's exploration strategy is predicated on a historical Resource Estimate defined during the early 1980s, with the company commencing its 6800 metre drilling program to confirm and update the previous estimate to modern-day standards.
Further results were released last week, following the completion of the sixth hole with assay results from three additional drill holes still pending. Water samples have also been submitted for analysis from a lithium brine drill hole with assay results pending.
The current highlights are as follows:

With frenetic exploration now afoot, ABR is expecting geochemical tests to provide more assay results going into year-end.
In addition to its standard exploration, ABR is also pencilling in a lithium brines exploration program that has the potential to add further weight to ABR's margins once fully active in the region.
Lithium Brines Exploration at the Hector Extension Lithium Project
ABR also has a chance of discovering commercial quantities of lithium brine.
Here is ABR's lithium brine plan of attack: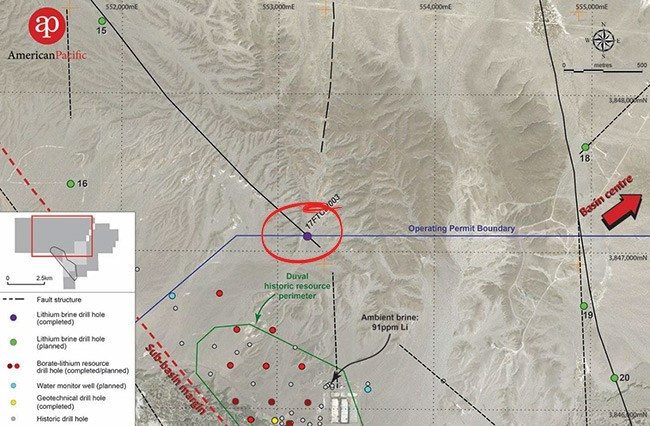 Source: American Pacific Borate and Lithium
The first of six drill holes (indicated in purple) for 2600m has been completed at Hector. Drill hole collar locations have been selected to test multiple fault zones that are considered prospective for lithium enriched brines.
Previous historical brine sampling recorded lithium concentrations of 91 ppm and ABR is confident it can repeat the feat. Importantly, the ambient brines within the area have low magnesium levels which is critical for the production of lithium salts as magnesium complicates recoveries of commercially saleable lithium.
ABR is testing the hypothesis that greater concentrations of lithium will be located towards the basin centre. This is where major faults are located that would tap potential lithium source rocks located at depth and through which ground waters would migrate upwards. These structures would also be sites along which gravitational migration of brines containing the more mobile element such as lithium would move towards from the basin margin.
We will soon know if ABR's hypothesis is true as its brine samples are in the process of being analysed.
JORC Resource Expected Soon
ABR continues working towards the release of its maiden JORC Compliant Mineral Resource Estimate (MRE) in the fourth quarter of 2017. Its completion will enable ABR to finalise its concurrent Scoping Study (also targeted for Q4 2017) but more importantly, it will clarify exactly how low ABR can go in its low-cost production profile in Nevada.
Yet it is early stages here and investors should seek professional financial advice for further information if considering this stock for their portfolio.
California Dreaming in Nevada
Boric acid and lithium carbonate are at the centre of the 'energy storage' revolution, and seeing historic price highs as a result. These new-age commodities are showing a potential opening of new industries, sectors and products — and they all require lithium to become a reality.
As you might expect, current lithium supplies are insufficient to bring about the future Tesla is working towards, but already, companies are flocking to Tesla's doorstep to help with the teething troubles.
ABR stands a great chance of finding its commercial feet in Nevada, as long as exploration goes to plan.
As an overlooked junior, ABR is emulating existing industry giants such as SQM, Rio Tinto and GSC. By all accounts this appears to be a value-packed peer emulation play, that's ticking the right boxes, at just the right time.
---