Over 4,000m of Nickel Drilling Set to Begin in Days by SGQ
PUBLISHED: 03-10-2014 07:49 a.m.
St George Mining Ltd (ASX:SGQ) are gearing up for another major nickel drilling push at East Laverton in Western Australia – an area that could potentially become another Fraser Range. At East Laverton, SGQ's ground is under explored, it's the right geological setting for nickel deposits, it's got a strike length over 130km within 3 extensive ultramafic belts – and it's all SGQ's. Over 4,000 metres of pinpointed nickel drilling is set to begin any day now. Drilling will test multiple nickel sulphide targets, defined by both electromagnetics and geological indicators. As with all mineral explorers, SGQ may not find anything... But with multiple targets across their ground, discovery potential is multiplied. And it's not just nickel, SGQ have identified new Volcanic Massive Sulphide targets that could host substantial deposits of the new "It" metal, zinc.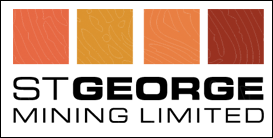 Major Nickel Drilling Campaign Starting in Days
SGQ aren't looking for a new Nova or Bollinger – they are looking for a new Fraser Range. And if they find it, they will have pole position with a large, dominant land position.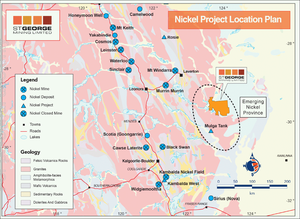 Back in May 2014 we originally covered SGQ, and the potential global scale mineral region that BHP handed to them on a nickel platter: BHP Gives Away Potential Global Scale Nickel Project – Tiny Company Drilling Now . BHP invested 2 years and $3M in exploration on this exact same SGQ land, and liked what they saw – but due to a reduction in exploration appetite and a focus on core assets, all the exploration data was handed back to SGQ for nothing. Not for a lack of prospectivity, just the big miner wanting to focus on immediate cash flow. Nickel potential was confirmed back in 2012 – 35 RC holes for 8,560m have been plunged into the ground already, with 28 holes identifying komatiites ultramafics – 7 nickel sulphide targets were established. Fast forward to today, and SGQ has intensified exploration work at its priority nickel sulphide prospects, generating multiple targets for the Phase 2 drilling campaign starting in a few days. Desert Dragon North, Desert Dragon South and Cambridge North all lie in the fertile Stella Range belt: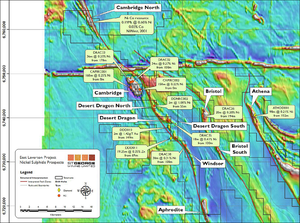 It's this Stella Range that the SGQ nickel team believe has the potential to host a swathe of economic nickel deposits. The SGQ team is well qualified for nickel searching, with a track record of success, here they are:
Newexco – the undisputed kings of geophysical consulting for nickel sulphide exploration – Sirius' Nova-Bollinger deposits and Western Areas Ltd's Spotted Quoll and Flying Fox deposits are accredited to them;
Consultant geologist Dr Martin Gole – author of many papers on Archean nickel sulphide deposits, including world class Perseverance and Mt Keith nickel deposits;
Senior geologist Travis Kerslake – part of the team at WMC Resources that discovered the world class Nebo-Babel Ni-Cu-PGE deposit in the Western Musgraves, plus he just came from the discovery drilling job at Rox Resources Camelwood nickel sulphide deposit in WA;
Consultant geologist Matthew McCarthy was part of the team that made the recent discovery of the Venus nickel sulphide deposit at Leinster, and also managed the BHP Billiton Nickel West exploration efforts on this ground, now 100% SGQ's.
Drilling will also be conducted into several prospects only partially tested by previous drilling, as well as targets established by BHP Billiton Nickel West during the Project Dragon farm-in arrangement. Whilst no deposit discovery has been made just yet, ongoing target generation is highlighting the sheer magnitude of potential at East Laverton. This project, 100% owned by SGQ, covers over 2,000 square kilometres, a strike length of 130 kilometres, and 3 ultramafic belts: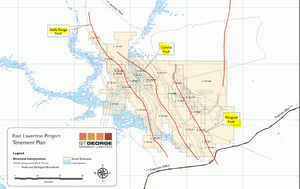 The new Desert Dragon South prospect covers a geologically and structurally complex area where the Churchill lineament intersects the Stella Range ultramafic belt . Magnetic data indicates intense folding, faulting and shearing of the ultramafic belt in this area – more perfect conditions for a nickel deposit to manifest. If all the right elements and factors are present at a single time in a single location, chances are a big metal deposit will form. These structures tend to host volumes of hot turbulent magnesium oxide‐rich lava which promote the formation of high grade nickel sulphide mineralisation. Moving loop electromagnetics over Desert Dragon South also detected multiple, large, stacked conductive zones. Cambridge North is another of the SGQ's most important prospects, covering 15 kilometres of the Stella Range ultramafic belt. An electromagnetic survey is being conducted over this area by Newexco and early data has pinpointed several strong anomalies. Cambridge North also boasts high magnesium ultramafics... coupled with its location on the fertile Stella Range belt and very limited exploration makes for a very attractive nickel prospect. So many prospects, so many targets: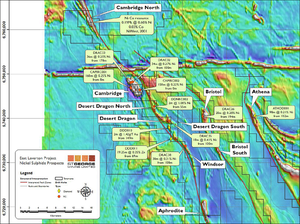 Our Track Record
Regular readers of our sites will be familiar with our long-standing interest in high potential stocks. To note just a few:
The past performance of these products are not and should not be taken as an indication of future performance. Caution should be exercised in assessing past performance. These products, like all other financial products, are subject to market forces and unpredictable events that may adversely affect future performance.
SGQ the Zinc Stock?
SGQ has also escalated its Volcanic Massive Sulphide (VMS) exploration activities at East Laverton... Potential zinc-copper system anyone? This could be a real bonus for SGQ on top of the nickel sulphide prospects. Whilst the potential was recognised in the past, virtually no VMS base metal exploration has been conducted on this ground. The nickel-gold targets that have been targeted are largely exclusive of VMS deposits which are hosted by the surrounding rocks. Phase 1 drilling intersected 19.25 metres at 0.35% zinc and 0.1% copper which piqued the interest of the SGQ geology team... It looks like the hole shaved the edge of a substantial zinc-copper system – Phase 2 drilling aims to penetrate the centre: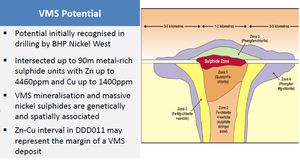 This hole was drilled to test an electromagnetic off-belt conductor... A separate conductor next door, Dragon 3, has not been drilled at all, and could represent the VMS system epicentre, with higher grades of zinc and copper. Newexco are also guiding SGQ's base metal hunt – most would know of Newexco's success with nickel, but they were also involved with exploration at Sandfire Resources' monster DeGrussa deposit. SGQ could be onto something big, because VMS base metal deposits usually form in clusters, with several deposits a few dozen square kilometres. SGQ holds 2,000 km 2 in the region – so if they are lucky and can find one zinc-copper system, chances are there might be more, and SGQ would own the lot of them. We should learn a whole lot more about this potential once the drilling campaign kicks off in the next couple of days.
Cashed Up and Ready to Drill
In late September, SGQ added over $2.5 million to its exploration war chest. First, investors chimed in $1.75 million at $0.09... and these investors included SGQ's key service providers for the next drilling campaign in Newexco and VM Drilling. It's a glowing endorsement of an explorer's prospects when both the drilling company AND the geotechnical services company both come to the table during a funds raising.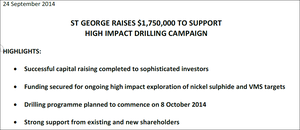 The very next day, SGQ banked another $800,000 from a government exploration incentive rebate: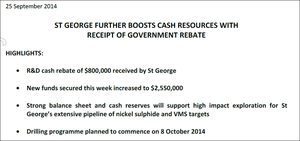 In a market where other junior explorers are being starved of cash, SGQ's bank balance appears to be bulging. SGQ will be able to fund its ongoing, high impact exploration of advanced nickel sulphide and zinc-copper targets for some time yet.
Right Place at the Right Time?
Assays for the drill holes completed during Phase 1 have confirmed that East Laverton geology is an ideal breeding ground for nickel sulphide deposits. SGQ will be drill testing several electromagnetic conductors identified by the nickel nerds at Newexco, in the same area that nickel mineralisation was intersected by BHP and SGQ in 2012. The fact that BHP saw the new nickel province potential alone speaks volumes: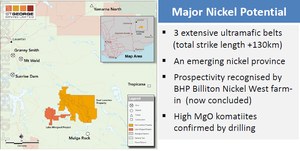 The presence of platinum group sulphides also add weight to SGQ's geological model. So SGQ are looking in the right place... and it's certainly the right time, with resurgent nickel prices that look like maintaining an uptrend into the foreseeable future: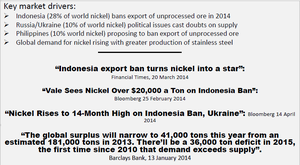 SGQ has a lengthy pipeline of nickel sulphide prospects to drill during the imminent Phase 2 drilling... With multiple prospects, and a comprehensive 4,000m drilling program, comes a greater chance of success: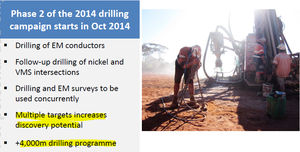 The Time is Nigh
So SGQ is about to get drilling for large nickel and zinc-copper deposits. The geology has been proven fertile, and nickel and zinc prices are stronger than they have been in years. It looks like a perfect collision... if they hit something high grade, it might be game on... Particularly so because of SGQ's miniscule free float. SGQ management hold 1/5th of SGQ's 92 million shares, the top 3 holders control 36%, and the top 20 control 55%. SGQ's free float is really only about 40 million shares... in the event of discovery, traders and investors may be scrambling to get in. We would rather not be one of the scramblers chasing higher and higher prices – we have avoided this by taking a position early, while the price is cheap and some uncertainty remains. As if SGQ didn't have enough nickel targets to poke their drill bit at, Phase 1 drilling also unveiled a big bonus – zinc and copper mineralisation. As you may know, now is certainly the right time to be discovering zinc too. Assays at conductor Dragon 2 delivered an interval of zinc and copper sulphides which hints that a base metal deposit lies in the vicinity. In fact the zinc-copper geology intersected is typical of the outer margin of a VMS base metal system... A system that extends into the adjoining Dragon 3 conductor and is yet to be drilled. Drilling of Dragon 3 in just a few days is the big one for SGQ investors hoping for significant zinc intercepts. There are more conductors prospective for zinc and nickel being identified via electromagnetics as we write...these will also be incorporated into the campaign. The best way to find a big metal deposit is to establish ideal regional geology, define multiple targets, and drill lots and lots of holes. This is exactly what SGQ are doing and they are getting closer and closer to cracking the code.
---