European Lithium Limited (ASX:EUR)
There is no major source of lithium in Europe, with much of the commodity currently imported.
However Europe consumes 24% of global lithium demand, second only to China – which means local producers could be in a prime position to service the lithium ion battery factories that are springing up all over the continent.
One company positioning itself to ride this lithium wave is European Lithium (ASX: EUR), which is positioning itself to fast track production at its Wolfsberg Project in the heart of Europe.
The resource looks strong for EUR, with the company bearing down on mining a 6.3Mt lithium resource at a grade of 1.17% Li 2 O .
EUR is currently undertaking technical studies for a Pre-Feasibility Study (PFS) and drilling for a resource expansion anticipated for completion in Q3 2017.
EUR recently produced a spodumene concentrate of 5.3% Li 2 O via Dense Media Separation.
The ability to produce an early DMS concentrate opens up the potential to fast track lithium sales into the European glass-ceramic market whilst the company progresses with producing battery grade lithium carbonate.
The information on this page should not be the only trigger for your investment decision. Click on the links below for a more in-depth and informed examination of the company. We strongly recommend you seek professional financial advice whenever making financial investment decisions.
2017 is a crucial time for EUR. It will finalise its PFS, give its Resource expansion a formal stamp, introduce products to off-takers and embark on finalising its DFS and permitting for 2018.
And it is doing this all as lithium demand continues to significantly increase.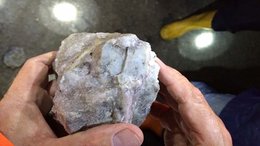 EUR on Fast Track to Lithium Production in the Heart of Europe
Feb 13, 2017
Let's talk about what could possibly be the most significant shift in energy preferences since the invention of gasoline — Lithium. This commodity has now formally asserted itself as the go-to energy catalyst of the future and has attracted a flurry of exploration activity worldwide.
Related European Lithium Limited (ASX:EUR) articles