Buxton Resources (ASX:BUX)
The goal of Buxton Resources (ASX:BUX) is to create shareholder wealth through the discovery and development of world-class precious metal, base metal and iron deposits. The strategy is two-fold and runs in parallel, consisting of project evaluation and project acquisition.
BUX has five projects in Western Australia which it believes have the capability of delivering world-class discoveries. The key drivers for success will be rapid assessment using cost-effective innovative exploration techniques with accelerated funding directed to those projects which meet key decision points and exceed internal technical hurdles.
BUX will also assess other mineral projects (and acquire where appropriate) those which have known mineralisation, strong technical merit and a real chance of delivering success.
It should be noted that BUX is a small, speculative mining stock, and caution is advised if considering an investment.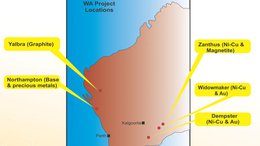 High Grade Graphite Continues to Emerge – BUX's Final Drill Results Due Any Day Now
Aug 20, 2014
The true extent of Buxton Resources (ASX:BUX) high grade graphite resource is starting to become more apparent… Results from 11 holes have been released and there are 7 more to go… soon we should know a lot more about their high grade Australian graphite resource. The last time we looked BUX had high grade graphite […]
Related Buxton Resources (ASX:BUX) articles