Blackham Resources (ASX:BLK)
It's official – Blackham Resources (ASX: BLK) is Australia's newest gold producer.
It's also happens to be one of the lowest-cost producers on the ASX.
In a very quick 15 months, BLK has rapidly moved from its Orion funding deal to its first gold pour, and the Next Mining Boom has presented you with the details every step of way.
BLK has had great timing considering how the gold price in Australian dollars has moved from strength to strength in concert with the company.
Now it is all about expanding production and better monetising its 5.1 million ounce resource.
With a current valuation of around $43 / resource oz. it would seem BLK has room to grow, and position itself higher on Australia's gold production valuation ladder.
BLK is currently drilling aggressively, setting its sights on growing its mine life.
BLK's stage 1 production target is 100,000 oz./year, and over time, stage 2 expansion should double that to 200,000 oz./year.
The information on this page should not be the only trigger for your investment decision. Click on the links below for a more in-depth and informed examination of the company. We strongly recommend you seek professional financial advice whenever making financial investment decisions.
By expanding its resources and mine life, we could see BLK's pitch it's EBITDA into the $105-130 million range.
And every $100/oz. increase in the gold price adds roughly $73 million to BLK's cash flow and $20 million EBITDA.
BLK offers investors an opportunity to back a junior gold explorer gradually transforming into a mid-tier producer… and its happening before our very eyes.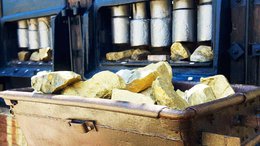 BLK Pours First Gold: Australia's Newest Gold Producer
Oct 31, 2016
Gold is currently one of the most investor-friendly commodity plays out there. Gold prices, gold producers and gold demand, are all raising their game at the same time, and providing junior gold companies like Blackham Resources (ASX:BLK) with the nutrition to flourish. BLK could not have really timed its run any better, as it is now official – BLK is Australia's newest gold producer.
Related Blackham Resources (ASX:BLK) articles