Berkeley Energia (ASX:BKY, LSE:BKY)
In the last six months, we've witnessed some stunning performances from uranium developer, Berkeley Energia (ASX | LSE: BKY).
Progress on its Salamanca uranium mine has been humming along and the show is now nearing its penultimate Act… the home stretch to production.
To support this run up to production, dual-listed developer has signed a US$120 million agreement with the Sultanate of Oman sovereign wealth fund, which will fully fund the mine development through to production.
Production from Salamanca is earmarked for 2018, so BKY's timing certainly seems right. There is likely to be plenty of utilities re-contracting, as fossil fuels become a relic of the past.
This is helped more by the fact that the company has just reduced its capital costs and will be able to competitively produce uranium at Salamanca – one of the lowest cost uranium mine developments in the world today.
The information on this page should not be the only trigger for your investment decision. Click on the links below for a more in-depth and informed examination of the company. We strongly recommend you seek professional financial advice whenever making financial investment decisions.
With the $120 million strategic investment to boost the Salamanca mine into production, additions to the management team, and a favourable outlook for uranium, seemingly everyone and everything falling into line.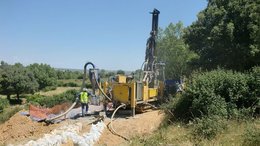 Related Berkeley Energia (ASX:BKY, LSE:BKY) articles